The Boundary Waters in Minnesota is quiet, has plenty of nature, many animals, is serine and picturesque.   It's a place you need to see for yourself. I needed to see this place and so do you.   Let me share my boundary water experience the easy way.
Over the past few years my brother, husband, son and sister all have been to the boundary waters- canoeing, camping and portaging.  My sister's trip ended and started with rain which sounded miserable to me. I wanted to go, but I didn't want to go if it rained.
We decided the best way for me to experience the boundary waters was staying in a camping cabin.  Sounds lame as my teens would say, but it was perfect. Keep in mind I have hard core camped many times, so it was not the camping experience I was trying to get.
Here is the progression of our trip and the details so you can plan your trip.
In January of the year we wanted to go, we decided who was going.  Myself, my husband, my brother and my son.   We reserved a camping cabin that sleeps 4-5 at the Gunflint Lodge and a canoe at the Gunflint Outfitters for the last week of August.   We reserved a four person light weight Kevlar canoe with life jackets and paddles for one day.  We would add another day if we wanted to do more canoeing later.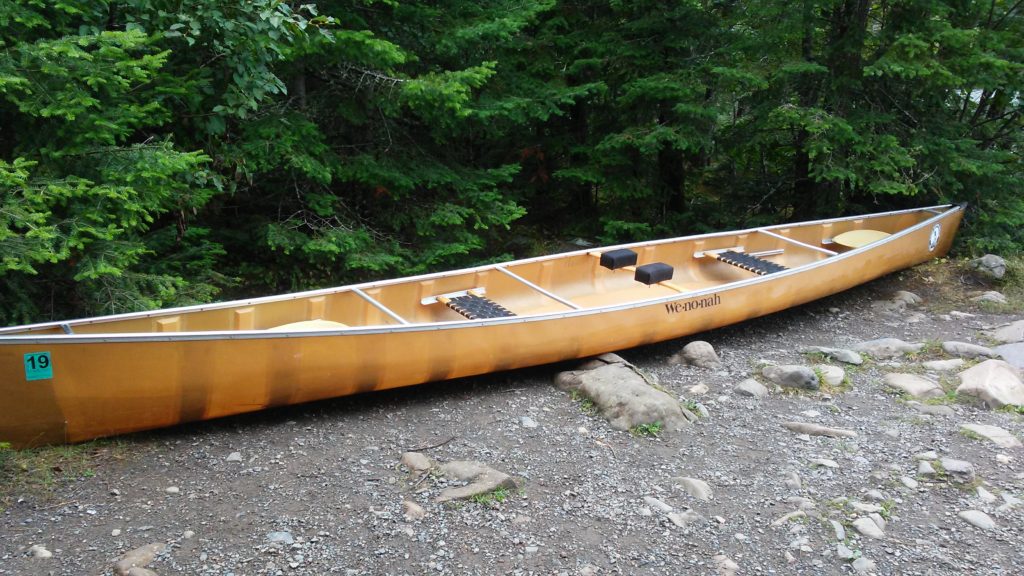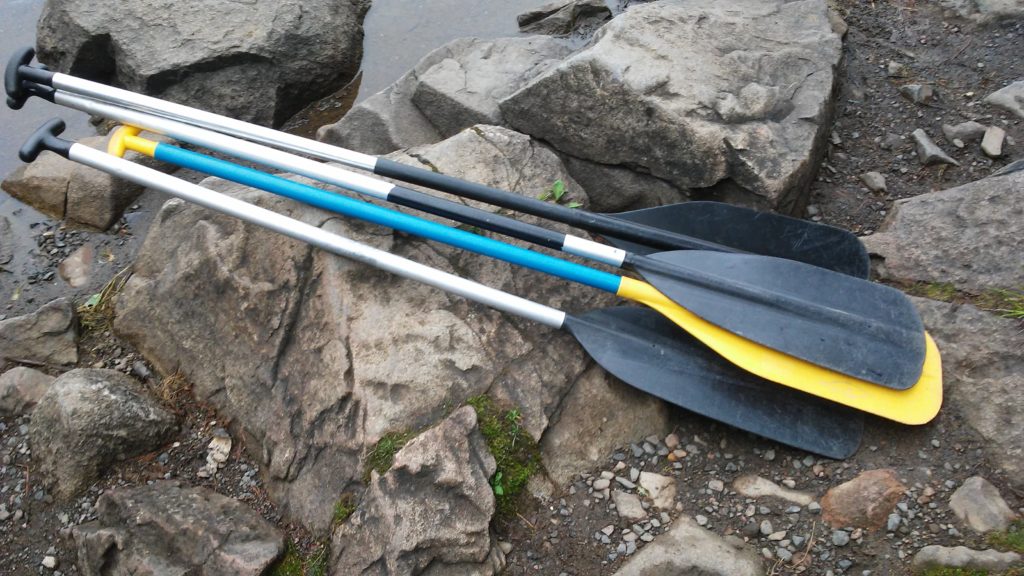 Our camping cabin had heat, a fan, a refrigerator, and screened in area with a table and bench.  The price is under $125 per night and with a little walk you can use the group restrooms and showers.  Our cabin was perfect. We made breakfast and supper outside the cabin with our camping gear and packed out our lunch for our canoeing.
Another option would be to stay at the campgrounds a little farther up the gunflint trail and bring your own camper. If you want to go deluxe you can just rent a regular cabin at the resort or resorts in the area. Camping link   outfitters link   Gunflint Lodge link  
Other places to reserve in the Gunflint trail area are the Voyageur Canoe Outfitters, and the Seagull Outfitters and Cabins. You can reserve for a large group to camp in the wilderness or cabins and canoes for day use.
The night we arrived we settled in, ate and made plans for our canoeing the next day.  In the morning after breakfast we packed our lunch/snacks and water and fishing gear in our water proof bags. Make sure you buy a fishing license if you plan to fish and fill out day permits in the Boundary Waters.  We tied the canoe to the top or our minivan and drove to Bearskin Lake where we entered the boundary waters and the four of us were off.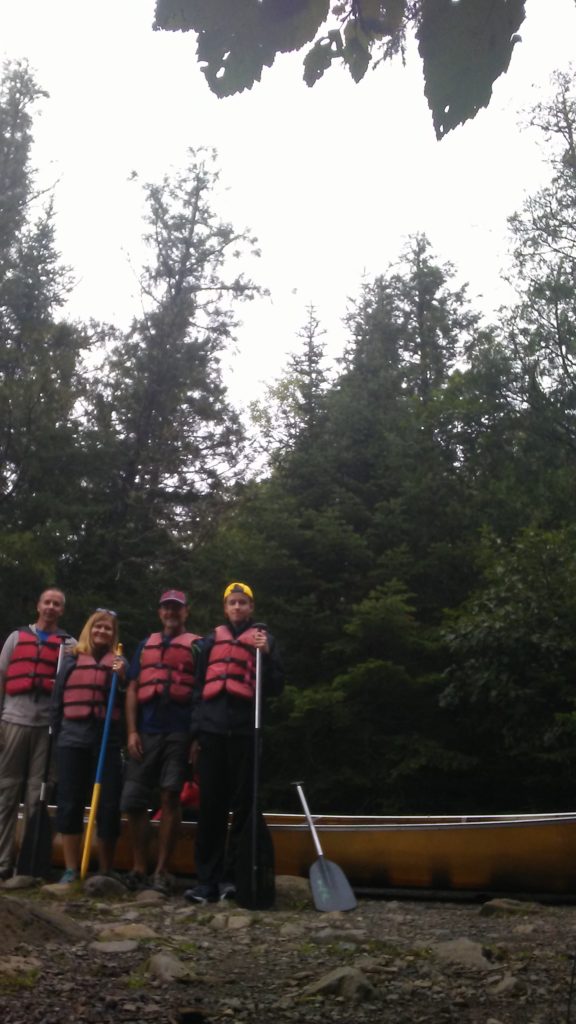 The four person Kevlar canoe is a dream. You can slack off if you want and I knew canoeing would be the hardest for me.   I love stand up paddle boarding because I use different arm muscles. My shoulders hate canoeing and kayaking. 
After we got to the end of the lake, following the map we purchased, we portaged to Duncan lake.  Back in the water canoeing and at the other side of the lake we landed our canoes.   So this is what portaging is all about. It connects lakes.  I ended up carrying the paddles and waterproof bag while the guys carried the canoe.  Boundary water trips are not for the faint at heart. Imagine carrying all the gear for camping and food.
When we got to our destination, we hiked to Rose Lake, saw a waterfall and had our lunch.  We had a great afternoon in the outdoors. On the way back we fished, portaged, canoed and enjoyed nature.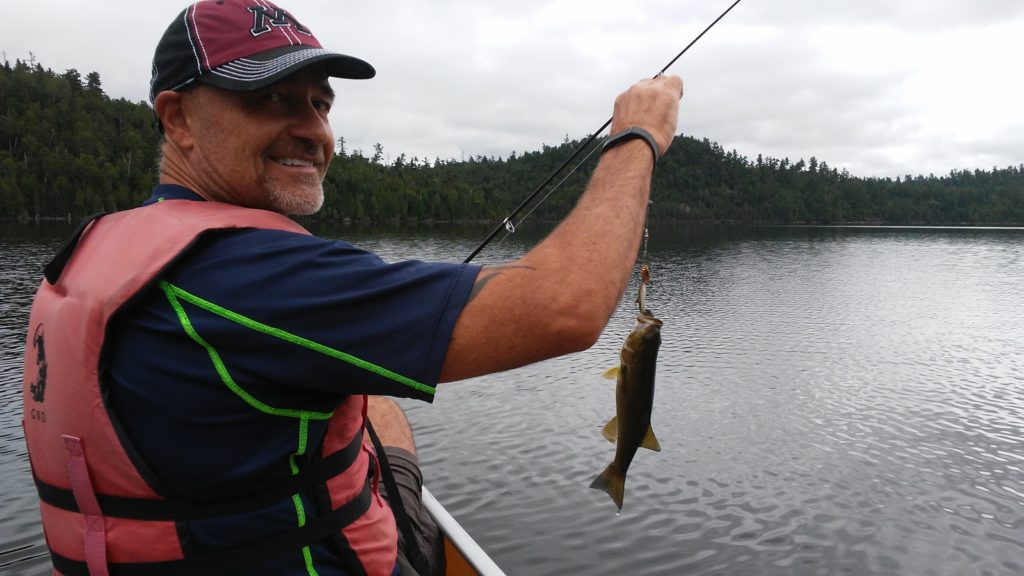 Fun, beautiful, Quiet, trees, fish, animals, waterfalls and rocks. All of God's creation to fully enjoy!
A great meal ended the day at the camping cabin. I did the cooking since I was slacking in the portaging and canoeing department.
The next day the resort which is in association with the outfitters had a pontoon ride to another waterfall on Gunflint Lake.  Why not? We cheated and didn't canoe, but that's okay.  I got the experience I wanted. When we got off the pontoon, we hiked an hour to get to the waterfall and back.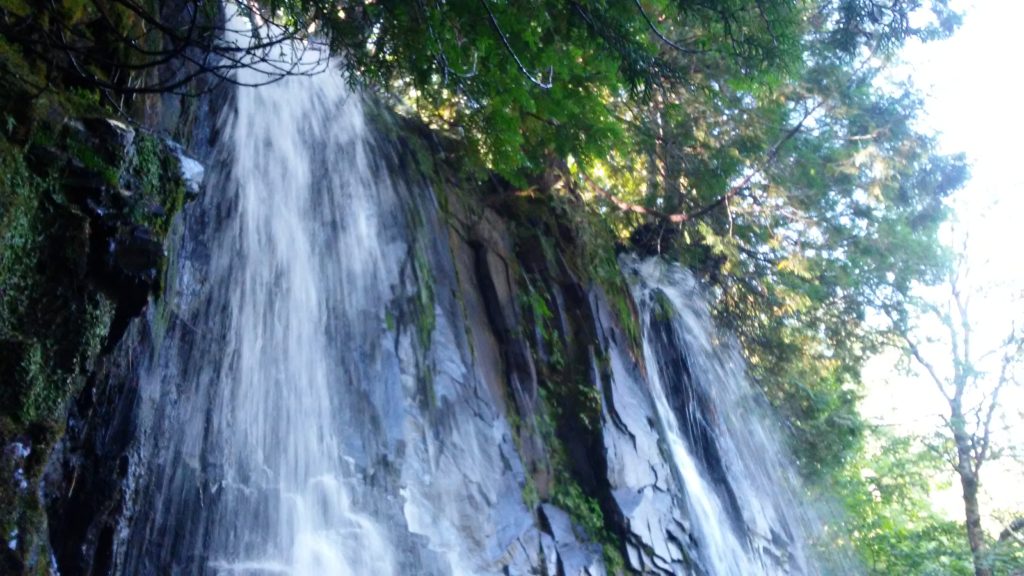 In the afternoon we used the resort's canoes to explore the connecting Magnetic Lake near Canada and fought some winds on a cool sunny day.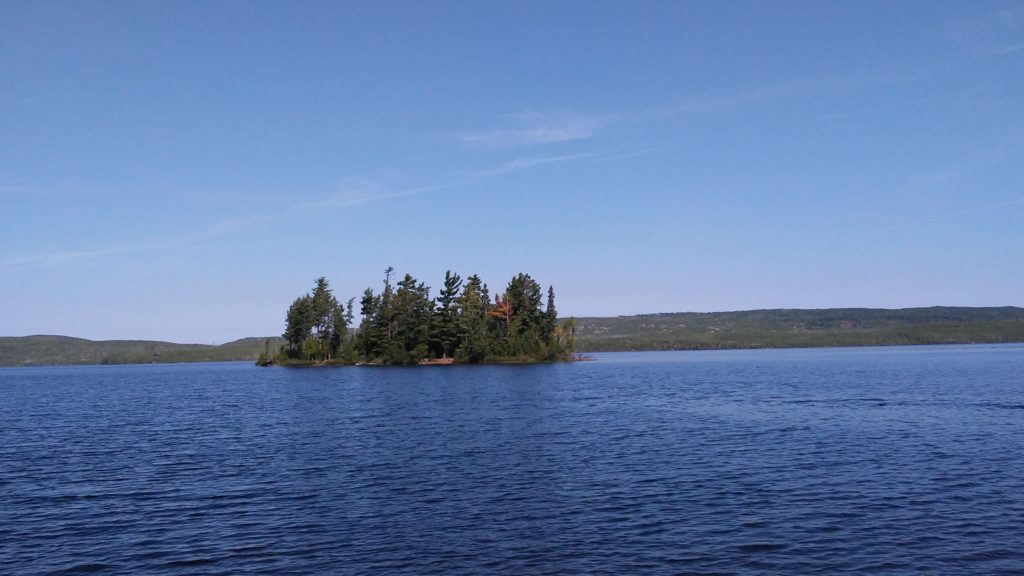 Our trip so far was enjoyable with hiking and canoeing and pretty uneventful. In fact they had already had a frost the week before, so we didn't even fight off mosquitoes.
However, our first night at 5 a.m. we heard a 'Boom!' 'Boom!' on the stairs of our screened in porch area of the cabin. We woke up with our hearts pounding and made sure the door was locked while hearing the screen being ripped outside and our travel coffee mugs fall to the floor.  Then the noise was gone and everything went quiet.
Scared out of deep sleep we wondered what it could be? We stayed in bed for a while to make sure the coast was clear and then checked and found a big rip in the screen and paw prints on our table cloth. 
That morning a couple was telling the outfitter they left an apple on their table and a bear came after it and tore their screen and tried to come in through the window they had open.  The bears wanted anything that looked like food or could potentially contain food.
We found out bears had been hiding near the maintenance area, so the staff scared them away with rubber bullets.  You can't keep anything outside that looks like food, such as empty coolers or other containers that could indicate the presence of food.
A great bear story to tell. So hopefully this doesn't scare you away from the boundary waters and you can plan your next boundary water trip for 2019.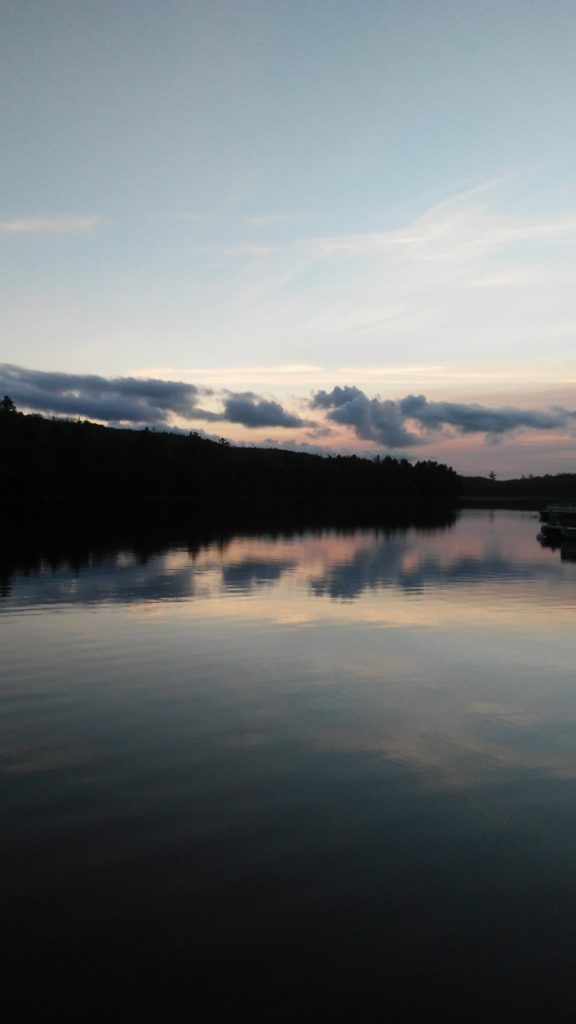 Tips For Planning your Boundary Waters Trip
Plan at least 9 months ahead and get reservations to a campground, camping cabin or a cabin.
August is a great month to go: less rain, less mosquitoes, less people and a little cooler.
Plan a route with maps for portages and lakes and use an outfitter if you don't have your own canoes/life jackets.
Pack light.
Buy water proof bags to carry your day supplies.
If staying in a camping cabin or camper- bring a cooler and put food in the refrigerator. Bring a camp stove for cooking.
Dress in layers with water resistant clothing. Bring hiking and water shoes and be prepared to get your feet wet.
Watch the forecast and news for severe weather, rain, heat or fires.
Put out all fires with water.
Try boundary waters the easy way to get a taste of it.
Any ideas or suggestions for a future trip, please comment.
Please follow and like us: