An easy meal that appeals to everyone in the family is sitting on my table.  You can learn how to make Shrimp/Rice Bowls and have dinner in less than 20 minutes and on your table.
Every Shrimp Bowl starts off with a base.  The one I am sharing with you has brown rice.  I will also show you an example made with Zoodles. You can also stir black beans into your rice and make a black bean rice combo base.  If you love Quinoa than you can use that for your base too. Use lettuce or kale for a lower calorie meal.
The layers start to happen.  Keep in mind you can layer these foods in any order you like them.  Keep your spoonful small, because the bowls tend to grow in size with each layer. 
One thing I like about this meal is if you are gluten-free, this works for you. If you are watching calories or carbohydrates, just use lettuce and this meal works for you. If you are picky, don't put an item on the bowl.  If you have a seafood allergy substitute chicken instead. A win-win meal for everyone.
If you were to invite people over for a meal you could ask each guest to bring one or two of the layers/toppings and you supply the rice and shrimp or chicken option.
What I like about using brown rice is it has more fiber than just white rice and you can make it in brown minute rice if time is an issue.
Ingredients: Lettuce, Shrimp sautéed with red peppers/onions/spices, corn, tomatoes, avocados, black beans, salsa, and cilantro lime dressing. Here is the recipe to enjoy!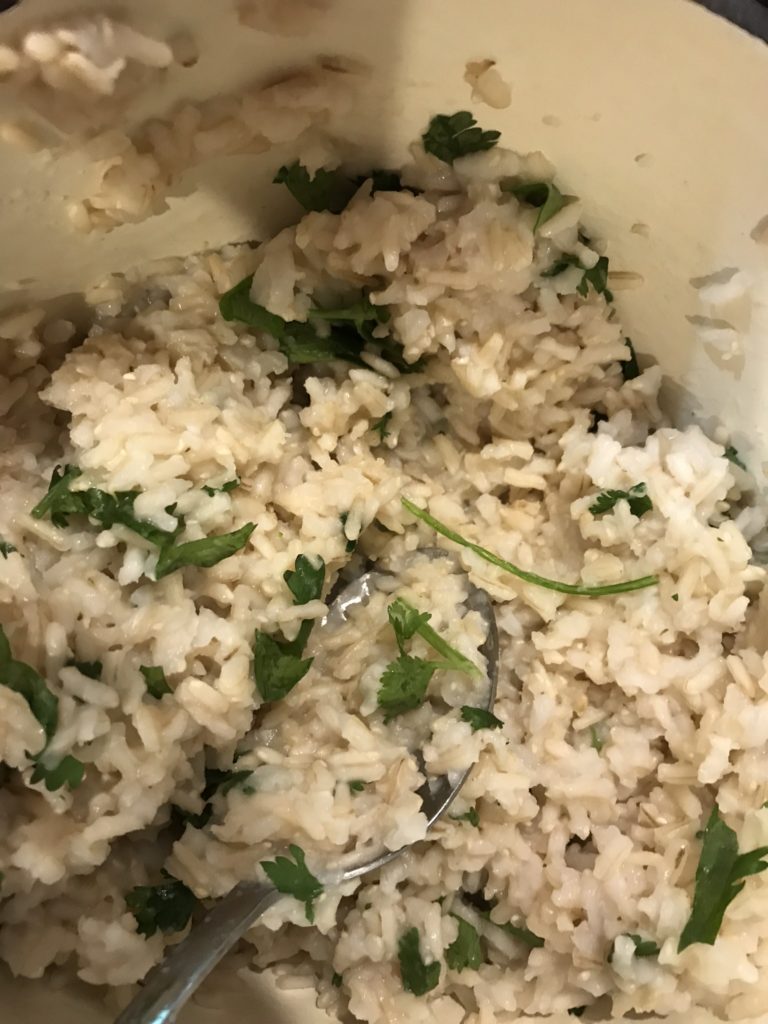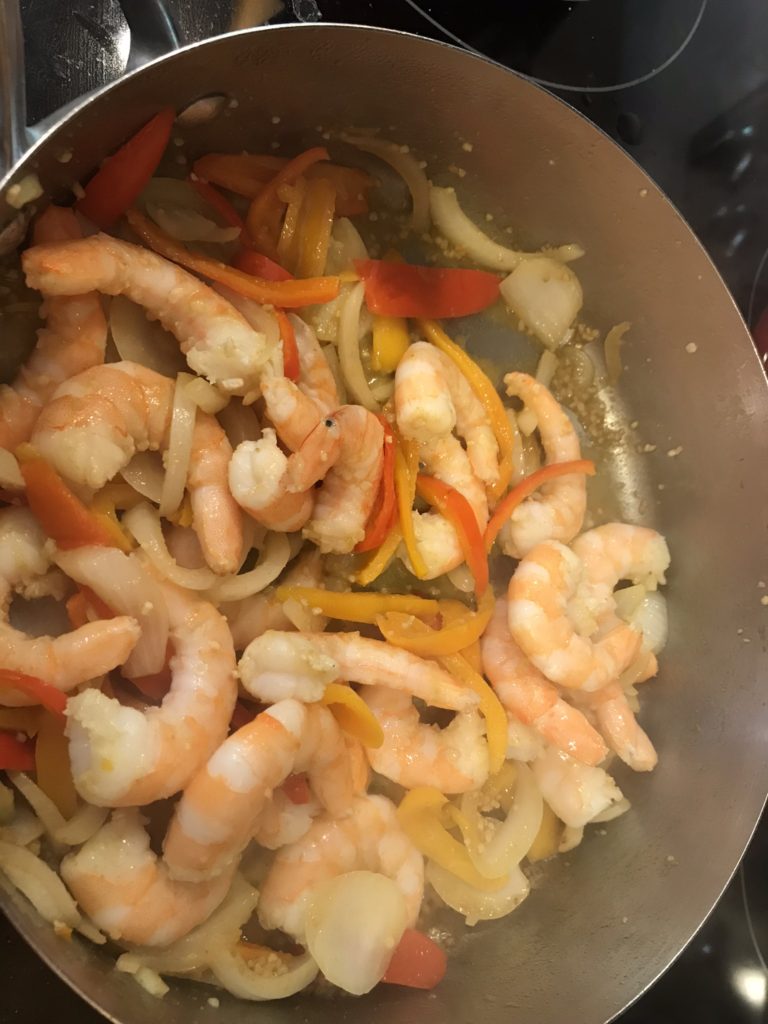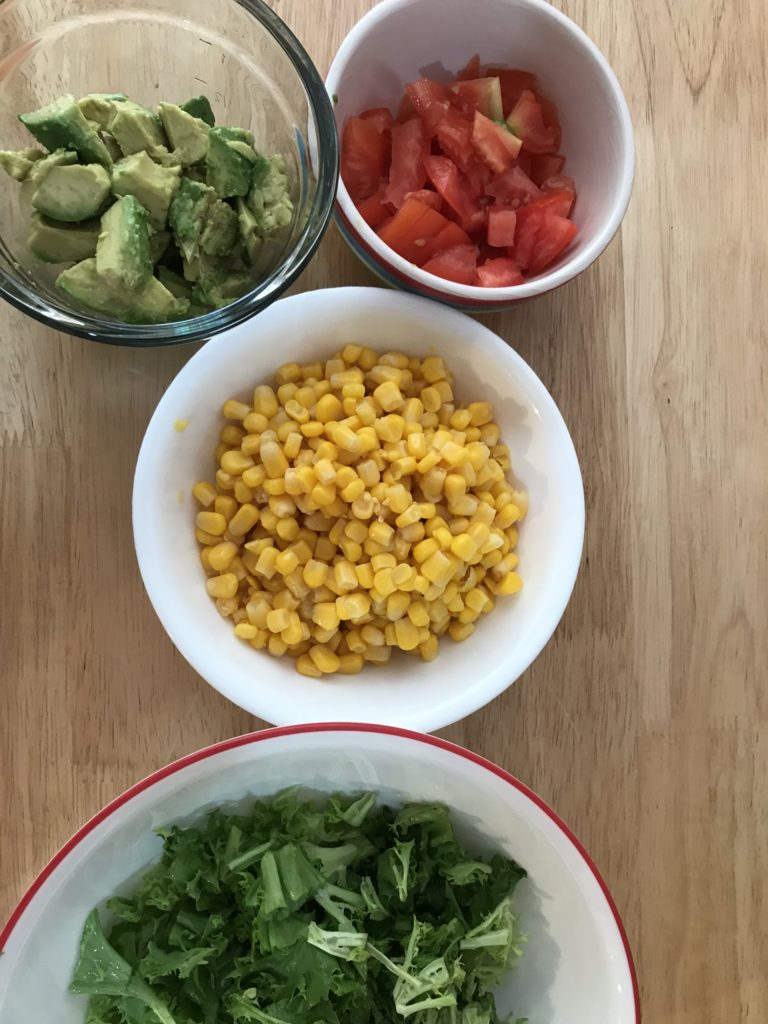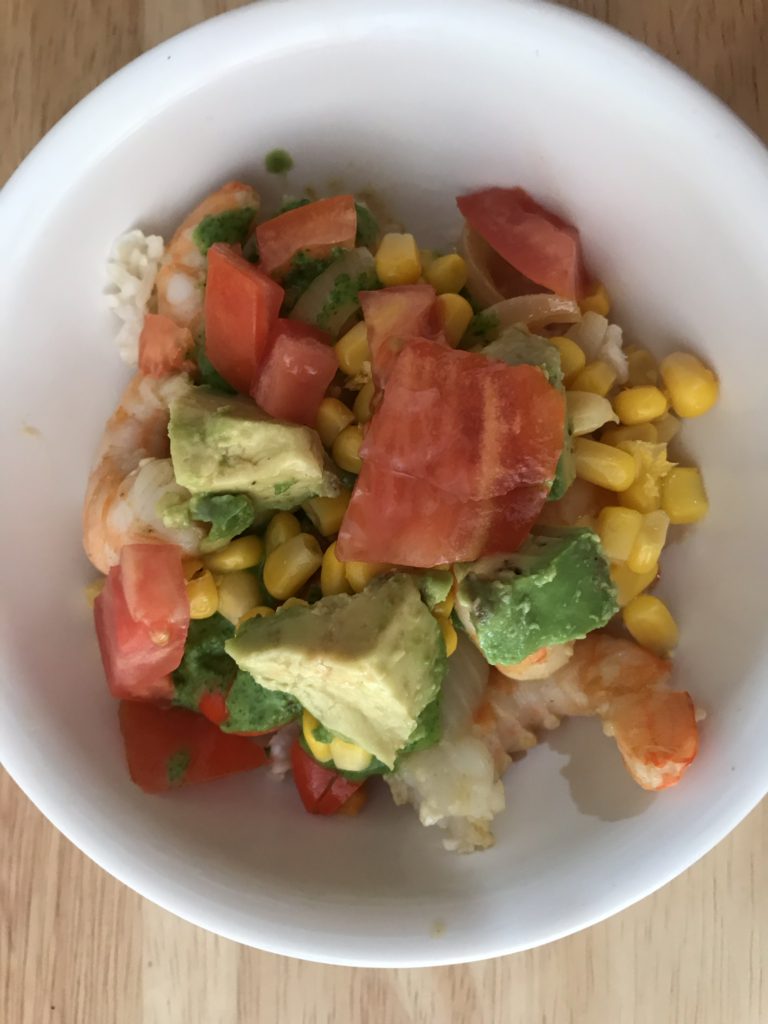 Shrimp Bowl Recipe
 2 cups brown rice cooked according to directions.
½ onion, diced
1 red or yellow pepper sliced
2 tsp minced garlic
12-ounce bag medium or large shrimp raw or precooked
1 tsp chili lime spice or 1 tsp cumin and 1 tsp chili powder
¼ cup fresh cilantro chopped
1 -2 cups drained canned or frozen corn
1 can black beans drained and rinsed
1-2 tomatoes -diced
1 avocado cubed
Finely cut lettuce of choice
Cook Brown rice with water per directions. When Rice is done, add black beans to rice if desired as well as the cilantro and dash of salt.    
Sauté onion, pepper, garlic and add shrimp and the spices. Until done.
In Bowl, make to eat: Add in this order or as desired: Rice/bean combo, Shrimp/onion/garlic/pepper/spice mixture, lettuce, tomatoes, avocadoes, corn, and top with dressing or salsa.
Dressing of choice on top: Cilantro Lime dressing or salsa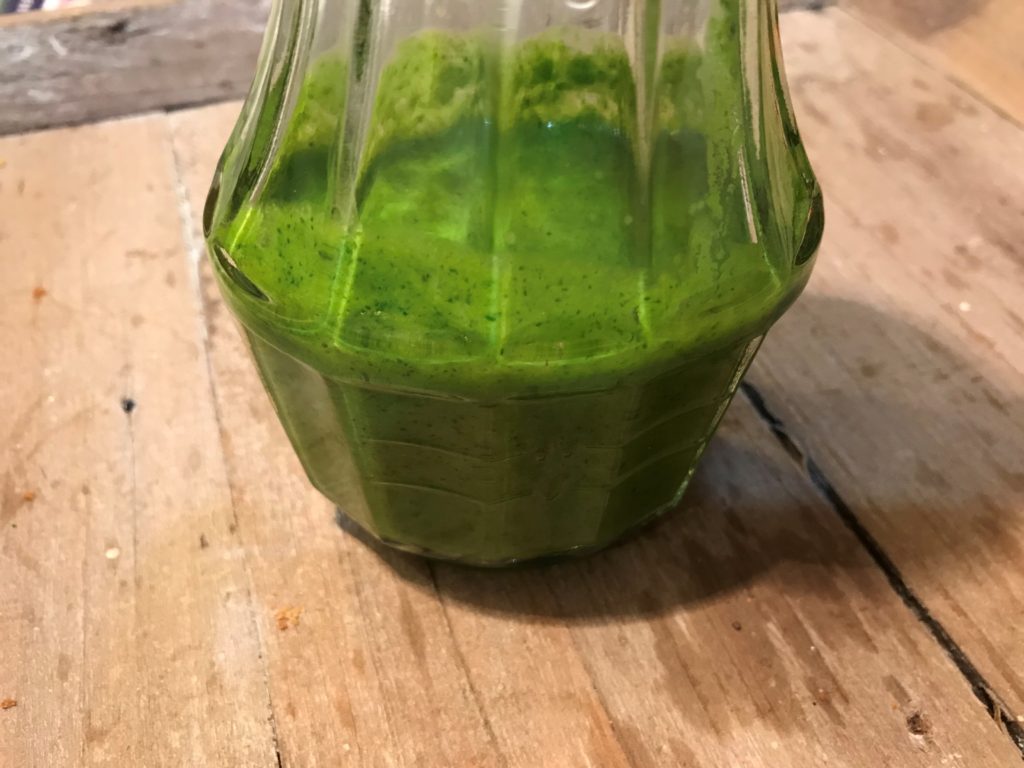 Cilantro lime dressing
½ to 1 bunch cilantro. Depending on the size of the bunch.
¼ cup lime juice
¼ cup olive oil
¼ cup rice vinegar
1 tsp honey
2 tsp garlic
Dash of salt.
Blend in Vitamix and pour into a container to serve as a dressing. Adjust the ingredients in the dressing if you like yours with more or less lime juice or vinegar.
Finally, if you would prefer to make with Zucchini/Zoodles follow these instructions.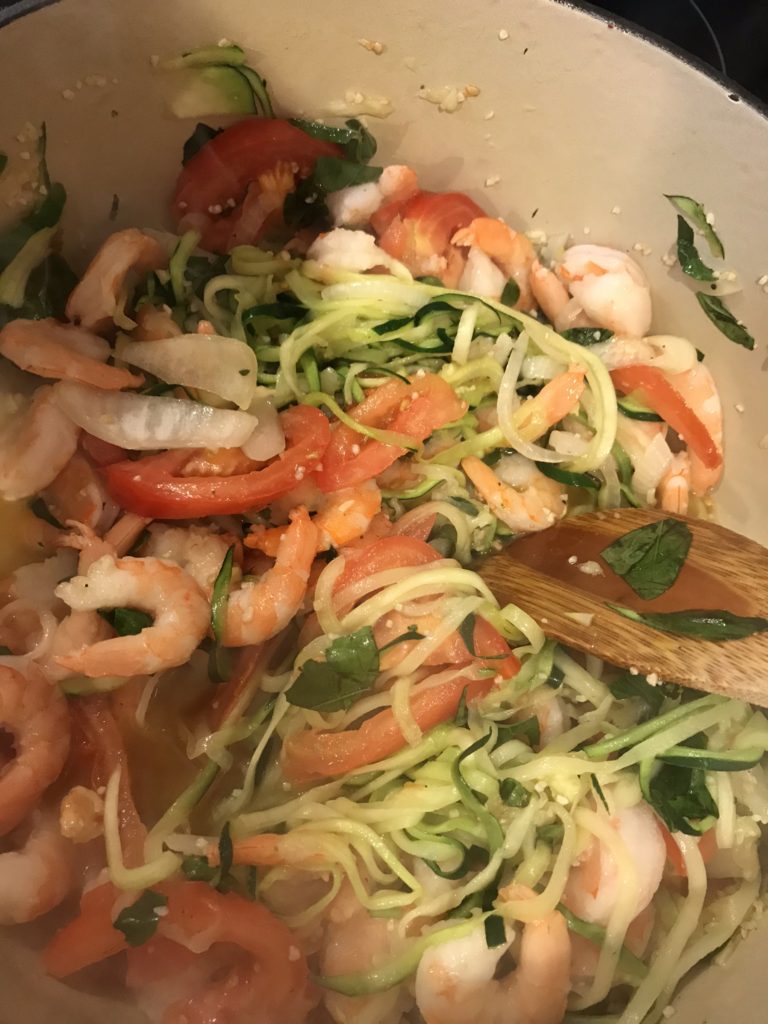 Shrimp Zoodle Bowls
Cut up with Zoodle maker one Zucchini. Saute Zoodles with the above onion, pepper and garlic. Add the above tomato and shrimp in the pan and cook until done.
Add corn, or other toppings as desired or cilantro lime dressing. Make it your own.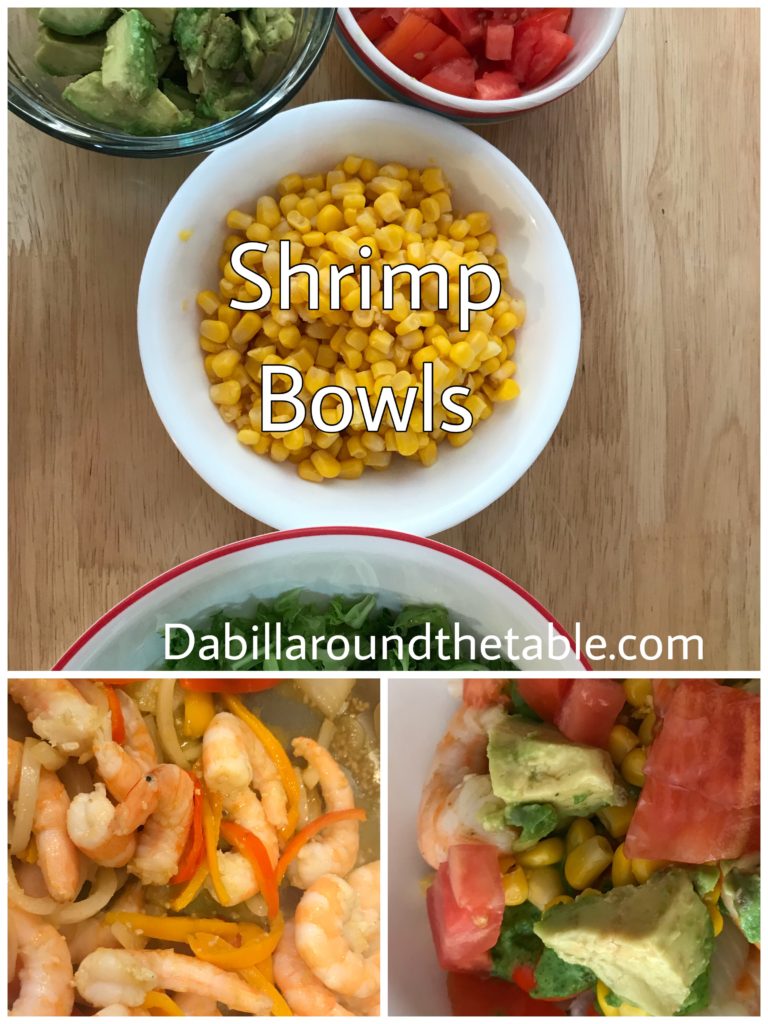 Subscribe to dabillaroundthetable Email to get a recipe or extra each month. Subscribe with MailChimp below. Don't miss links to the blog.
Please follow and like us: