Chicken is usually on the menu at least a couple times in a given week for most households. I can usually get two to three meals out of whole chicken and cooking chicken is pretty easy.    I will share how we get chicken ready for our dinner table.
When we were first married, I only bought chicken breasts because cooking a chicken seemed like too much work.  My mom raised her own chicken and eating whole chicken or her home canned chicken was the only way she made it.    I only liked the breast anyway so I thought chicken breasts were the only way.   Now my family likes other chicken pieces and it works great to make a whole chicken and have more meals.
Some chicken facts:
Chicken is low fat meat that provides an excellent source of protein.   Here are the facts according to the National Chicken Council.
3.5 ounces roasted chicken:
Skinless boneless breast of chicken: 165 calories, 31 grams protein and 3.6 grams fat.
Whole chicken meat without skin:  167 Kcals and 25 gms protein and 6.6 grams fat.
Whole chicken meat with skin: 239 Kcals and 24 gms protein and 13.4 grams fat.
Not eating the skin can save you almost ½ the fat in the chicken.  I usually cook it with the skin but then not eat the skin.
Remember 3 ounces is the size of the palm of your hand or a deck of cards.
Chicken provides you with the nutrients such as selenium, phosphorus, vitamin B6, niacin and is naturally low in sodium. The bone broth and drippings are excellent sources of nutrition many athletes use for joints and bones and overall health.  Other health benefits for bone both can be used for gut, immune system, and skin.  This is why homemade chicken noodle soup is so good when you are sick.
When cooking, get the internal temperature to 170 degrees or with a bone in 180 degrees. Make sure you clean the area the raw meat has contaminated, such as surfaces, cutting boards and utensils, so you won't get food borne illnesses.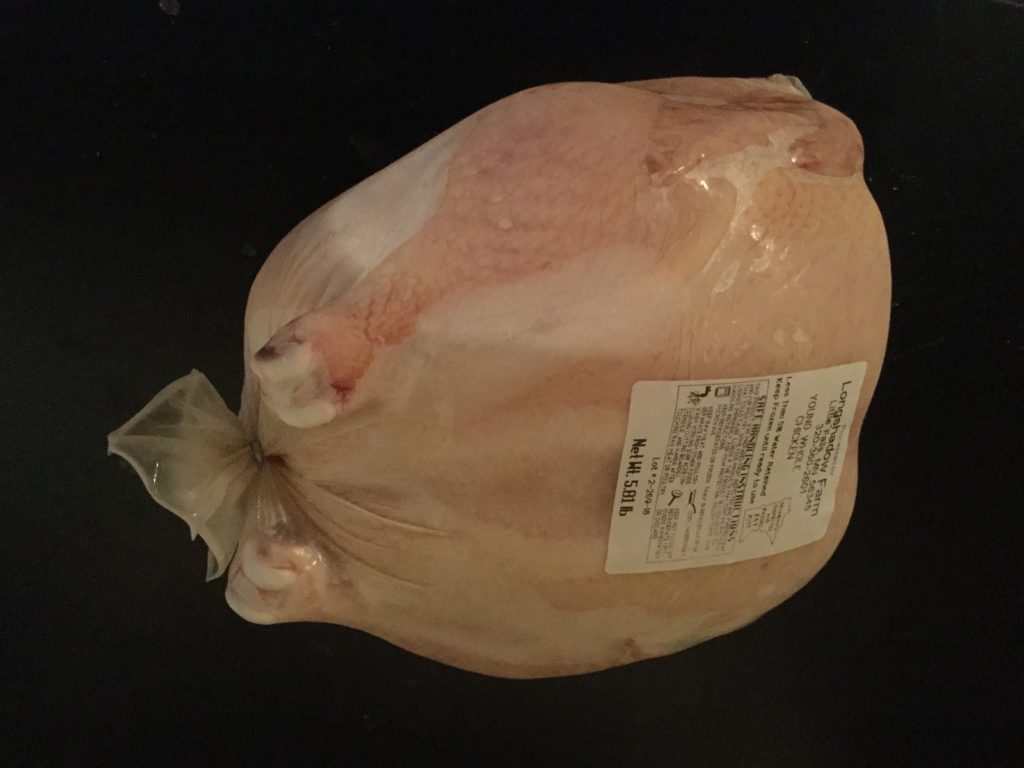 Every year I order 10 organic farm grass fed chickens from Longshadow farm.  I order 5 whole and 5 cut up into 8 pieces and they come frozen. In fact they just made my yearly delivery yesterday.   I cook a chicken once a month.  You can find a place that sells organic chicken, raise your own or try Costco organic chicken.
Here is my chicken cooking plan:
I cook a whole chicken at 300 to 325 in my 5 quart Nesco roaster oven.  Use your oven if you don't have one.   I love my small Nesco and will have to share some other recipes in future blogs.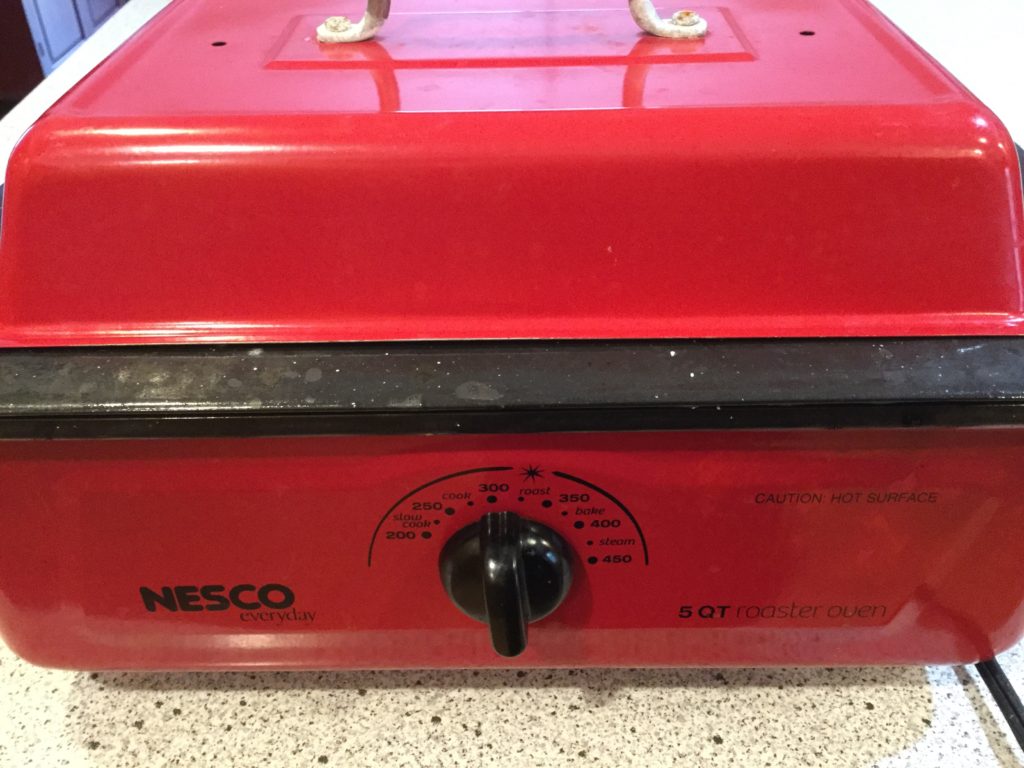 I usually put various spices on top of the whole chicken, such as garlic, or garlic powder, salt and pepper and rosemary or lemon.   Whatever spices you use, this will be infused in your broth.  It usually cooks for a good 2-3 hours. The longer it cooks the more tender the meat.  Check the temperature, but if the meat is coming off the bone it is done for sure.
Meal #1
We usually eat the cooked chicken and take the skin off. We eat with sides of garlic mashed potatoes and roasted vegetables.   If my kids request, I take some of the drippings and make gravy, but not all the time.
After the meal I take off the meat from the bone and store in a ziplock bag and freeze for later if not using it in the next few days.   I pour the drippings/bone broth from the chicken in the roaster into a quart jar straining off the chunks.    I then boil the carcass in some water for 20 minutes.  I strain off the small particles and pour into another quart jar.
Now I have two quart jars.  One with broth/bone drippings from the cooked chicken and one from boiling the chicken. I store these in the refrigerator for a later use.
If there are only 2-4 of us eating, I have a lot of meat leftover.  We can have leftovers the next day or I have enough meat to use in two other dishes.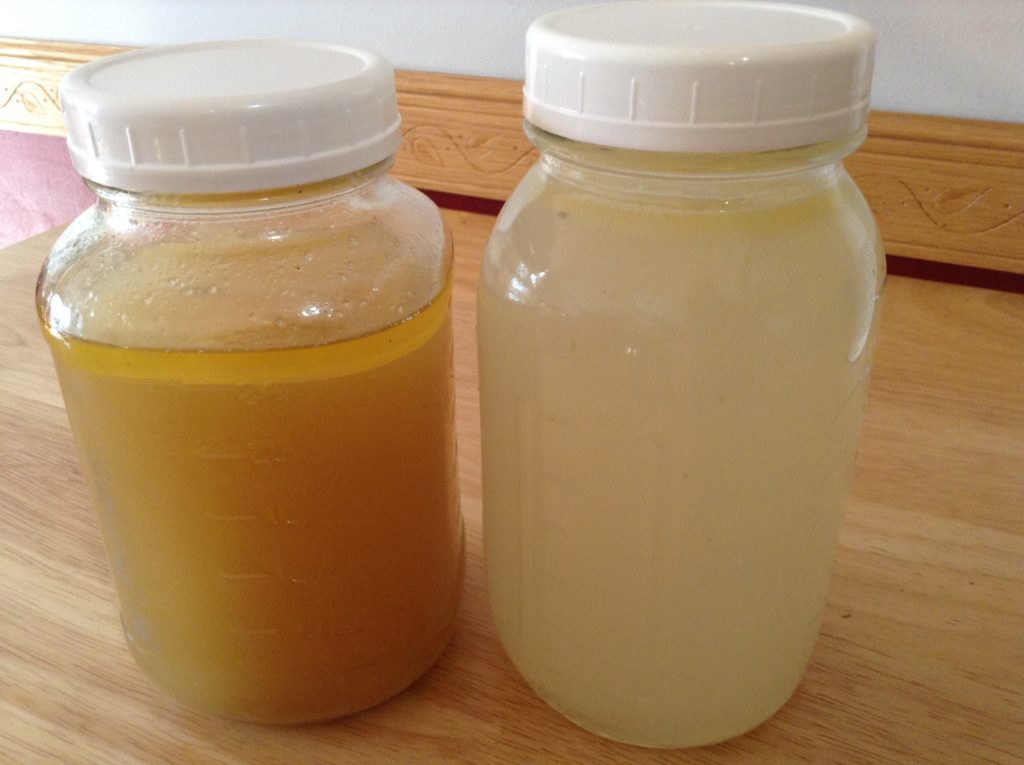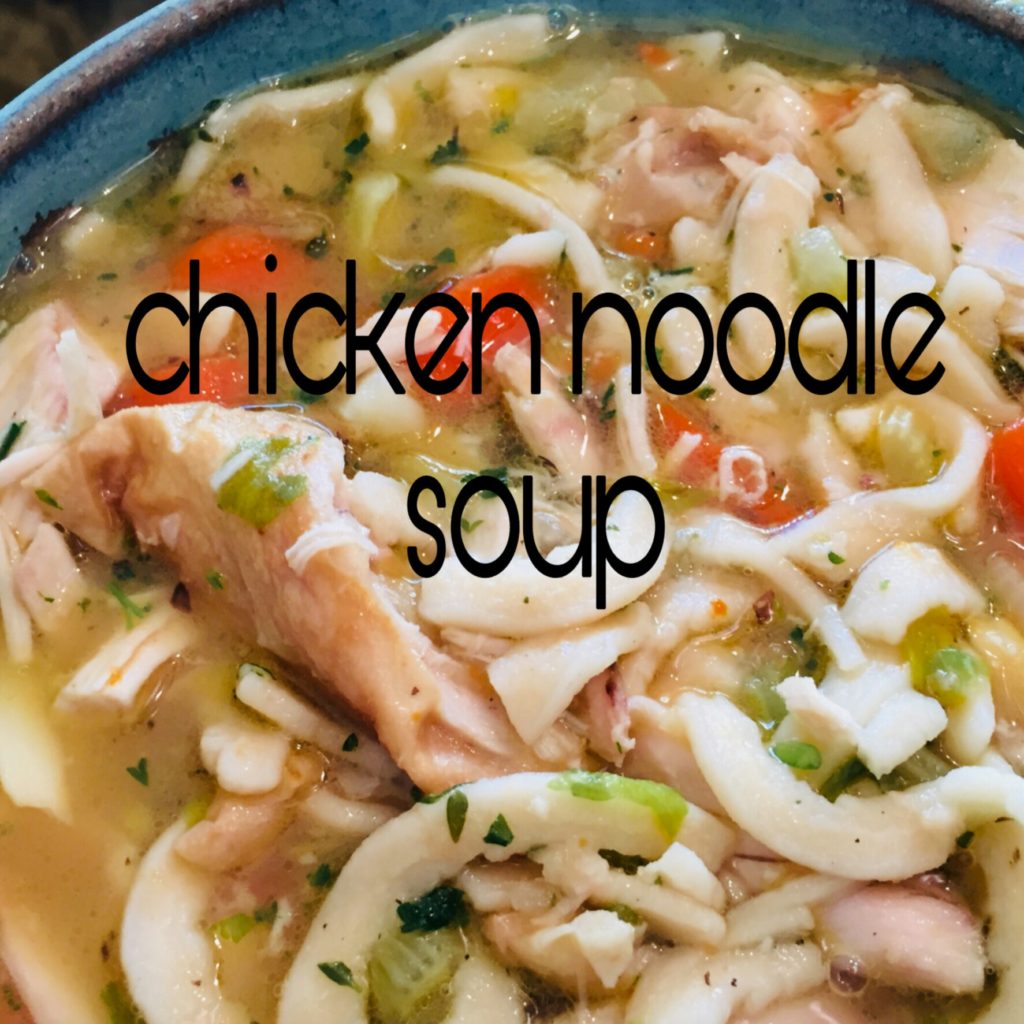 Meal #2
Chicken Noodle soup:
I use the two jars of broth and bone broth drippings and half of the left over chicken to make soup.  Spoon off any hardened fat on the top of the jars of broth/drippings.
Add Carrots, onions, celery, salt, pepper, garlic powder, parsley flakes, some poultry seasoning and noodles to make.   I don't really have a recipe but throw together and make.  When you get good at soups, you start to just know what to add to it.
Sauté in oil: 1 onion, 1 cup chopped celery, 1 cup chopped carrots.
Add spices: salt, pepper, garlic powder, parsley flakes and poultry seasoning.
Add the 2 quart jars of broth and drippings and 2 cups cut up chicken.
Add two tsp. of concentrated chicken base to flavor if needed.
Bring to boil and add 2 cups of dried noodles.
Cook until noodles are done and serve with crunchy bread or crackers.
Meal #3
The last of the chicken gets added to another dish that calls for chicken, such as another soup, Chow Mein, enchiladas or quesadillas.
I keep the chicken in the freezer until I am ready to use and the broth and drippings in jars in the refrigerator up to 3 weeks.
Three meals out of one chicken.
When I use the chicken with pieces cut up I cook it the same way as a whole chicken or may make chicken and rice in my roaster.  Follow your own chicken and rice recipe or use the one below.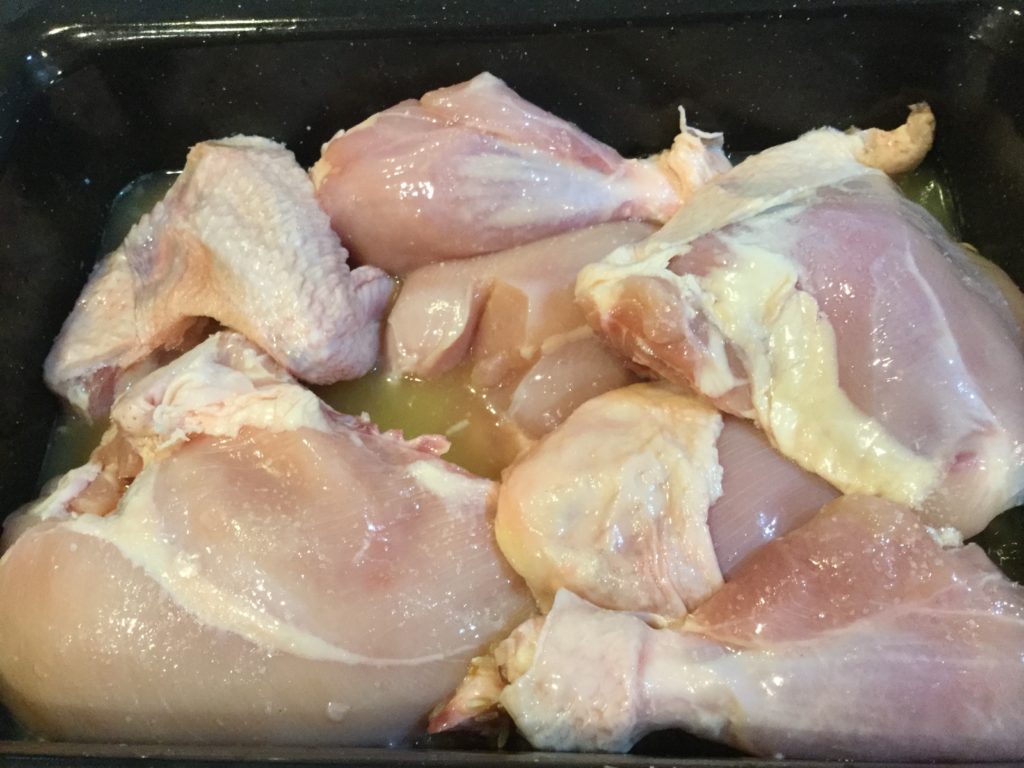 Note: take fat off chicken or your rice will be very fatty.  You will not get as many dripping/broth from this method of cooking but that rice is tasty and has lots of bone broth in it. You will have leftover chicken to eat at another meal unless you're cooking for a large family.
Chicken and Rice:
1 cup Rice, 1 cup water, 1 can cream of mushroom soup, 3 Tbsp dehydrated onion flakes, salt and pepper and a whole chicken cut up with some skin removed.
Bake for 2 hours in roaster oven at 325 or until Rice and chicken are done.
The last time I made this I got so much liquid coming off the chicken that I drained off some of the chicken broth in the middle of cooking to use for a future meal.  I got about 2 cups worth and I also used brown rice.   You can also make the rice seperate in the crockpot while you cook the chicken in the roaster.
I hope you will look at cooking chicken different, knowing it will save you time for some future meals.
Share how you cook your chickens and what you do with them.