On every Christmas Celebration table, there should be a salad.  Don't forget it because of the romaine lettuce recall or because it's not summer. Since many of the Christmas foods are filling and full of calories, you'll be glad you added a salad to the menu. I'm sharing my two favorite salads and one dessert we eat on Christmas.
In these salad recipes, you will find they both call for fruit and nuts.  Please feel free to adjust to your liking.  I Especially like the mandarin oranges used in these salads because berries can be difficult to find this time of year. It's easy to have a can of mandarin oranges on hand or cuties on the counter.
My favorite of the two salads. This Salad is like a fruit salad and lettuce salad combined. Serves 6.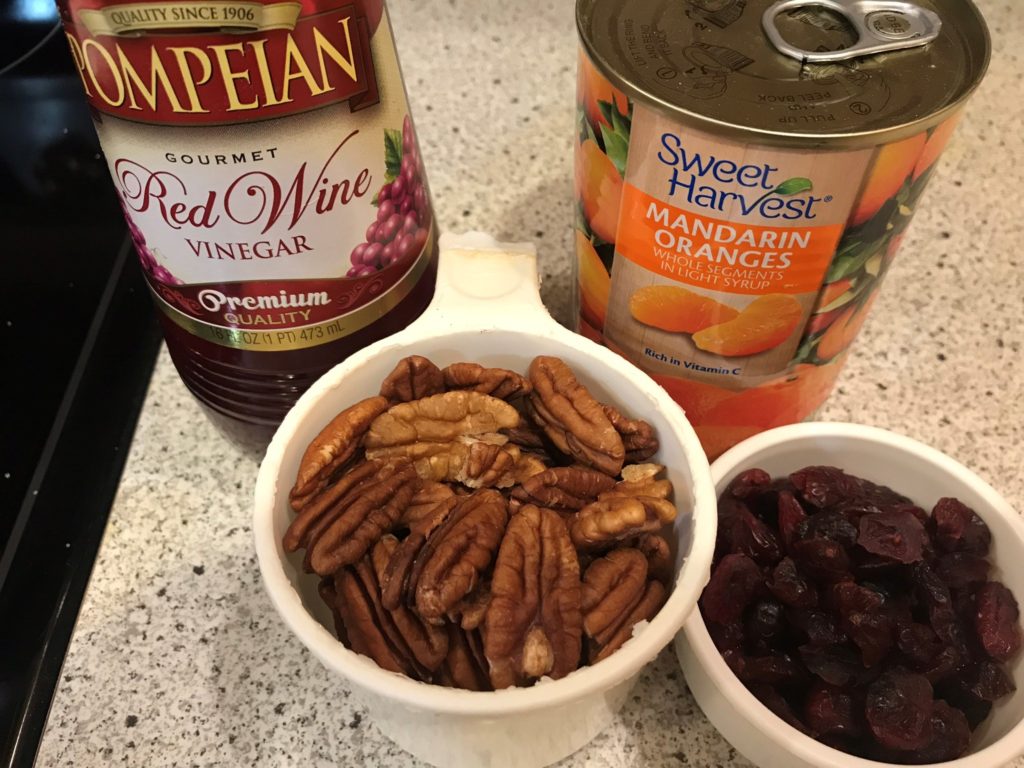 Salad #1 Craisin- Orange- Pecan Salad
Ingredients:
4-6 cups greens- spinach or leaf lettuce or combined. (I have been lately making it with Artesian Lettuce.)
1/2 cup Craisins
1/2 cup Caramelized pecans: Make with ½ cup Pecan halves and 2 TBSP sugar- Add sugar and pecans to a cast iron or nonstick pan and cook over medium heat until sugar has caramelized on the pecan. Stir the whole time and cool pecans on a cookie sheet.
½ Red onion cut into thin slices
1 – 11 ounce can of mandarin oranges drained or 2 cuties peeled and divided.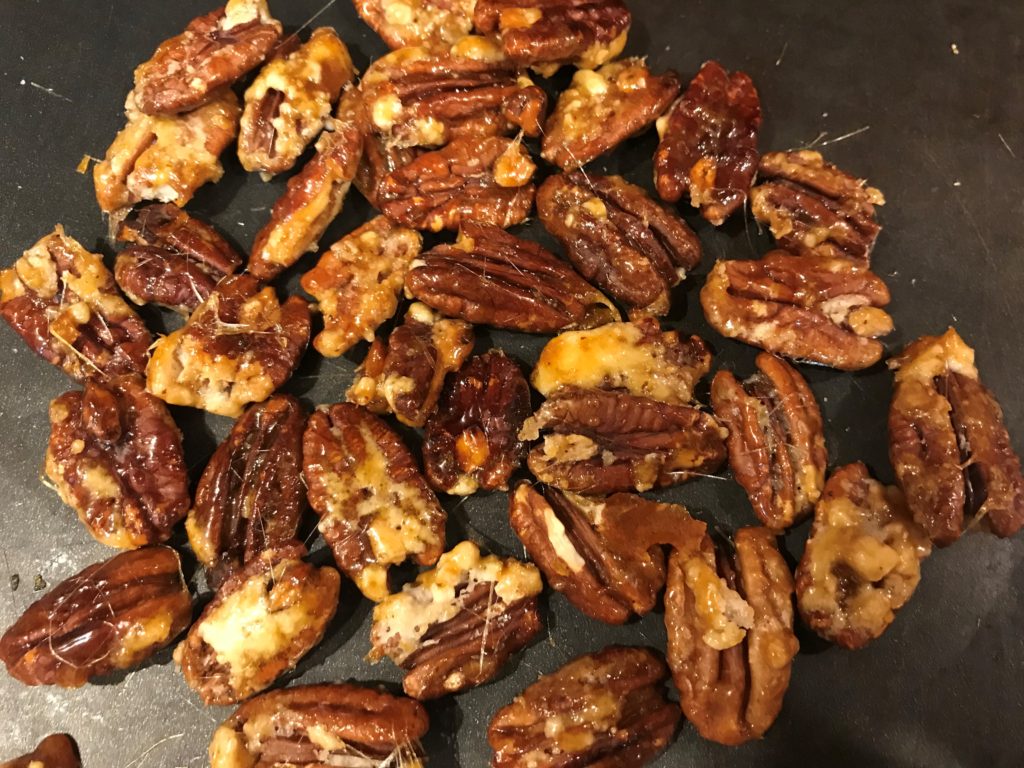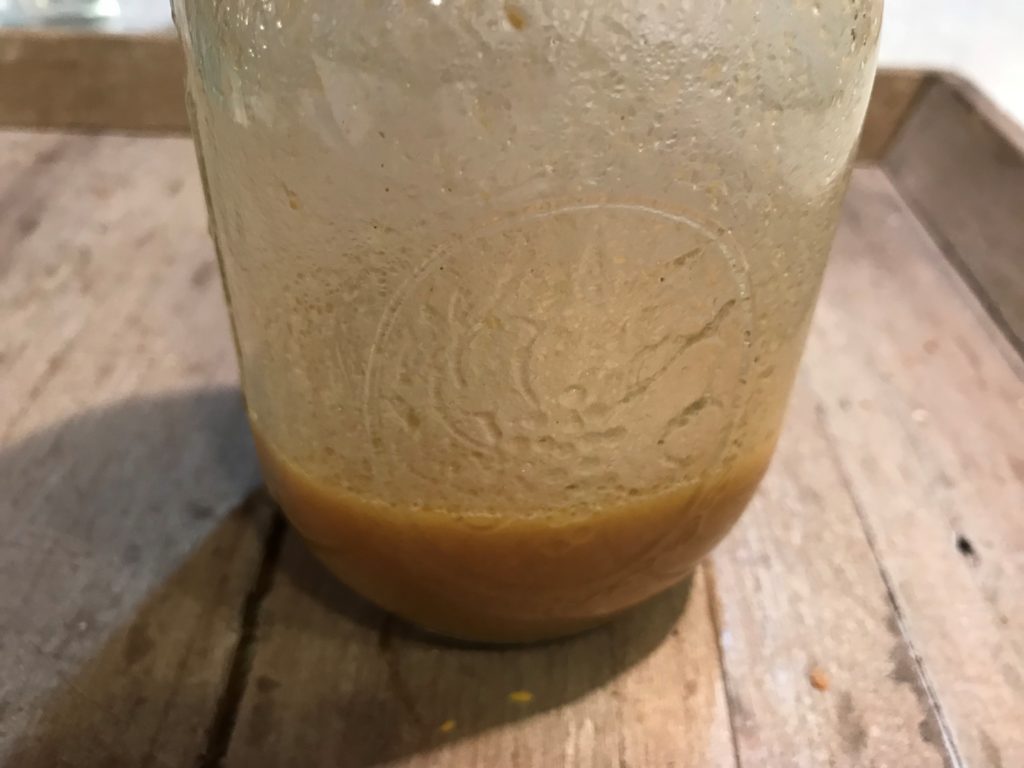 Dressing Ingredients:
¼ cup Extra Virgin Olive Oil
3 TBSP Red wine or Cranberry wine vinegar
1 TBSP sugar
1 tsp Dijon Mustard
Pinch of salt.
Blend together. Serve over Salad.
Add all ingredients and dressing to salad, Toss and serve. Serve dressing on the side if you know you won't eat the whole salad.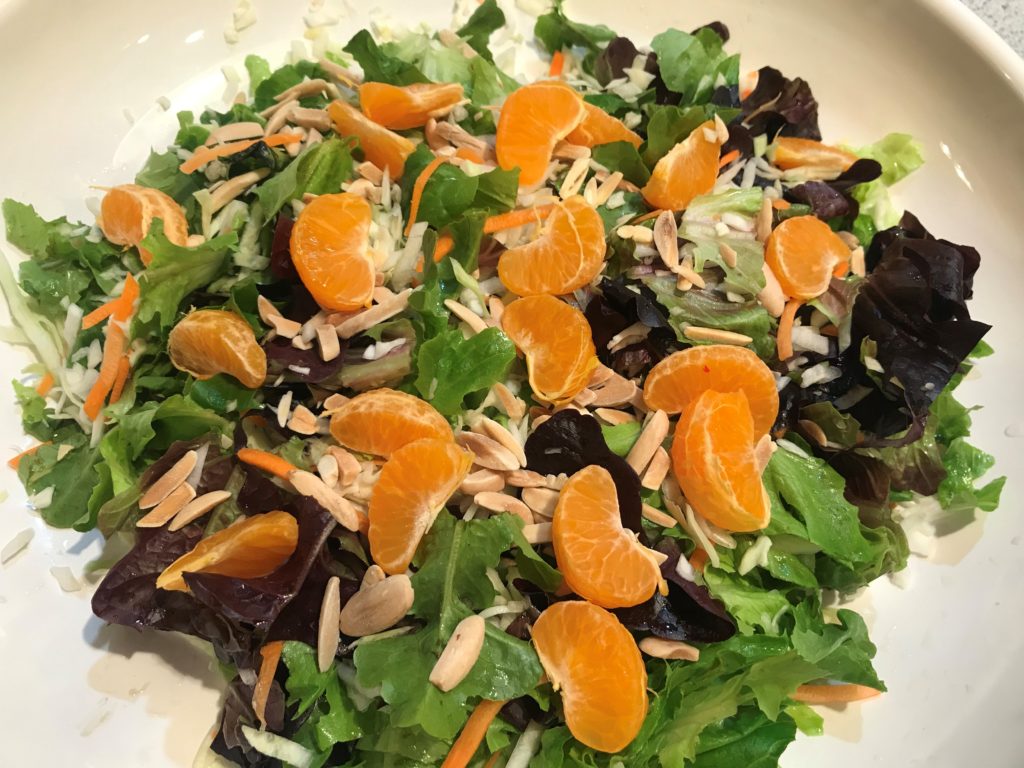 Salad #2  Asian Salad
4-5 cups Salad greens. I used Artesian lettuce.
1 cup coleslaw mix with carrots or thinly cut cabbage.
2 cuties peeled and divided or 1- 11 ounce can mandarin oranges.
2 TBSP slivered or sliced Almonds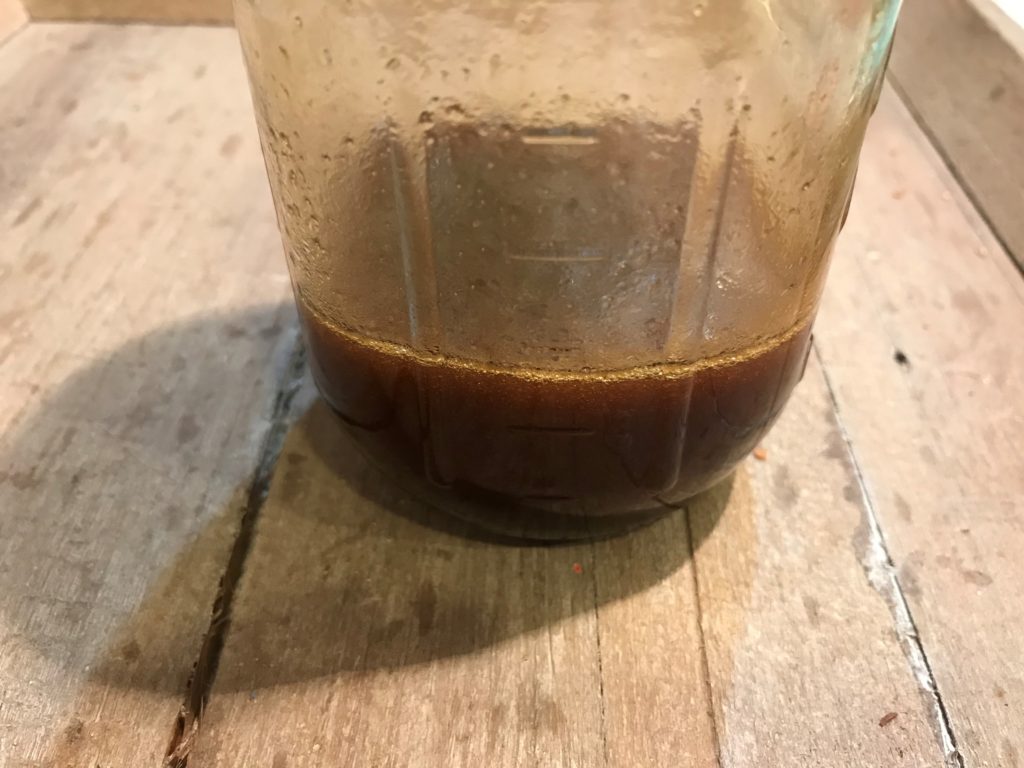 Dressing:   Serve on the side if not eating the whole salad
¼ cup Brown sugar or maple syrup
1 tsp dry mustard
¼ cup rice wine vinegar
¼ cup low sodium soy sauce or liquid amino
2 tsp honey
2 tsp lemon juice
1 tsp sesame oil
¼ cup peanut oil or EVOO
Blend. Adjust flavors and sugars based on personal preference. Always personalize your dressings and recipes to your tastes, or ingredientson hand.
Add ingredients to salad and toss.  Add dressing and serve.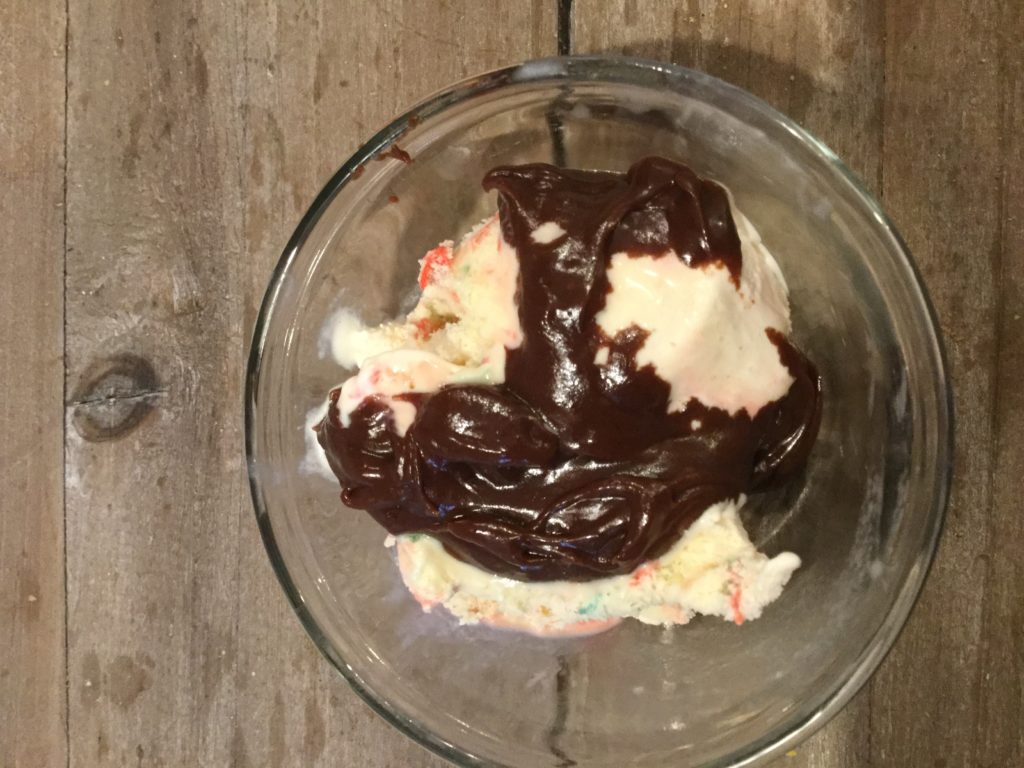 Favorite Dessert for Christmas- This is Easy!
Candy Cane Ice cream with Hot fudge.
Buy candy cane ice cream or peppermint patty ice cream and serve with homemade hot fudge. 
I found peppermint patty ice cream a few years ago and can't find it anymore so back to candy cane ice cream for Christmas.   I hope you can find one of them.  The Brand I use is Kemps.
Hot Fudge
1- 12 ounce can Evaporated milk.
¾ cup semi-sweet chocolate chips
½ cup butter
2 cups powder sugar
Cook and boil on medium high heat stirring constantly for 7 minutes.  This will be thick.  Make hot fudge right before serving or make ahead, refrigerate and microwave before serving over ice cream.
Drizzle on top of ice cream.
Serve ½ -1 cup ice cream with hot fudge on top.  Portion control. That how I do ice cream.
It's not worth the calories unless it's chocolate. Remember it's how much you eat and how often.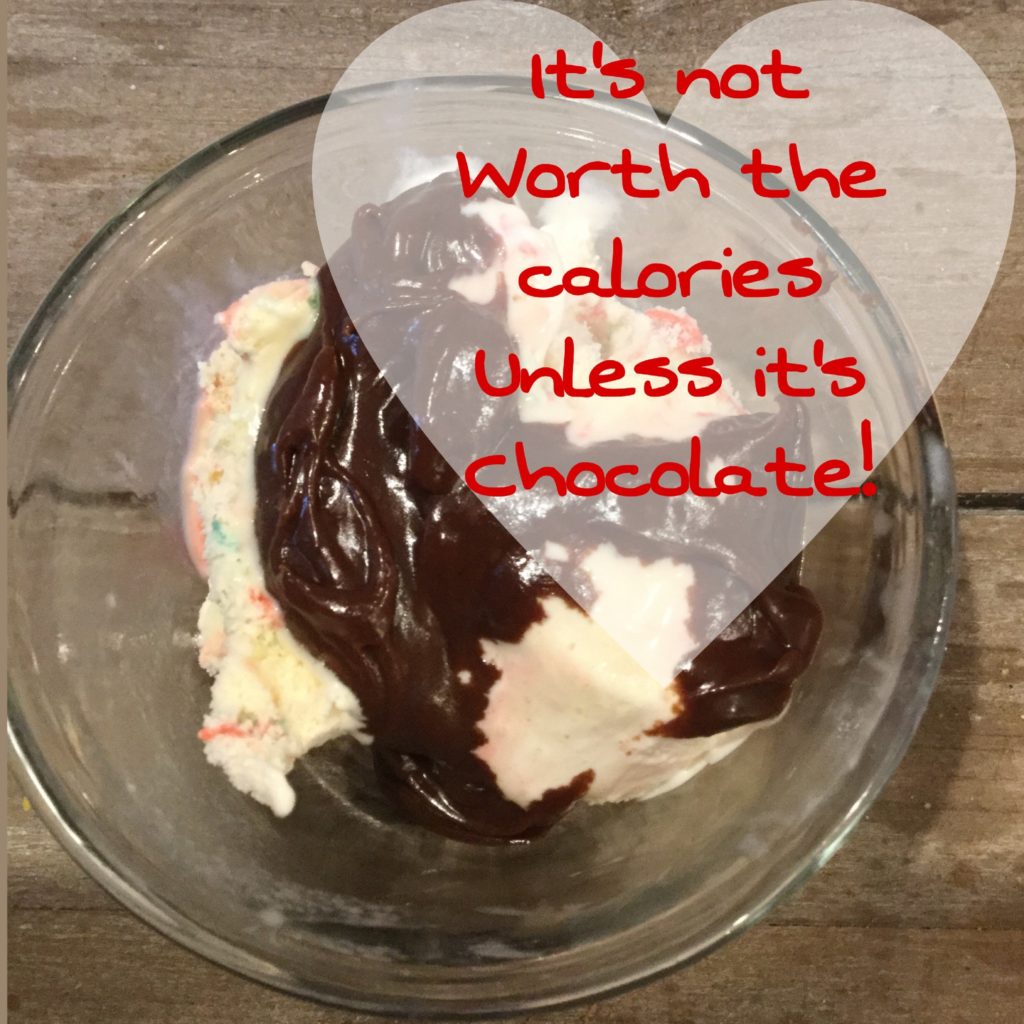 After making a nice Christmas meal, you will be glad you made an easy Dessert. Enjoy the new recipes this Christmas at your Celebration meal.