Disclaimer: This Post Contains Affiliate Links. Thank you. 
These are a few of my favorite things I have purchased in the last year and love.  I am sharing these items so you can use these as gift ideas for others or just yourself. If you try them I hope they will soon be your favorite things.
Last year I hosted a favorite things party and invited guests for lunch. I had my friends wrap their favorite thing, $3-$6 per gift. We then exchanged gifts with a dice game. We explained why it is our favorite thing. It was fun to learn why.
My Favorite Things/Products
Soap  $3.99
My favorite thing is soap.  Not just any soap but the soaps from TJ Max. These are giant bars of soaps in many scents. I love going to the store and smelling all the soaps.
My favorites are spruce, evergreen, pine, and lavender.  They smell so good that I sometimes lather twice just to smell it longer. The bar lasts 2-3 months with two using it and does not melt in the shower. The soap does not make your skin itchy.   They are $3.99 a bar and I love them.  My kids think I am crazy for liking soap.  It's the best gift to give because everyone can use soap.
Lip Mask $14.95
My next favorite is lip mask. I found this product recommended on a talk show.  I order it online with Amazon.com.   Lip Mask is made in Korea and it's great.  I set it on my nightstand and right before bed, I put it on my lips.  I use this every night and my lips do not get chapped in the winter.
It keeps my lips conditioned while I am sleeping.   A jar lasts longer than a year. Here is the Amazon affiliate link for the Lip Mask.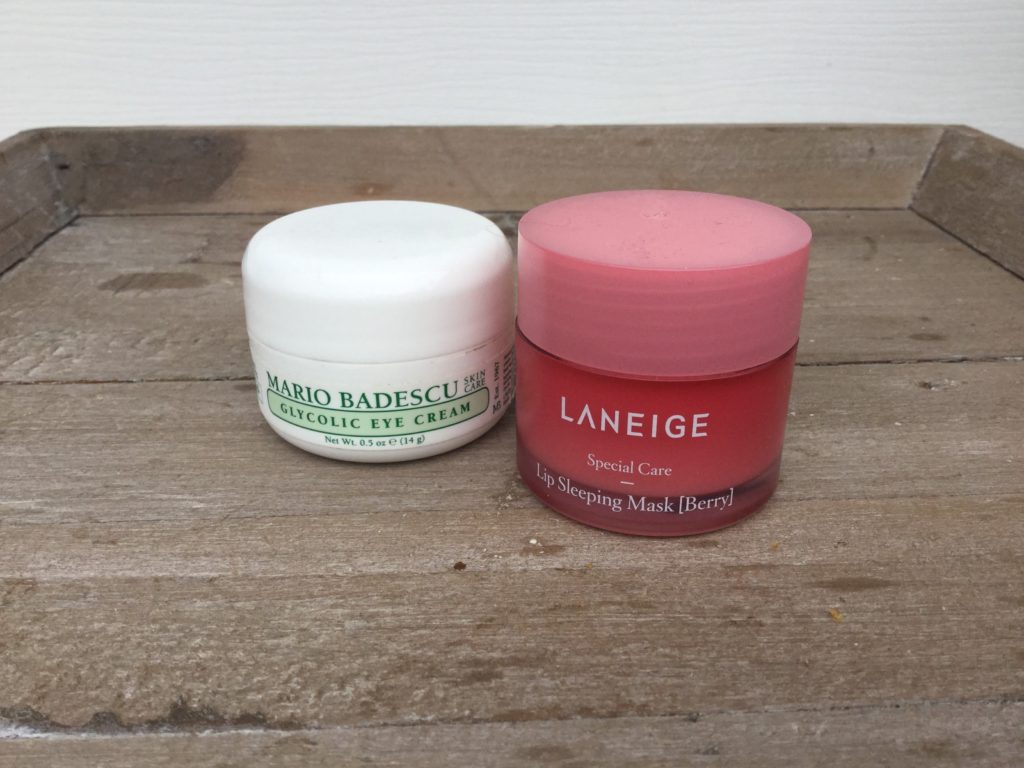 Glycolic Eye Cream $17 to $20
My next favorite it glycolic eye cream.  I put this on before bed and I look like greasy eyes but I am getting old and have some wrinkle lines near my eyes.  I know the lines could be worse without it because I am a squinter and wear contacts.   You can get this at Ulta or online. Amazon affiliate link for Glycolic Eye Cream.
Tooth Powder $12.97 or $24.97 for large size
Primal Life Dirty Mouth sweet peppermint tooth powder is my favorite. This is sugar-free and is made with clays,  aluminum free baking soda,  and peppermint oils. I am sure there is a recipe out there to make this toothpaste homemade.  Try this to see if you like it, before checking out homemade versions.
I normally use melaleuca toothpolish each day but I tried this and now use this about five times per week.  I still use my melaleuca toothpaste too.   Yes, I am brushing my teeth two times per day. My teeth are whiter and it feels like I just went to the dentist for a cleaning.
The taste of the powder is great, although I haven't tried the other flavors as peppermint is usually my go-to flavor. I first purchased the small size to try it and liked it so well I purchased the bigger one. Now I put the powder in the small container to use since its more convenient to use when I travel.  Give it a try.  I purchase it on Amazon. Amazon affiliate link for small tooth powder.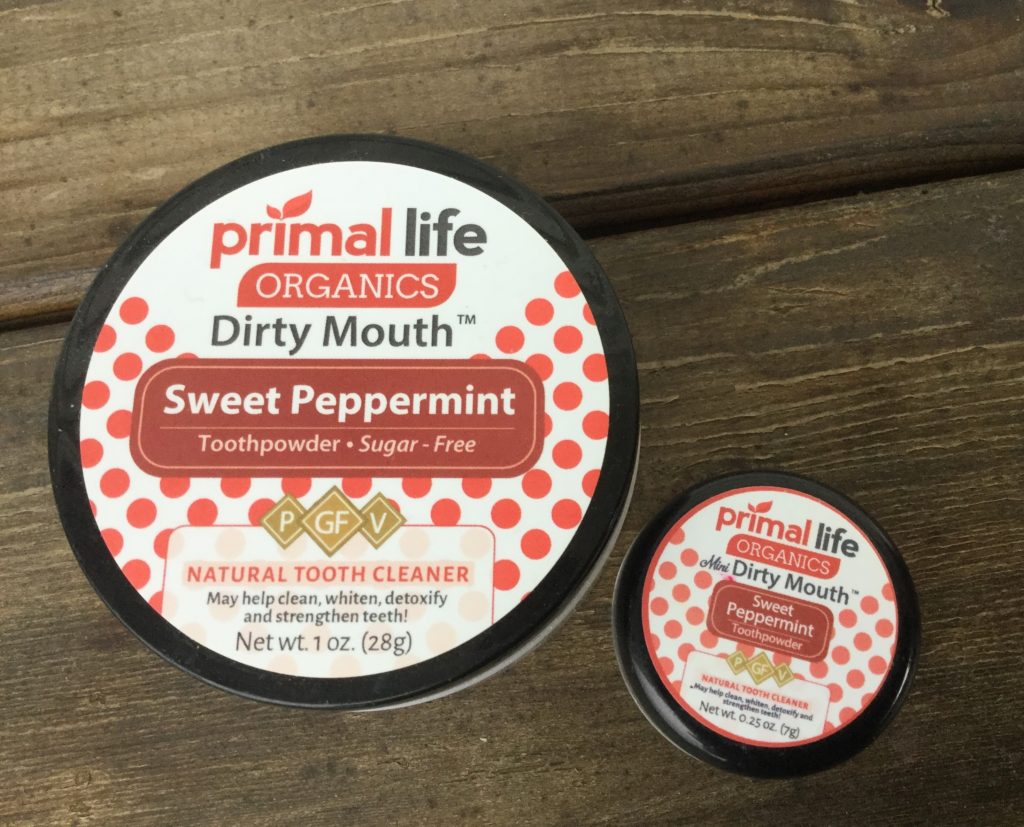 Lotion  $9.99
The best lotion I have ever used is called Renew, from Melaleuca. If you have dry hands in the winter this is the cure all.  My family loves it so much I need to give it to them for Birthdays or Christmas each year or they ask me to order it for them.
I use it most of the time at zero degree temperatures when my hands are abused with handwashing and no humidity in the air. It's the best lotion I have ever used.  If you live in a dry climate, you may want to use it year round.
If you have questions about Melaleuca, feel free to contact me. I can tell you how to sign up to be a preferred member so you can begin your own orders.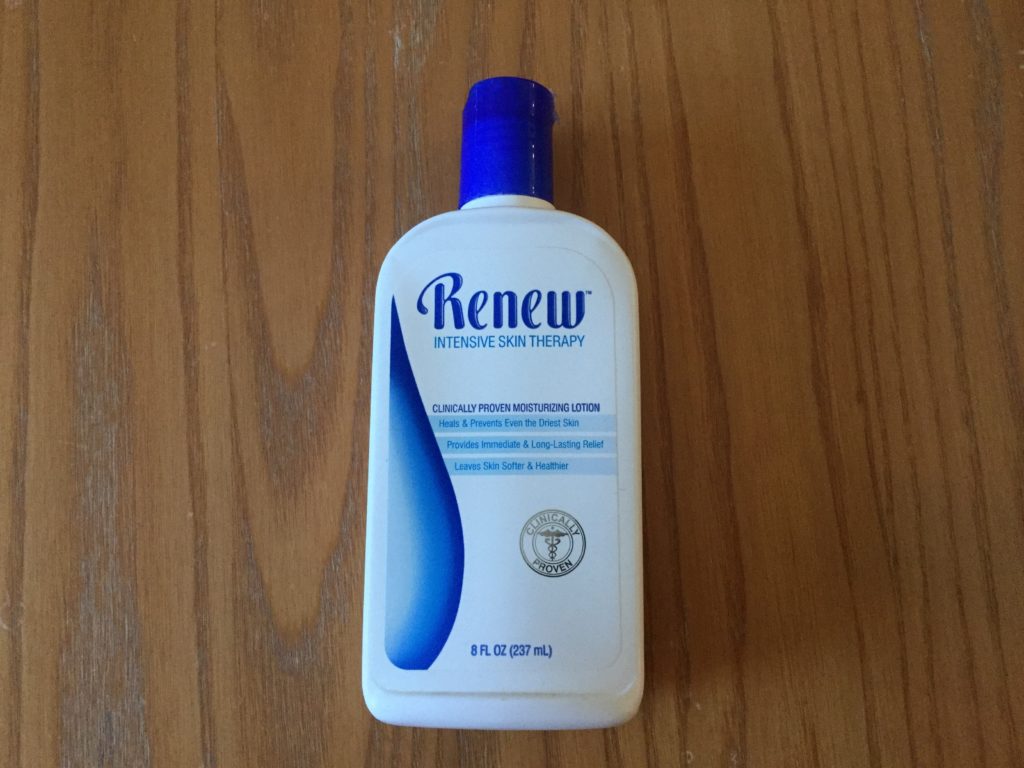 Blueberry Green Tea $12
My favorite tea that I drink every day is Blueberry Green Tea by the Republic of Tea.  You can usually pick this up at Amazon, Whole Foods or locally at Christmas Point for $12.99. I like it because I don't have overpowering tea when I forget to take out the tea bag.  Other green teas are fine, but if you let them steep too long. Ick!   I also like the hint of blueberry in this tea. Amazon affiliate link for green tea.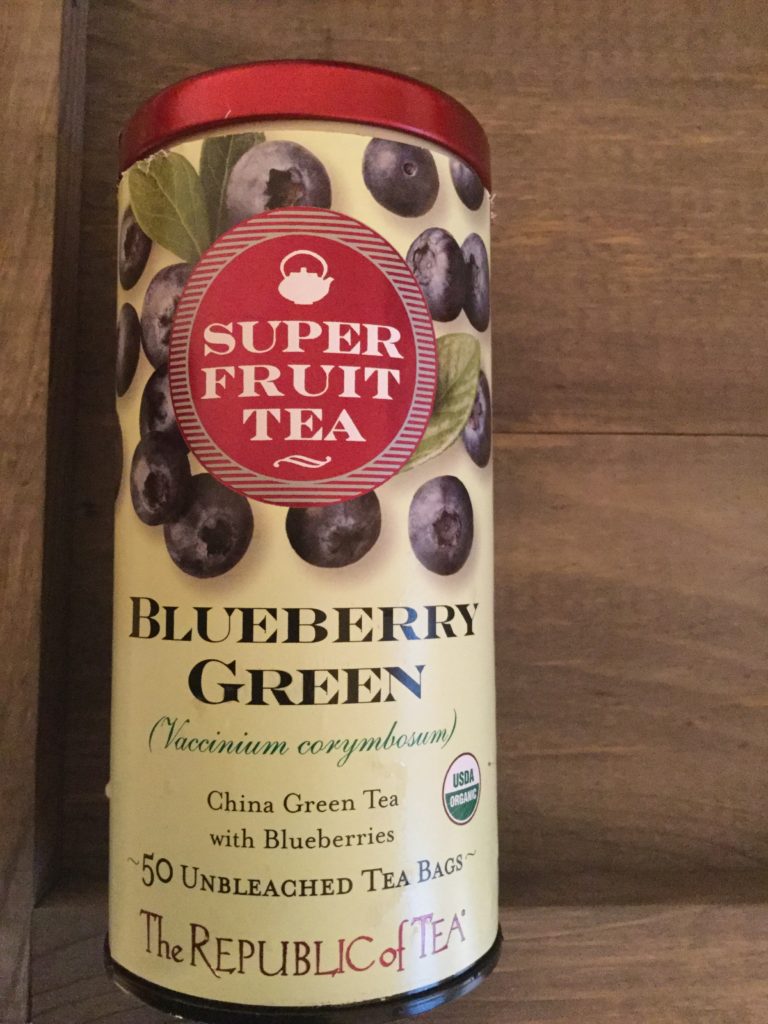 Peppermint Coffee $ 4.99-5.99 and Peppermint Whipped Cream $2.49
Finally, my favorite coffee this time of year is peppermint flavored coffee by Market Pantry.  You can buy this at Target.  Drinking this coffee will save you latte calories and you will feel like its Christmas all winter long. It will also save you money.  One bag is the price of a Latte at the coffee shop.
I like to occasionally squirt some peppermint whipped cream on top and a few peppermint sprinkles. I get this peppermint flavored whipped cream at Target stores.   I try to stock up on this coffee when it comes out November first because they usually run out in December.  I got the sprinkles from TJMax.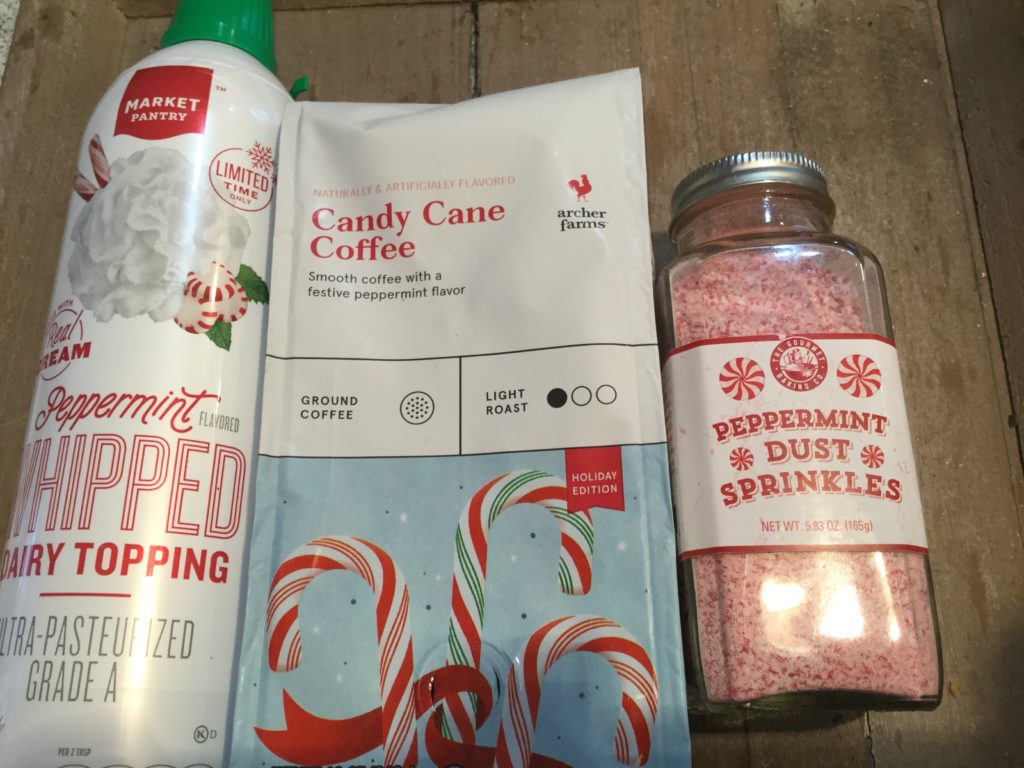 These are the products I have tried in the past year or are my true favorites. Hope you can try them or give my favorite things as a gift this year.