Fall and winter is crockpot season. I use my crockpot all year round, especially when I don't want to heat the house in the summer or keep food warm to eat later. Let's try some new crock pot meals that are my faves. My Favorite Crockpot Recipes.
Crockpots have come a long way since the first crock-type ones with one setting on and off.  My crockpot is simple with settings of warm, low, and high.   Many digital ones on the market allow you to program it to the exact temp and switch from high to warm automatically.   These are perfect if you know your recipe. Your dish can be done before you get home. 
Crockpot Uses
I like to start my crockpot at noon when I am home and when it's done in the afternoon I turn it to warm and my dinner is done. This would work great if you have to run kids around after school and you know that your meal is hot and ready. The family can eat at one time or all eat when they get home.
I often make a chili or soup on the stove and it is done a few hours before dinner. Simply transfer it into the crockpot to keep it warm until it's time to eat.
I also use my crock pot to cook meals while I am at church. We come home and it's done.
My friend made a roast in the crockpot because we were coming over. She was working all day and when we got there we smelled roast in her crockpot in the garage. Yes, she cooked it in the garage! Her dog gets too excited about the smell and barks. She was scared he would jump up and knock the cord and unplug it or even drop it on him. The smell drove the dog crazy.
One of my favorite things to cook in the crockpot is mashed potatoes. This is a game-changer for Thanksgiving. No more boilovers and you can cook many things at one time.  Today as I write this blog, I am making mashed potatoes in the crockpot and it hardly feels like cooking.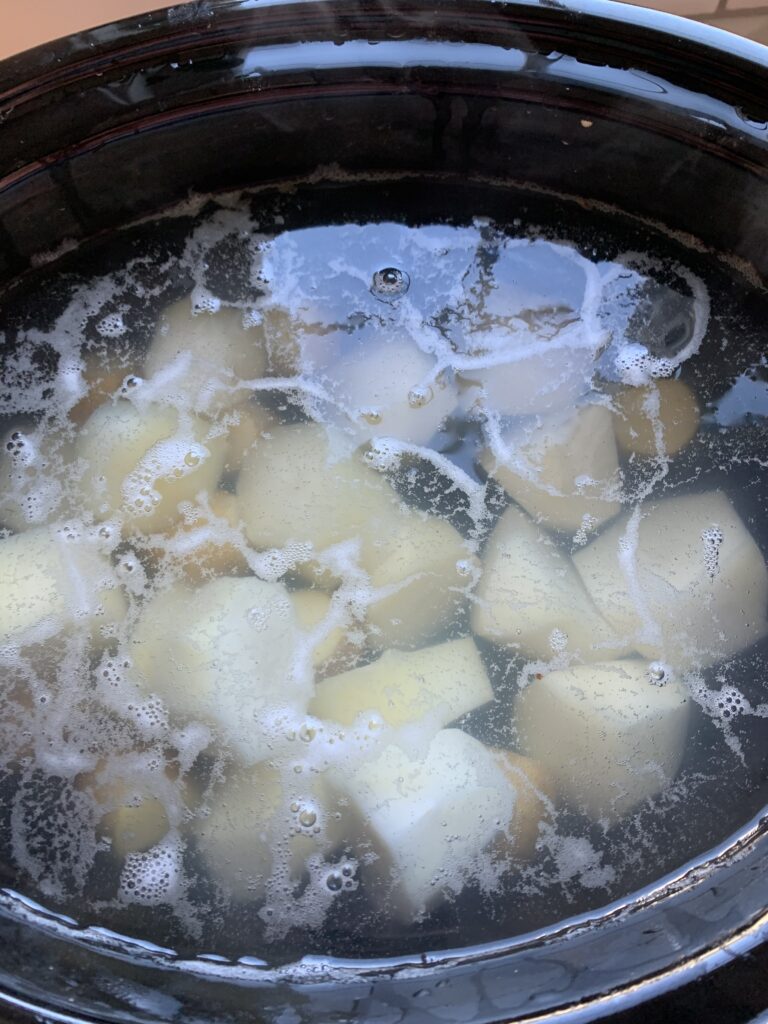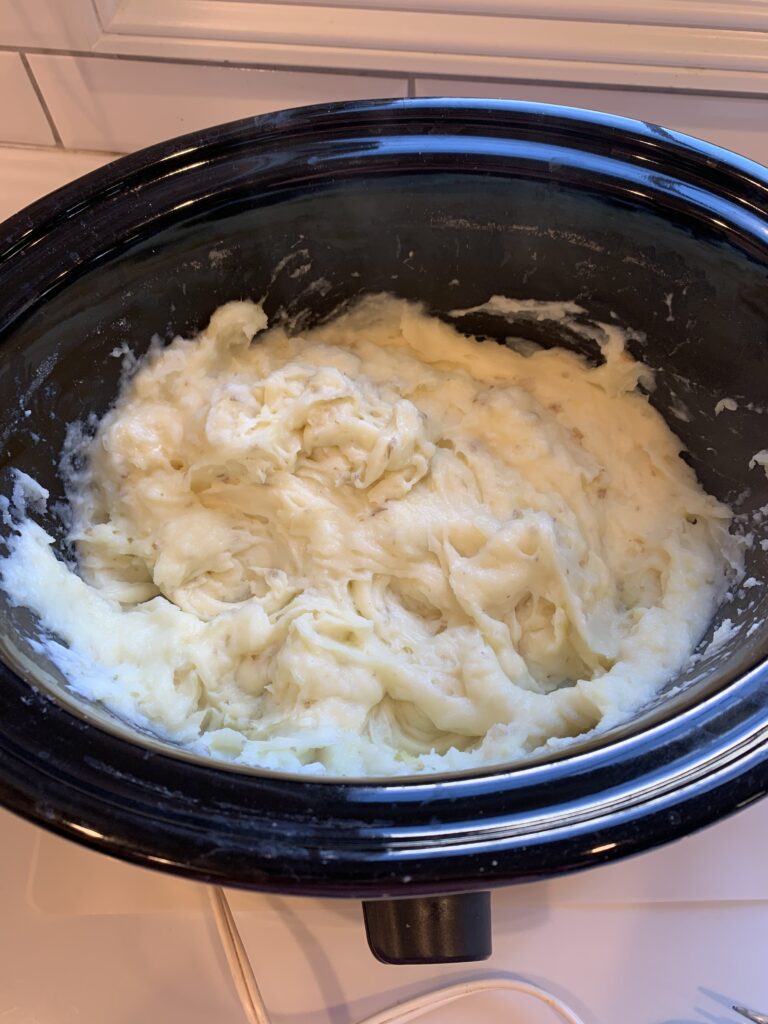 Mashed Potatoes in the Crockpot
Instructions
Peel or keep potatoes with skins on and cut into chunks.
Place potatoes in the crockpot with warm water covering them and add a pinch of salt.  
Turn the temp to high and cook for 3-4 hours- depending on the kind of potatoes used and how many potatoes you are cooking.
When potatoes are tender with a fork, drain off water.
Add your milk, butter, sour cream, or whatever you use to make mashed potatoes.
Mash with a masher or an immersion blender in the crockpot.
Turn the temp to warm until ready to eat.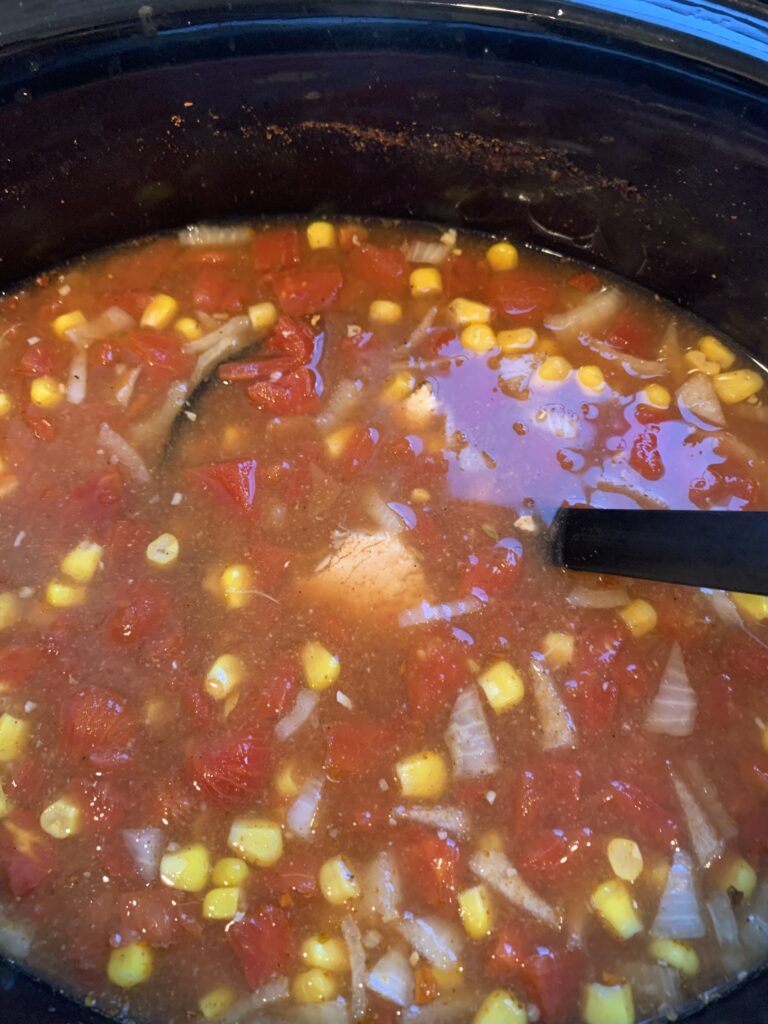 Taco Soup Recipe in the Crockpot
This soup is a no-brainer and can be made within a couple of hours in the crockpot. This recipe is one any family member can make.
1 10-ounce can of tomatoes with diced green peppers- rotelle
1 13.5-ounce can of petite diced tomatoes
1 15-ounce can of Tomato sauce
2 TBSP taco seasoning. Homemade recipe mix link to taco pizza blog
1 onion chopped
1 15-ounce can of corn drained or 1 cup of frozen corn.
1 15-ounce can of black beans (rinsed and drained)
1 12.5 ounces white chicken breast with broth or 2 cups rotisserie chicken
2-3 cups chicken broth depending on how thick you like your soup.
Dump together and cook for 2-3 hours on high in the crockpot to blend flavors
Serve with Tortilla Chips, Cheese, and a Salad or fruit.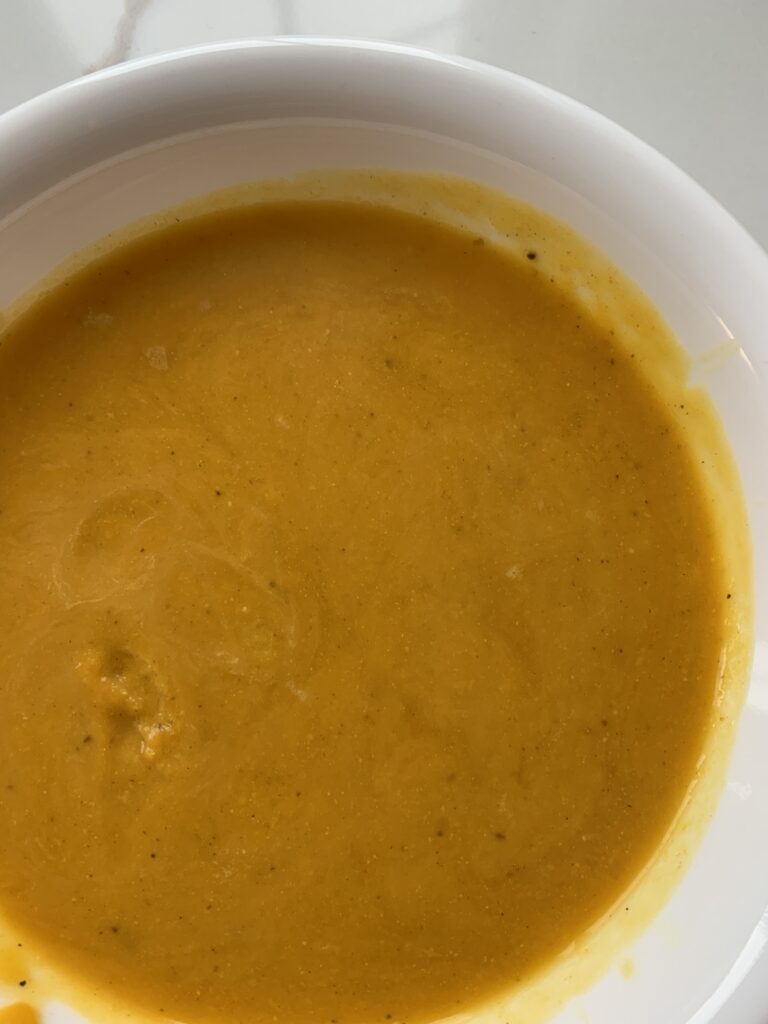 Butternut Squash Soup in the Crockpot
This recipe- is now one of my favorite fall soups and comes from the Wyse Guide blog. I wish I had come up with it, but I love to share great recipes.  It is all about adding large chunks of butternut squash, onions, carrots, apples, celery, etc. When it is done,  you blend it with an immersion blender. 
You will want to make it with grilled cheese. Here is the link to find it. Slow Cooker Squash Soup – Wyse Guide. Make a huge batch of this soup and freeze it for future meals. It is that good.
Comment on your Favorite Crockpot Meal
Let me know in the comments what you love to make in the crockpot, so I can feature more faves in a future blog. I have so many more crockpot recipes, that I'll have to do a second blog in the future.
Enjoy your crockpot as much as I do.  My Favorite Crockpot Recipes.