We all know we need to eat more vegetables. Knowing it and doing it are two different things. At my table are an abundance of ideas to add vegetables to your table.   Here are 21 ways to eat more vegetables as well as tips, recipes, and ways to trick yourself into eating more veggies.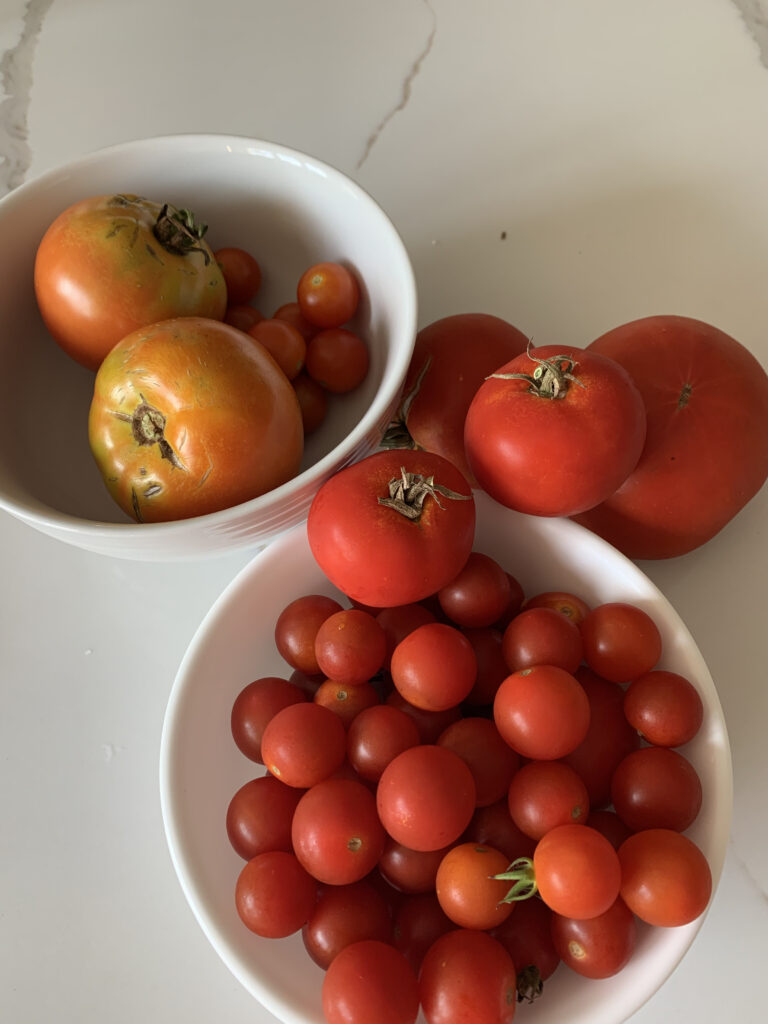 Why do we need to eat vegetables?
My mom always said to eat your veggies, but why? She did know best and there are numerous reasons why you need to add the veggies to your plate each meal.
Veggies are lower in calories than fruit, bread, or cereals.
They are loaded with vitamins your body needs each day. Vegetables provide you with Vitamin A, C, K, and B.
They also contain many minerals such as potassium, calcium, magnesium, and iron.
Veggies also contain many phytochemicals which your body needs to help with inflammation and fighting off cancer cells.
Vegetables also contain large amounts of fiber.  Our bodies need fiber to function properly, keep constipation away and help you feel full.  To read more on Fiber see: "Have a regular day with fiber" blog. 
Overall, you need vegetables to help maintain and repair your body each day to continue good health and prevent disease.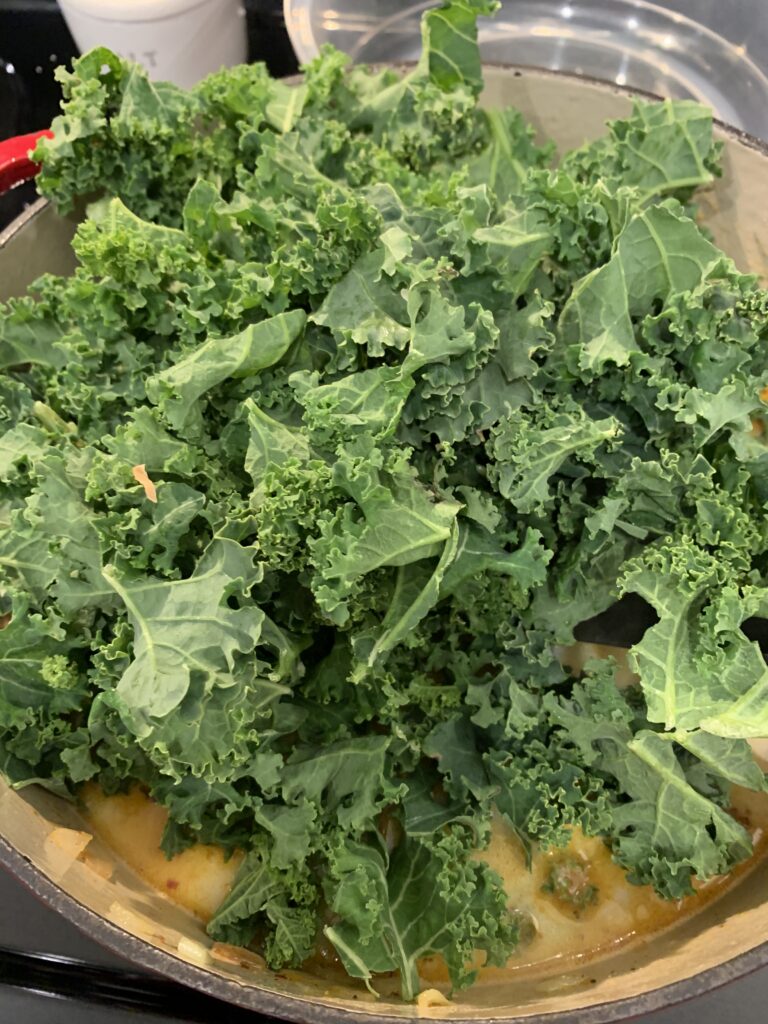 Vegetable Daily Goals
The goal for Veggies is 2-3 cups a day for the average woman. Men need more vegetables each day and children need less.  This is the recommendation of the USDA My Plate and is based on calories.  My Plate recommendations are different for age and sex.   Link to My Plate for more specifics on serving sizes: Vegetables | MyPlate
Another easy rule is to fill your plate half full with vegetables.  Eat a rainbow of colored vegetables to get a variety of nutrients in your diet. Each veggie can give you different vitamins and minerals that your body needs. So don't get stuck in a vegetable rut.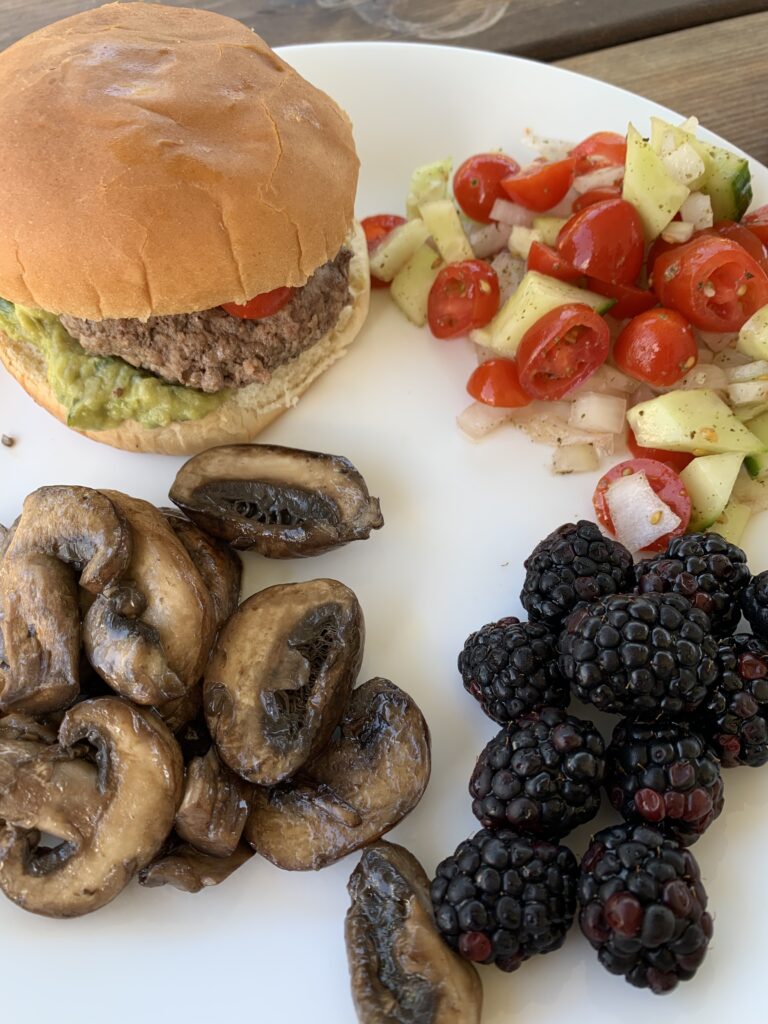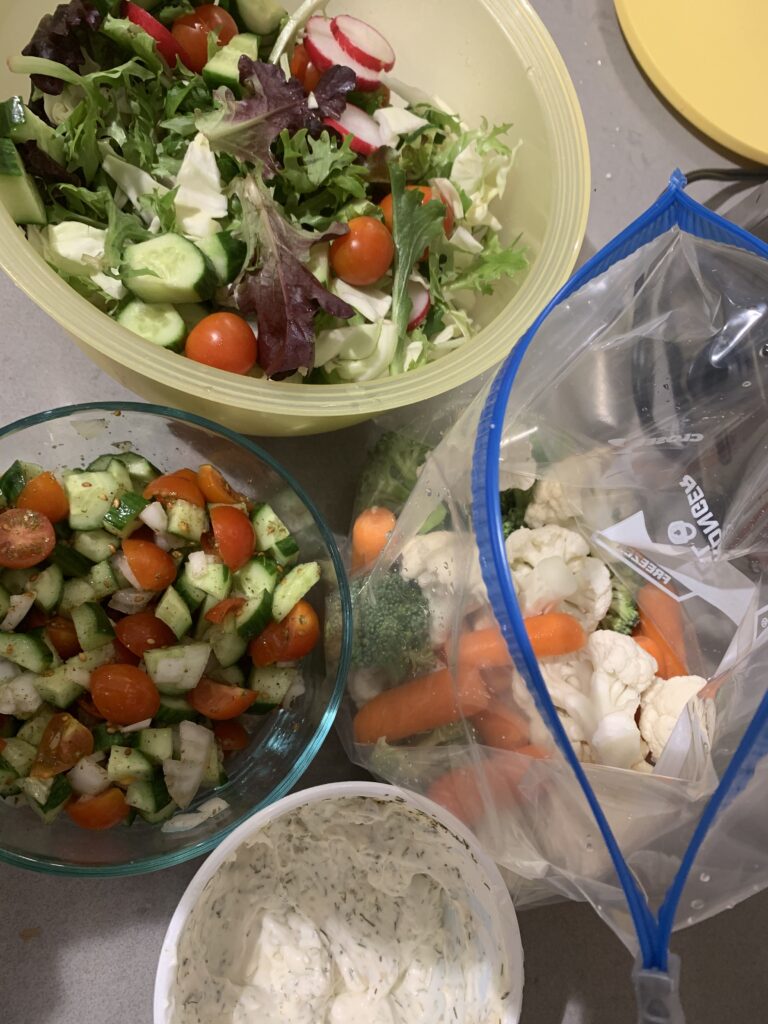 21 ways to eat more vegetables
Plan to eat veggies at 3 meals or snacks a day. When you add veggies to each of your meals you will get enough each day.  Breakfast is the hardest, so if you miss them at breakfast, make sure you double up on lunch and dinner.  Add veggies to your eggs to increase your vegetable count.
Always plan to eat two servings of veggies at dinner– you will have more variety in your intake and you can achieve the goal amount each day. An example is a salad and a grilled vegetable.
Keep raw veggies cut up in small Ziplock bags and ready to go for packed lunches and snacks.
Have a salad made up in your refrigerator to eat throughout the week at your meals.
Keep veggies on hand in your freezer, and add to soups or sauté them with onion and garlic.  
When you get home from the store, clean and prep your raw veggies and salads so there are no excuses.   
Keep canned tomatoes on hand to add to soups, hot dishes and help you increase your nutrients.
 Make a tomato/cucumber Israeli salad once every two weeks and include it as a side or add to pita sandwiches or a lettuce salad. Recipe at the bottom.
Buy a Head of cabbage once a month.  Use it chopped in stir fry, added to salads, fish tacos, or roast in the oven in wedges.
Use fresh veggies up before they go bad by adding them to stir fry or soup. (I make stir fry once every 10-14 days.)
Grill veggies in the summer. Use a variety of veggies on a grill pan or aluminum foil. See blog on grilled vegetables.
Sauté veggies in a cast iron pan, microwave, or roast in the oven.
Bake veggies with meat such as fish or chicken on a sheet pan for a sheet pan dinner.
Add spinach or kale to any smoothies, soups, or eggs.
Always add veggies to your sandwiches. These would include- lettuce, spinach, tomatoes, cucumbers, and peppers. Just like they do at Subway.
Buy more veggies than you think you will eat and you will eat them or freeze them.
Keep veggies on your mind when meal planning and load your cart while shopping.
Try seasonal veggies each week. For example, try roasted asparagus with balsamic vinegar.  
Plant a garden or go to the farmers market to buy them and enjoy them fresh.  
It's all about habits and playing tricks on yourself.  If you buy more veggies than you think you will eat, you will make it your goal to use them up so you won't have to throw them out.
Cook once and eat twice– I like to cook double veggies and eat the leftovers the next day.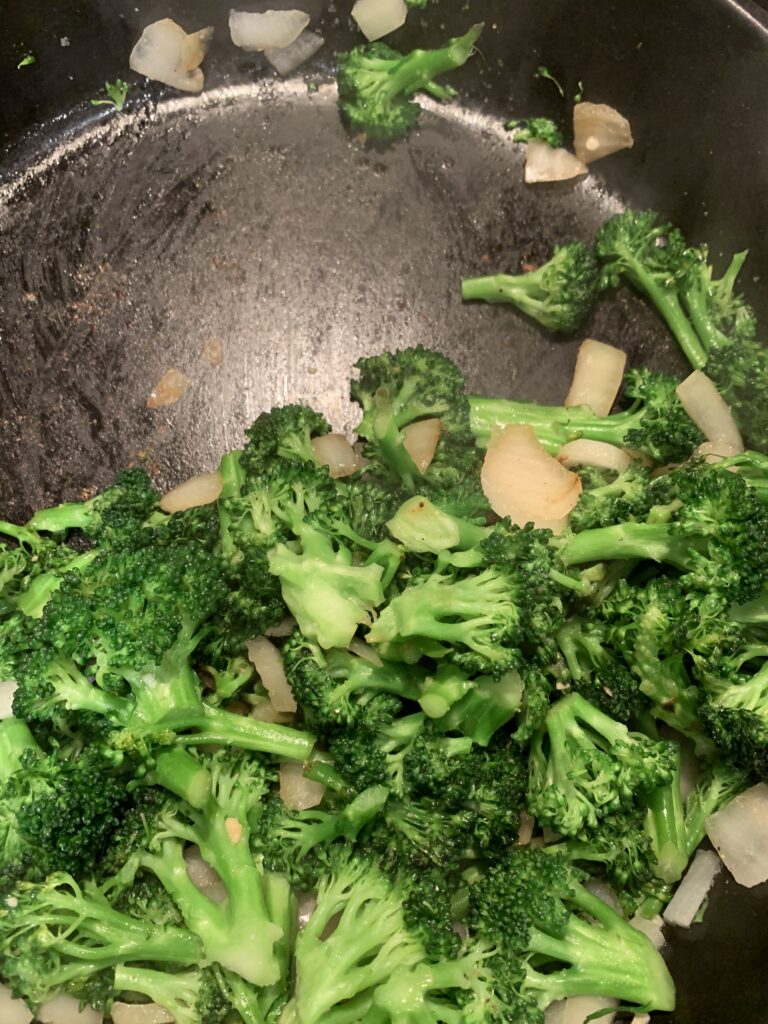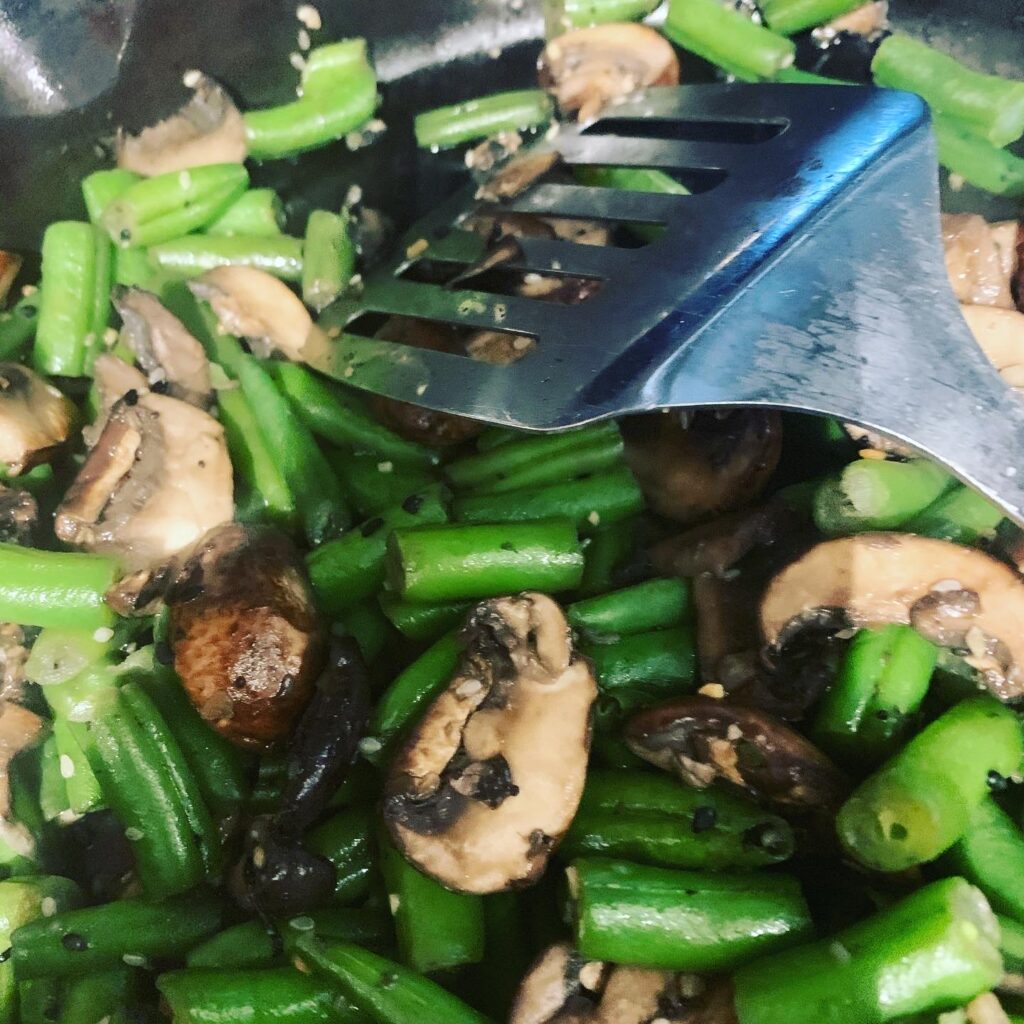 My Favorite Ways to Eat Vegetables
Sauté frozen or fresh french cut green beans with chopped onion, garlic, and garlic onion herb seasoning.  I also do this to fresh Broccoli.  More Broccoli recipes at Broccoli challenge blog.
Grilled veggies are the best.  Recipes at Grilled veggies blog.
Roast a wedge of Cabbage drizzled with EVOO, garlic, garlic powder for 20 minutes at 400 degrees.
Sauté sliced Brussel sprouts with EVOO, onion, garlic, rosemary, pepper, and apple or pear slices.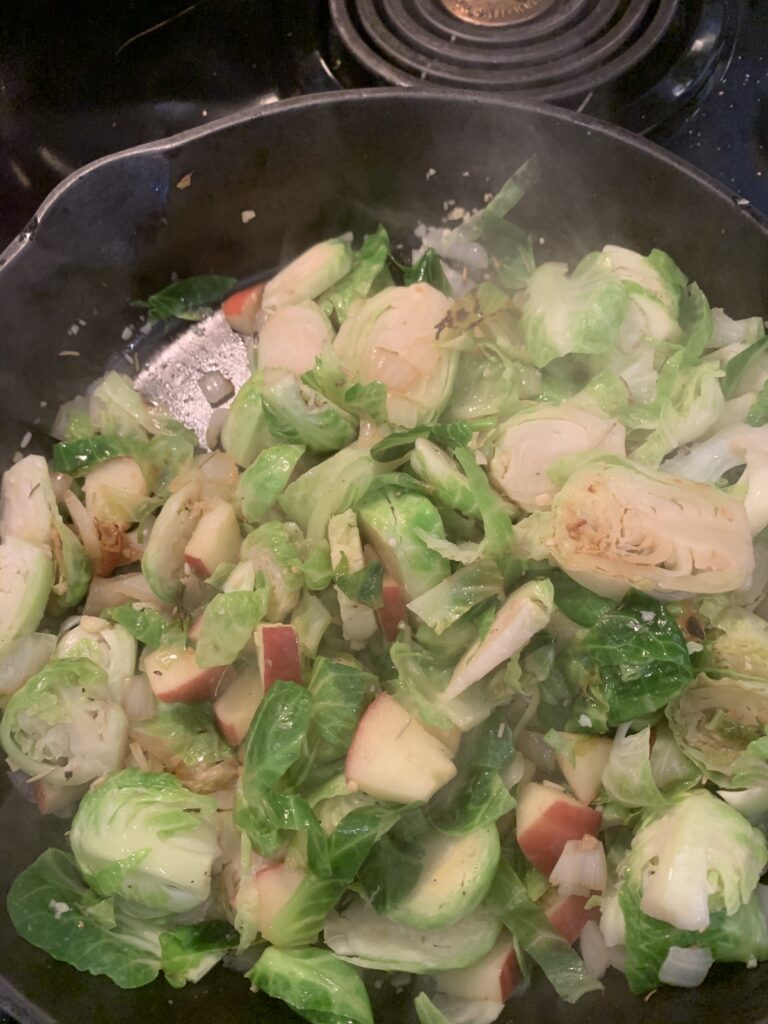 Israeli Salad Recipe below.  Here also is the recipe link.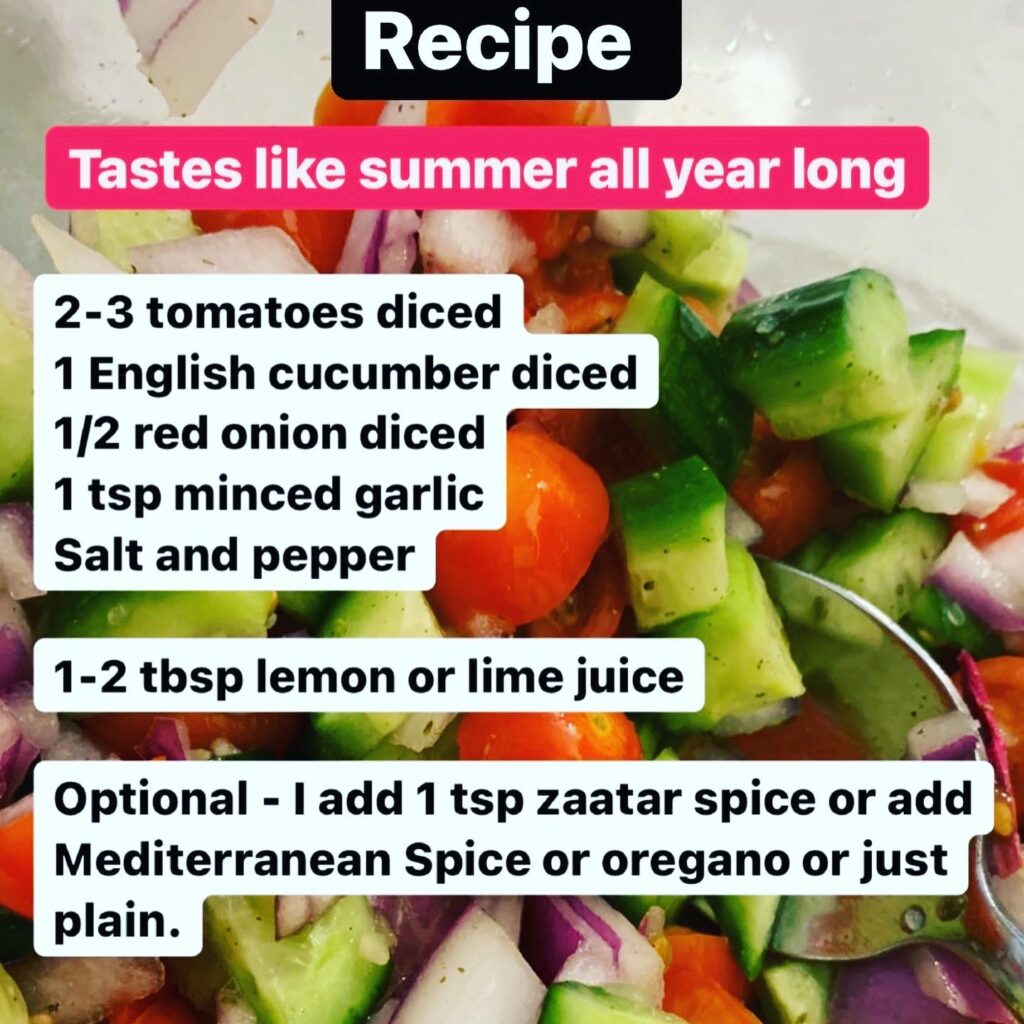 Plan a salad supper and see the blog at Summer salad suppers. Broccoli salad is great to add to your menu in the summer.
I love Zucchini- and since it's now zucchini season- check out my 7 days of zucchini blog for recipes
Change your habits with one serving of veggies at a time
Let's make a change by adding one more veggie to your plate a day.   Eat more veggies instead of knowing you need to eat more.   May you add more veggies to your table as you use the 21 ways to eat more veggies.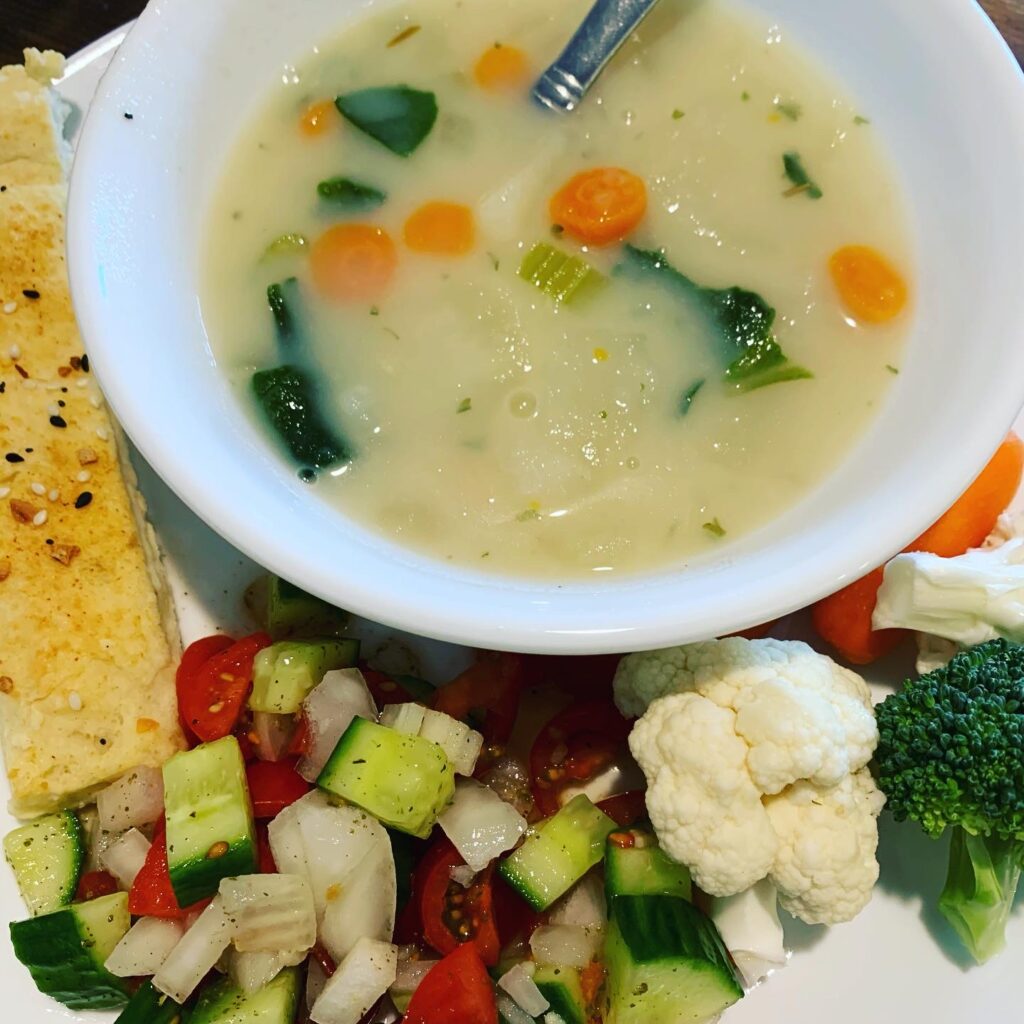 What are your favorite ways to eat veggies each day? Comment below.
Thanks for Reading. Don't miss a future blog. sign up below with your email and once a month I'll send you an email with links and more to dabillaroundthetable.com. check your inbox or junk box to confirm and my scone recipe will be sent to you for free.