It all started on our 20th Wedding Anniversary.  My husband surprised me and took me to Clearwater Lake to rent stand up paddle boards and take lessons.  I have never loved the water and a little fear washed over me when he told me what we were going to do that day.
I am going to stand on a board, I thought.   Good thing I was required to wear a life jacket per the agreements and contract for our lessons. We also had an instructor coming with us for two hours.   Our instructor found some SUPs that he thought would work well for each of us. Off we went and next thing he was having us put the boards in the water and stand up in the middle of the board.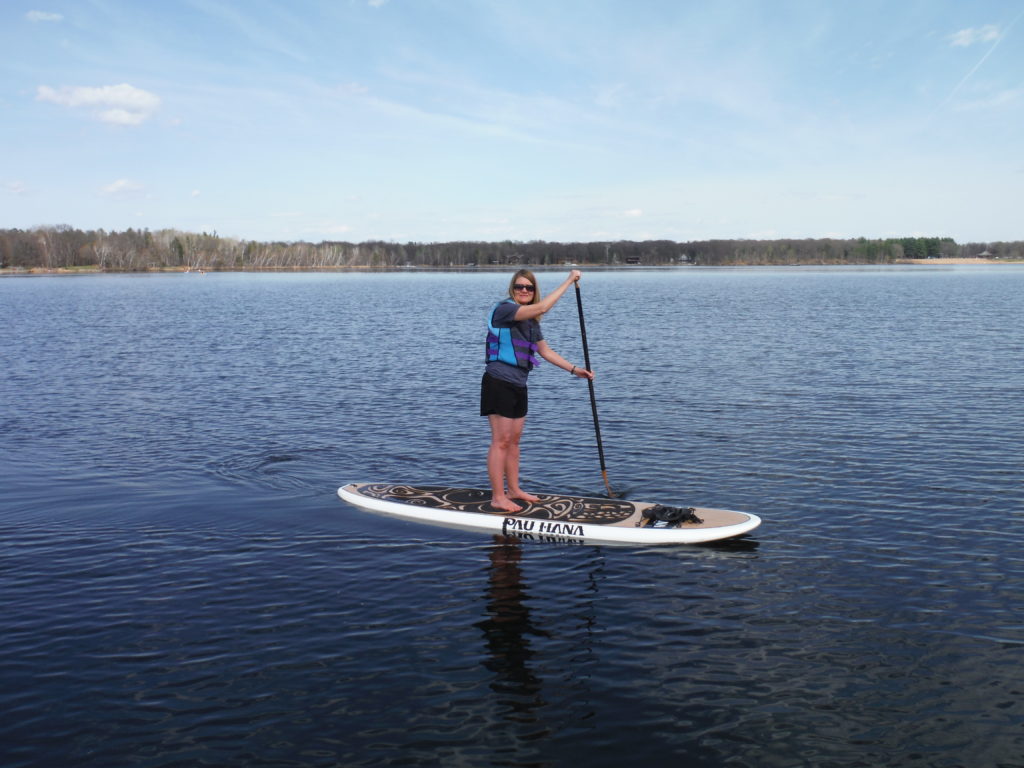 It's all in the core – body position, balance and paddling. I thought for sure I'd fall off and hate it!  Exactly the opposite, I didn't fall in and I loved it!  It was a gorgeous afternoon to spend on the lake and go down a little side river.
It was eight months later and we were still discussing how much we enjoyed our stand up paddle boarding experience. Since we live in the Brainerd lakes area and had only been on a few lakes, we were missing out.
We decided to try find the same paddleboard I had used. This paddleboard was the Oahu model from the Pau Hana Surf Supply company.  SUP Link.  I liked it because it was light weight, less than 25 pounds, only 9 and ½ feet long and the paddle was made of light weight carbon fiber.   In Minnesota if you have a watercraft, including SUPs, 10 feet or over you need to license them.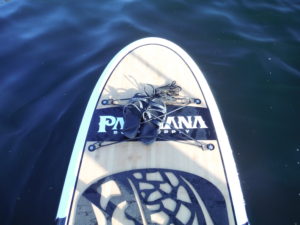 We found the exact Pau Hana SUP at the end of the summer season through Craig's List from a surf supply store in the Twin Cities and picked it up for a great price along with a free carbon fiber paddle.   Because my board is made like a surf board, I find it easier to paddle when going against waves from the wind or a boat.
My husband wanted to try an inflatable SUP/Kayak combo so he ordered one on line. He ordered a Umami model made by Newport Vessels. SUP Link. He got two paddles with his, one for paddle boarding and one for kayaking along with a seat.  He used his kayak to paddle down the Mississippi a month ago. We live up north so it's not a huge river yet. I noticed the other day they also had an inflatable SUP at Costco.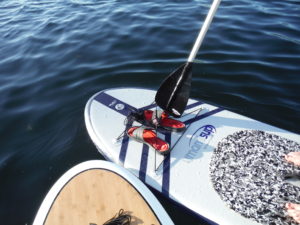 After using these for a few years we added a third one from Costco called a Wavestorm  it was under 25 lbs so our kids and or a friend could go with us.    All our paddleboards are light weight and around 9 to 10 feet long.  They require no licensing.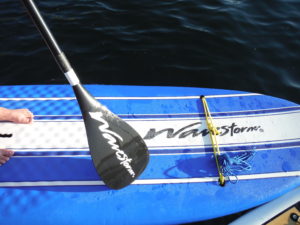 If you buy an SUP from Menards, or Fleet Farm they are lower in price but heavy and hard to handle and paddle.  Most people who buy these live on a lake and only paddleboard for 15 minutes at a time.
Why we love Stand Up Paddle Boarding!
We can visit any lake in the area with a public access.
It's an affordable and easy way to get on the lake.  A great way to explore the lakes and slow rivers without owning a boat.
We can fit it on the top of our luggage rack on our car or van.
The inflatable SUP packs down nicely for camping.
We are able to enjoy nature, see fish, loons, sunsets and activities of people on the lakes.
This is a fun way to check out all the houses on the lakeside.
It is great exercise for core balance, cardio and arms.
It's a fun activity to do as a date or invite friends or teenagers to hang out and paddle board.
If it's really hot, it's like bringing your own raft to the lake.
We can stand on them, sit on them or do Yoga, which I have not tried.
TIPS
Try renting a SUP before you buy to make sure it's something you can do and enjoy.
Buy a light weight SUP, especially if you don't live on a lake and have to travel with it.
If you weigh over 200 pounds you may need a longer board. Check out the board Specs before buying.
Don't go paddle boarding on a windy day. The waves are not fun to paddle against.
When paddle boarding around the lake and getting tired, stop and sit on them for 15 minutes and enjoy a break. My toes fall asleep after 45 minutes. Rest so you can go another 45 minutes.
If you invest money and buy them, always plan to go 1-2x/week. I usually get a text from my husband at noon that says I am coming home early. Let's eat and be at the lake by 6 pm. He picks a different lake every time.
Wear a life jacket, especially when the water is cold like in May.  In the hot summer, you must have them on your board if you don't wear them.
Bring water, snacks and other necessities in water proof containers and attach to the board with tie downs.
Bring a waterproof camera because you never know when you will find that perfect photo opportunity.
We love to SUP in May and June because there are no weeds and mosquitoes. We also like October because there are no mosquitoes and the leaves are pretty.  The weather needs to be warm in the fall and spring.
I usually wear leggings and light weight shirt when it's cooler.   I have never fallen off after 5 years of paddle boarding.   If I don't wear my life jacket…that's the day I will fall off.
Cool Experiences
Saw eight loons grouped together on Lake Edna one morning at 8 a.m.  I called it the Loon Breakfast Club.
Sunsets are awesome sitting on your board.
We've watched loons do their loon dance and calls so their young ones could safely get away at a couple different lakes.
Observing fish, turtles and other underwater creatures.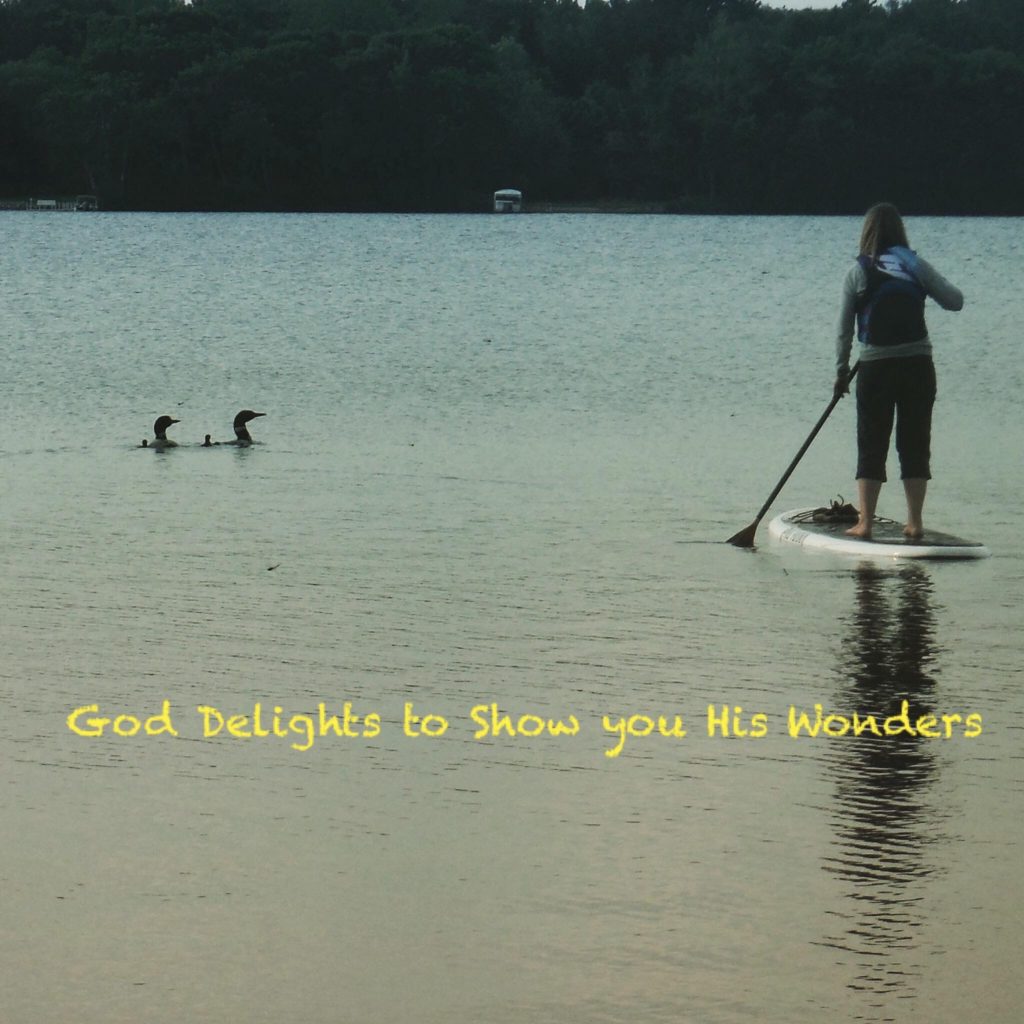 Rent a SUP or try one from a friend who owns one. If SUP is not your thing get out in a Kayak and enjoy the lakes this summer.
Please comment if this was helpful.