Summer wouldn't be summer without these yummy cold drinks: Cold Brew Coffee and Ice Tea.  When it's hot outside, I love these drinks. When its cold out, I'd rather go for a hot coffee or hot tea.
You can save a bundle of money by making these drinks yourself.   It is not very difficult. You may need to get in the habit of making them a few times a week or daily depending on how many people in your family are drinking them.
When my daughter and her friends come home from college in the summer we can go through one to two quarts of cold  brew coffee in one day.   I like to have lightly sweetened ice tea on hand to offer company at meals for those who don't like coffee or milk.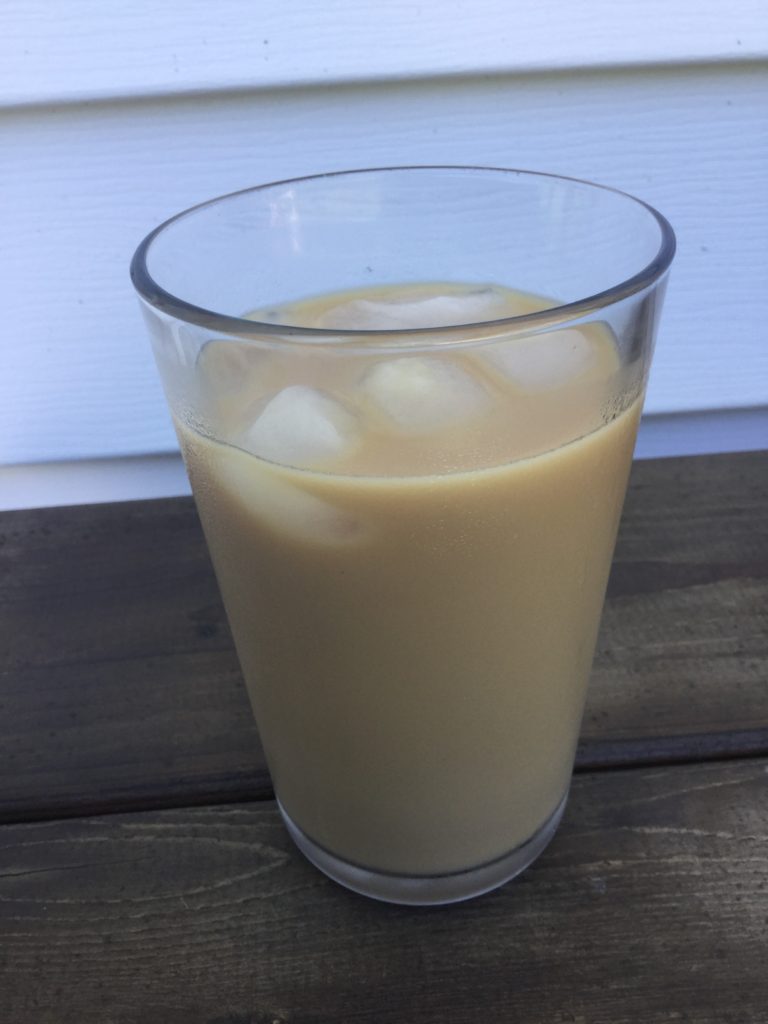 Let's learn how to make these drinks.
Cold Brew Coffee
You will need a wide mouth 1 quart or 2-quart jar, depending on how much you want to make.   If you don't have one you can find them at a garage sale, Walmart or Amazon.
Purchase a cold brew coffee screen/filter container. There are many brands at Amazon. Here is the amazon link. These fit into 1 quart or 2-quart size wide mouth jars.
Put the filter in the glass jar and add ¼ cup to ½ cup coffee grounds to each quart.  This is per your taste or how strong you will like your coffee. Remember you put ice in the coffee when you serve it so it is okay if it is strong.
Add cold water to the jar up to the bottom rim.  Stir the grounds and put a cover on top. I buy a pack of plastic white wide mouth jar lids. You can keep on counter or put in the refrigerator. Wait 18-24 hours.  When time is up, take out the filter and dump the grounds. Put the lid back on the jar of coffee and refrigerate. When it is cold it is ready to use.
Add creamer, ½ and ½, milk or flavor of your choice to a cup of cold coffee. Add ice cubes and stir.  If you prefer your coffee plain leave it alone. Drink with a straw…that's the way I like to drink mine.
Iced Tea
Make 2 quarts of Tea.  Use cold brew bags or regular tea bags.  Follow instructions for ice tea on package.  When I make 2 quarts I use two cold brew bags.  Steep for 5-10 minutes.   When the tea is done and bags are out, I add one packet of raspberry lemonade True Lemon  made for a 20 ounce bottle. Here is the True Lemon link.  This gives it a mild sweetness.   I enjoy my cold tea, slightly sweetened. Some like it sweet, some like it plain, I like it in between all the time. Refrigerate and add ice to cup when ready to serve.  My son loves this tea and so do his friends.
The cold brew coffee filters make a great gift.  My friend would tell me to make her cold brew coffee when she stopped by in the summer. For her birthday this year I gave her one so she could make her own cold brew coffee anytime. She recently tried it and loved it!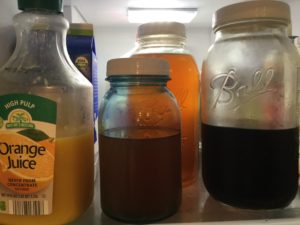 These are must haves in your refrigerator this summer and a quick picture of what my refrigerator looked like one afternoon this month. When someone drops by they will be impressed. You don't have to meet your friends at the coffee shop. Invite them over for Cold Brew Coffee and Tea.