I can't even explain how much I love tomatoes. I've never eaten a tomato dish I haven't liked. Since it's the prime of tomato season, I'm sharing my favorite tomato recipes and tips at my table. Love for Tomatoes- Pico and Bruschetta Tomato Recipes.
Love for Tomatoes
If I live to 100 years old, I will give credit to tomatoes. There's nothing like eating tomatoes fresh from the garden or farmer's market.
Some of you may never like tomatoes; others have grown to like tomatoes, like my husband. Friends of mine only like tomatoes in sauce or mixed foods. That's okay, each of us has different taste buds and you either love them or they are just in some of the foods you eat.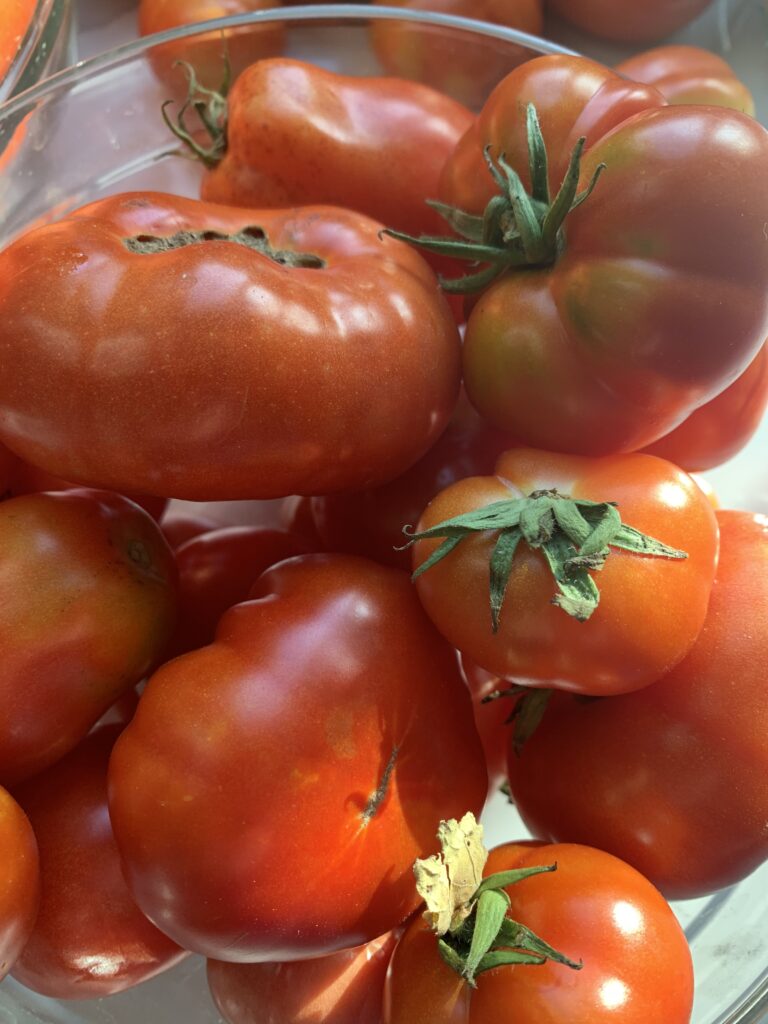 Botanically a Fruit- but a Vegetable
Tomatoes technically are a fruit but are categorized in the vegetable group. Tomatoes are not the only ones to share this talent. Bell peppers, eggplant, avocado, pumpkin, green peas, olives, and okra are also categorized this way.
Nutritional Profile and Benefits
This vegetable is 95% water and has 5% carbohydrates and fiber. A medium size tomato has 18-22 calories. Tomatoes also are a good source of vitamins C, A, and K, fiber, potassium, and folate. More information on Tomatoes.
The redder the tomato the more lycopene they have in them. Lycopene is the antioxidant tomatoes have that fights off free radical cancer invaders. When lycopene is mixed with oil it is linked to a reduced risk of heart disease and prostate cancer. These are some reasons why tomato sauce is good for you.
Tomato Food Ideas
Tomatoes are in so many dishes. You can eat them plain, big or small, in Pico de Gallo, salsa, or bruschetta, or throw them in pasta dishes, salads, soups, sandwiches, sauces, chili, Italian dishes, and of course pizza. So delicious! I am pretty sure I eat tomatoes three times a week and in the summer every day.
When tomatoes start ripening in the garden many are eaten fresh and put in my daily cooking. I am lazy because I don't make sauce or salsa; I freeze my tomatoes. I freeze them because I don't get enough to ripen at once to can them. In the winter I use them in dishes that call for a can of tomatoes.
Tomatoes also pair nicely with Zucchini and since it's also Zucchini season, here is a link to my Zucchini blog. This link will also give you more ideas to eat more vegetables.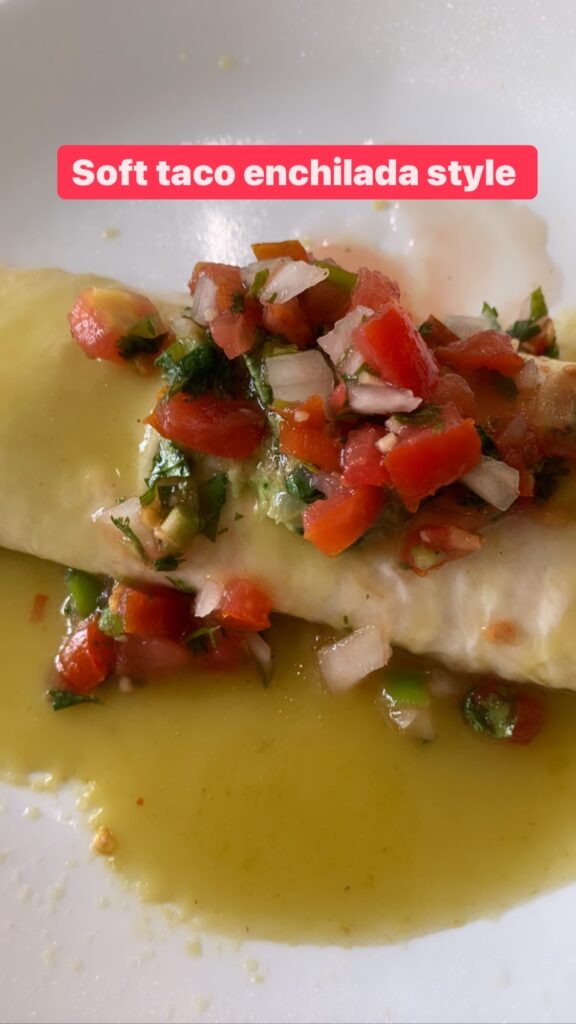 Pico De Gallo
Pico de Gallo is basically a fresh salsa and one of my favorite ways to use fresh tomatoes from the garden. I make this many times from August through September. My friend told me once as I was talking to her, "You've been eating Pico again, haven't you?" Watch your breath!
This recipe is from a friend and I make it many times a year.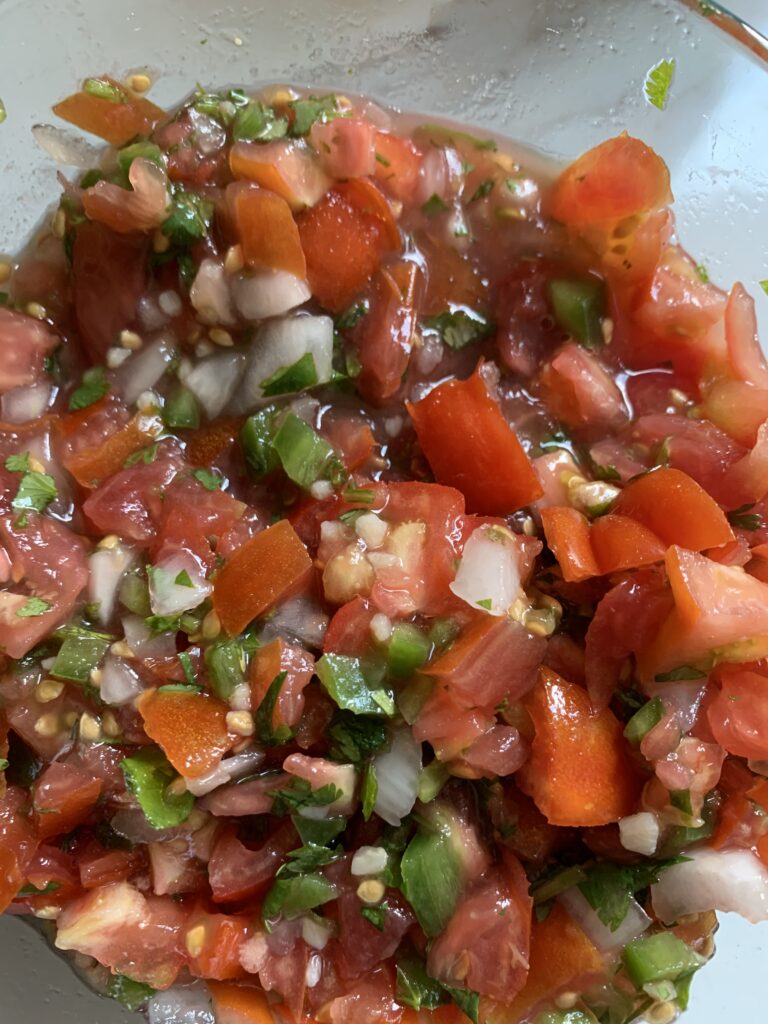 Pico De Gallo Recipe
10 Roma tomatoes (I have used regular tomatoes). Roma tomatoes are meatier and less juicy.
½ onion finely chopped
½ – 1 bunch cilantro chopped fine- (amount depends on taste and size of the bunch.)
2 tsp minced garlic
1 jalapeno pepper chopped finely with no seeds. Cut in half and use a spoon to scrape out the seeds. Don't touch inside and wipe your eyes or face.
1 Tbsp lime juice
¼- tsp salt
Mix it up and get ready for chips, especially the scoop ones. Keeps well in the refrigerator for up to a week.
It won't last that long? If you do have extra. Freeze and then add to your chili.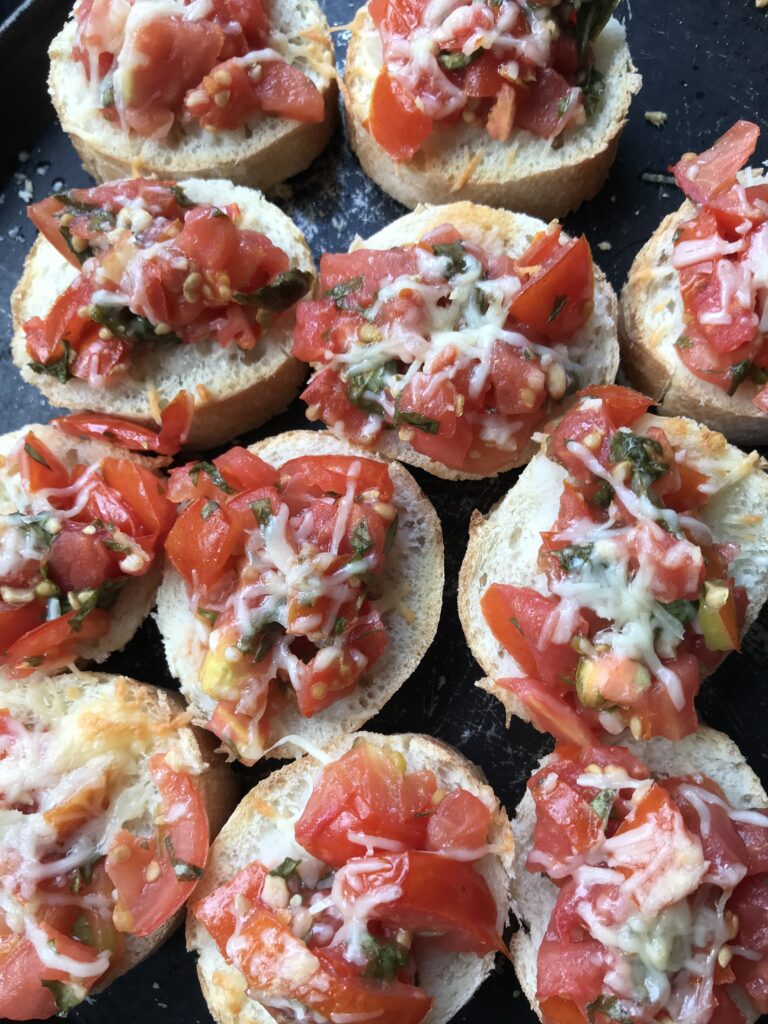 Bruschetta
Bruschetta is basically like Pico except it has basil instead of cilantro, no jalapeno, and oil instead of lime juice. This is perfect if you have tomatoes and Basil coming from the Garden. Make it up and serve with crusty bread and a pasta dish.
Place a generous spoonful on top of grilled chicken breast with some parmesan cheese and most of your meal is made. I also like to put bruschetta on top of large mushrooms with mozzarella cheese and grill them.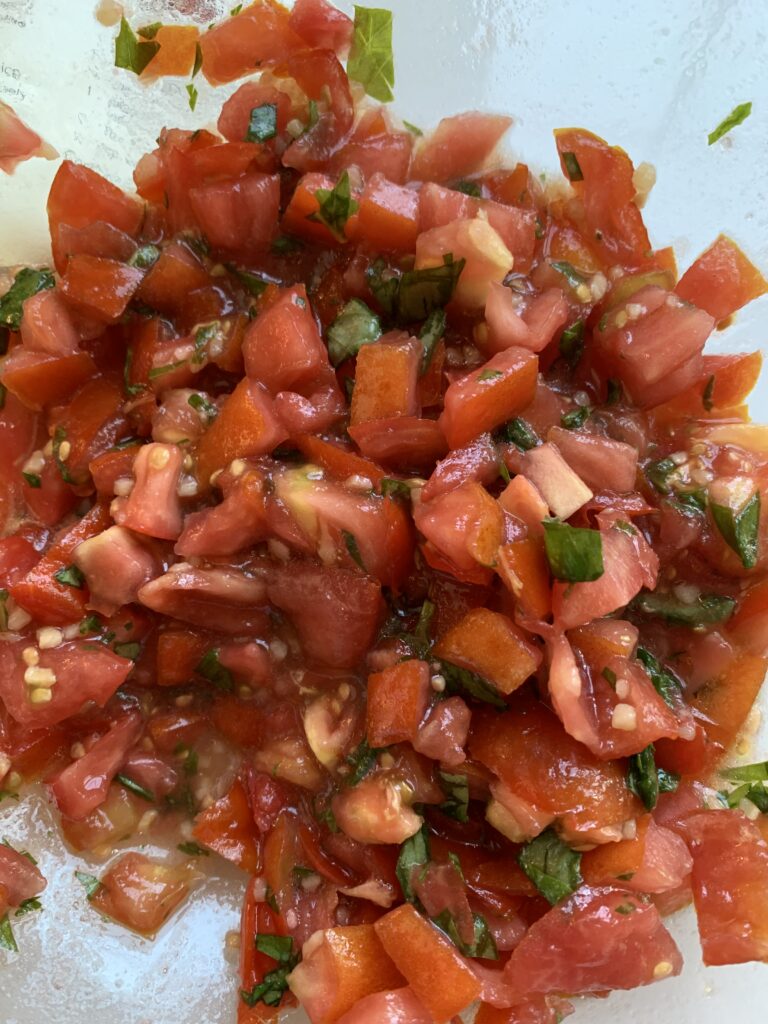 Bruschetta Recipe
1 cup chopped tomatoes
3 tbsp fresh minced basil
2 tsp minced garlic
¼ tsp salt
1 tbsp Extra virgin olive oil
Mix and serve with crusty bread or place on bread and top with parmesan cheese and put under broiler oven until toasty.
I Love Tomatoes! I hope you can make these tomato recipes and enjoy.
Share in the comments your favorite way to eat tomatoes?
Don't miss a blog. Sign up for the monthly dabillaroundthetable email. Each month you will get recipes or tips and links to blogs. Its like a magazine in your inbox. Sign up below or in the comments say sign me up. Please check you junk box if you are not getting the email.