Avocados are showing up in many foods. Many of you are like, "Avocados, I'm not so sure."  At my table today, I'll have you learn more about avocados, and their health benefits, and share some recipes. Avocados are wonderful- Guacamole Recipes
Fruit/Veggie/Fat- Which one?
Avocados are botanically a fruit because of the pit, and they grow on trees. For USDA classification an avocado gets grouped into the vegetable group because it is high in vitamins and fiber. It is also high in fat and some may call it fat. Keep in mind it is a healthy fat.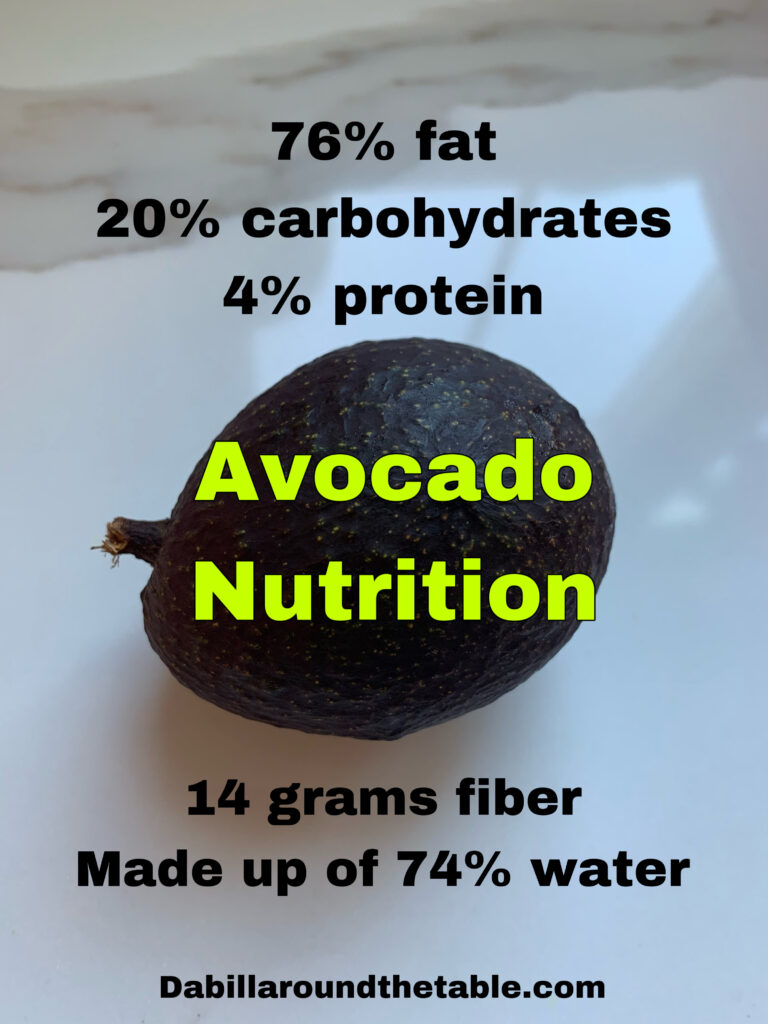 Nutrition Facts and Benefits
The sizes of an avocado vary. California and Florida varieties.
Avocados per fruit 150 g in size have 322 kcals.
4 grams of protein, 17.1 carbs, 13.5 grams of fiber, and 29.5 grams of fat.  Nutrition Facts for Avocados (myfooddata.com)
76% of its calories come from fat.
20% of the avocado energy come from Carbohydrates.
It is also made up of 74% water.
Avocados do not have cholesterol in them and contain good fats like olive oil.   Many years ago, we were told to avoid them because of their high fat content, but we all know that fats do help with satiety and make you feel full.  
Avocados are loaded with vitamins and minerals such as magnesium, calcium, and a powerhouse of potassium which is more than a banana. 
They also contain B vitamins, Choline, Vitamin A, E, and K.  
If you want more info on Avocados visit the Avocado website. Avocado Nutritional Information – Health Benefits of Avocado (loveonetoday.com)
Varieties
You can purchase many avocados, but the Hass kind is the most popular since you can find it year-round in the stores.  One year when my brother lived in California and when shipping was less expensive, he sent me a whole box of avocados that fell off the tree in front of his house.  
The Avocado Rage
In the past five years, we have seen avocado toast, avocado in salads, avocado in pudding and brownies and toppers on Mexican food, and of course guacamole.  They are great if you give them a chance. You may say no to them alone, but have you tried them in other ways or mixed in foods?  
Avocado Food Ideas
Guacamole, avocado toast, tacos, pudding, dressing, salads, toppers, sandwiches. These are a few of the ways you can eat avocado. My favorite way to eat them is making guacamole and I will share my two favorite recipes and an easy one to buy.
I like to include them in salads and in sandwiches/ mashed on toast with an egg on top or included in a panini or I like to add guac on my English muffin with an egg and I like to put it inside my quesadilla.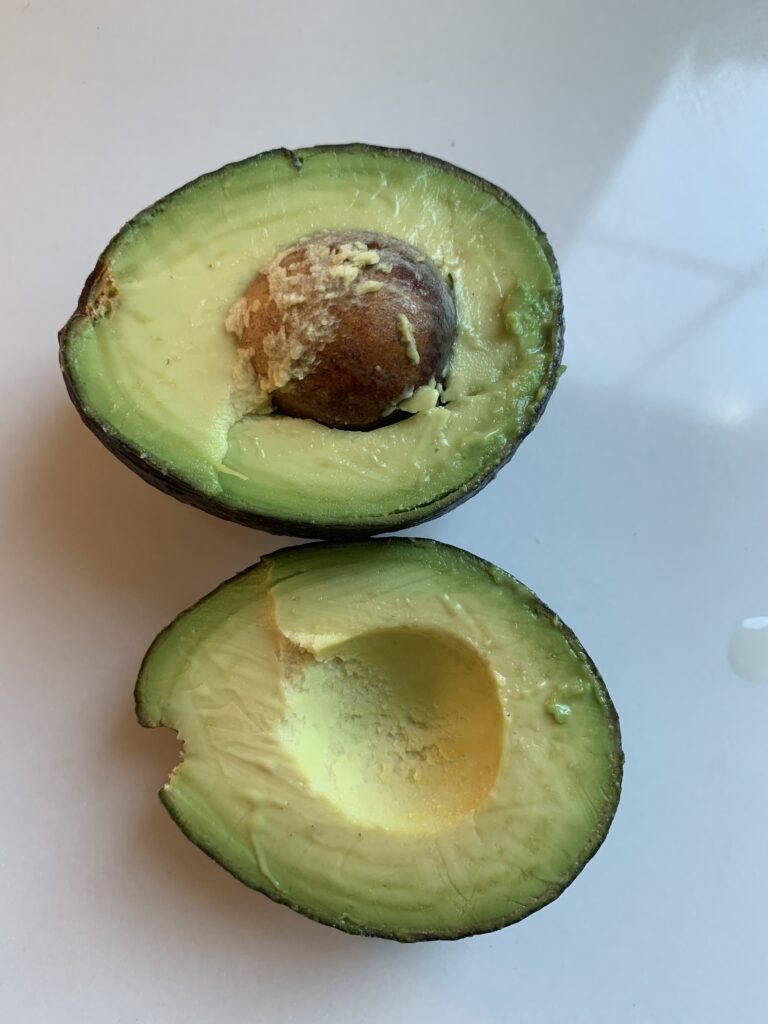 Storing Avocados
Avocados ripen easily on the counter until soft.  Then I throw them in the fridge for up to two weeks until I need to use them.  If I only used half of it, I cover it with plastic wrap in a container so the air does not change the color. Coating it with olive oil also keeps it from turning brown.
  When I make guacamole, I cover the guac with plastic wrap before putting the lid on the container. This keeps the air away from it and prevents oxidation.
My Favorite Guacamole Recipes
Spicy Guacamole
3 Avocados 
½ onion 
2 tsp minced garlic
1 tbsp lime juice 
Dash salt
1 can Rotelle-drained (Rotelle is diced tomatoes with green chili peppers.)  
Peel avocados and cut them into chunks in a glass bowl. Add chunked onion and minced garlic, lime juice, and salt. Use an immersion/stick blender to blend into a smooth consistency. Then add one can of Rotelle with most of the liquid drained and stir it in by hand. Ready to serve. If you like your guacamole spicier, only use 2 avocados.   As this guacamole sits, it gets spicier/hotter.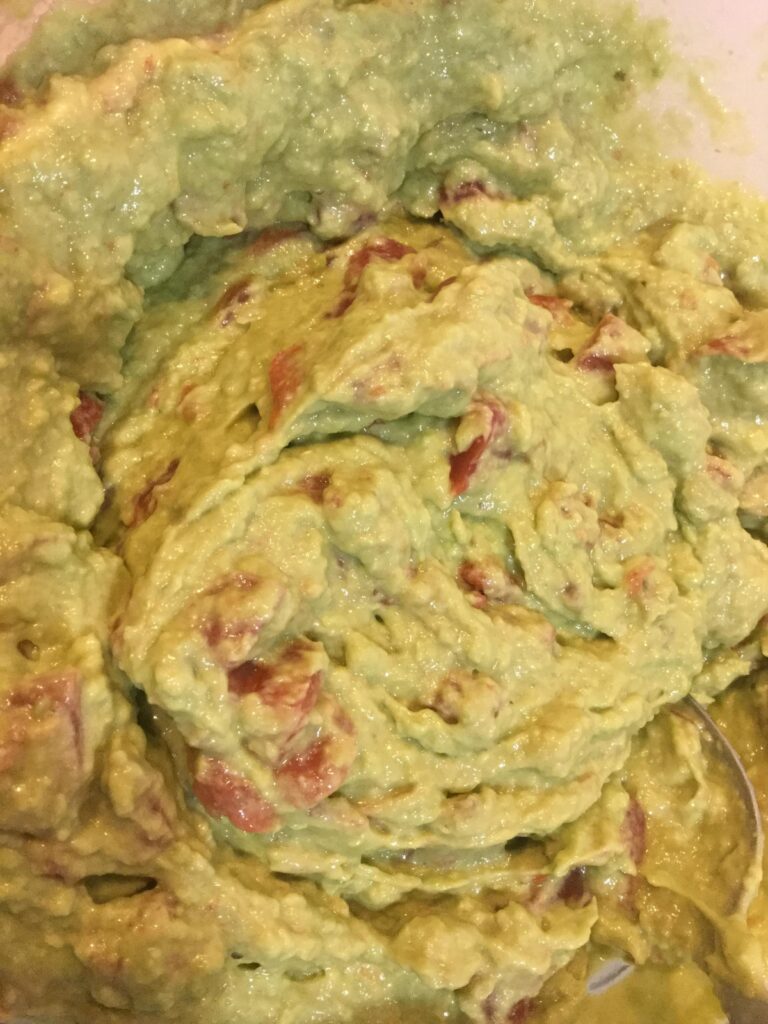 Fresh Cilantro Guacamole
3 avocados peeled with pits out
½ onion cut into chunks
½ to 1 bunch of fresh cilantro
2 tsp minced garlic
1 pinch of kosher salt
1 tbsp lime juice
Blend the ingredients above with the immersion blender or until smooth consistency. Store in a small container with no air on top if you don't use it immediately.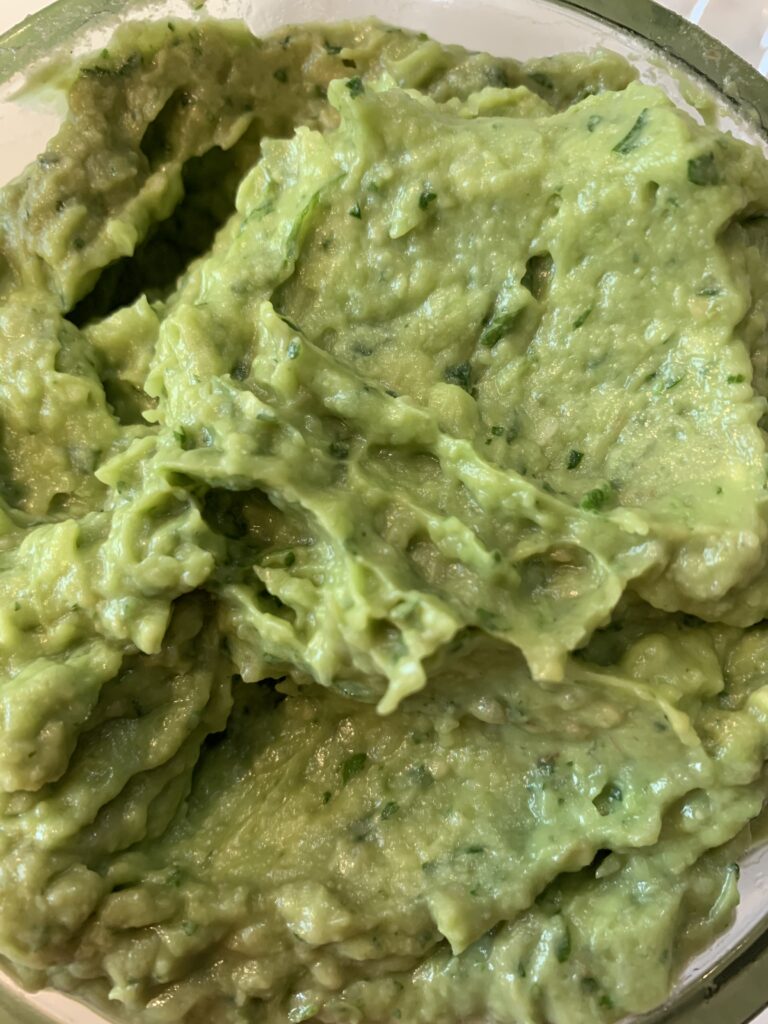 Favorite Aldi Guacamole
I also like to buy Guac in individual containers if I don't think we can eat up a whole recipe and don't want to waste it  You can get these at Aldi.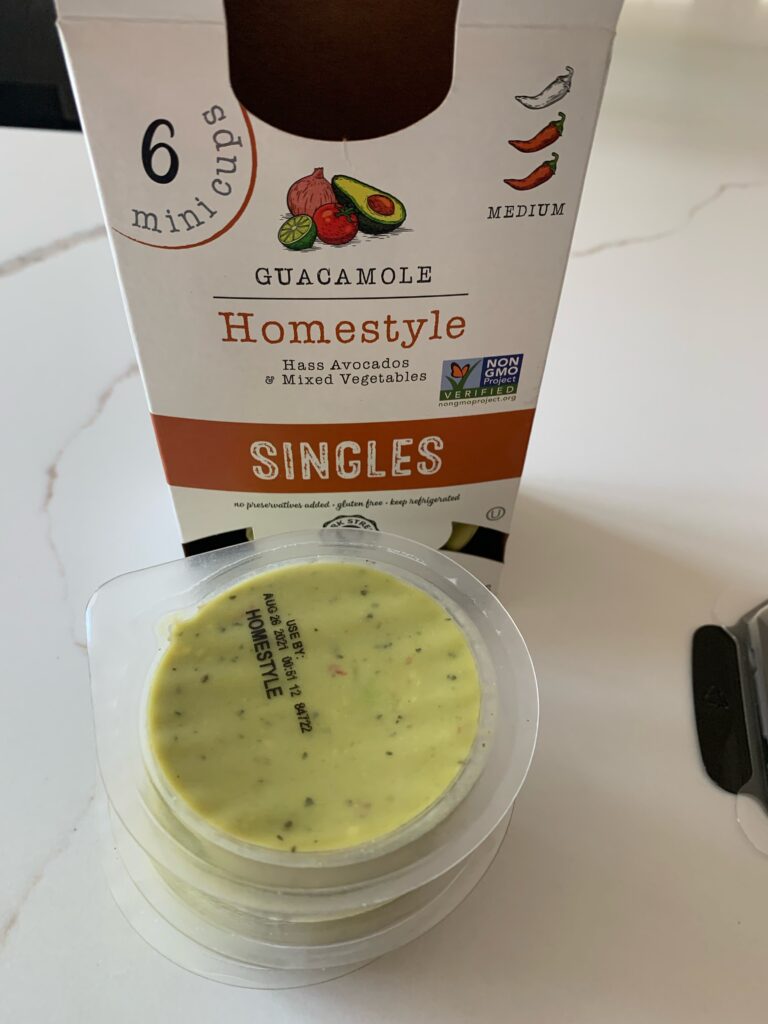 Tomato Avocado Salad Recipe
When you cut it into bigger pieces and add Avocado a bruschetta taste turns into a Salad. This tastes great with some Naan bread or pita on the side.
2 large tomatoes cut into wedges
1 avocado cut into wedges
1-2 Tbsp olive oil 
1-2 Tbsp diced basil
Salt and pepper to taste
I hope you are adventurous and try new guacamole recipes. Make it for your family so you can share it with others, or try it for Breakfast. You will find avocados are wonderful.
If you would like more recipes on tomatoes check out the blog on tomatoes.
Don't miss a blog and have dabillaroundthetable links come to your inbox. Sign up for the once-a-month email below or comment sign me up.