It's that time of year when you can show your neighborly love. The Zucchini plant keeps producing and you don't know what to do with them all besides give them to your neighbors. Keep giving them to others, but try some zucchini recipes you haven't tried before. Zucchini is served on my table this week and here are 7 days' worth of Zucchini Recipes for the family.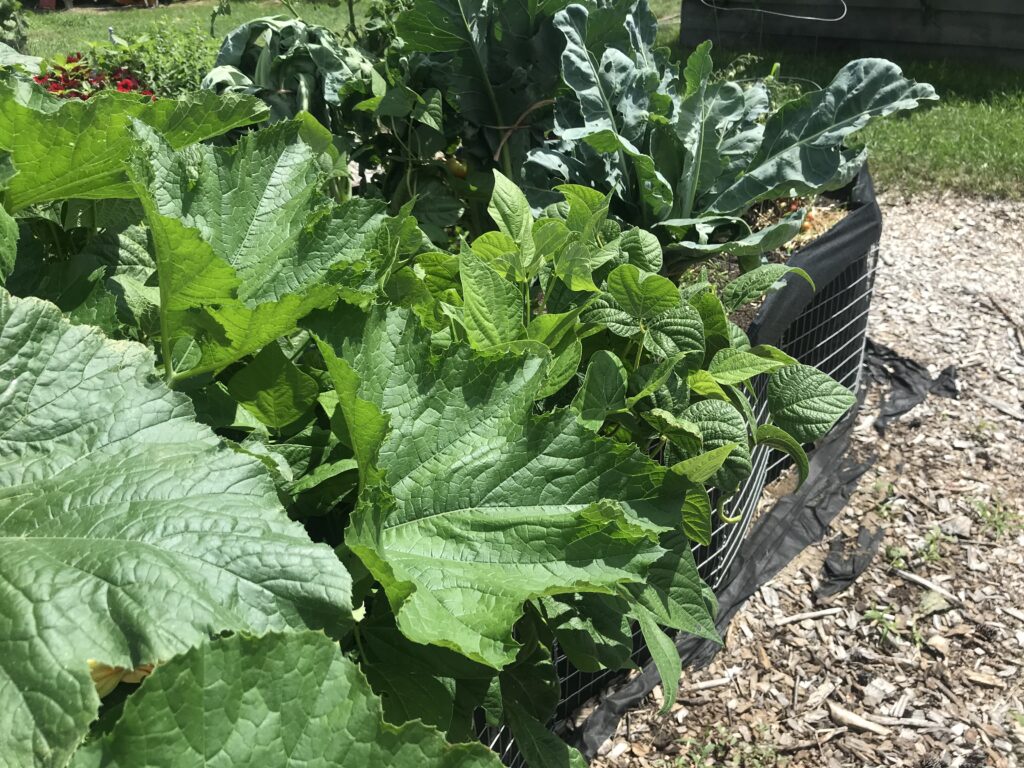 Sharing with Neighbors
I like to ask my neighbors if they want zucchini or tomatoes. They always say yes, because they know I will supply them with their zucchini for the summer.
The best memory of sharing zucchini was when our neighbor called us up twice during the summer and made us supper with the zucchini I gave her. That's a good neighbor. One dish was a stuffed zucchini and the other was stewed balsamic zucchini and tomatoes. This makes a great side dish if you love balsamic vinegar and tomatoes. I will share the recipe below.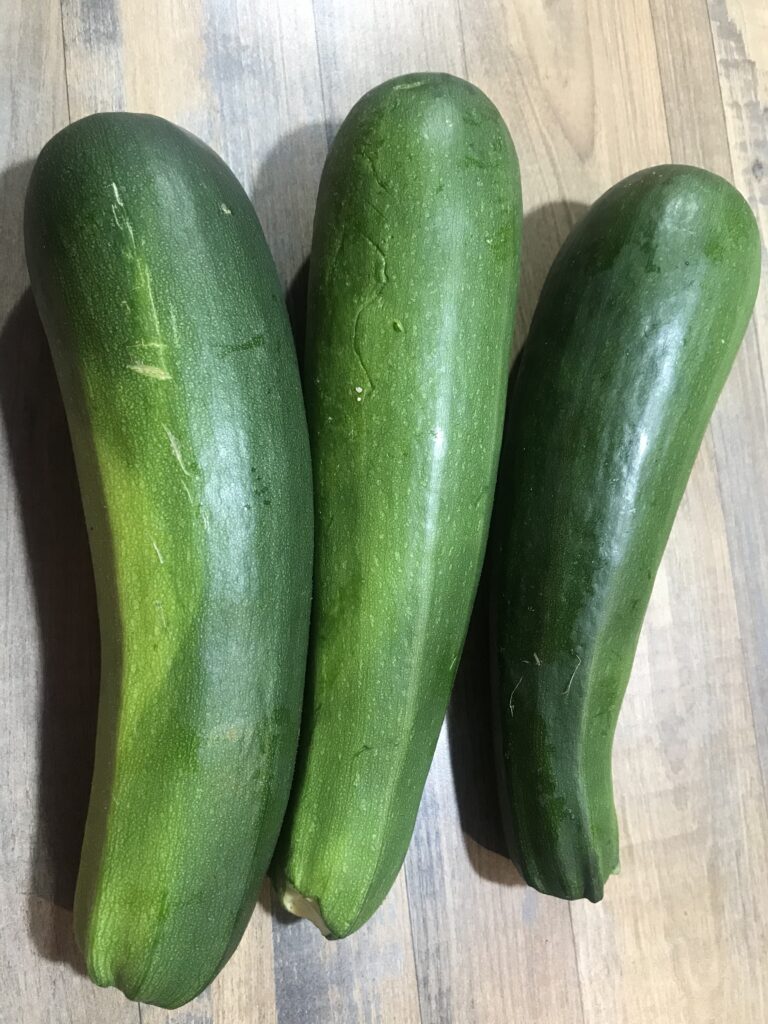 Zucchini Nutrition Facts
According to the USDA
1 medium zucchini equals 33 calories. Not the Big Giant one!
512 mg Potassium, 6 grams carbohydrates, 0.5 grams of fat, 2.4 grams Fiber
58% Vitamin C, 8% Magnesium, 15% Vitamin B6 7% Vitamin A and antioxidants- especially in the skin.
This vegetable is low in Carbohydrates. It is botanically a fruit but is classified as a vegetable. Eat it up because it can be added to so many dishes for added soluble and insoluble fiber and nutrients.
Zucchini Main Dishes
Most of these recipes are the main dishes or side dishes. If I have posted the recipe before, I will link you to another blog. I encourage you to try these recipes or make up your own recipes. A friend of mine makes up amazing recipes with zucchini.
I gave my friend some zucchini and she commented, "I still need to use my zucchini. She said, "I think I will make zucchini bread." Then she asked what I had made with mine. I named all the main dishes I added it too, and I didn't even get to make Zucchini bread until a month of using zucchini had passed by.
Zucchini Main Dish Recipes
#1 Chicken and Veggie Tacos
I have shared this recipe in my travel blog. We made this recipe as we traveled for a few of our Airbnb hosts.   This recipe is good because it adds veggies to the taco and the flavors blend nicely.   Here is the link if you want more recipes we made while we were traveling as well as the recipe below. Travel Foods link.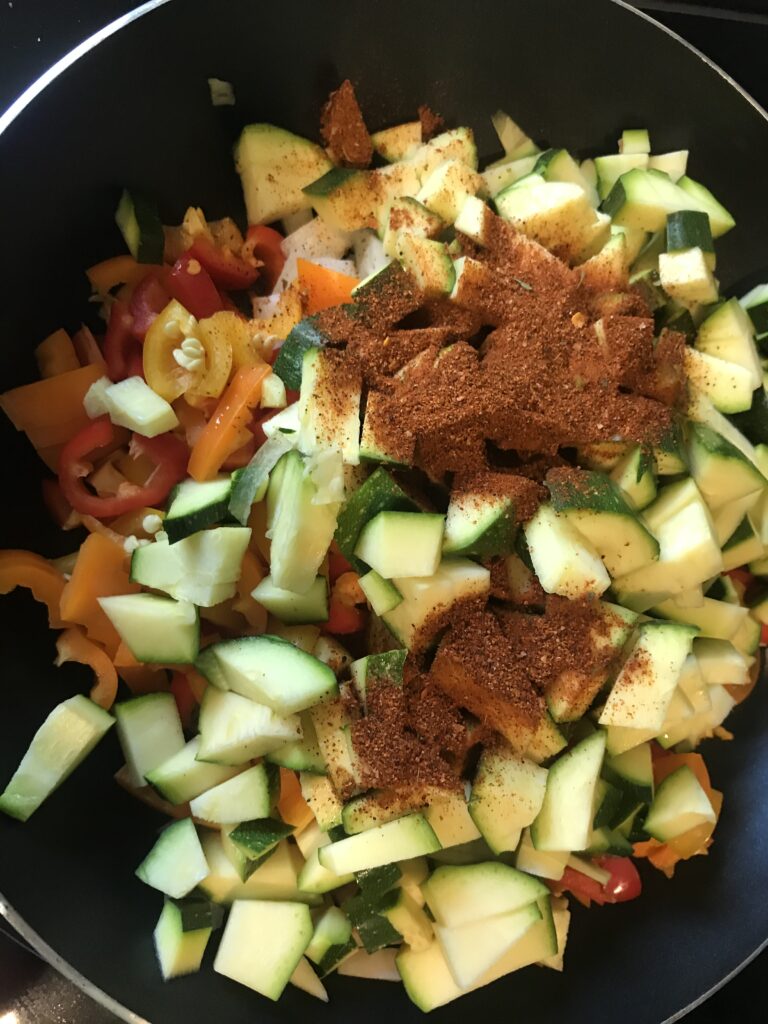 Chicken Veggie Taco Recipe
8-10 Taco shells
1 onion chopped
1 yellow or red pepper chopped
1 small-medium zucchini cubed
2 TBSP taco seasoning- Taco seasoning recipe in the Taco pizza blog link.
1 to 2 lbs. chicken cubed
Salsa to taste
Shredded Cheese
Guacamole- the recipe for Guacamole in the Fantasy Football link blog.
Cook vegetables in a pan with oil and 1 tbsp taco seasoning until tender. Cook chicken in a pan with oil and 1 tbsp taco seasoning until tender. Mix the two pans if no one is a picky eater. Assemble tacos with the veggie/chicken mixture, cheese, salsa, and guacamole. Serve with Berries or a salad.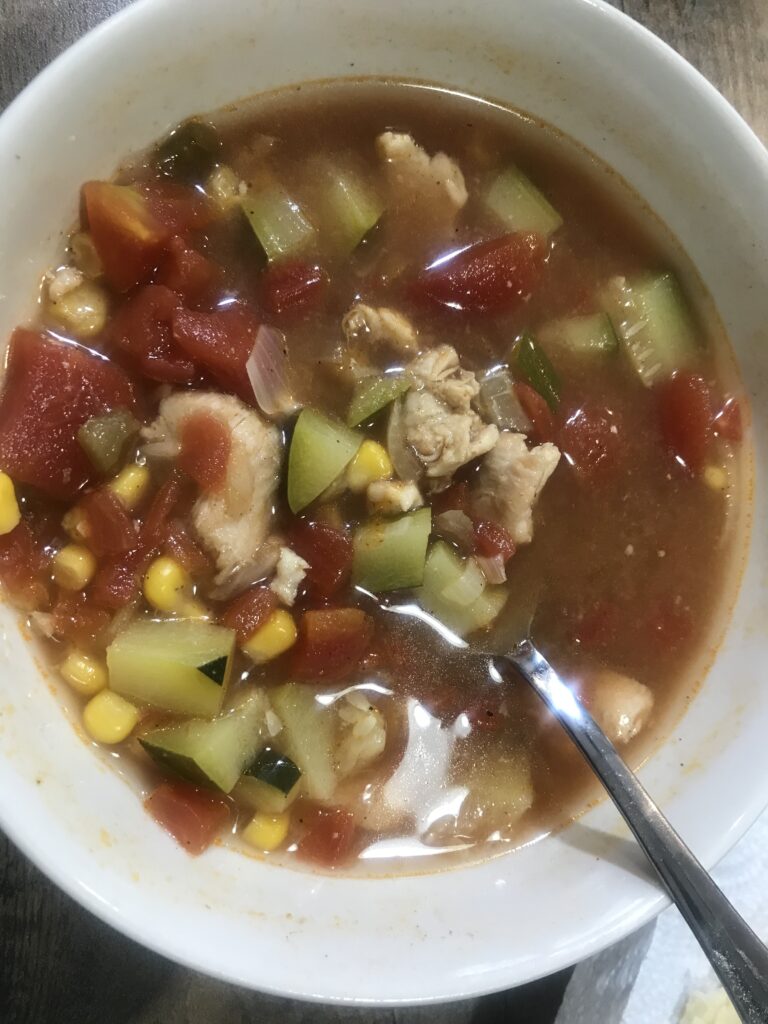 #2 Mexican Soup Recipe
This soup calls for Zucchini.   I have included the link for this soup in my "Soups On" Blog.   This has been a family favorite and would work well on a weight watcher diet.  The link to this soup is here.  The Recipe is below.
1 tsp cumin
1 tsp chili powder
½ tsp cinnamon
2 tsp oil
2-3 cups cooked chicken
1 onion chopped
4 tsp minced garlic
6 cups chicken broth
3 cups Zucchini Chopped (or substitute green beans)
1 ½ cups Frozen Corn
¼ tsp salt if needed
¼ tsp dried oregano
1 14 ounce can diced tomatoes
Add ½ tsp sriracha or 1 can diced tomatoes with green chilies if you like your soup spicy.
½ cup Shredded Monterey Jack cheese for garnish
Combine the spices with oil on medium heat in a large dutch oven.  Add onion and garlic and sauté. Mix in chicken and broth.  Add the rest of the ingredients and simmer for 20 minutes.  Ladle in bowls and garnish with cheese.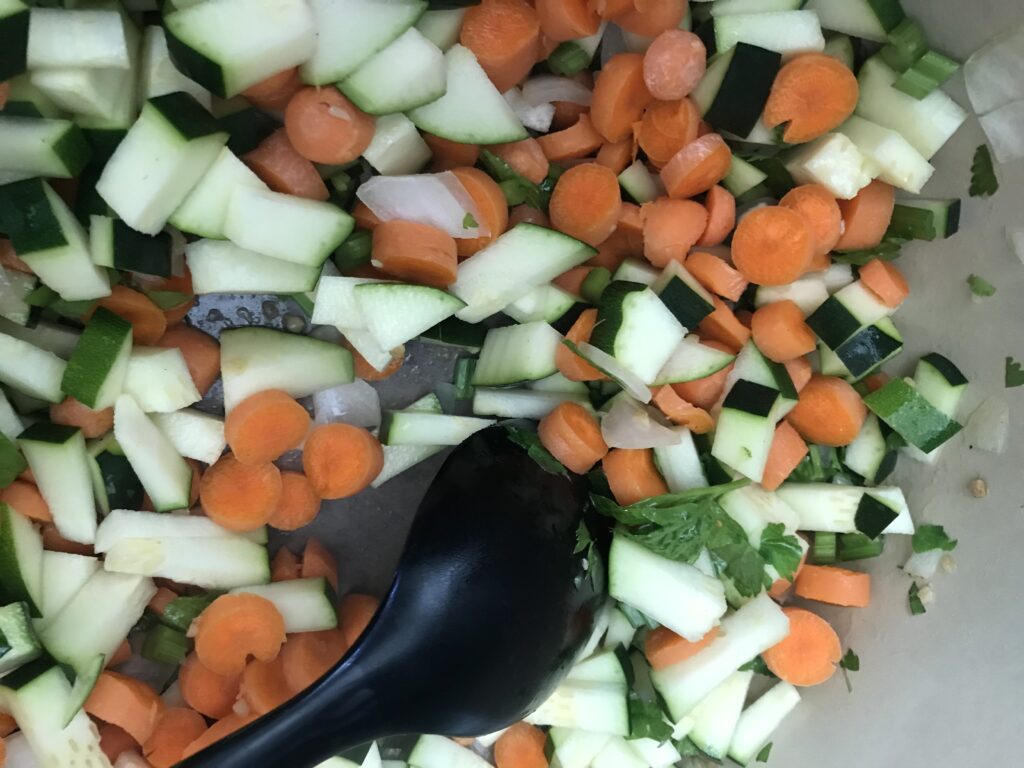 #3 Stir Fry
Whenever I make stir fry, and I have zucchini, it goes in it. Take your favorite stir fry recipe and add zucchini. I would share my recipe with you, but it varies each time I make it. Some day I'll make my recipe more consistent and share it with you all.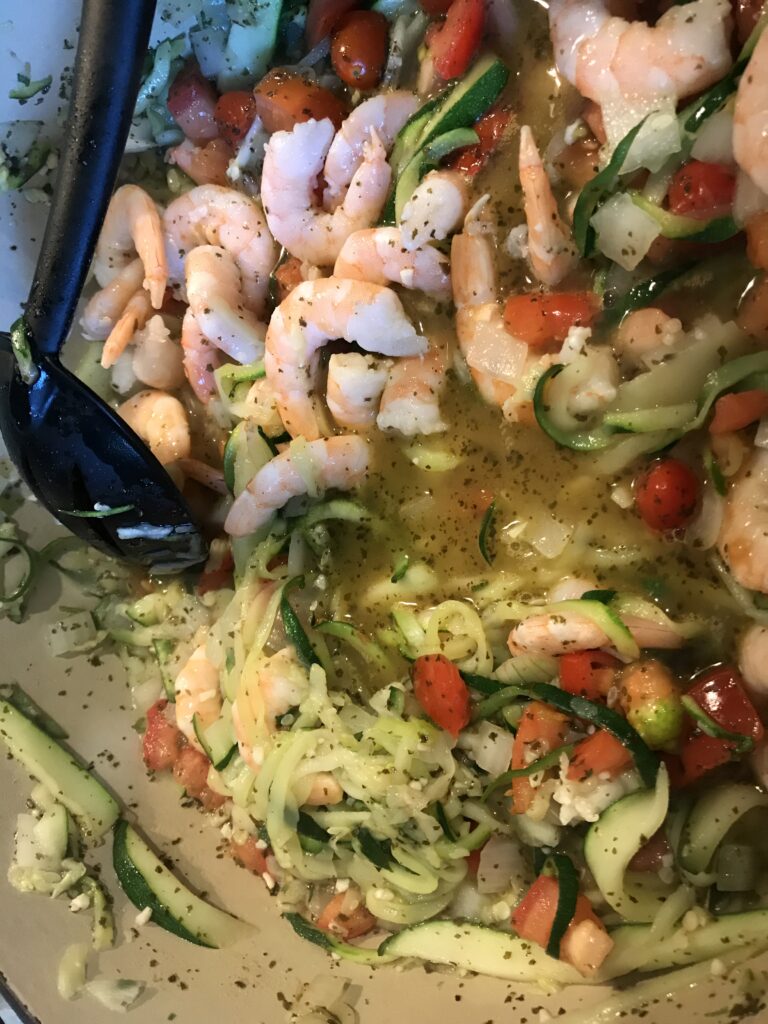 #4 Tomatoes, Basil and Shrimp Zoodles Recipe
For this recipe, you will need to purchase a Zoodler or use your mandolin to cut smaller strips of zucchini. A Zoodler has the Zucchini come out like a fettuccine noodle. This is another recipe that is also great for weight watchers.
4-6 cups of Zucchini cut into zoodles. May take 2-3 Zucchini depending on the size.
2 tbsp olive oil
1 onion chopped
1 tsp minced garlic
1 cup chopped fresh tomatoes. Roma or cherry/grape tomatoes work best.
20 basil leaves chopped or 3 tbsp basil paste.
Salt and pepper to taste
1-12-ounce bag of frozen cooked deveined shrimp and size of choice
¼ cup grated parmesan cheese
Sauté the onion, garlic, and zucchini in a pan with the olive oil for10 minutes and add the tomatoes, and basil, salt, and pepper. Cook until flavors are mixed. Just before tomatoes break apart add the shrimp. Heat until shrimp is hot and serve with a sprinkle of parmesan cheese on top. There may be liquid in the pan but just serve with a slotted spoon to drain off liquid.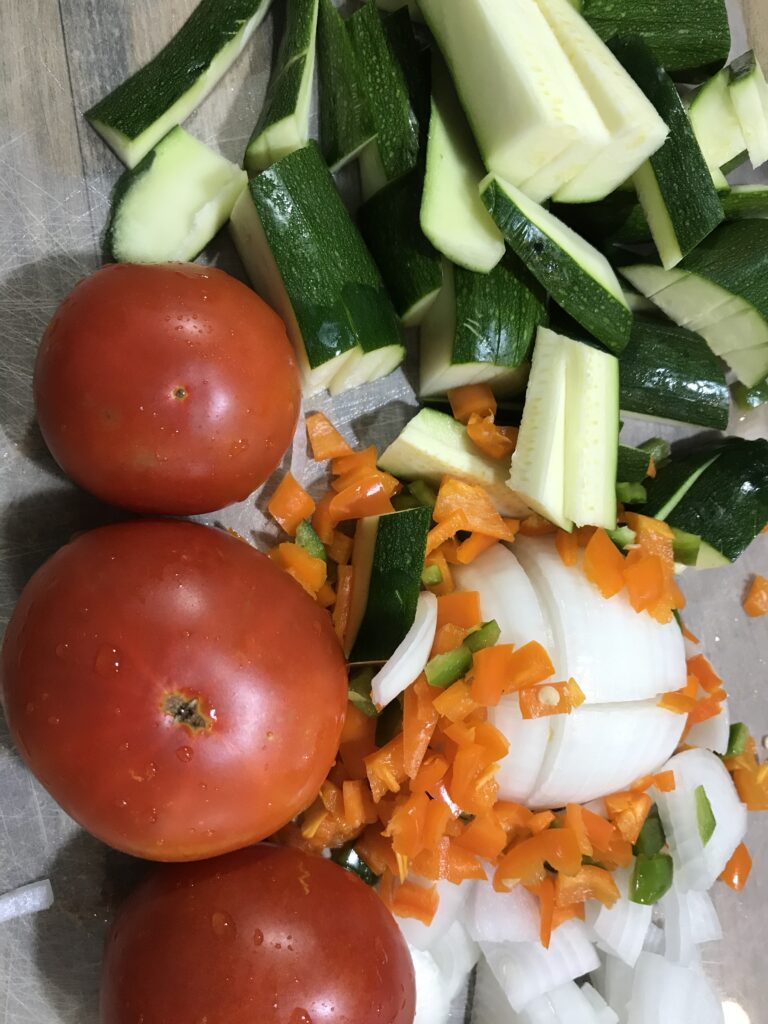 #5 Sausage, Pasta, and Veggie Recipe
This is one of my family's favorite ways to eat Zucchini because my son loves calories. He has the opposite problem of most of us. He tries to gain weight. This is still good.
One medium zucchini cut into julienned slices
½- 1 cup carrots cut into julienned slices
2 cups of diced fresh tomatoes. Cherry tomatoes or Roma tomatoes work the best. You can use a can of diced tomatoes in a pinch, but fresh is best.
2 tsp minced garlic
1 onion chopped
2 tbsp olive oil
Salt and pepper to taste
¾ to 1 lb of mild or hot or sweet sausage links cut into 1-inch pieces
1 tbsp chicken base broth
20 basil leaves chopped or 2-3 Tbsp basil paste
I6 ounce box bow tie pasta
¼ -1/2 cup parmesan cheese.
Boil the bow tie pasta until done. While it is cooking, cook the one inch cut up sausage links until done. Set aside cooked pasta and sausage. Add the oil, garlic, onion, zucchini pieces and carrots to the pan. Sauté until stir fry consistency- about 7-8 minutes.
Add the tomatoes and chicken base, basil the pasta and cooked sausage pieces. Cook for 5 minutes until the flavors combine and just before the tomatoes dissolve. Add parmesan cheese to the top of each portion and serve.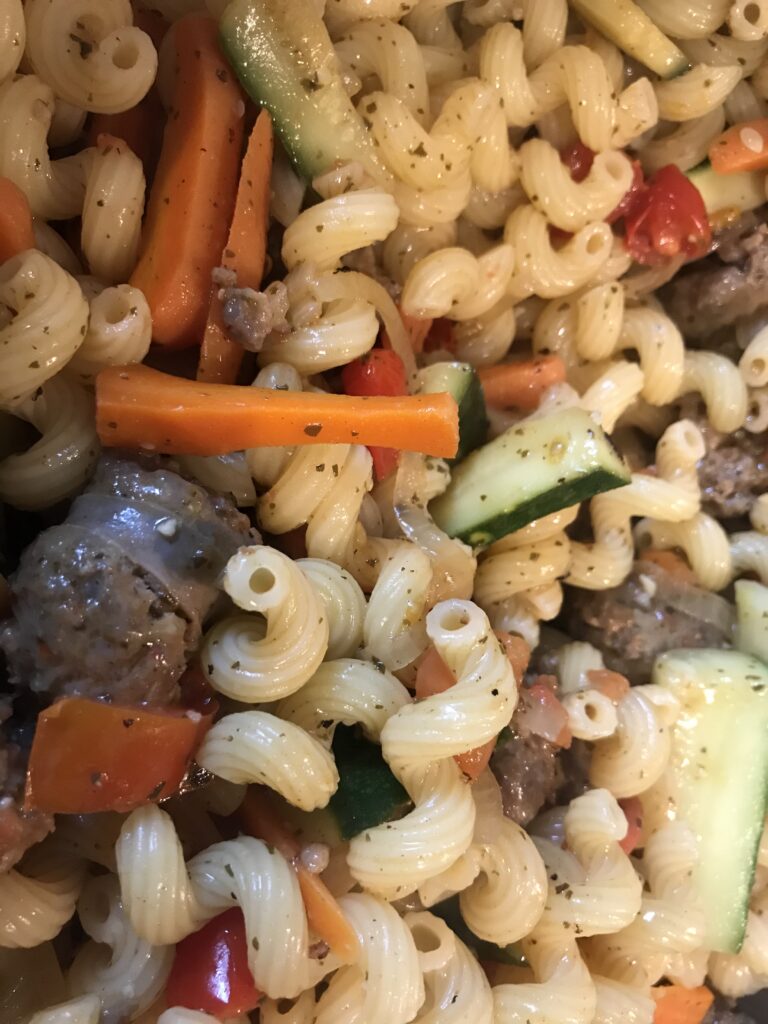 Zucchini Side Recipes
#6 Fried Zucchini Round Slices
When we were kids, I would ask my mom what is for lunch? She would say Zucchini. That's it, but we loved it. She would slice up zucchini and dip each slice into a whipped up egg mixture. She would then dip each slice into crushed saltine crackers and fry them in butter until they were crisp and golden color.
With a glass of milk, we ate every bit of our lunch. Now you understand why that is all we ate. Veggie, Bread, Protein, and Fat and a glass of milk. Try it, you may like it. I now prefer to just sauté the slices in a mixture of EVOO or butter if you prefer and eat them as a side vegetable. I can't quite make them the way my mom made them above.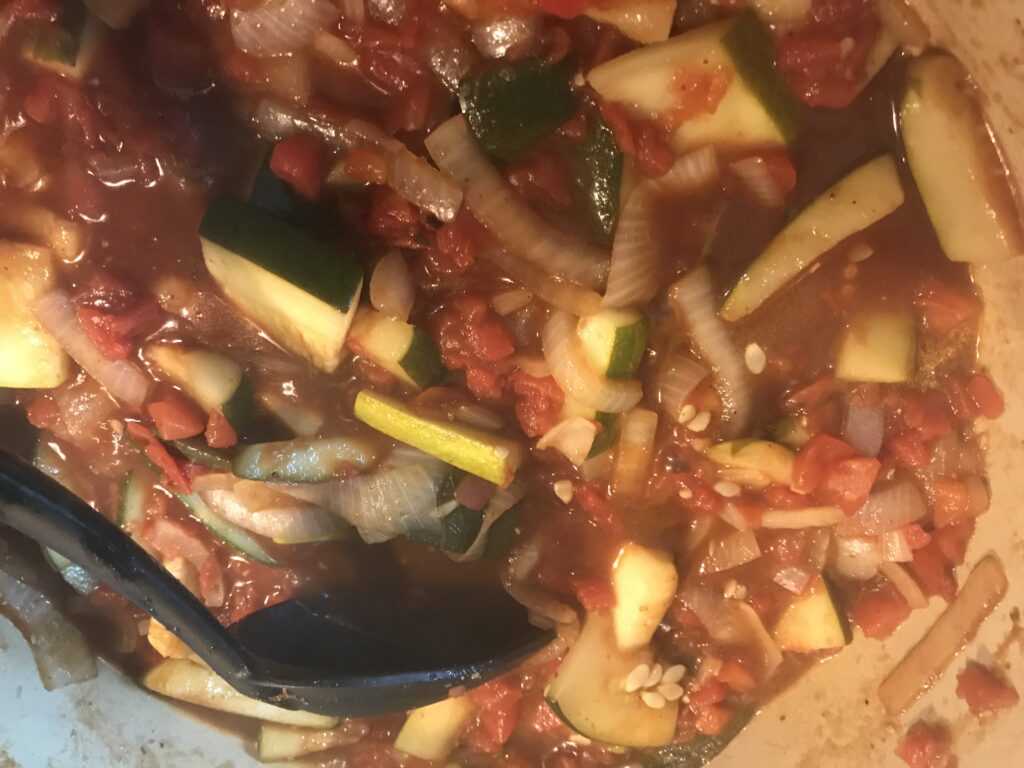 #7 Balsamic Stewed Zucchini and Tomatoes Recipe
This recipe is also great for weight watchers and is my final main or side dish recipe.
1 large Zucchini cut into julienned slices with the peel on
1 large onion cut in half and then sliced thin
2 cans of diced tomatoes
Salt and pepper to taste
4 Tbsp of Balsamic Vinegar to taste
Sauté the zucchini and onion for 10 minutes. Add the tomatoes, vinegar and salt and pepper. Cook for another 10 minutes until flavors have blended and the veggies have softened and the mixture resembles stewed tomatoes. Serve as a side dish or simply eat alone almost like a vegetarian stew.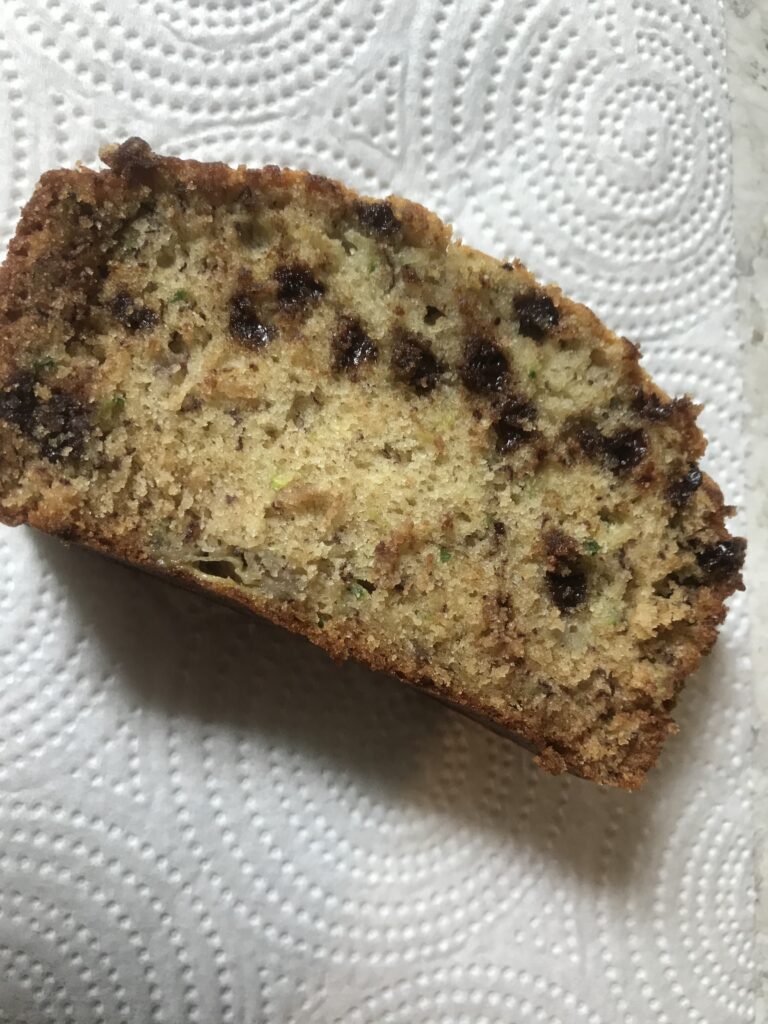 #8/#9 Links to my Favorite Zucchini Breads
The other day I made banana bread and I simply added 1 cup of grated zucchini to my regular recipe. I also squeezed out the liquid on the zucchini. Try this for any quick bread to add fiber.
These are links to a couple of quick breads that I enjoy making from time to time. They are not low calorie or not low carb but are fun to make during zucchini season. Chocolate Zucchini bread link. Lemon Zucchini bread link.
Finally, I hope you love Zucchini and will enjoy these recipes as much as I do.   These are favorites I make year after year. Keep sharing your zucchini with others and enjoy a week of Zucchini Recipes.
What do you make with your Zucchini that you want to share with us?
Subscribe to dabillaroundthetable Email at the bottom of the blog. This mail chimp sign up form will add you to my monthly email list. You will get an email once a month with links to my blogs, tips, and recipes. Don't miss your free scone recipe in your first email. Check your junk box so you won't miss the confirmation email.