When you walk past someone in the hallways at work or on a trail you might say "Hello", "Good morning", or some form of salutation.  This got me thinking. What are our common greetings to those we know in church or other Christian believers we see along the way as we enter the church doors?  Let's look into how we greet each other and think about new ways to greet people.  Greetings in the Church and Life.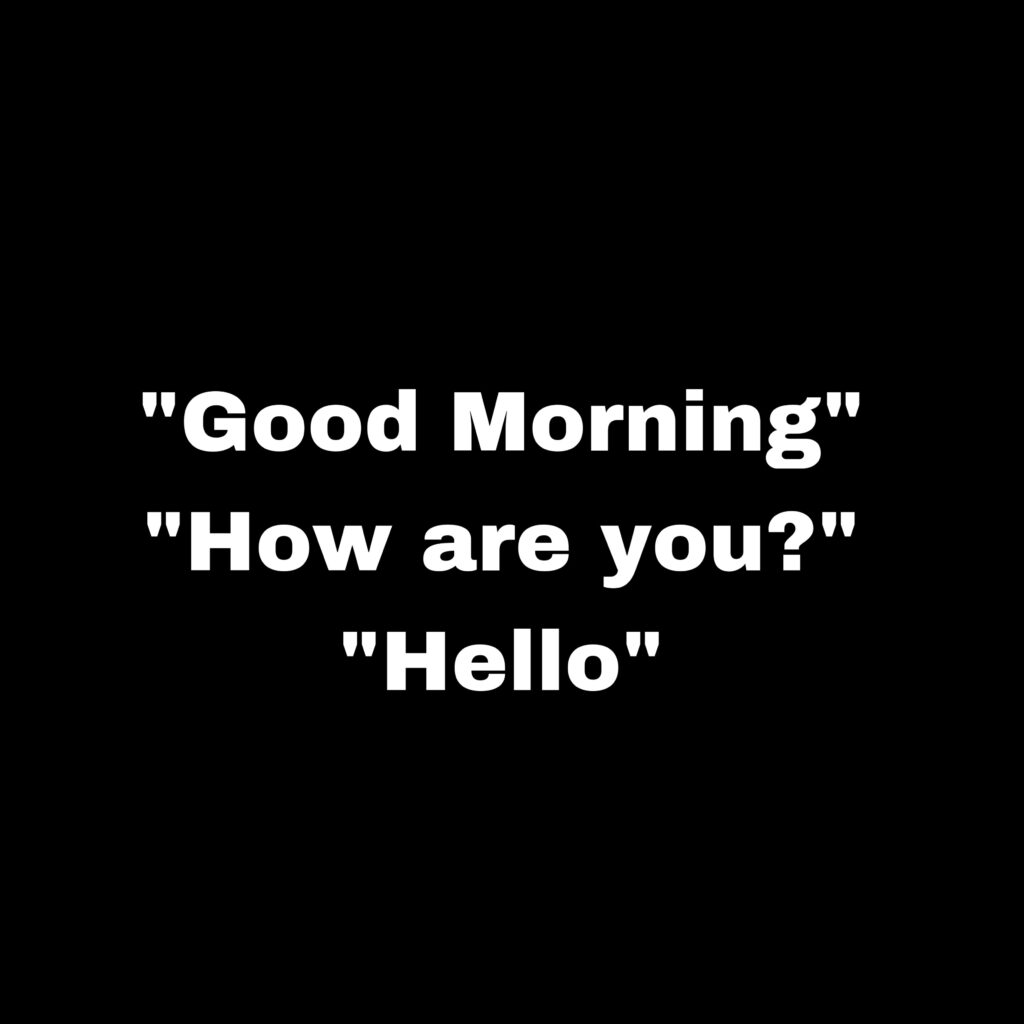 Day-to-day Life Greetings
I have to tell you- I am the person who walks by and says, "hello" or "Good morning". It drives me crazy when someone says, "how are you doing?"   My response is "good," but I want to stop them and say you asked so let's talk about it.  In reality, I think it's just their greeting. They asked me a question with no time to answer and it drives me crazy.  
Last night someone was outside when we walked by and I said, "Hello", and he said, "How Y'all doing?" He then looked down at his project.
One time I said hello to someone at work and the guy said, "how are you doing?" I said, "good" and "how about you." He said, "I am feeling Joy today" and I said, "I love it!" We didn't get much more in-depth because of time but it was a conversation. My point: Don't ask someone how they are doing unless you expect them to stop and tell you.
I asked a lady waiting for breakfast at her table in a skilled care nursing center I worked at, "How are you?" She said, "Oh, I love you too!" That is quite all right since she didn't hear me correctly.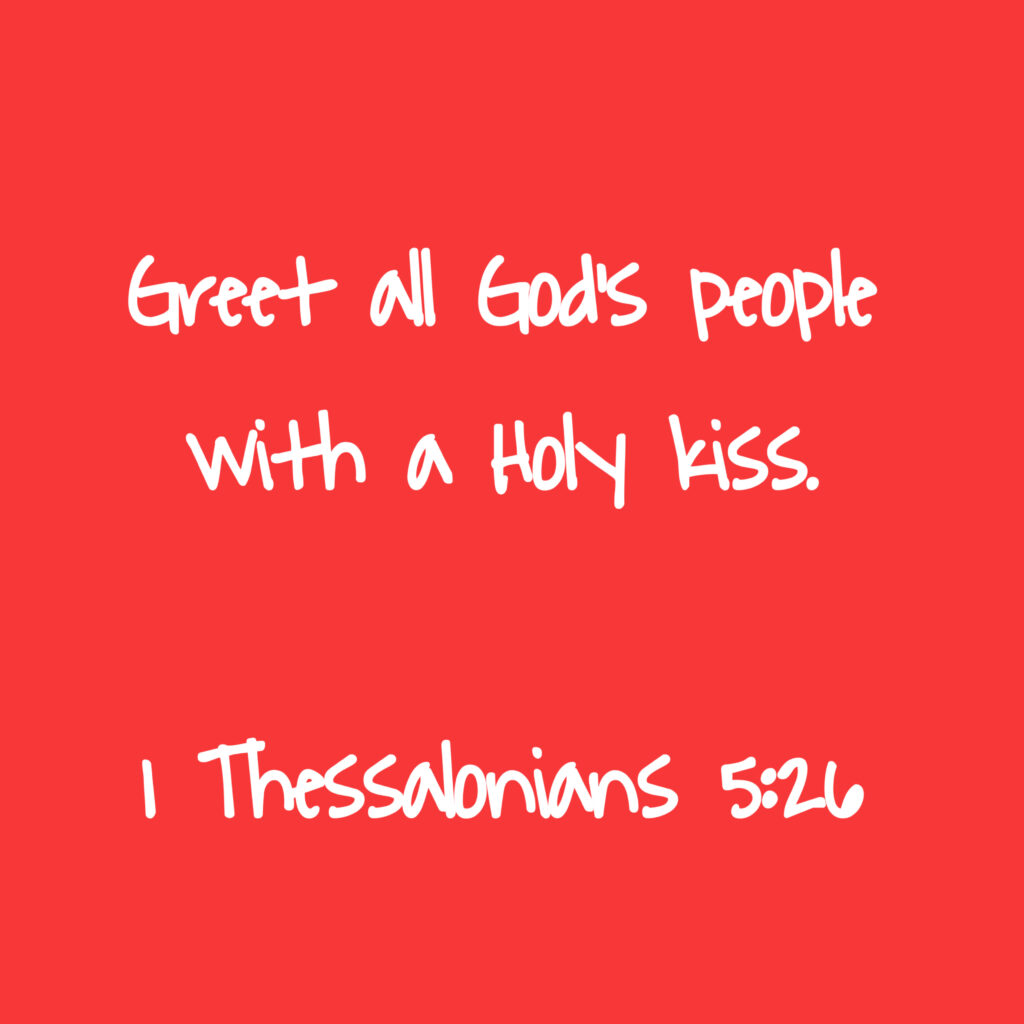 Bible Greeting Traditions
In the bible, Paul talks about greeting each other with a holy kiss.
"Greet all God's people with a holy kiss."1 Thessalonians 5:26 NIV
They kissed each other on the cheek to show their greeting and love for one another in Christ. This showed they were equally loved and accepted by God. It was a custom of the area and times.
This probably won't fly here, esp with handshakes almost evaporating at church because of the virus/germs. Greetings are used for coming and goings to show holiness to someone and prescribe God's love to other believers. This can vary by culture, church, and denomination.
We had one pastor who liked to give fist bumps as if to say Hi- I love you in Christ. Many will offer a handshake, or we had a pastor's wife who greeted everyone at the door with a hug. That was her gift to others and her style. Many would not feel comfortable hugging as a greeting and that is ok.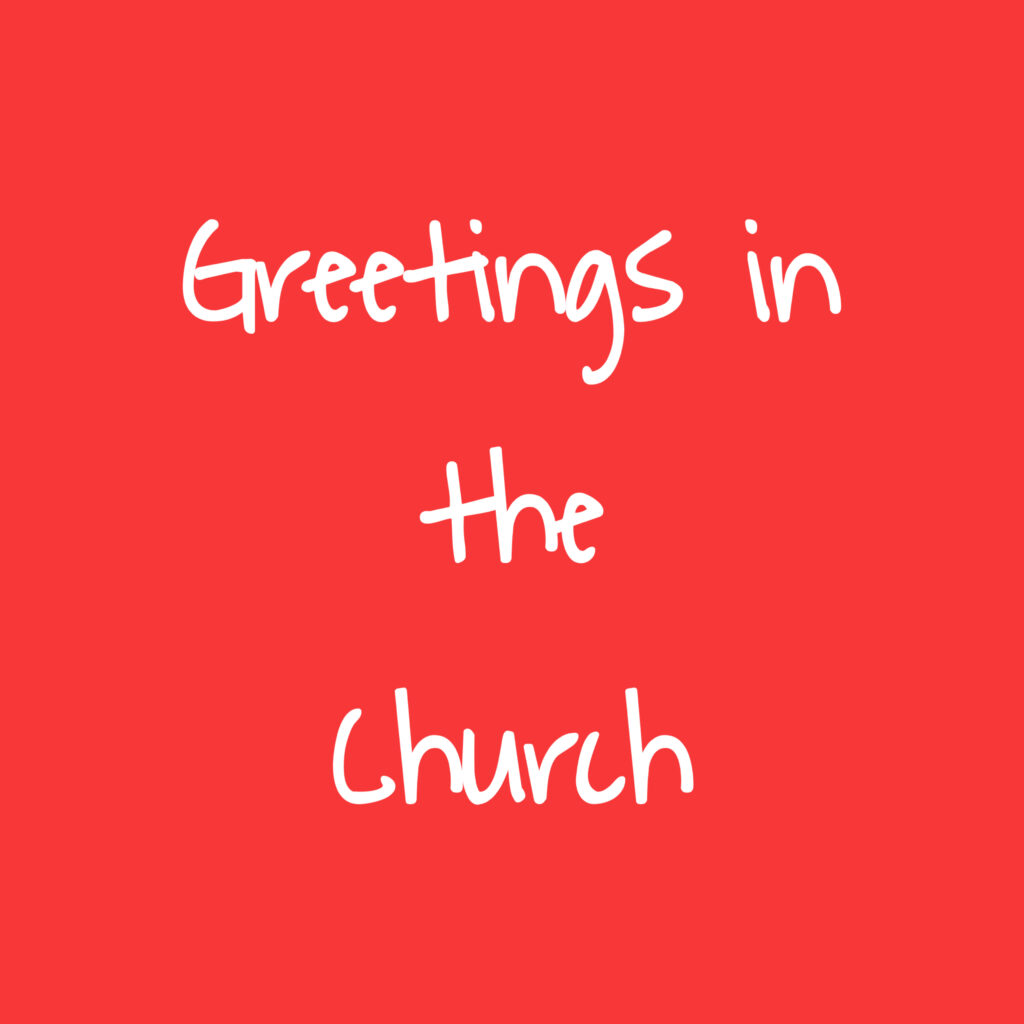 God's Peace- Greetings in the Church
When you walk into the church doors you most of the time get a handshake and "good morning" or a "welcome". I feel like this should be different.
I grew up in a Finnish church background and my uncle was a pastor who had spent many years preaching in Finland. Every time we would see him he would say this to his church people and church peeps would greet each other with this: "Jumalan Rauhaa" – which translates to God's Peace.
Since my parents spoke Finnish they would say "Jumalan Ruahaa" and I would get, "God's Peace" as the greeting or goodbye. When my uncle would visit our family at home he would still greet us with "God's Peace".
Thinking about it now, the "God's peace" greeting as you come or go to church– I love it.
Blessings- Honduras Greetings in the Church
When I went to Honduras on a mission trip and I was introduced to the Hondurans in the church, they also had a greeting for their coming and going.  "Benedecionies" translates to God's Blessings.    
I love both of these so much that if I start talking in Finnish or Spanish to others in my greeting they will wonder what I am saying.
1 Peter 3:8-9 put it this way- "Finally, all of you, be like-minded, be sympathetic, love one another, be compassionate and humble. Do not repay evil with evil or insult with insult. On the contrary, repay evil with blessing, because to this you were called so that you may inherit a blessing. "
Our greeting to other believers and those in Church should be a blessing and encouragement to continue with the faith. The greeting signifies a union with Christ. Maybe the best words to say if you don't have one figured out are God's blessings or God's Peace!
Do you have words you use to greet one another in Christ at your church or as you are out and about? Greetings in the Church and Life. Any ideas? I'd love to hear what you say to each other in Church. Comment your ideas.
Other Faith blogs- How to connect to people and God, How to Learn and grow in your Faith, and Mumbling God's Word.
Sign up for my dabillaroundthetable email below. Once a month get an email with links and tips and or recipes. Don't miss out on blog posts.