When food is easy to make, we listen. Tell me more or give me that recipe. Around my table today, I'm sharing My 5 Top Easy Recipes to include with your meals or make as a main dish.
These are the recipes I make a few times a month depending on the season.  They involve a variety of foods and nutrients.  
Breadsticks or Pitas
If you eat gluten-free, use your favorite flour. I love this recipe because it has yogurt, flour, and a leavening agent, and it is done. This recipe can also be found on my pizza soup blog.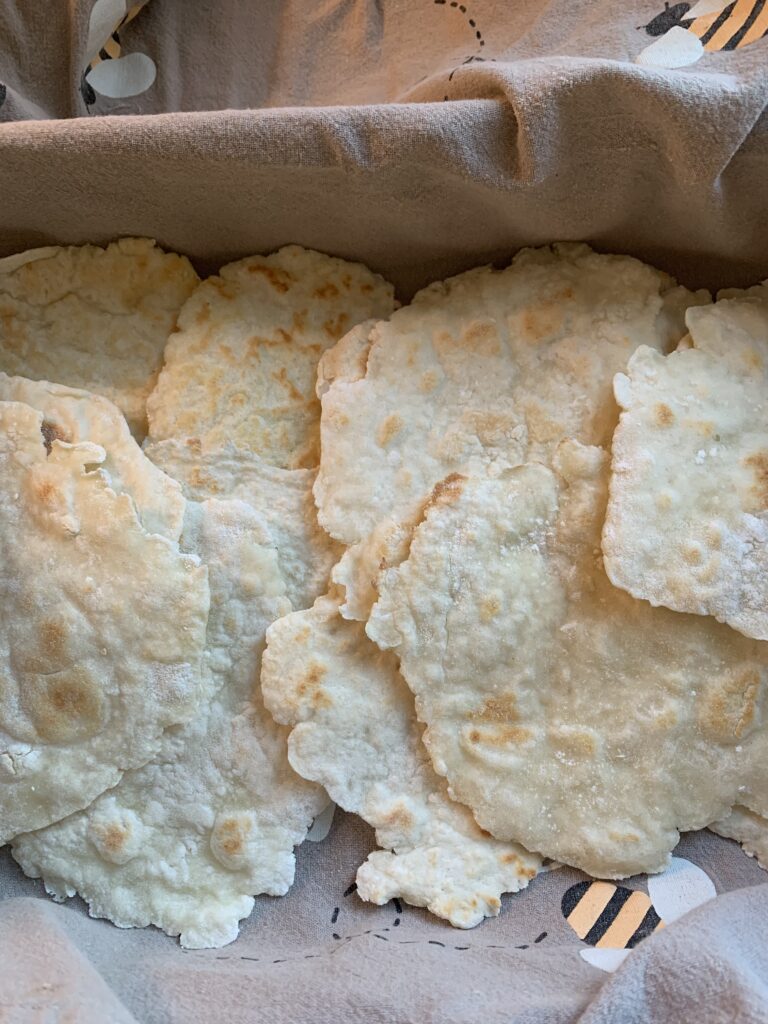 Easy Recipes for Breadsticks/or Pitas
I love this recipe because it can be made just like that.
1 cup flour
2.5 tsp baking powder
Pinch of salt
¾ cup plain yogurt works better with regular plain or FAGE yogurt.
Mix and form into a ball- add more flour if needed. Let rest for 5 minutes.  Roll into a pizza pan and drizzle with EVOO and garlic powder.  Score/Cut with a pizza cutter before baking into breadsticks.  Bake at 350 degrees for 15 minutes.
For pitas make as above except divide into 6-8 balls.  Roll out each ball into a 4-6 inch circle and place in a non-stick pan on the stove and cook until each side is brownish or bubbly. They are like naan bread and perfect for pita-like sandwiches or to dip into soup.  I like to make and freeze them for future soup.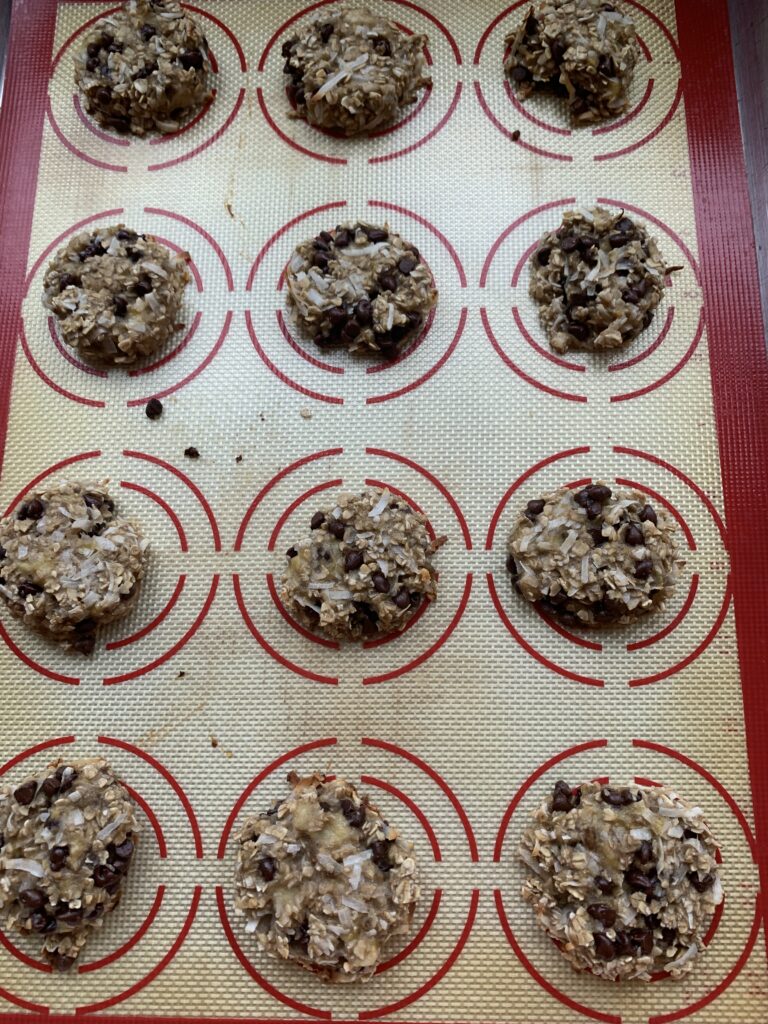 Banana Breakfast Cookies
1 cup oatmeal – I like to use quick but either can be used
2 mashed bananas
¼ cup mini chocolate chips or ¼ cup chopped walnuts
Stir in a med-size bowl and place tablespoons of mix onto a cookie sheet lined with a silicon mat or parchment paper. You should get 11-12 of them and mash them if you want a cookie appearance. Bake at 350 degrees for 15 minutes.
If you would like other banana recipes they can be found on my go banana blog.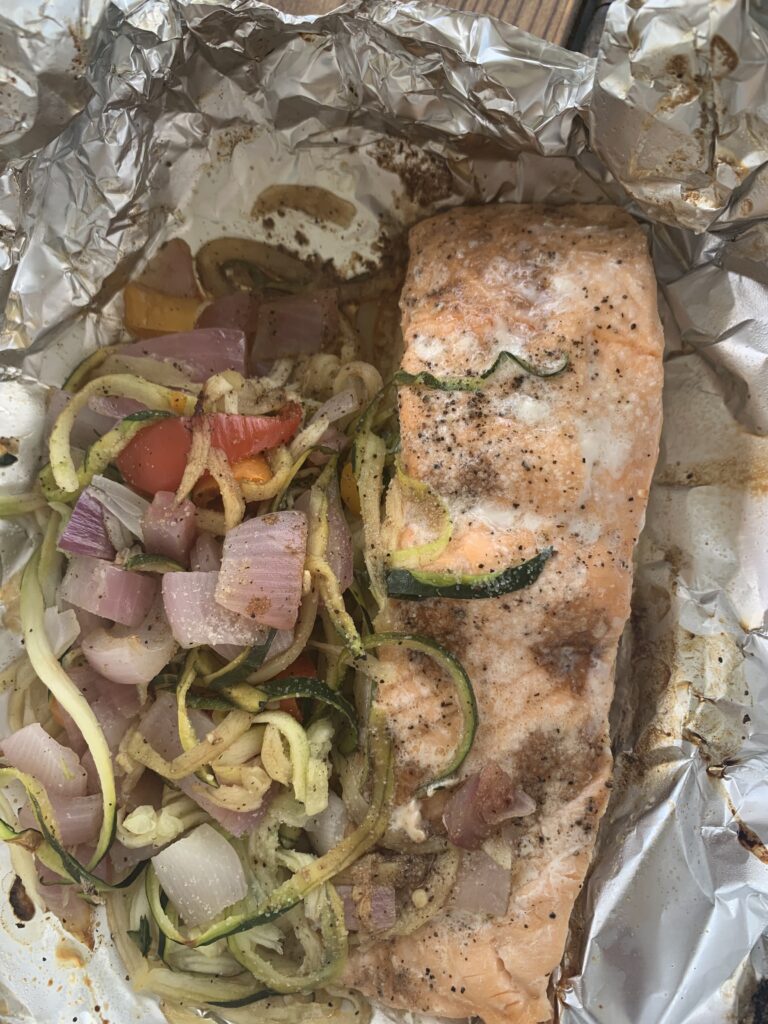 Foil Salmon on the Grill with Veggies
1 Zucchini Zoodles
2 pieces of salmon
1 onion chopped
½ red pepper chopped
Garlic powder to taste
1 TBSP balsamic vinegar
Place defrosted salmon servings on aluminum foil 10 x10 inches in size for each packet.  Mix one zucchini cut into zoodles with 1 chopped onion, red pepper, garlic powder to taste, and 1 TBSP balsamic vinegar.   Place mixture next to salmon and close and grill for 7-12 minutes until salmon is done.
Salmon is a superfood. It has omega-3 fats, protein, and an excellent and easy way to cook fish. See the link for Salmon nutrition.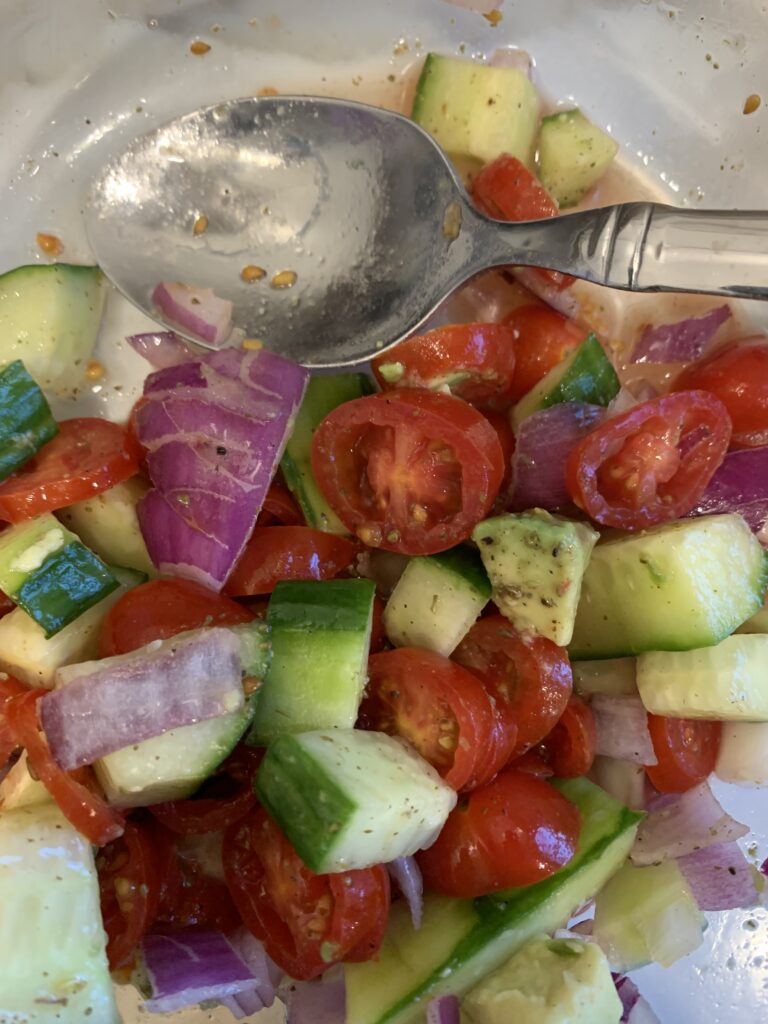 Israeli Salad Easy Recipe
This is perfect for a side salad, on top of a lettuce salad, or in Shawarma. This recipe can also be found on my blog about our trip to Israel.
2-3 tomatoes diced
1/2 English cucumber diced
½ red onion diced
1 tsp minced garlic
Salt and pepper to taste
1-2 TBSP lemon or lime juice
1 tsp zaatar, Mediterranean spice, or oregano.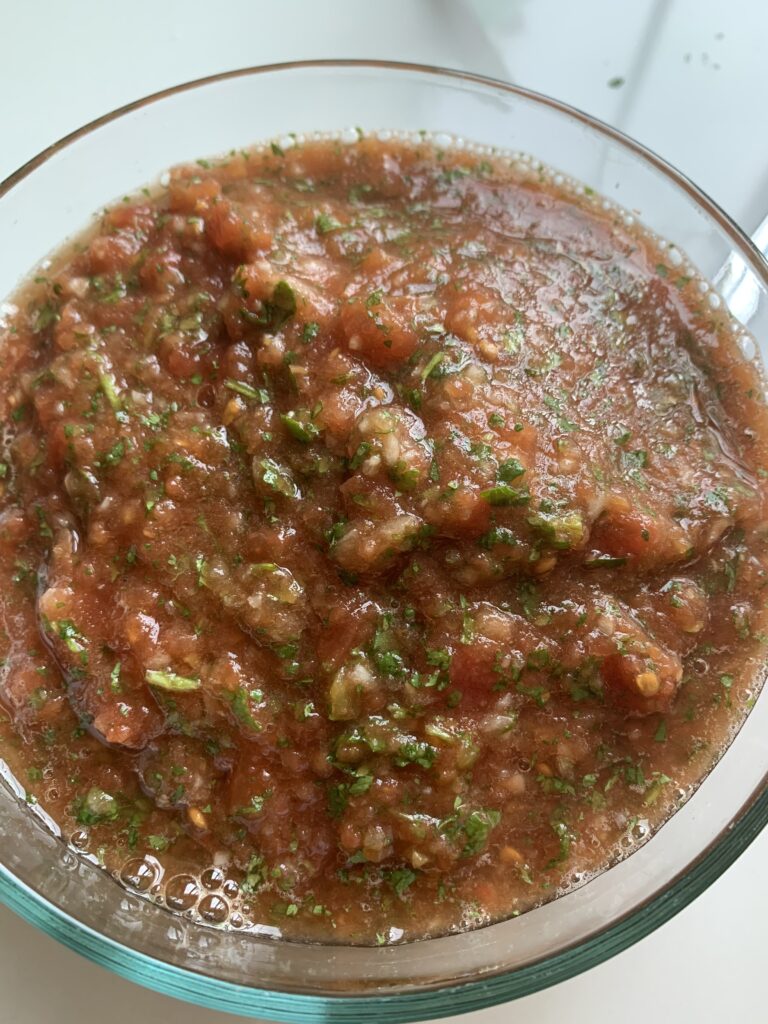 Easy Winter Salsa Recipe
For the final recipe, I make this salsa in the winter when I can't make fresh pico.  It has half-fresh ingredients in it. I don't even buy salsa because this is the best tasting.
1 13-ounce can of chopped or whole tomatoes
½ small onion- chunked
1-2 tsp garlic minced
1 tbsp lime juice
½ bunch of fresh cilantro
½ tsp cumin powder
1 can rotelle or diced tomatoes with green chillis
Place all except the rotelle in a ninja or food chopper and pulse until everything is chopped/mixed up.
Add the rotelle and pulse 2 more times. You will have some chunks in your salsa. 
Yummy and Easy Recipes
These are quick and easy recipes I make many times a month. Finally, I hope they become some of your favorite and healthy foods. My top 5 Easy Recipes.
Sign up for dabillaroundthetable email. A newsletter will arrive in your inbox once a month. You will get links to blogs and recipes or tips. Don't miss it. Sign up below and check your junk box if you don't get it.