Many people I talk to say, " I just need quick and easy meals to make for myself or my family." Gather around my table as I share a few of my favorite 30 minute meal recipes. Let's go.
Less than 30 minutes=Leftovers
When I say 30, I say 30 or less. I love to come home from work on a long day and eat in 30 minutes or I eat leftovers. Don't forget to plan leftovers in your menu for fast meals. Cook once and eat twice. Prepare double or large-batch meals that you can eat for lunch and for dinner the next day or two.
Tips to Cook – 30 Minute Meals
The key is to cook the rice from the start and it will cook itself while you make the rest.
Cut your onions ahead of time- if you want to save time. Place in the refrigerator, or have some frozen in the freezer. I even cut up red pepper and freeze. They cook faster this way too.
When cooking, get all your ingredients together so you can simply measure and place them in the pan as needed.
Finally, I pre-prep cooking the night before as we clean up the kitchen from dinner.  I get my meat ready and defrosting done in the frig. Place ingredients on the counter or in the refrigerator so cooking will be easy the next day.  I only do this if I have a busy day coming.  That is when I usually plan leftovers.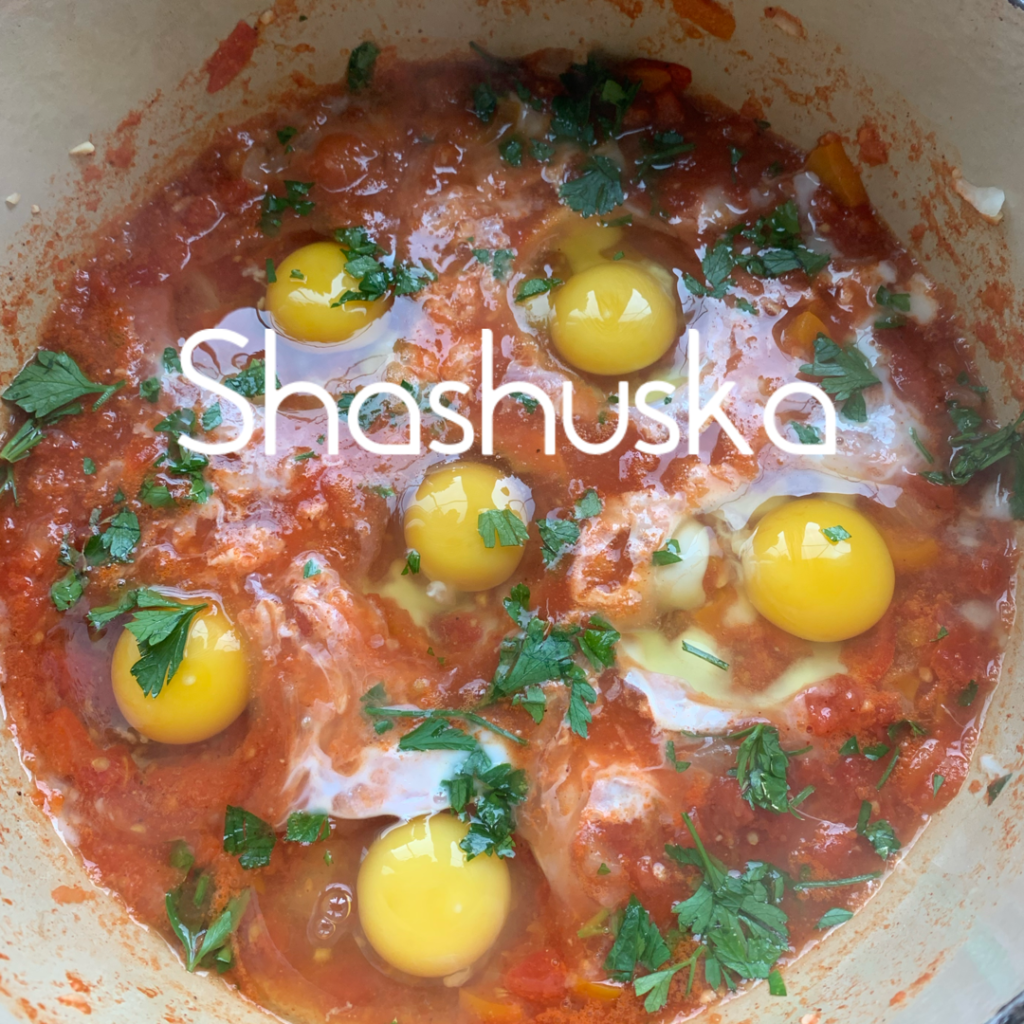 Shakshuka Recipe- 30 Minute Meal
This is a middle eastern/north African recipe my husband's coworker gave him many years ago and I go on streaks with making this one.  It is perfect if you have frozen tomatoes or canned tomatoes work well too.  Eggs are the main protein. Serve it over brown rice, your favorite rice, or with Naan bread to make it a 30 minute meal.
1 small onion, chopped
1 Tbsp Olive oil
1 tsp minced garlic
1 red bell pepper, chopped
2 14oz cans diced tomatoes ( I use my frozen tomatoes- 4 cups)
½ tsp mild chili powder
2 Tbsp tomato paste
1 tsp cumin
1 tsp paprika
Pinch of cayenne or hatch chili flakes.
Pinch of sugar
6 eggs
1 Tbsp fresh minced parsley
¼ cup Feta cheese
Sautee onion, garlic, and bell pepper in olive oil on medium heat in a large skillet until translucent and the pepper is soft. Add the tomatoes and tomato paste and spices. Simmer for 5 minutes as the sauce thickens.
Gently place 6 cracked eggs around the pan on top of the mixture. Cover and simmer for 10 minutes or 15 minutes -if you like your eggs well done. Garnish with parsley and feta cheese and serve over cooked rice or with naan bread.
While the rice and shakshuka are cooking you can also make a fresh salad to serve with the meal.
10 minutes to cut and prep and 15 minutes to cook.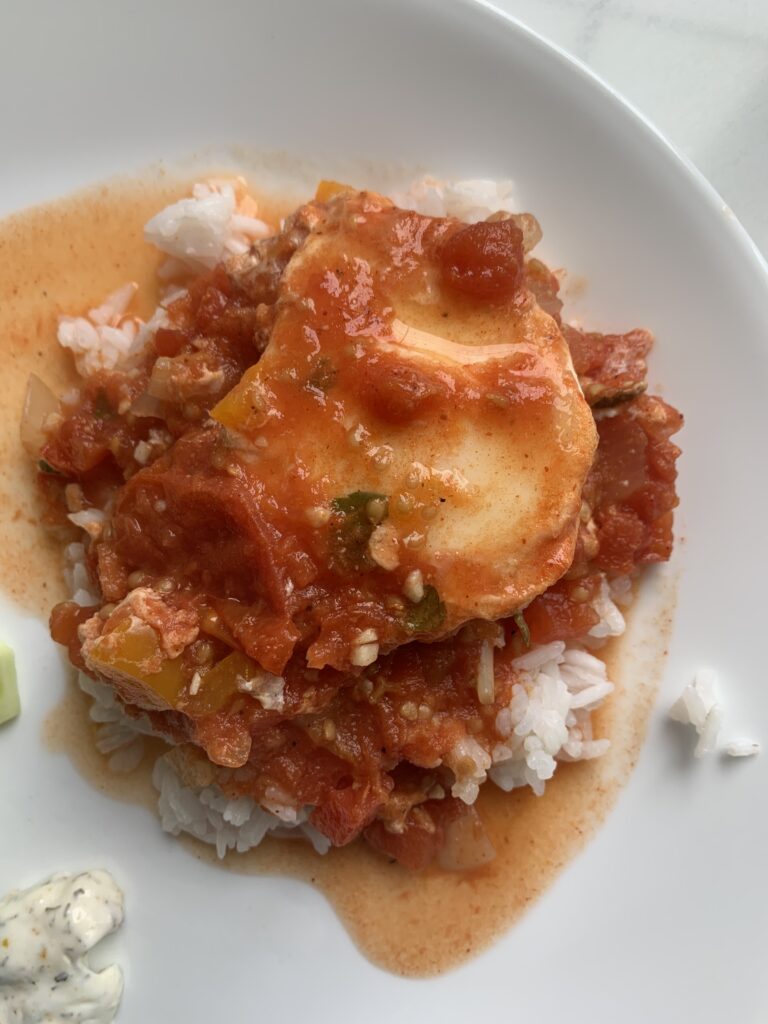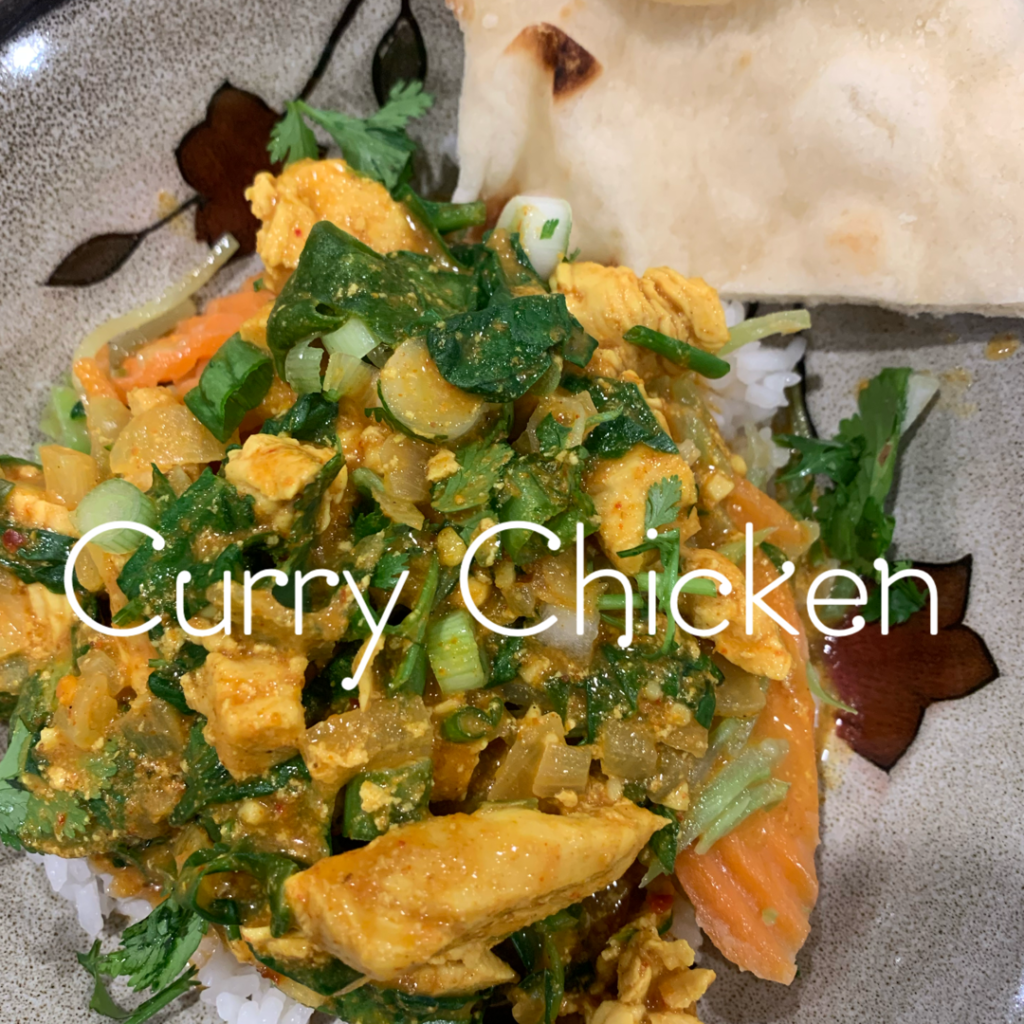 Thai Curry Chicken Recipe with Veggies and Rice
This is a super quick curry served on brown or white rice.
1.5 lbs chicken breasts cut into small bite-size pieces. (you can have your chicken cut up ahead to save time)
I can of light coconut milk
2 tbsp red curry paste (comes in a jar)
2 tsp Garlic, minced
2 Tbsp yellow curry powder
Pinch of salt or 2 tsp fish sauce (optional)
1/3 cup chopped cilantro
¼ cup chopped green onions
I make this in my cast iron Dutch oven on the stove. Sautee garlic and bite-size chicken breast until done. 6-7 minutes at the most for time.
Add the coconut milk, curry paste, curry powder, fish sauce, or a pinch of salt. Cook for 10 minutes until flavors are blended.
In the microwave cook 1 pkg- 16 ounces of frozen stir-fry veggies in a glass bowl for 5-6 minutes until done.
Cook brown, white rice, or minute rice while this is cooking. Bring regular rice and water to boil and cover and shut off the burner for 15-20 minutes.
To serve- plate rice with veggies on top and add the chicken curry mixture on top. Garnish with cilantro and green onions.
–Red curry paste- comes in a little jar in the Asian section. I keep it in my refrigerator just for this recipe.
Gluten-free- these recipes will be a yes for you So enjoy.
If you are counting carbs- Go easy on the rice. Remember 1/3 cup rice = 1 carb or 15-gram carbohydrates.
Try these 30 minute meal recipes. You may like them. Our taste buds may develop over time to like them.
Low-Cost meal Blog and Menu planning blog.