You either like onions or you don't like them.  Maybe you don't even know you had onions because they blend so well with the food. Today at my table let's talk onions and why they are so good for you. Recipes with Onions, the Best Flavor, and Nutrition.
I love onions and the more you cook with them the more you like them. 75% of the time I am making something with raw onions or cooked onions.
Types of Onions- The Best Flavor
Onions are considered a vegetable from the Allum family and are loaded with antioxidants. You may have thought they just made you cry or brought flavor, but they are good for your body.
You can choose from sweet onions, white onions, yellow onions, and red onions. I love them all but tend to use the sweet and red onions the most.
Sweet onions– are best caramelized and are mellow in taste so I use cooked or raw. These are perfect for onion rings or as a mellow onion in a salad.
Red onions– provide the most nutrients because of the red color. They are a great addition to salads and veggies -especially raw.
White onions- are great for pickles, stir fry, or vegetable dishes. These are strong and many people like them chopped on hamburgers.
Yellow onions- are great for soups or stews and are the most popular onion in basic recipes.  
Nutrition in Onions
One medium onion according to the USDA is about 44 calories
Onions Contain- Potassium, Carbohydrates, Fiber, and some protein.  They are  Loaded with Vitamin C, Vitamin B6, and some Magnesium.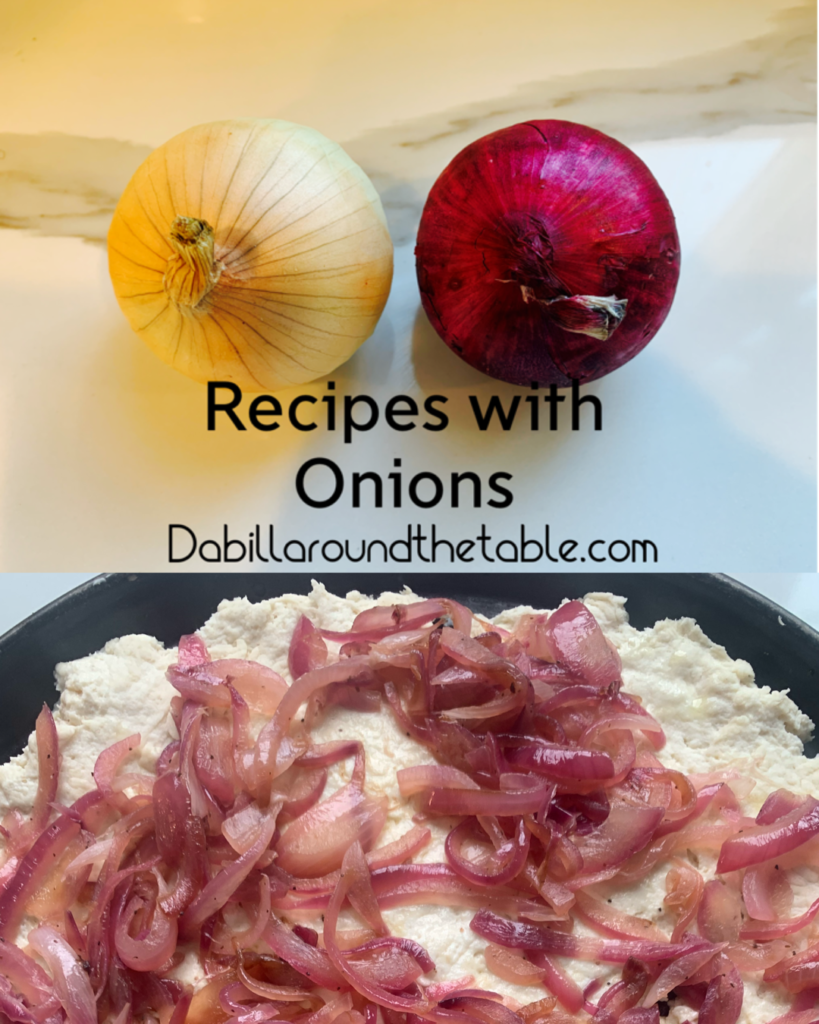 Health Benefits of Onions
Onions contain Quercetin a flavanoid and organic sulfur compounds that help with insulin production. Quercetin can aid as an anti-allergic, stimulates the immune system, and helps with the sinuses. Here is an article on quercetin and its health benefits Quercetin in the Spotlight – Today's Dietitian Magazine (todaysdietitian.com)
You may think an onion has a strong flavor, but it can Improve digestion in the gut with its pre-biotic attributes. Try pickling an onion, and there are even more gut benefits.
Onions act as an Anti-Inflammatory and protect against Cancer. They also help to reduce blood sugar and cholesterol. Research has shown to reduce Alzheimer's risk, decrease bone loss, and help with lungs and Asthma.
Onions are so good for you and bring flavor, so why not eat them daily?   How do you like to eat your onions?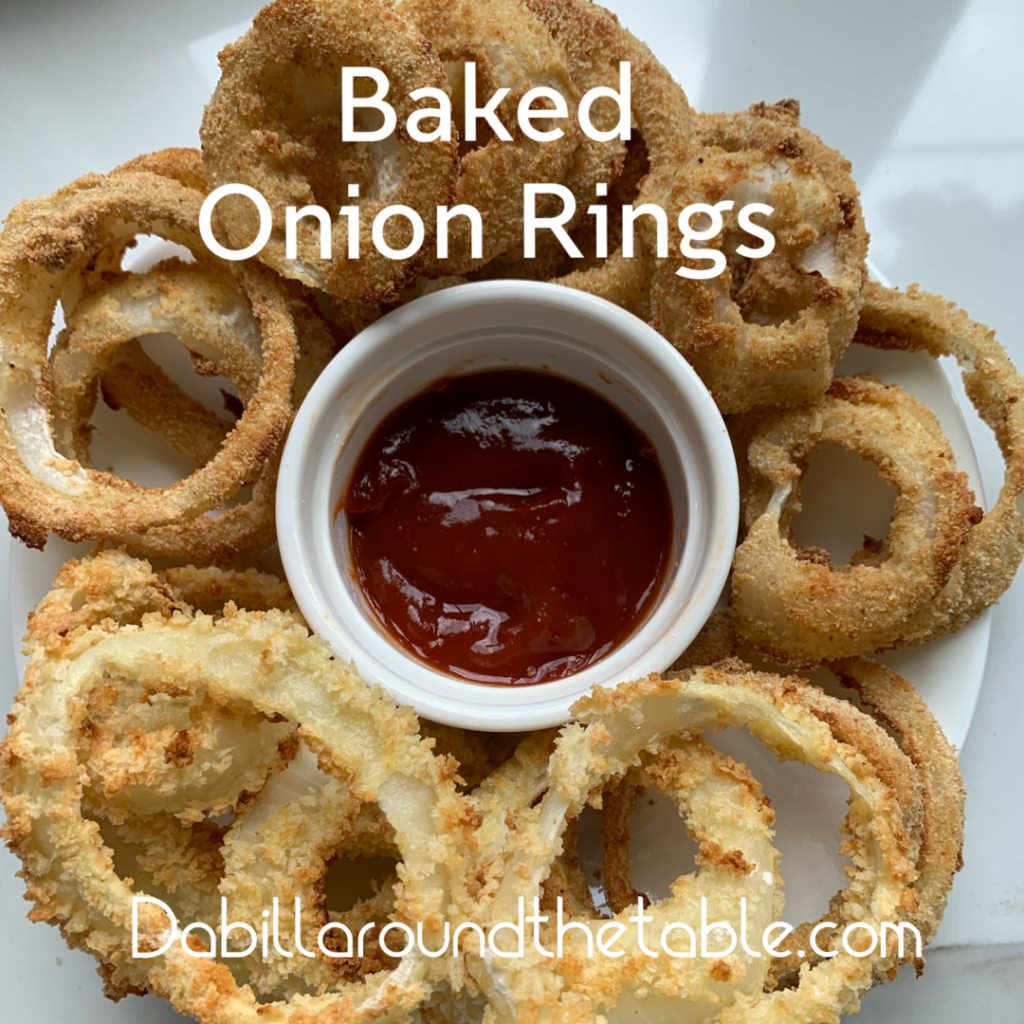 Recipes with Onions
I love onion rings but hate messing with oil and frying them, so I am fine with them baked, here is my favorite way to eat onion rings.
Baked Onion Rings
2 Vidalia onions cut into rings
2 eggs
2 TBSP mayonnaise
1 cup flour
1 ½ cup bread crumbs or Panko ( or try them both- like I did)
Salt and pepper to taste.
Slice your 2 onions into rings. Place into a cold bowl of water.
Add flour to a shallow bowl or plate. Add your breadcrumbs or panko to a shallow bowl or plate and add salt and pepper to taste and mix. Whip 2 eggs with the mayonnaise into another bowl.
Take the onion rings from the water bowl and dip them into the flour, then the egg bowl, and finally coat with the bread crumbs. Place on a baking pan covered with parchment.
Bake at 400 degrees for 10 minutes on each side.   Oven temps will vary as well as time, so take them out when they are golden.   Cool slightly and eat with ketchup or your favorite dipping sauce.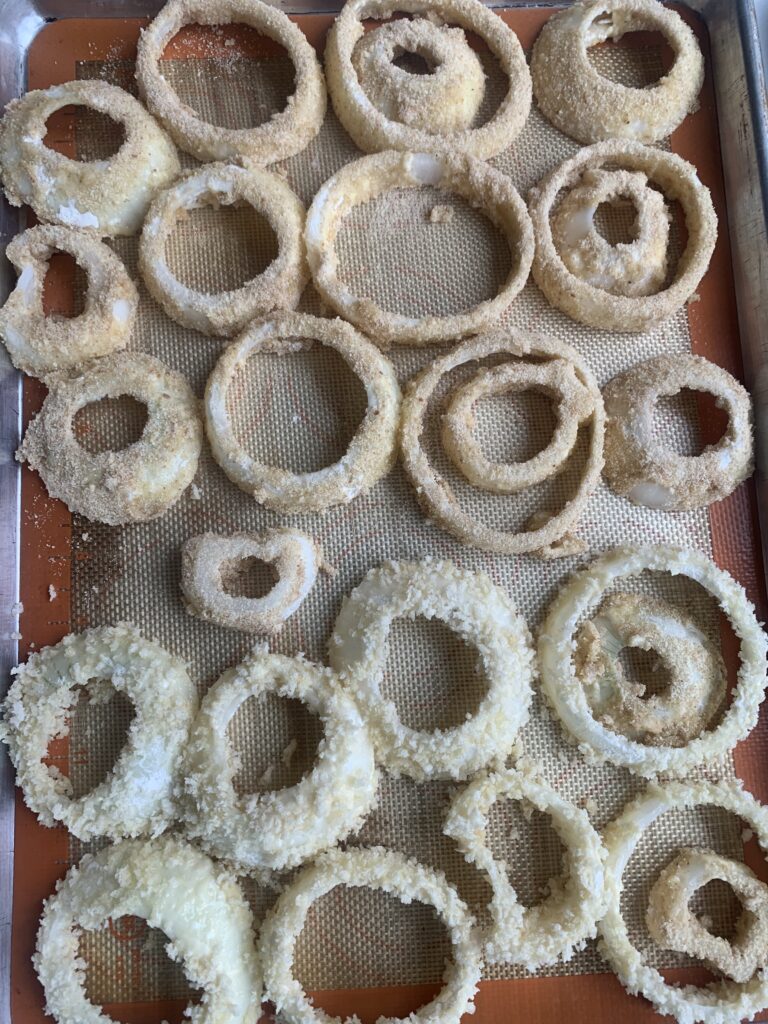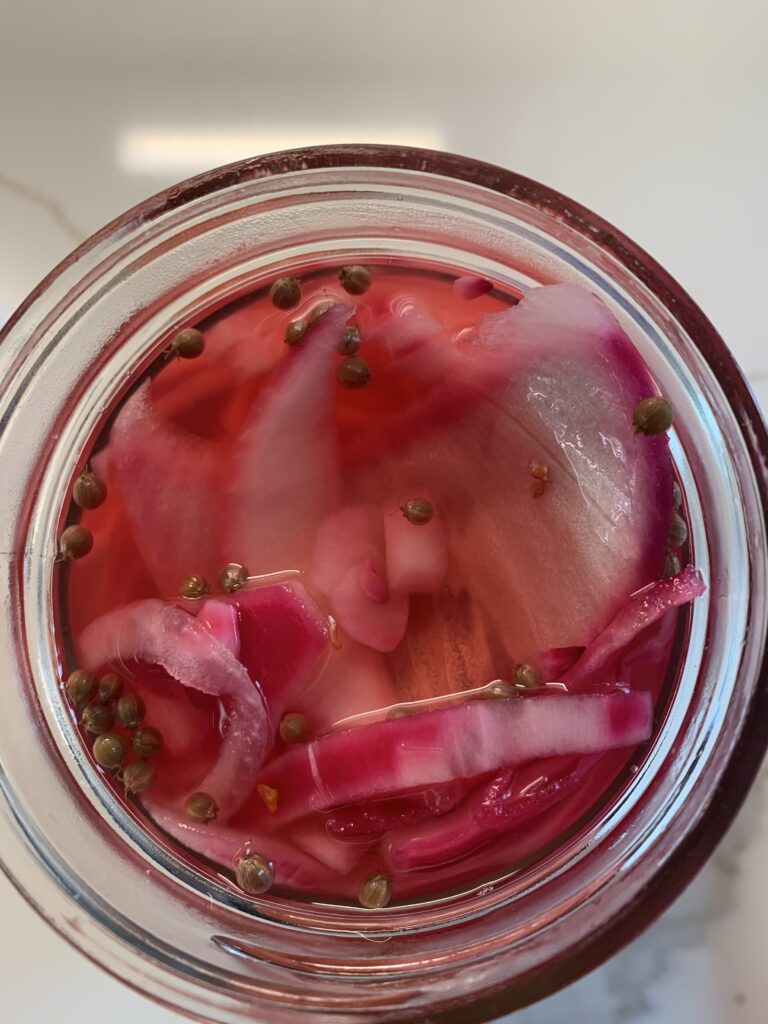 Pickled Red Onions
Another way I recently discovered I like to eat onions in pickling red onions. These taste excellent on a sandwich or even toss them into a salad for flavor. Who needs dressing with these onions on top?
2 Red Onions cut in ¼ inch or thin rings. Place onion in a quart jar.
1 1/4 cup Water
1 ¼ cup White Vinegar
2 tsp Salt
3 tbsp Honey
1 bay leaf
¼ tsp red pepper flakes
1/4- 1/2 tsp coriander (optional)
Heat water on the stove and before simmering take off the burner and add vinegar, honey, and spices.  Place onions in a quart jar and add the mixture above. Place in the refrigerator for 1 hour to marinate.   You can keep it in the refrigerator for many months and eat it on top of salads, sandwiches, or alone.  So good.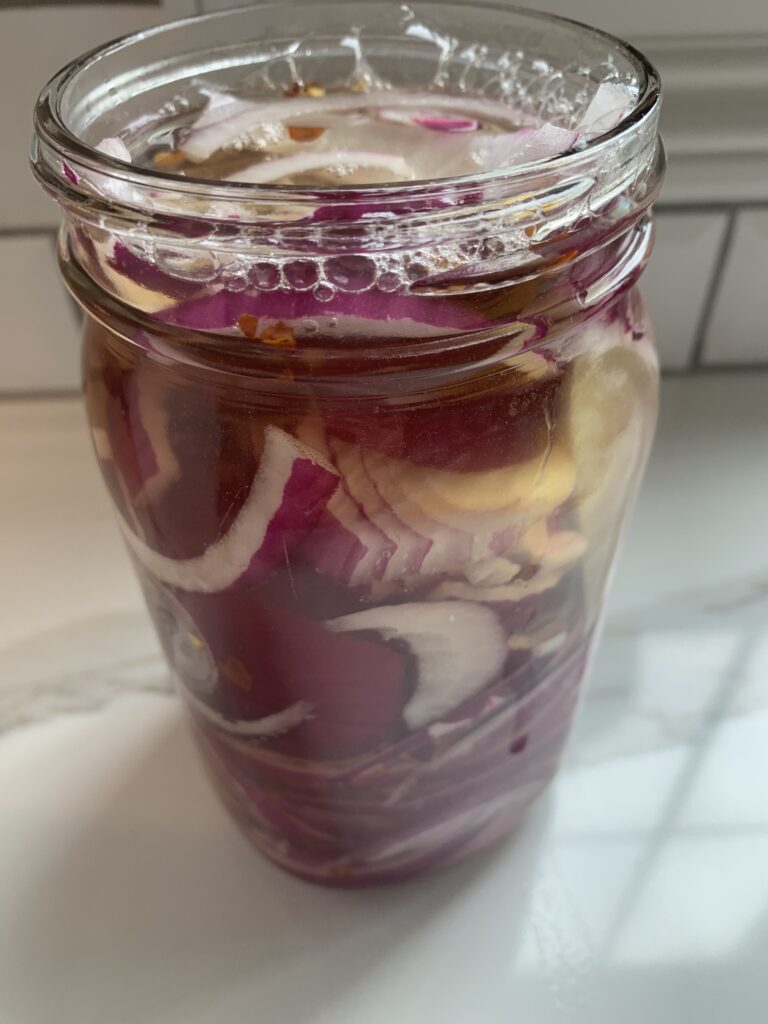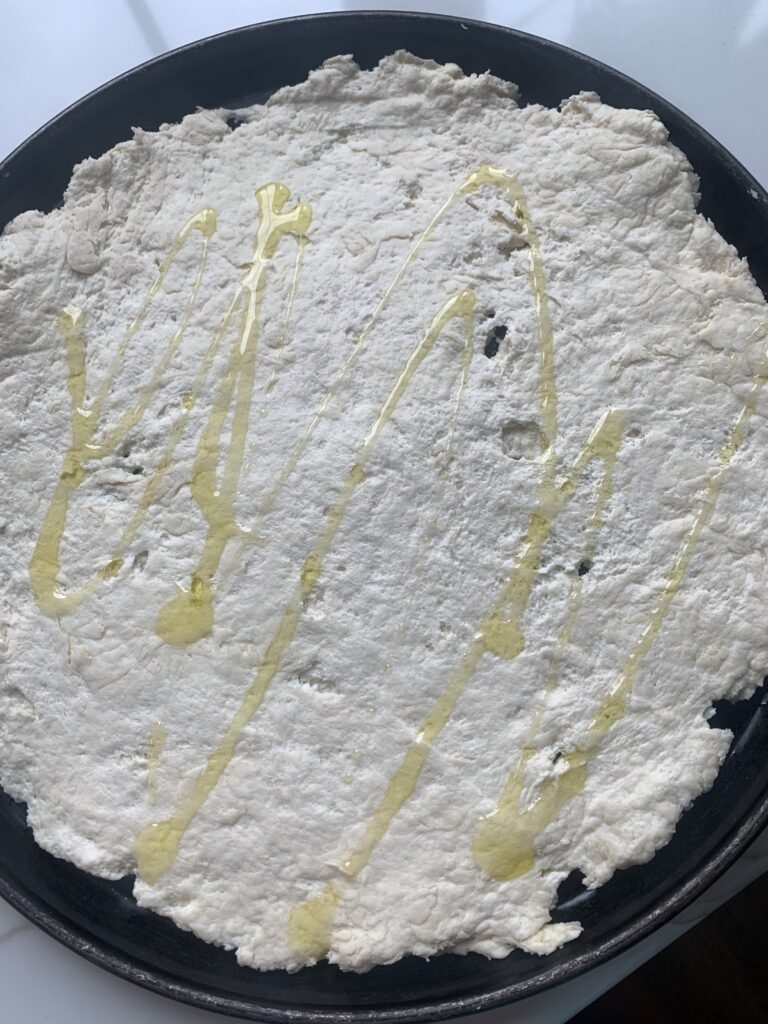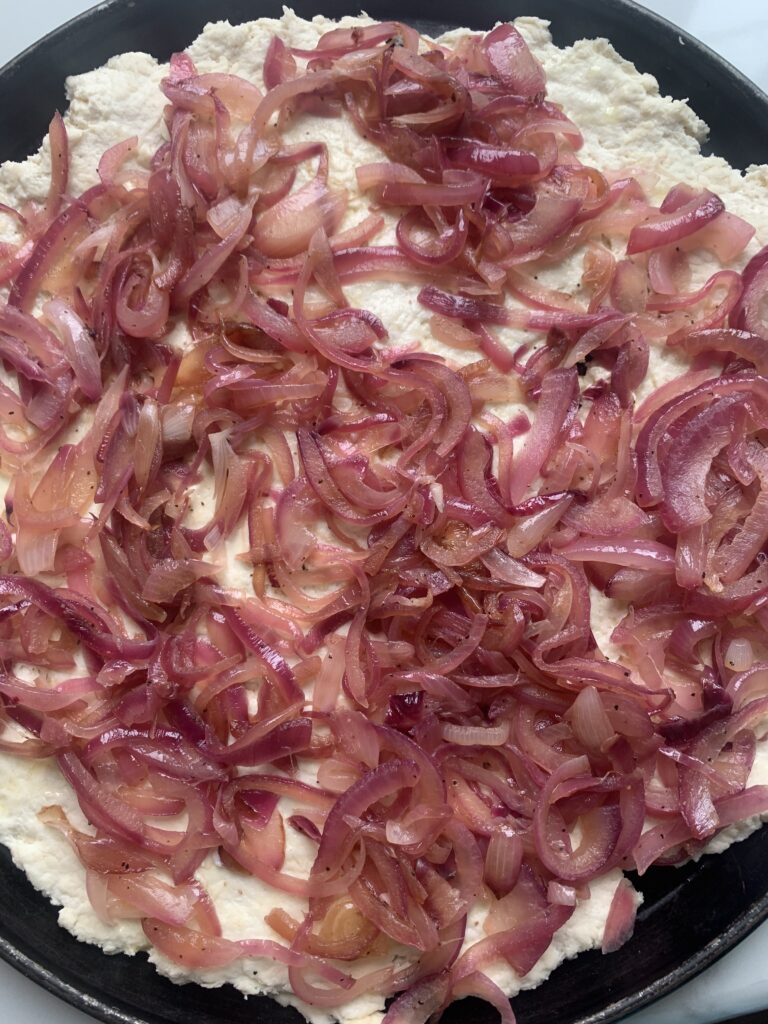 Onion Facoccia like Pizza
Purchase your dough, use your favorite recipe, or make my favorite breadstick recipe as your pizza dough.
Recipe for Dough
1 cup flour
2 tsp baking powder
1/4 tsp salt
¾- 1 cup plain yogurt- or Greek yogurt. The amount depends on the thickness of the yogurt.
Mix and form into a ball- add more flour if needed. Let rest for 5 minutes. Roll into a round pizza pan.
2 red onions thinly sliced
Drizzle of EVOO- Extra Virgin Olive Oil
2 TBSP apple cider vinegar
Procuitio slices
1/2 cup Italian cheese mixture or romano cheese.
Saute red onion slices in EVOO. When soft add the apple cider vinegar and cook for one more minute to add flavor. Top dough with onions, prosciutto, and cheese mixture. Bake for 12 minutes at 375 degrees.
If you want to make it more like a pizza add BBQ sauce beneath the onions for a contrasting flavor.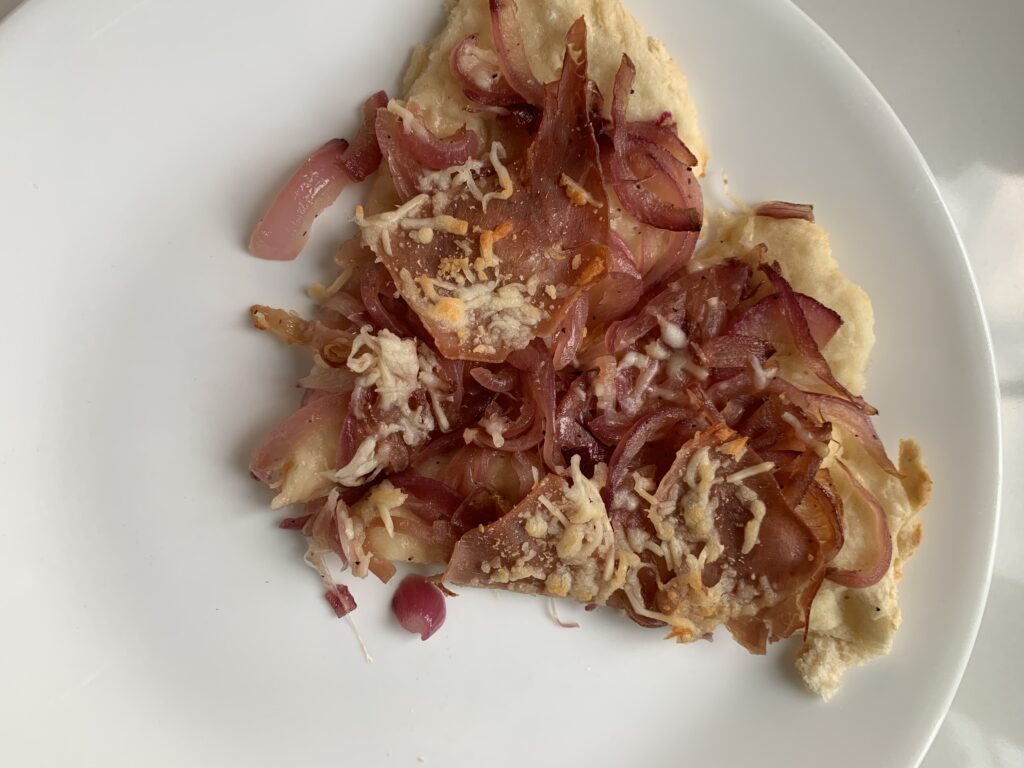 Onions- "ooh la la" they flavor up foods in the best way and bring prebiotics to your gut. So Good.
Hope you are excited to Eat more onions in your daily foods. Recipes with Onions, the Best Flavor, and Nutrition.