You may not think you are hospitable. Some of you are very hospitable. Many of you know good hospitality when you see it or experience it. Let's learn hospitality and how everyone should at least try to be hospitable. How to Live a Life of Hospitality.
Hospitality is the act of being hospitable in hosting a guest.  It is the Art of welcoming someone into your home or the entertainment of guests, visitors, and strangers.   It may be offering a home away from home if you have travelers in your home.  Hospitality is derived from the Latin word "hospes" and means visitor or stranger.  
I like to think of hospitality as:
Something you do for others in your daily life.
How you treat someone when you meet them or the art of connecting with them.
The act of doing something simple for them to invite them in.
Providing them with a simple hot or cold beverage.
Hospitality may involve a visit on the street or making them feel welcome.
It may be the feeling you leave with someone from your 5-minute encounter- You made them feel loved and valued.
You could bring a meal over in a time of need and this could be hospitality.
Hospitality is serving others.
Some say – "I am not hospitable"
If this is what you say then you must work at it or at least try to become better. If you are not gifted at it you probably do need to work at it.  This does not excuse you, because we all should be hospitable.   Many countries are very hospitable. It is just their traditions and customs.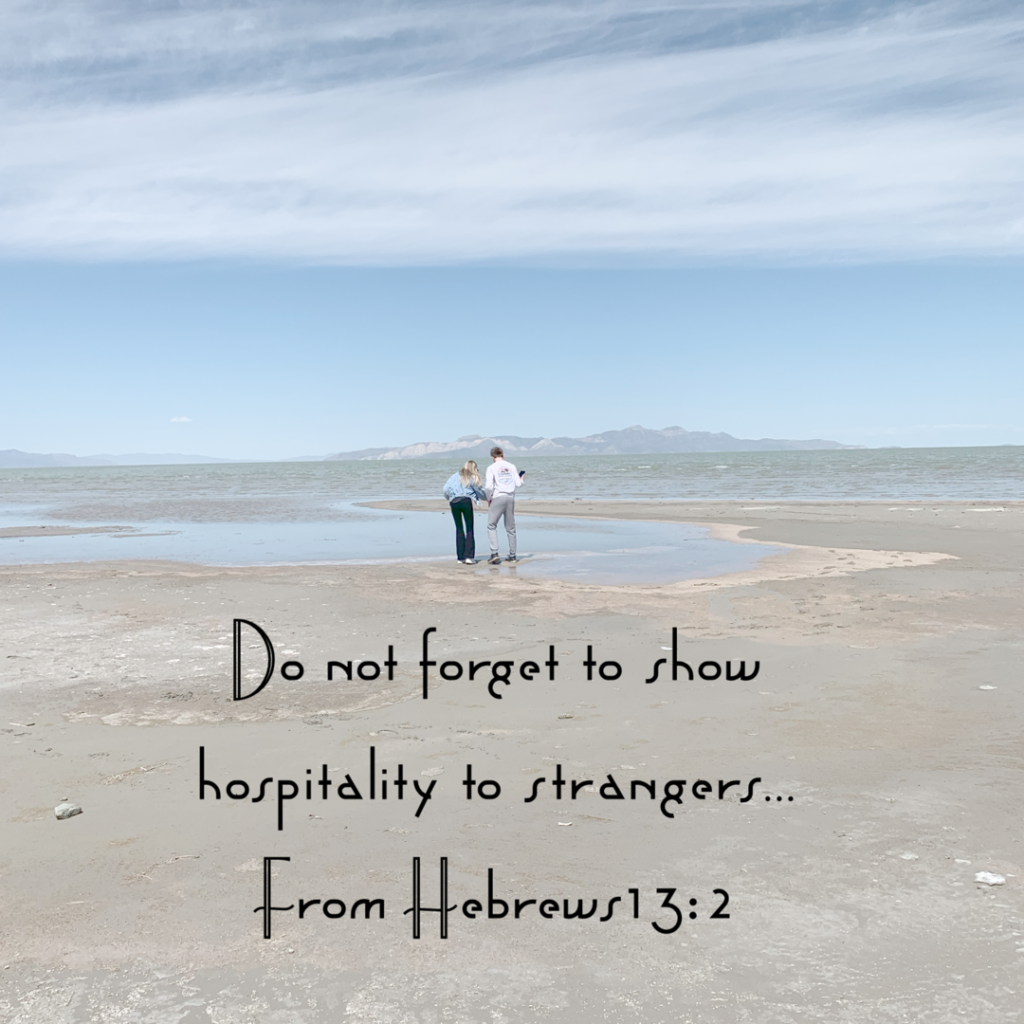 Hospitality in the Bible
We are commanded in the bible to be hospitable. As Peter in the bible explains how to love others, this is what he says, " Above all, love each other deeply, because love covers over a multitude of sins. Offer hospitality to one another without grumbling. Each of you should use whatever gift you have received to serve others, as faithful stewards of God's grace in its various forms." Peter 4:9
Share with the Lord's people who are in need. Practice hospitality. Romans 12:13
Do not forget to show hospitality to strangers, for by so doing some people have shown hospitality to angels without knowing it. Hebrews 13:2
The Bible shows us many examples of hospitality. There is the hospitable Shunamite woman who shows hospitality to Elisha by offering him a place to stay and food. Some worked with disciples/leaders in the New Testament and provided them with hospitality.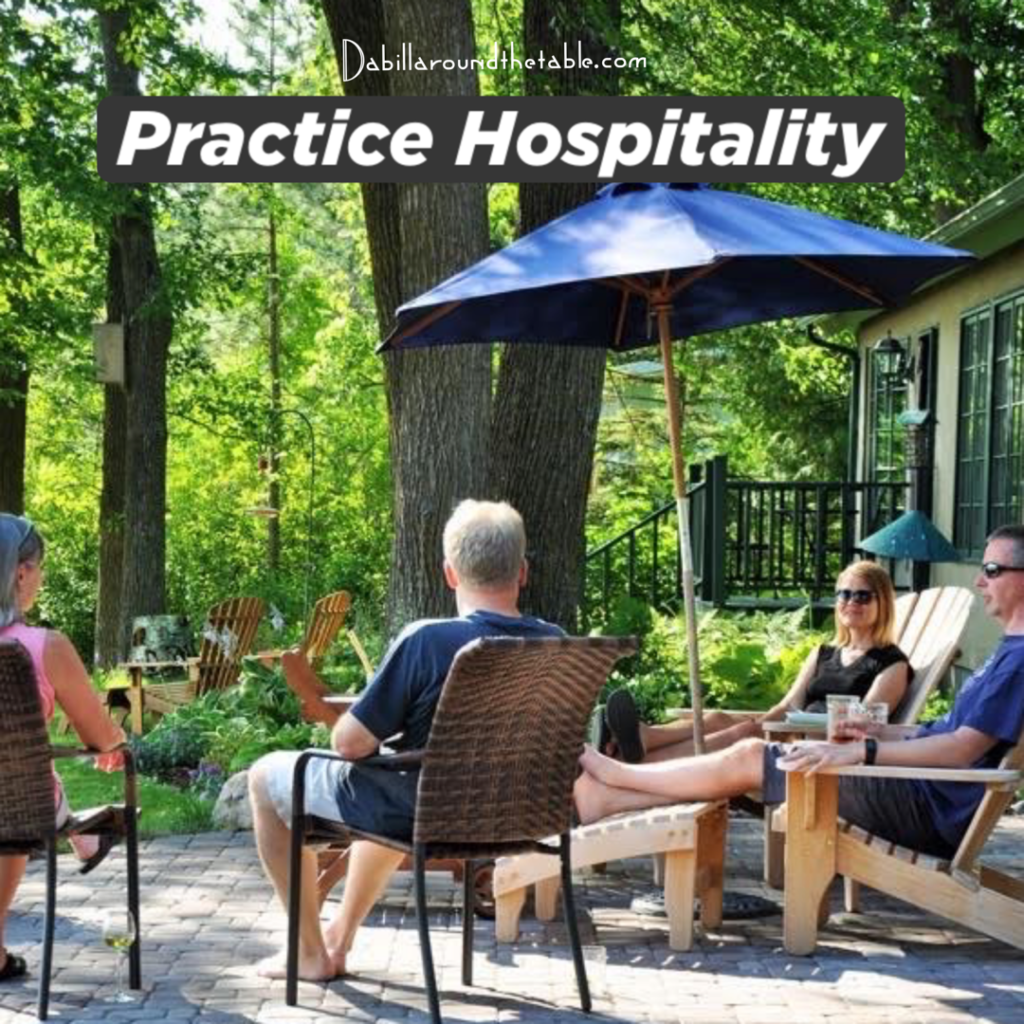 Now that we know we should be hospitable, How do we do hospitality?
Hospitality is not having the latest and greatest house, food, décor and dress. It is all about the relationship and connecting with others and offering them some food, drink, or shelter- that is if they need a place to stay.
In other words, don't worry about having all your ducks in a row to have people over. I must admit that I am a person who likes to have my ducks in a row.
One day my friend came over without notice, and she joined me in the middle of my mess as I had a pile of clothes on the sofa and my table had a pile of projects.

She stopped and told me, "I like this." "I now know you are not perfect." I was never trying to be perfect; I just like things clean at least most of the time.
This made me think. The more I learned about hospitality I learned that it's okay to leave a little project pile or a corner that needs to be organized. People can see you are the real deal.
Hospitality is not serving the perfect meal. Ok- I love cooking for others and it is my thing. In the end, it doesn't matter. You may make your best meal and your guest may not even have liked it. I am pretty sure that has happened before.
Your guests should remember how you made them feel, your conversations, the fun you had, and how you were interested in their stories and life. They will appreciate that you invited them over to your home or connected with them in the first place.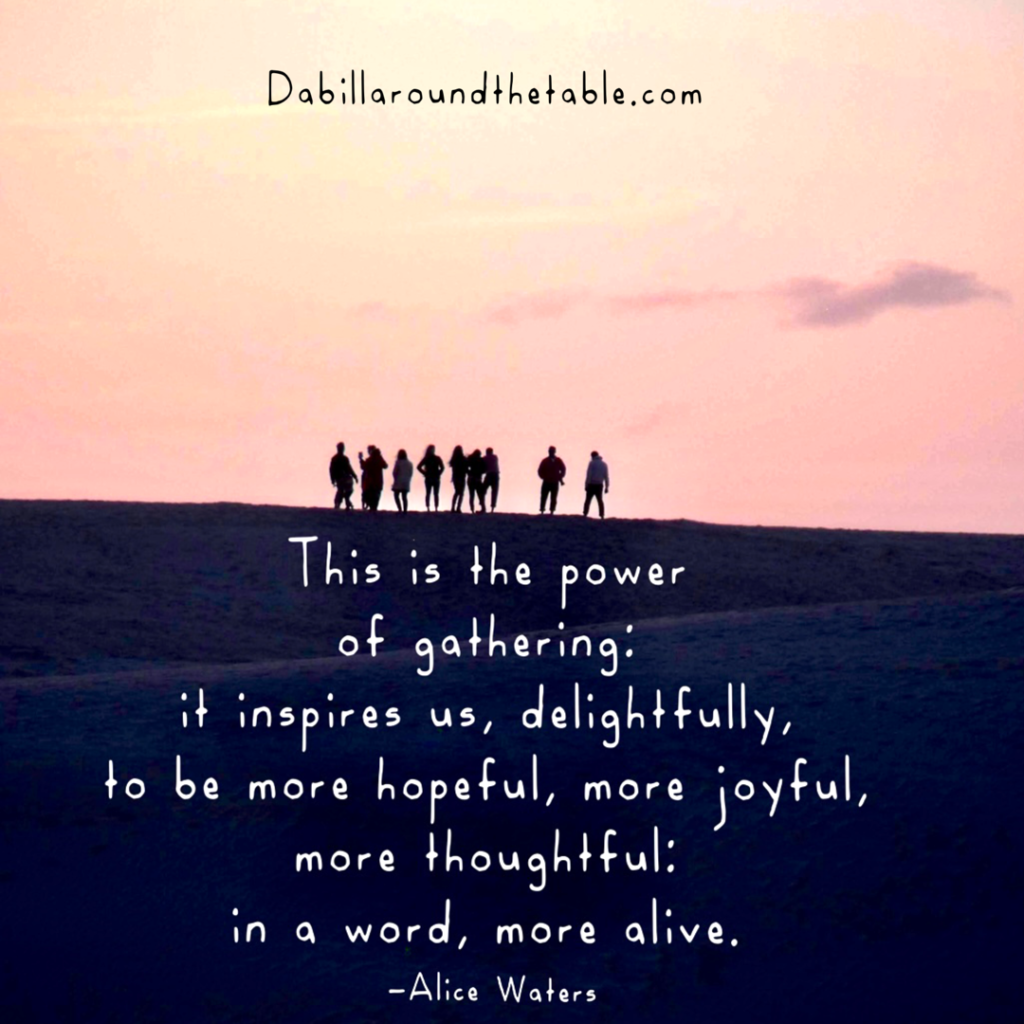 Connections – How To
Hospitality is all about connecting with someone.
You could meet at a park for a picnic. and pick up sandwiches.
Connect by having coffee together.
Walk in the park together or even pray together.
"I Don't Cook"
My mother-in-law is the master at inviting people over and making it easy. She picked up take-and-bake pizza or she had her hubby cook or she picked up chicken from the deli with a few sides.
My mom used to always have company at least once a month after church on Sundays. She always threw a roast with potatoes and carrots in the oven or chicken and rice and it was ready after church. I have memories of learning about the "new people" around the table.
If you don't know what to cook- make it easy and order a pizza, or grill, pick up subs, or see my blog on company is coming over meal blog or Salad supper blog, or make a soup and salad from my soups on blogs.
I've had the best meals with my neighbors like a quick bowl of soup or a muffin and coffee for a snack in the afternoon. One of my neighbors would offer a cold soda and a sit down on her porch for a few minutes.
If food is not your thing, do coffee or tea, do a puzzle or a craft together, or play games. You can always talk and get to know someone while you are enjoying a project together.
This summer we stopped by to see someone and I know she doesn't cook but she gave us a popsicle.
I Don't Have Time to be Hospitable
If you eat a meal, you have time.
If you talk on the phone, you have time.
Decide to be hospitable and set some goals and eventually after you work at it, Inviting people over will eventually come naturally.  You may need to be spontaneous and start inviting people over no matter if you cleaned your house or not.
Invite a couple, or a family, or invite a group to your home. Maybe your way to being hospitable is having a small group or bible study at your house. I had my coworkers over for a meal one summer.
List all the ways you can be hospitable and try one this month. The next month try another way.
You will do great. Make it your goal to Be hospitable in a way you are not used to – step it up and connect with people and get to know them. You may be missing out on a future friend. How to Live a life of hospitality.