An easy way to increase your vegetable intake this summer is grilling.  As long as you are grilling meat, include vegetables on the grill.  Meat and vegetables – that is all you need for a delicious grilled dinner, or just vegetables, if you are following a vegan diet.
I love to add vegetables to meals as a healthy side dish. I grill plenty of vegetables and if I have leftovers, they work well to re-heat the next day at another meal.  Here are a few ways you can make vegetables an easy habit during grill time this summer.
Vegetables provide you with lower calories, fiber, potassium, folate, vitamin A and C, antioxidants and phytochemicals. The potassium may help you maintain healthy blood pressure.  Just don't salt or add too much oil or butter to your vegetables.  
Grill in aluminum foil. I like to take the green beans from the garden and grill them.  I place in foil with  cut up onions and extra virgin olive oil (EVOO) or butter.  1 TBSP butter is enough. Close foil into a packet and grill for about 15-20 minutes. Turn over half way through the time.  Grilling time will depend on how crunchy or tender you like your green beans and how hot your grill is.
One of our favorite aluminum packets is mushrooms and onions sprinkled with garlic powder. 10-15 minutes is plenty for cook time and the mushroom juice in the foil is amazing.   I also like to grill potatoes, onion and EVOO in aluminum foil. This could take up to 20-25 minutes.  If you want it to take less time, cut your potato slices very thin. Add whatever spices or vegetables you want to these packets.  My grilled vegetable picture above is zucchini and onions with thyme from my garden.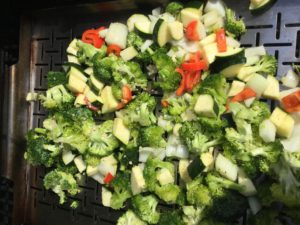 A grill pan is another way to grill vegetables.   Mix in a bowl: onions, zucchini, broccoli, or any vegetable in your refrigerator.   You can also use peppers or cauliflower.  Toss with EVOO and minced garlic or garlic powder and salt and pepper.   Experiment and use whatever spices you want to try. Grill on pan and turn every 5 minutes. Total cook time should be around 10-15 minutes.  Timing all depends on thickness of vegetables and heat of grill.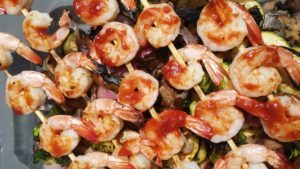 Finally, the last way to grill is to make Vegetable Kabobs which is more work but definitely worth it.   Use kabob sticks and add to them: mushrooms, cherry tomatoes, vidalia onion chunks, yellow pepper squares, zucchini pieces and canned precooked baby potatoes, if your family loves potatoes. You can baste these kabob vegetables with your favorite grill sauce.  Ideas for sauce are chili sauce, pesto, barbeque sauce or simply sprinkle a spice on top before grilling. My Vegetable Kabobs are under the Shrimp Kabobs in the photo.
These are fun ways to eat your vegetables and love them.  Make them your new summer side dish every time you grill. They help you use your garden bounty or your vegetables from the Farmers Market.  Enjoy!

   
Please follow and like us: