Granola is on my table today. What is granola, how do you eat it and how do you make it? I am sharing my homemade granola recipes for breakfast and snacks to enjoy all year long.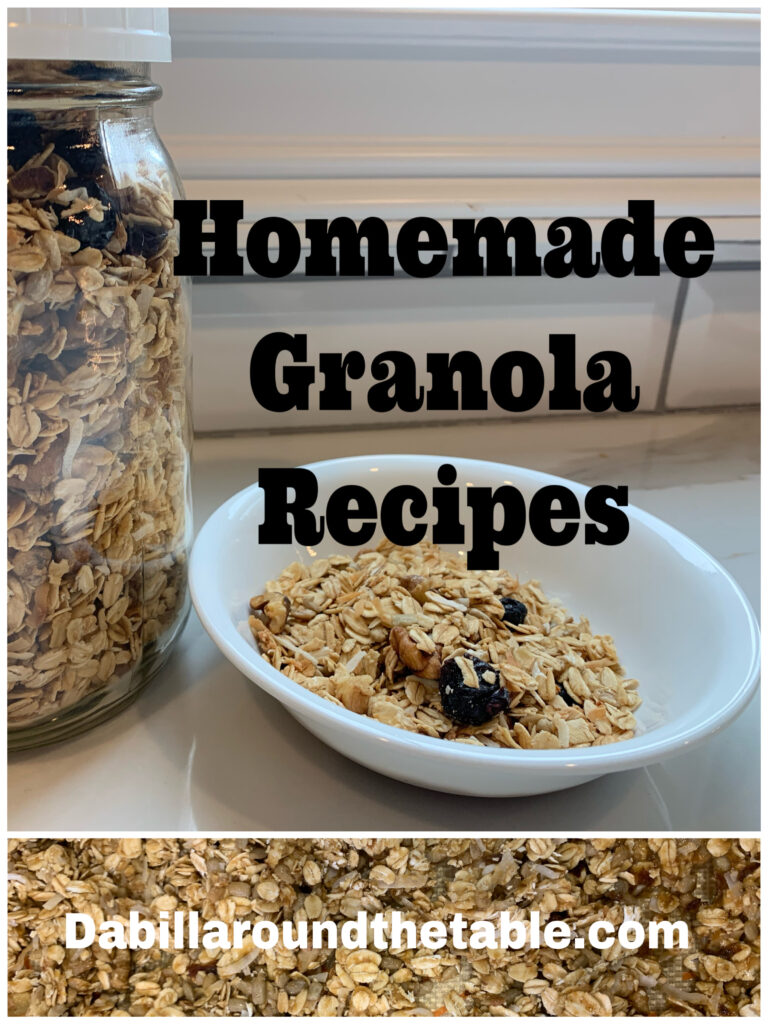 What is Granola?
Granola is a mixture of rolled oats, nuts, dried fruits, and a sweetener.  It is usually baked to light crispiness or golden brown. It can then be added to yogurt or milk, mixed with fruit, eaten alone for breakfast, or like a trail mix for a snack.   
If you buy granola- it would resemble a type of cereal or you could find it molded in bars which are called granola bars. Many of these purchased varieties are loaded with sugar and oils. If you do buy them, I would recommend mixing them with another high-fiber cereal or using them in smaller amounts.
I would encourage you to make your granola- since you can control the amount and type of sugar and fat added, as well as nuts and fruit.
When you add the nuts, it gives you some protein for your breakfast as well as good fats your body needs. Adding Walnuts give you some Omega 3 fats in your diet as well as protein. My husband likes his granola on yogurt with fruit and I like to eat mine in a bowl with some skim milk. Here is a link to a blog on Breakfast ideas with recipes and meal ideas.
Lower Sugar Granola Options
Both of the recipes I am sharing have lower amounts of sugar. One recipe uses maple syrup. After my next blog on maple syrup, you will know that besides sweetness, maple syrup provides a variety of flavonoids and nutrients.
The other recipe I am sharing is sweetened with blended prunes or dates. We first made this recipe when we tried a Daniel Fast and since we enjoyed this recipe, we made it our own and have made it many times over.
Enjoy some variety in your breakfast or snack. Granola provides you with extra nuts and fiber.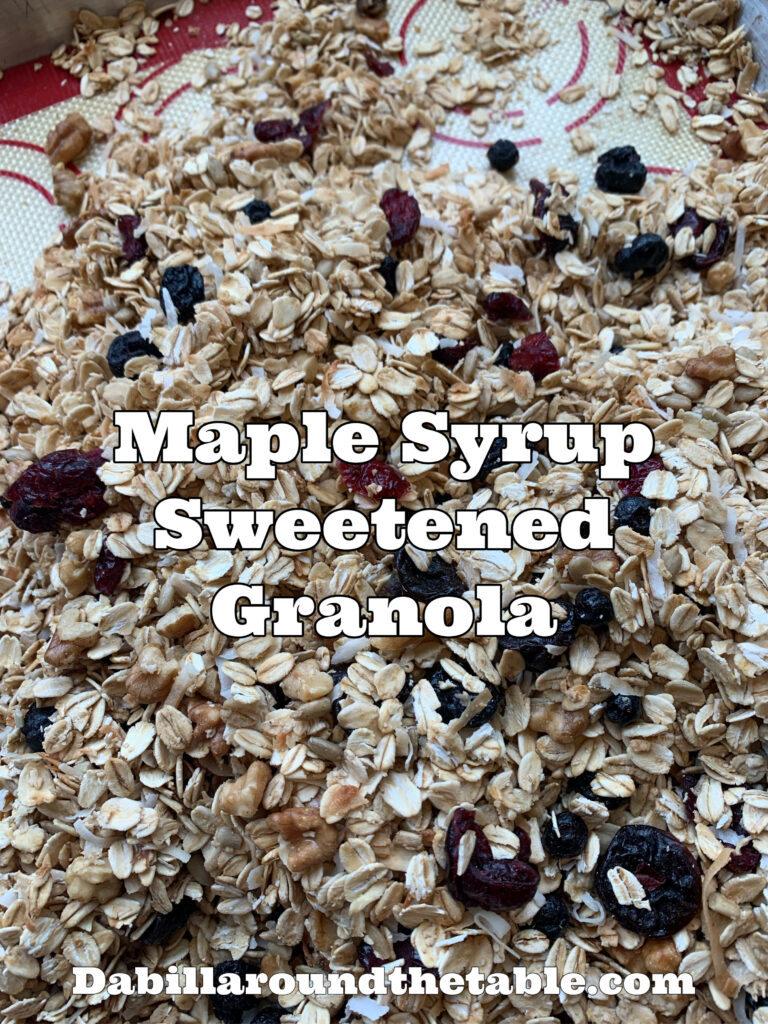 Homemade Maple Syrup Sweetened Granola Recipe
4 cups rolled oats
¾ cup slightly chopped walnuts or sliced almonds
½ cup unsweetened coconut flakes
¼ cup sunflower seeds
½ cup maple syrup
2 TBSP canola oil or walnut oil
½- 3/4 cups dried fruit if desired.
Preheat oven to 350 degrees. In a bowl mix all dry ingredients and liquid ingredients except dried fruit.
Spread evenly on a baking sheet. Bake and toss once at 10 minutes until golden brown for 20-25 minutes. Add the dried fruit and cool. Keep in an airtight container.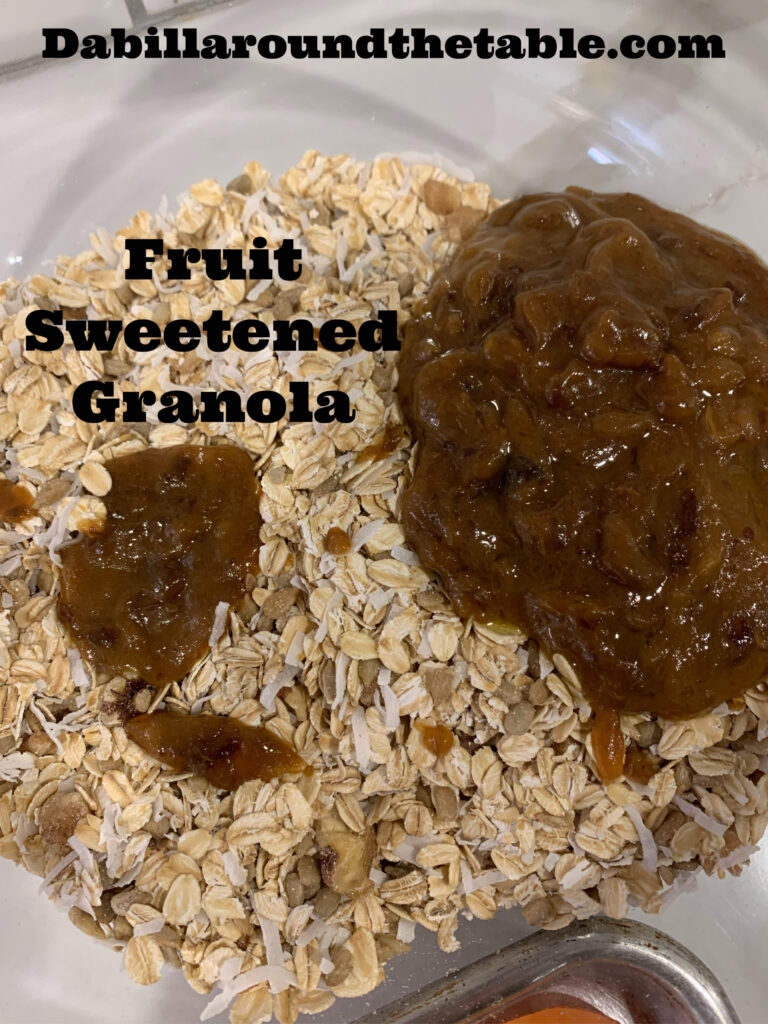 Homemade Fruit Sweetened Granola Recipe
¾ cup dried chopped prunes or pitted dates (I like to use prunes)
¾ cup water
4 cups rolled oats
2 TBSP olive oil or walnut oil
2 tbsp orange juice
½ cup raisins- optional
3/4 cup chopped walnuts, pecans, or almonds
1/4 cup sunflower seeds
1/4 cup unsweetened coconut flakes
Preheat oven to 350 degrees.
Cook the dried prunes or dates with the water in a saucepan over medium heat for 5 minutes or until prunes are softened. Take off heat and with an immersion blender blend together into a thick paste.
In a large bowl add the blended fruit, oil, orange juice, and stir. Mix in the rest of the ingredients except the raisins together until completely covered with the mixture/oats.
Spread the granola mixture onto a sheet pan in an even layer. Bake 10 minutes and toss. Cook another 10 minutes or until it is slightly browned. The granola will get crispy as it cools. Finally, store your granola in an airtight container.
Make your own granola and enjoy your granola for a trail mix or breakfast. It's easy to make and tasty. Homemade Granola Recipes for Breakfast and Snacks.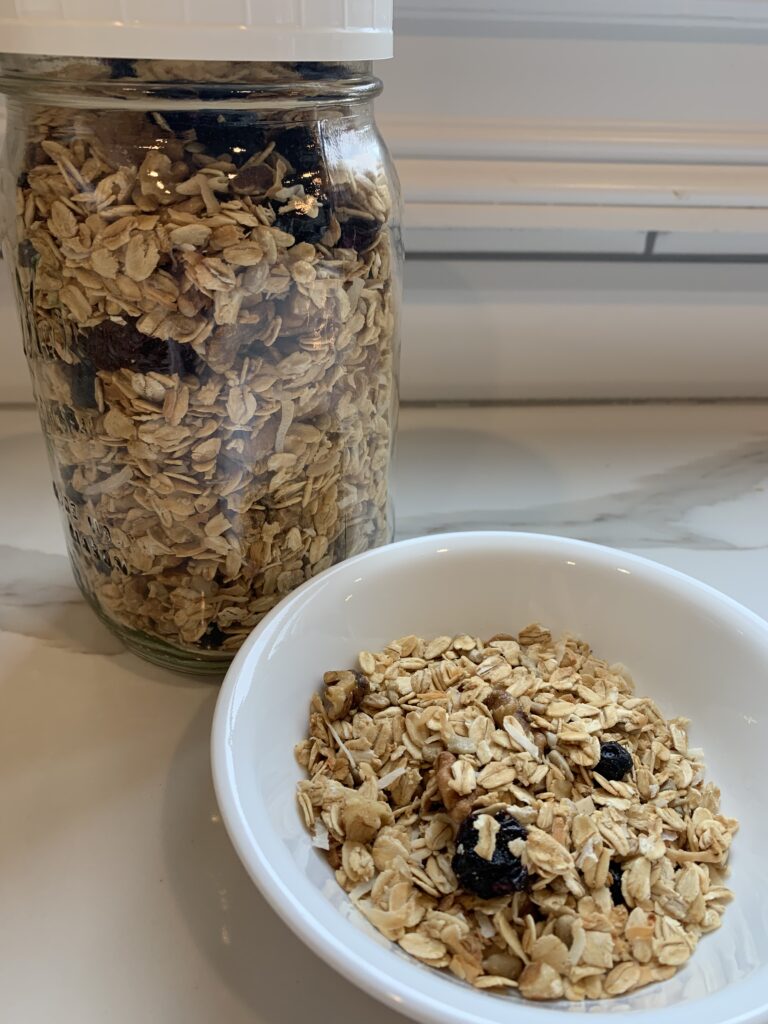 Do you have favorite granola? How do you eat your granola? Comment below.
Sign up for dabillaroundthetable monthly email. Every month you will get links to blogs and recipes or tips. Don't miss it. Sign up at the bottom.