As the days get longer, the ground gets warmer and the trees begin to prepare for spring growth. The maple trees start running their sap in the trunk and this is when you find the tapping, and dripping in the woods. Maple crafters tap for syrup in their buckets. Let's learn the nutrition components of maple syrup and its benefits. Maple syrup is not just for pancakes.
Maple Syrup History
The syrup comes from the sugar maple, red maple, or black maple trees.
Maple trees are found in cold climates. The trees store starch in their roots in the winter. In the spring it's converted to sugar.
To make Maple syrup you need to evaporate much of the water to a concentrated syrup.
The world's maple syrup is made in Canada and the USA.
Maple syrup is used in baking, condiments, flavoring agents, and used as a sweetener.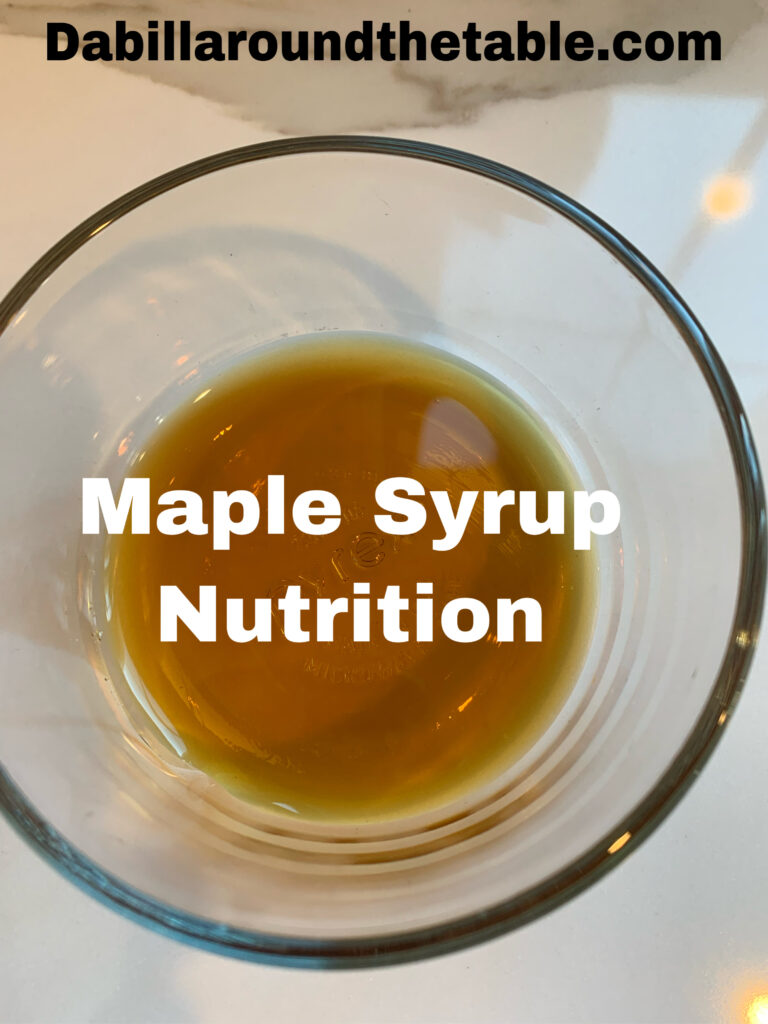 The Nutrition Profile of Maple Syrup
Maple syrup is essentially a sugar/carbohydrate from the maple trees. It is made from the maple sap from the xylem sugar. The interesting thing about maple syrup is it has a variety of flavonoids and polyphenol profiles. You would see some of the same qualities in grapes, coffee, and other foods. Which makes it very unique. It has 67 plant polyphenols. It's a great mixture of them all.
High in manganese, riboflavin, and moderate amounts of zinc and calcium.
1 tbsp has 52 calories. And provides 13 grams of Carbohydrates.
Eating Maple Syrup
After eating real maple syrup, you will never go back to the sugar maple-flavored syrup. Maple syrup is the good stuff. The syrup goes on pancakes, waffles, and French toast. I like to add it to my cold tea as a sweetener and is a way I sweeten my hot cocoa. Link to the hot cocoa recipe. I also use it in a granola recipe.
Maple syrup makes for a nice sweetener in a homemade salad dressing too. The ways to use it are as creative as you can get. My pancake recipe includes it in the pancake- then I don't have to top my pancakes with syrup. Maple syrup tastes great in a latte too.
For more detailed information on Maple syrup and how they make it in Canada see the website.
Substitute maple syrup for sugar- whether it is sweet or savory. Maple syrup can be made into maple butter, maple taffy, maple sugar, maple water, maple sprits, maple cookies as well as other baked goods.
Recipes with Maple Syrup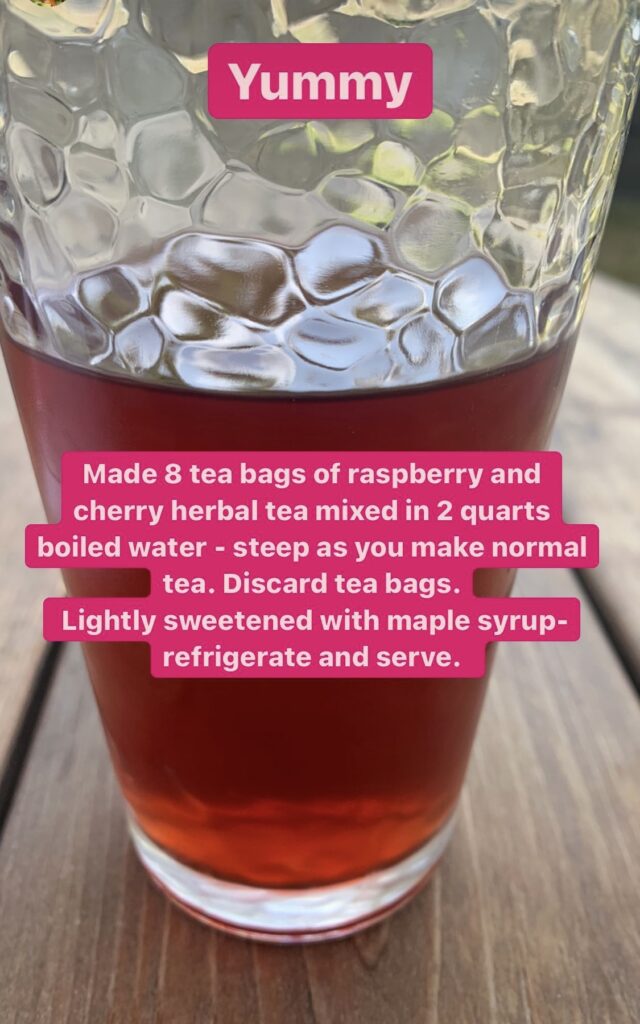 Homemade Iced Herbal Tea
8 tea fruit-flavored herbal tea bags such as blueberry, cherry, or peach.
2 quarts boiled water
Steep for 10 minutes and discard bags
Add maple syrup as a sweetener to taste and stir and chill.
Hot Cocoa Sweetened with Maple Syrup Recipe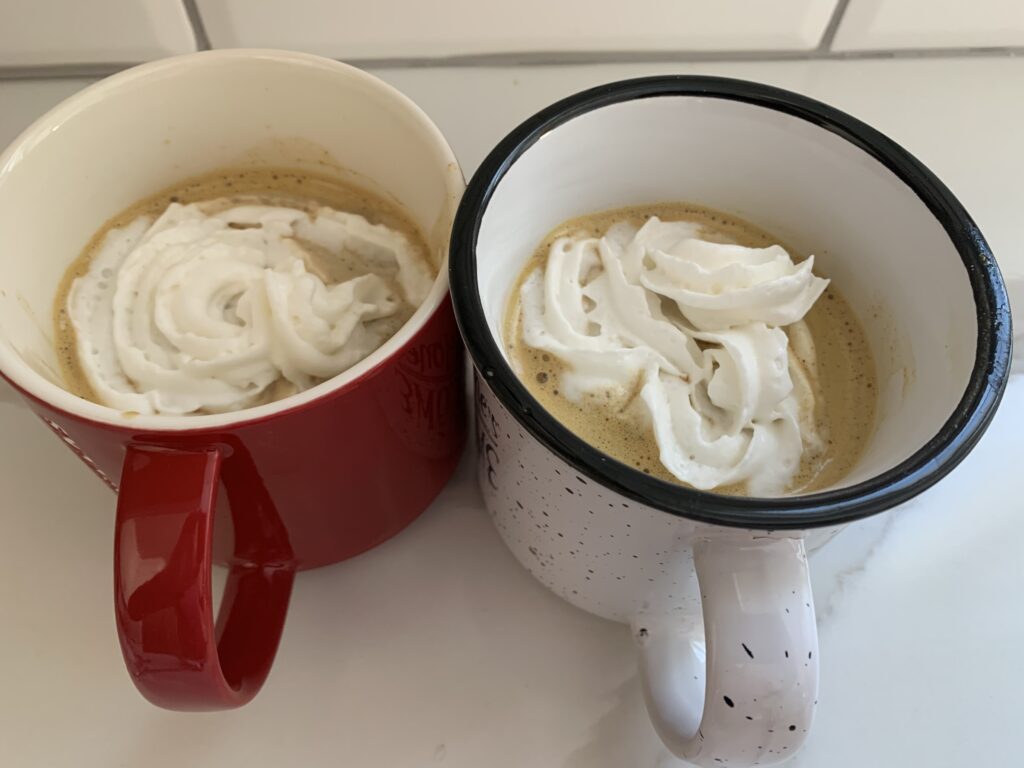 Granola Sweetened with Maple syrup Recipe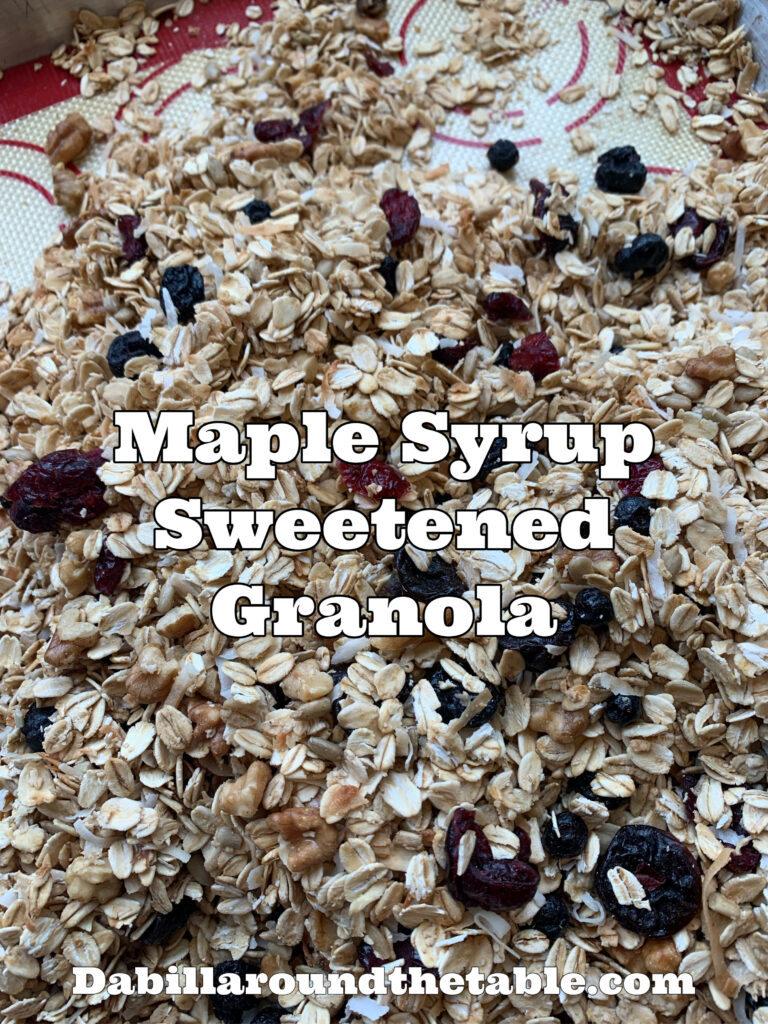 Try adding maple syrup to something new today. It may become your favorite way to sweeten your tea, pancake, cocoa, granola, or dressing. Maple syrup is not just for pancakes. If you have any fun ways you use maple syrup, please share in the comments.
Don't miss a blog. Sign up at the bottom for the dabillaroundthetable once a month email. Each month you receive links, recipes, or tips. Never miss a blog post.