It's orange season. The orange trees produced fruit the past few months and there are many varieties available you may have not even heard about. Let's learn about oranges and their nutrients. Oranges, Vitamin C and Recipes.
Orange is a citrus fruit and is generally sweet. Some are sweeter because of mutations or hybrids. Sweet oranges are a cross between a pomelo and a mandarin. 70% of the oranges are sweet.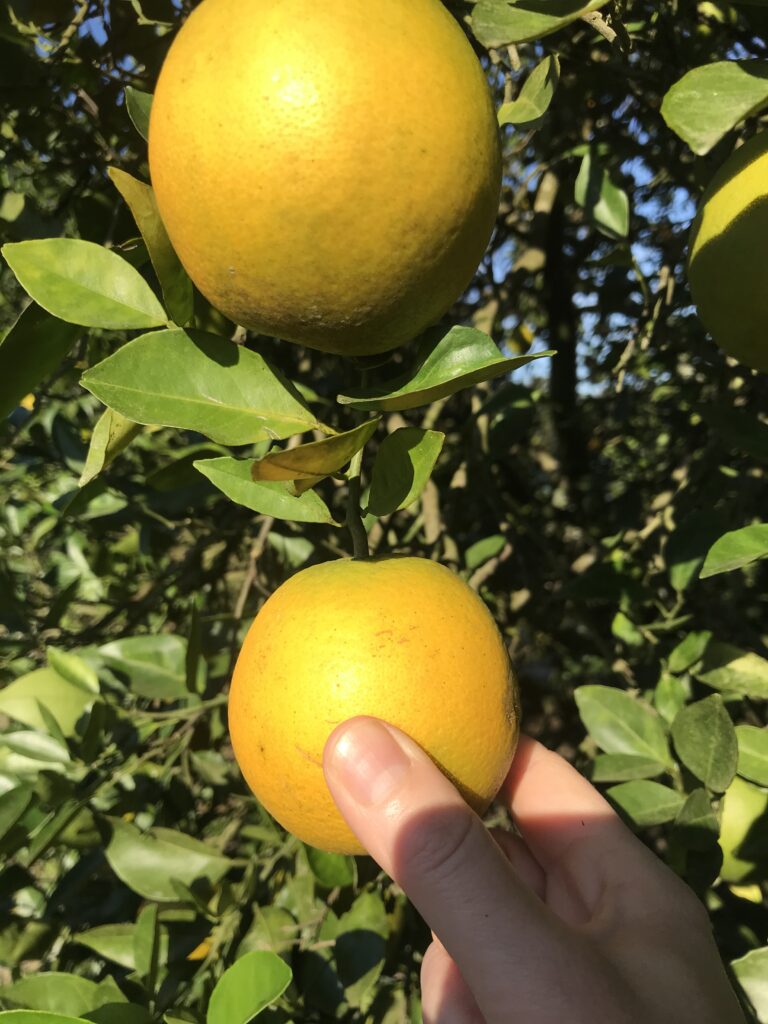 Orange Varieties-
Most of the varieties you may be familiar with are mandarin oranges, tangelo, honey bell, hamlin, navel, and valencia. Some oranges are better at producing orange juice than others and some have seeds.
Most of the oranges in the USA are grown in Florida, Texas, and California.  The Florida market mainly gets used for orange juice. I just had a gallon of fresh-squeezed orange juice from a Florida orange farm during Christmas.   The best orange juice! Here is a blog link to Florida Citrus fruit in more detail.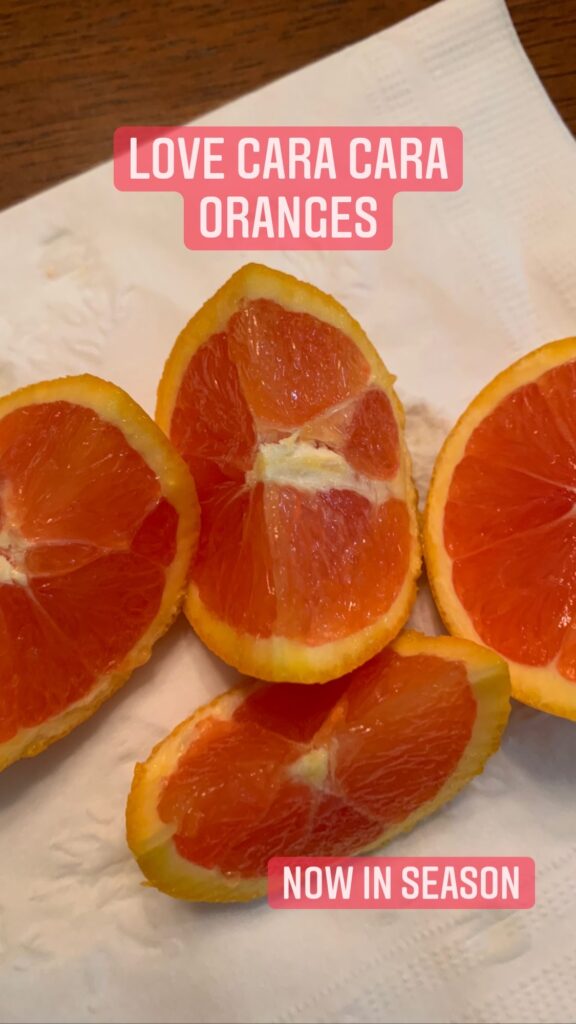 My Favorite Orange
Cara Cara oranges are my favorite orange and are sweet and low acid. They are also called a red navel for the red flesh inside.  You may think it looks like a red grapefruit but smaller. These provide Vitamin C and lycopene. Lycopene gives it a red color.
Last year- I loved these oranges so much I ate a cara cara orange almost every day they were in season. They may be confused with the blood oranges because of the same coloration. You can find cara cara at any store and are in season now. I found mine at Aldi and Costco when I ate them every day.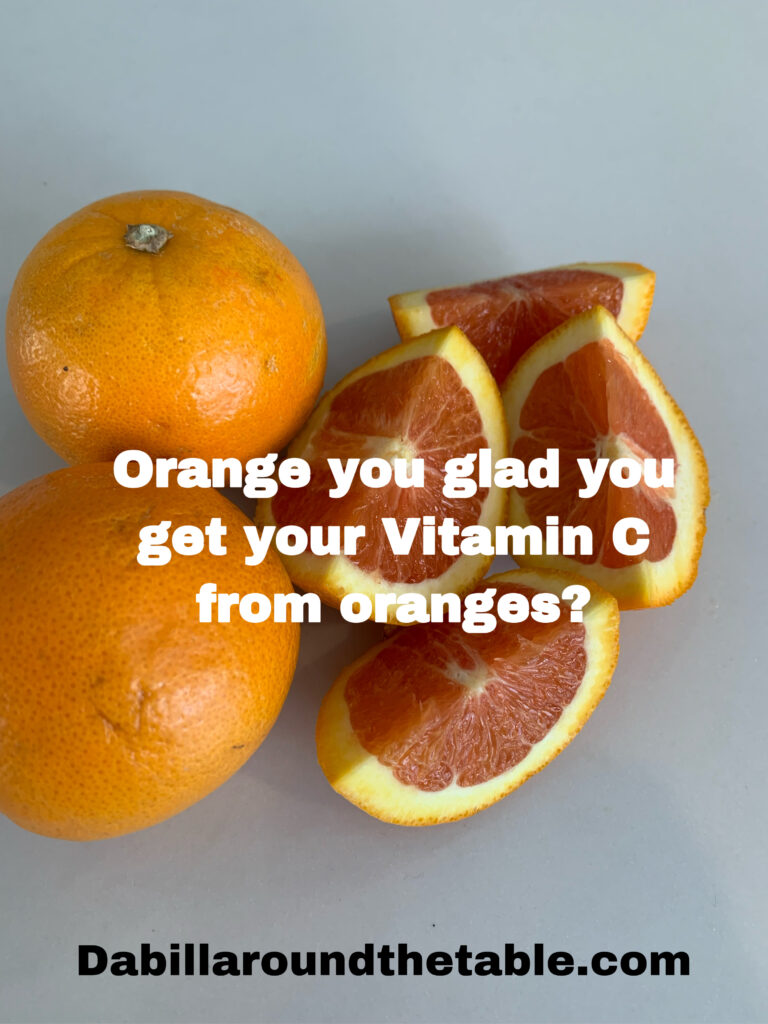 Oranges and Vitamin C
Orange you Glad you get Vitamin C from Oranges? Vitamin C is good for the repair and health of skin, body tissue, bones, wound healing, teeth, immune system and helps your body absorb iron. It can also help with heart disease, and blood pressure. These are only a few of the benefits of Vitamin C.
When I worked at women infants and children (WIC) we would check hematocrit for iron levels in the blood. We would educate if iron levels were low.  A source of Vitamin C at the same time you take in iron helps you absorb iron better.
If you ate Chili made with hamburger (red heme iron) and have orange wedges at the same meal it will help your body absorb the iron. If you had Iron-fortified cereal for breakfast and ½ cup of orange juice with the cereal it would help your body absorb the iron.
Water-soluble Vitamin
A water-soluble vitamin means you need to get the vitamin daily because what your body doesn't use your body will flush out with your fluids. You can over-consume fat-soluble vitamins which your body stores, but you can't overconsume Vitamin C unless you take in high amounts of supplements.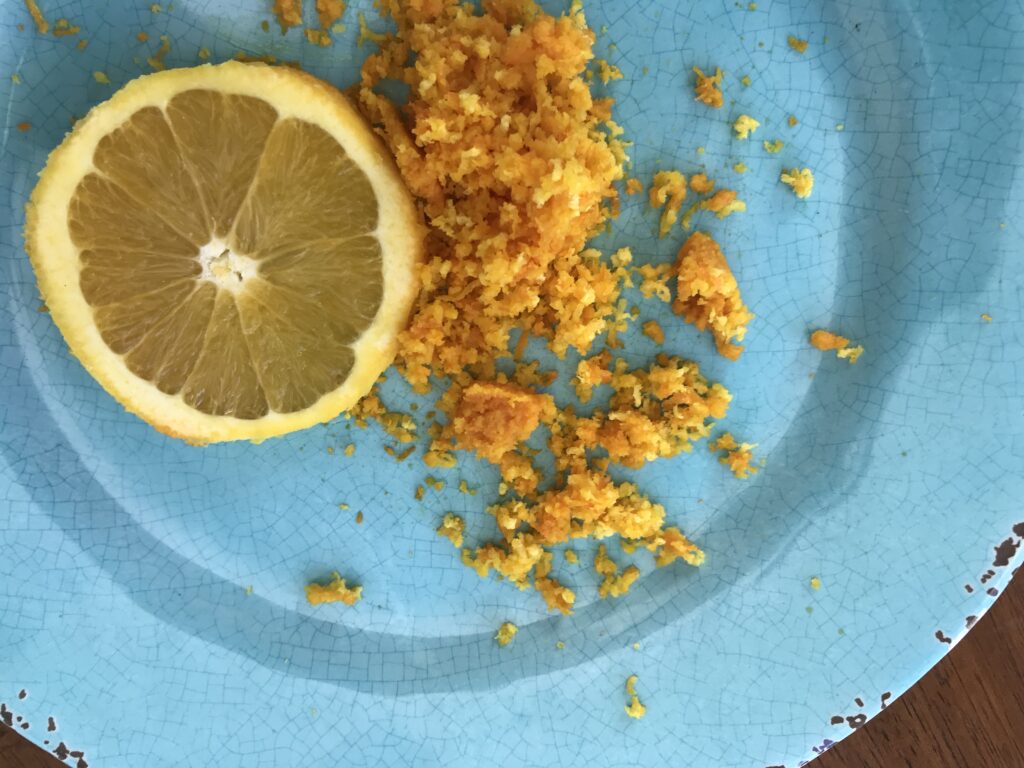 Recommended Daily Value
It is recommended by the RDA to get 65-90 mg for adults of Vitamin C. This would be provided in a cup of orange juice or 1 large orange. It is ok to boost your immune system with some extra vitamin C. Keep in mind it will end up in your toilet if your body doesn't use it. 2000mg is the upper limit and you could get diarrhea with too much.
USDA Nutrient Composition
According to the USDA – A large navel orange contains; 90 Kcals, 305 mg potassium, 23 grams of carbohydrates, 4 grams of dietary fiber, 16 grams of sugar, 1.7 grams of protein and 9% Vitamin A, 181% Vitamin C, 8% calcium and 1.3 % iron.
Eat one large orange and you are covered for the RDA of Vitamin C. A small orange is about half of these values. Not a bad snack for the afternoon.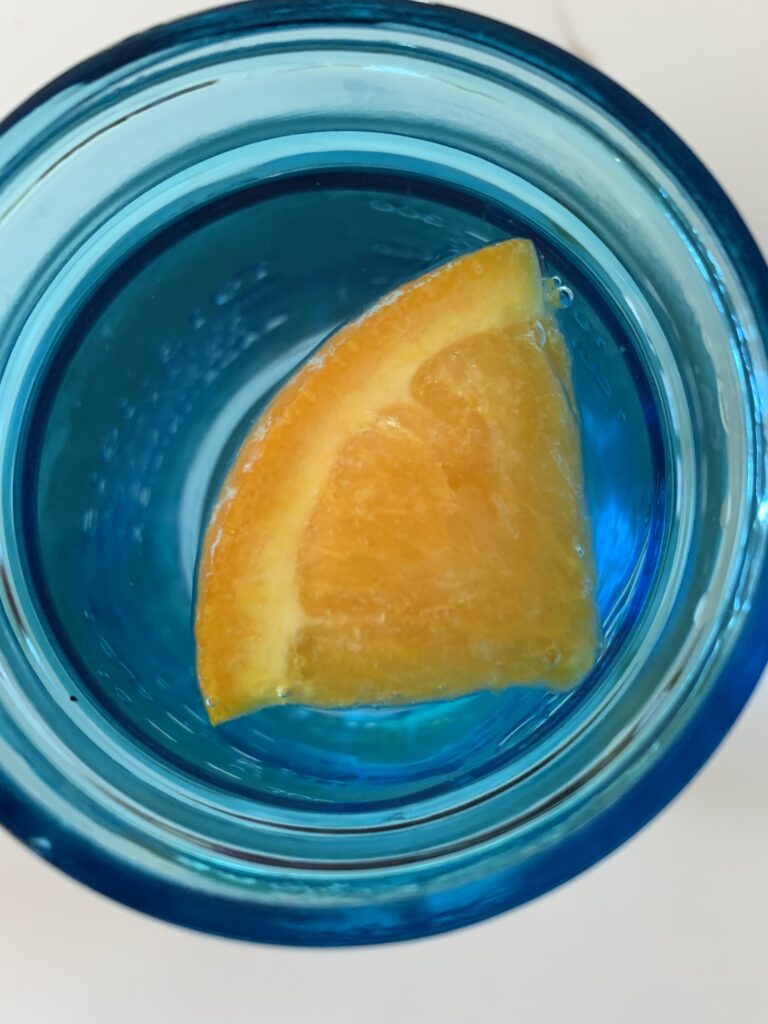 Orange Food Tips-
If you like orange juice, limit it to ¼ to ½ cup a day to avoid excess calories. With juice, you are missing out on the fiber and you won't fill as full as if eating an orange.
Keep an orange on the counter and when you see it in the afternoon you will be reminded to eat it when you are hungry for a snack.
Cut your oranges in wedges if you don't like peeling them.
Eat oranges for breakfast, snacks, or desserts.
Cut a small wedge of orange and add to your water as you would a lemon for extra flavor.
Try a new variety of an orange and see if you like it.
Grate the orange peeling and add to baked goods, stir fry, or dressings for added flavor.
Add orange slices to a lettuce salad or a fruit salad.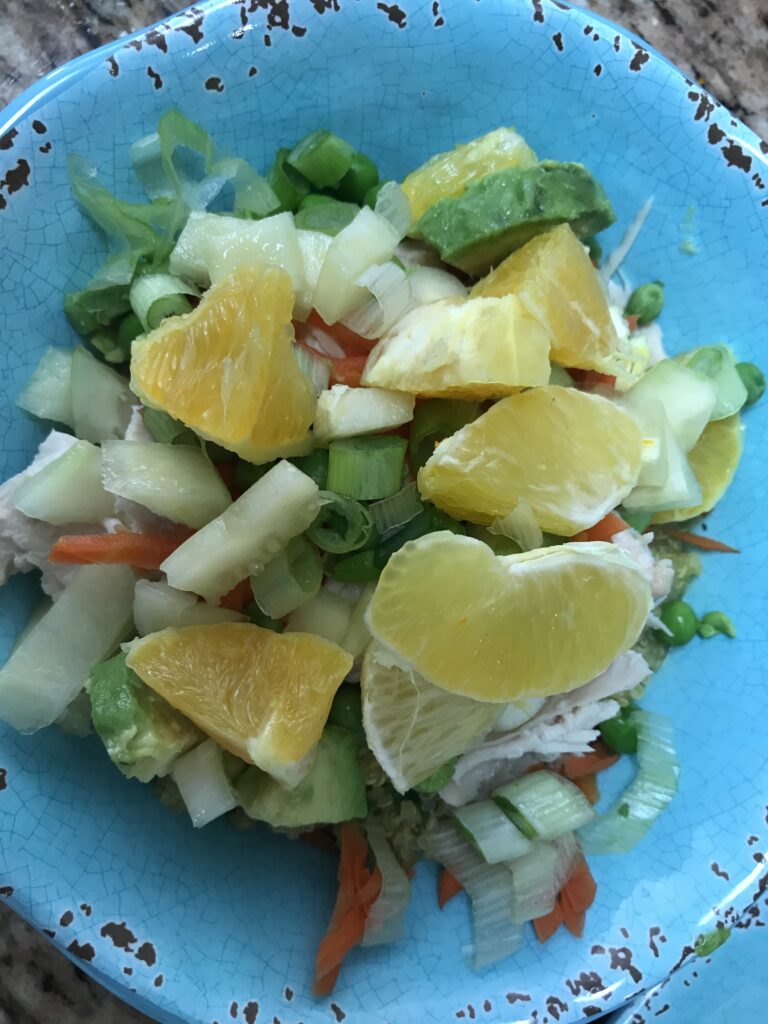 Orange Citrus Quinoa Bowl Recipe
3 oranges (Juice of one orange and one grated orange peel and two oranges peeled into slices and halved
Salt to taste
½ tsp garlic powder
¼ tsp turmeric
½ cup finely chopped Cilantro
1 tsp Cumin
½ cup shredded carrots (partially cooked)
½ cup chopped green onions or red onions
2 cups precooked or rotisserie chicken
1 cucumber diced
½ cup frozen peas (defrosted)
1 avocado cubed
4 cups Chicken Broth
2 cups uncooked Quinoa
Bring to simmer in a Saucepan 2 cups Quinoa and 4 cups chicken broth. Simmer for 15-20 minutes until cooked. Grate 1 orange and juice it. Combine juice, orange peel, and spices in a bowl. When quinoa is done add the bowl of juice/peel/spices to the quinoa and the chopped cilantro and onion. Mix well.
To make a Quinoa Bowl put ½ to ¾ cup warm quinoa mixture in the bowl, then divide between 6-8 servings- and add chicken, carrots, peas, avocados, cucumber, and orange slices to each bowl. If you would like to add a dressing or cilantro lime dressing. I enjoy it as is, tasting the orange citrus in the quinoa. Makes 6-8 servings. the cilantro lime dressing recipe is at this link.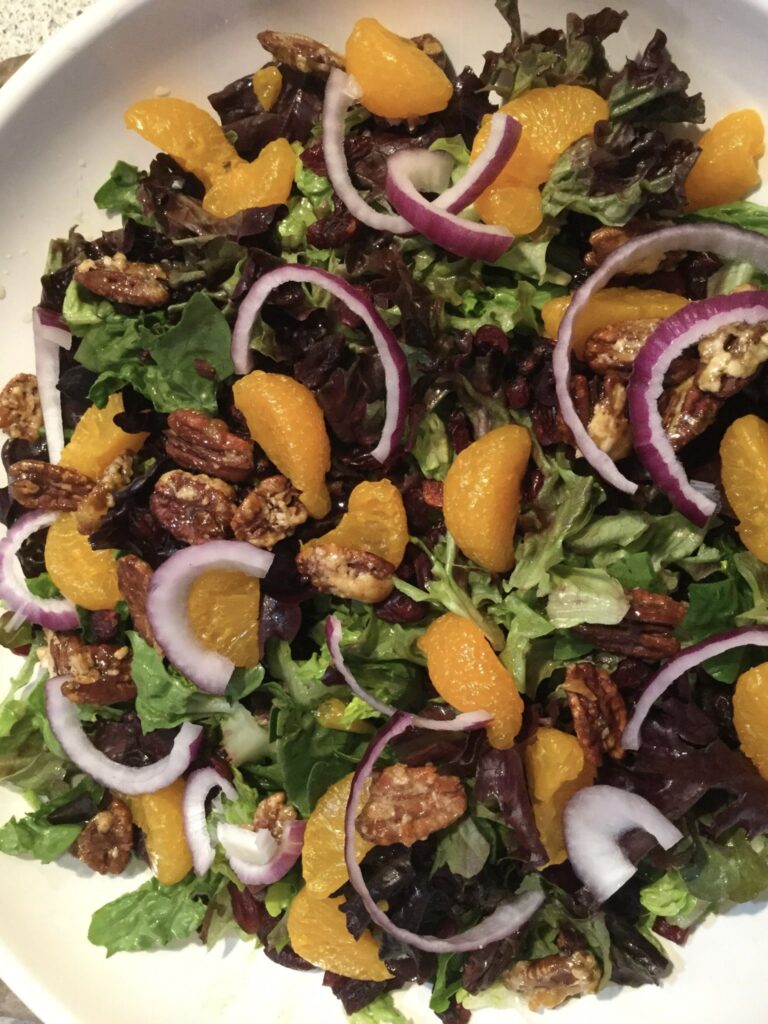 Favorite Christmas Salad Recipe with Oranges
The recipe for this salad can be eaten all year long, but I like the color at Christmas time. The link to this recipe is Here.
Try New Oranges
I hope this inspired you to eat an orange a day or try a new orange or recipe with oranges in it. They are the best source of vitamin C in your daily diet. Oranges, Vitamin C, and Recipes.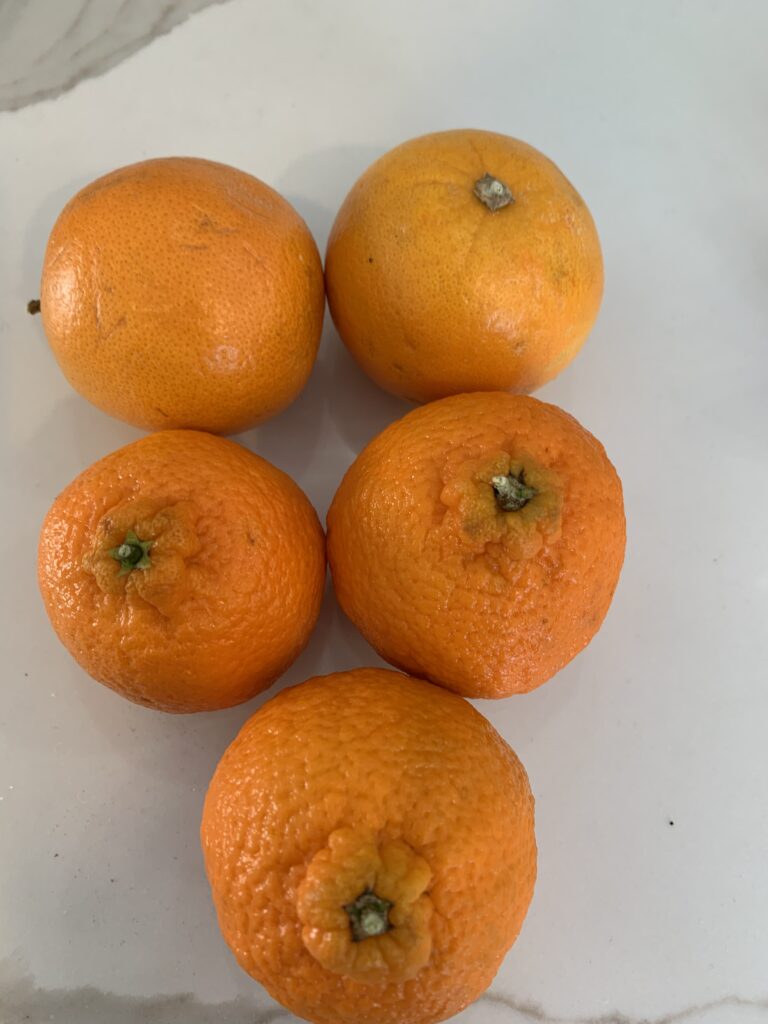 Sign up for the dabillaroundthetable email. Once a month you will get an email with recipe or tips and links to blogs in your inbox. Sign up at the bottom. Check your junk box for confirmation.