When mixing delicious cookie dough and baking cookies is compared to raising kids we discover that each ingredient and step is an important part of the process. It all makes for the best smelling and tasting cookies we can share with others.
In mixing the cookie dough I usually start by creaming sugar and butter together. The sugar and butter makes the dough soft and sweet. The love we give our kids in hugs, words, example, time and Gods words are important. Day by day these are taught and modeled.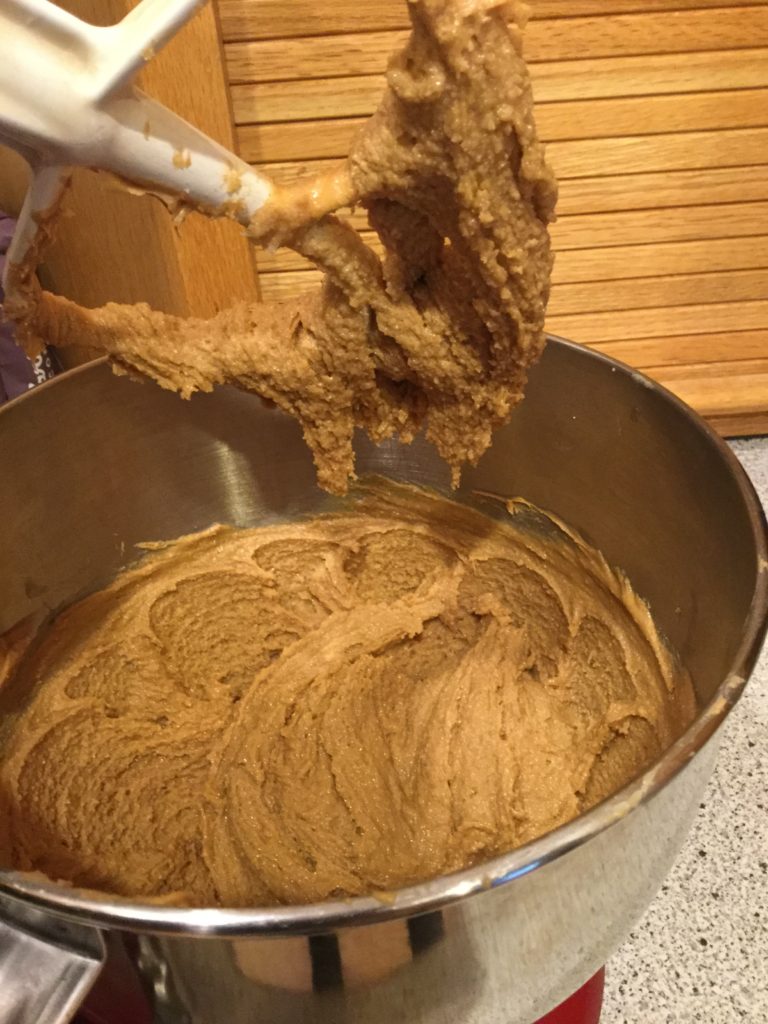 The salt may be the tears and disappointments we need to help our kids to get through. We always have more love than tears, more sugar than salt, or the cookies wouldn't taste good. The eggs and soda give life and shape and allow our kids to rise to the occasion or act like the example set before them.
The flour (oatmeal) molds and shapes them. Not too much flour or they will get tough, not too little or they will be weak.  The mixing is important so they can function with all these ingredients mixed together. One day they need love or encouragement, the next day their tears take over. The flour holds them together like their family and most importantly their relationship with God.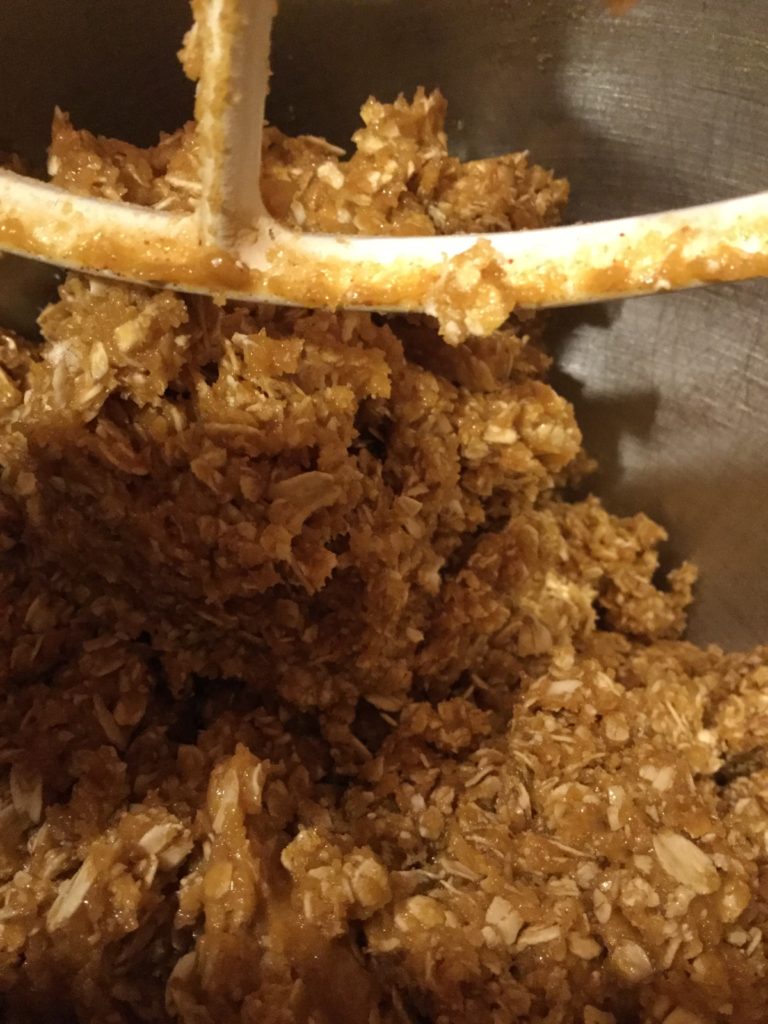 The best part is to add in chocolate chips, nuts, coconut, or raisins.  These are all character traits, gifts and talents. Some of our kids have developed through learning and have been gifted by God. For God's gifts and his call are irrevocable. Romans 11:29 NIV    We each have a different personality that distinguishes us from each other. This produces different traits in each person and relates to how each cookie is different but good!
The cookie dough is done. The dough is important to the cookie.  Now God can shape them into a cookie. Drop cookies, rolls outs, cut outs, monster cookies or bars are the different ways they can be shaped. God knows what is best for our kids and what he has planned for their life.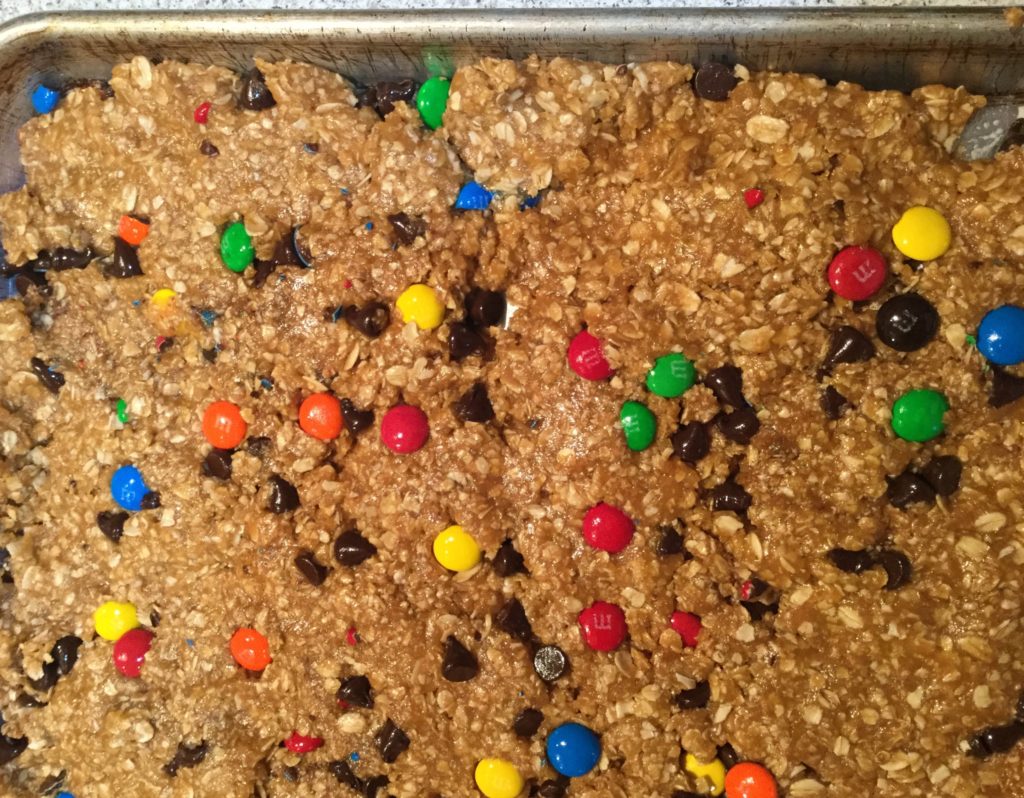 The parenting may seem like it's done, but God's in control.  When they graduate from high school they are now on that pan ready to go into the oven to college or a job.   The most important part has come, the baking.
We need to be praying for each of our kids because the temperatures can get high in this world just like the oven.  As a parent we know they will have troubles and problems and that is why we need to be praying.  We can turn on the oven light and check for doneness or wait until God sets the timer to ring.
We may need to encourage our kids by calling or giving advice or even opening up the oven to turn the pan around so they will cook evenly. Sometimes they call you and tell you a cookie is getting burned.  We listen to them and tell them to take that cookie out.    In this stage I have learned the best parenting is to listen, ask questions, encourage and pray. As 1 Thessalonians 5:17 says, Pray Continually.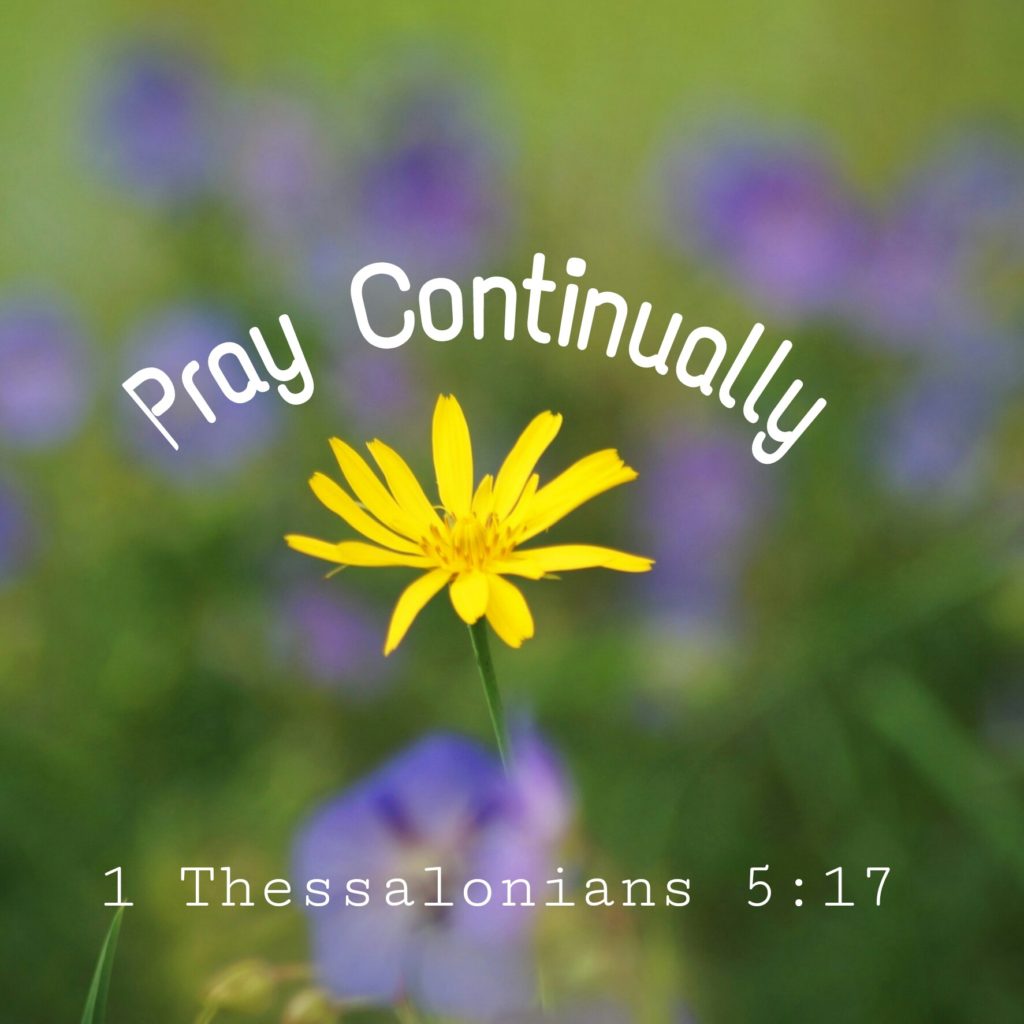 The timing in cookie baking and mature kids is important. The timer goes off.  Mmmm can you smell them?  Some are golden brown ready to take out. Some may need a minute more. We can be there to help our kids start their life and give advice on doneness. Our life experiences can help with this step.
The more I bake cookies the easier it is to know when they are done. God Knows when they are done.  Our kids are unique in how God made them and ready to be shared with others in their careers, life, marriages, ministry or mentoring of others. Taste and see that the Lord is good. Psalm 34.8a NIV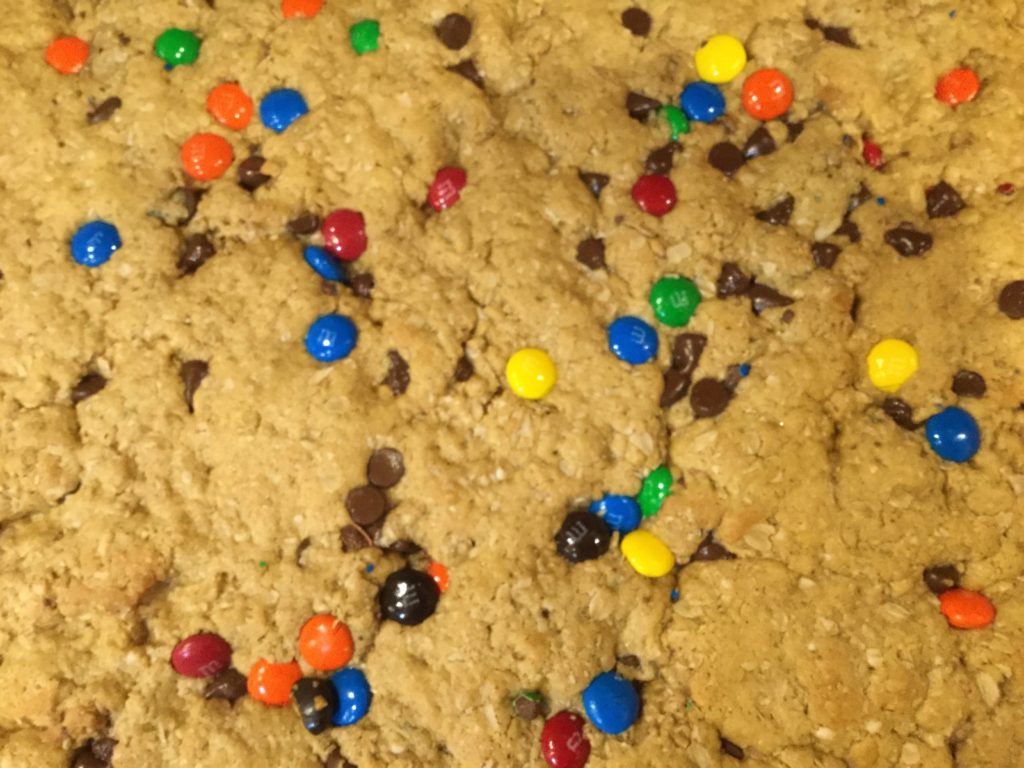 James 1:4 Let perseverance finish its work so that you may be mature and complete, not lacking anything. NIV

Colossians 1:28 He is the one we proclaim, admonishing and teaching everyone with all wisdom, so that we may present everyone fully mature in Christ. NIV
One evening I was in my bathtub praying for one of my kids.  I was troubled about one of my kids and knew all I could do was pray.  Then God whispered to me.  "Raising kids is like Baking Cookies" and the whole step by step process came to me of the comparison. I grabbed my iPad and begin to write. This isn't a perfect illustration for all kids, but it is one many of us can relate to and know that God is shaping them into His. May God be Glorified in everything.
Here is my Monster Bar Recipe:  I copied this recipe from the radio over 25 years ago and I do make it when I need a quick treat or for a special day.  This is one my moderation foods.   So I only eat one fresh out of the oven.  Yes, it has sugar, but you can use dark chocolate,  it has fiber from the oatmeal and protein from the peanut butter and eggs. If you choose not to use m and m's add more chocolate chips.  I recently made a pan to cut up in large squares and give to the college gals/roommates for a treat.  Just remember Moderation and portion control.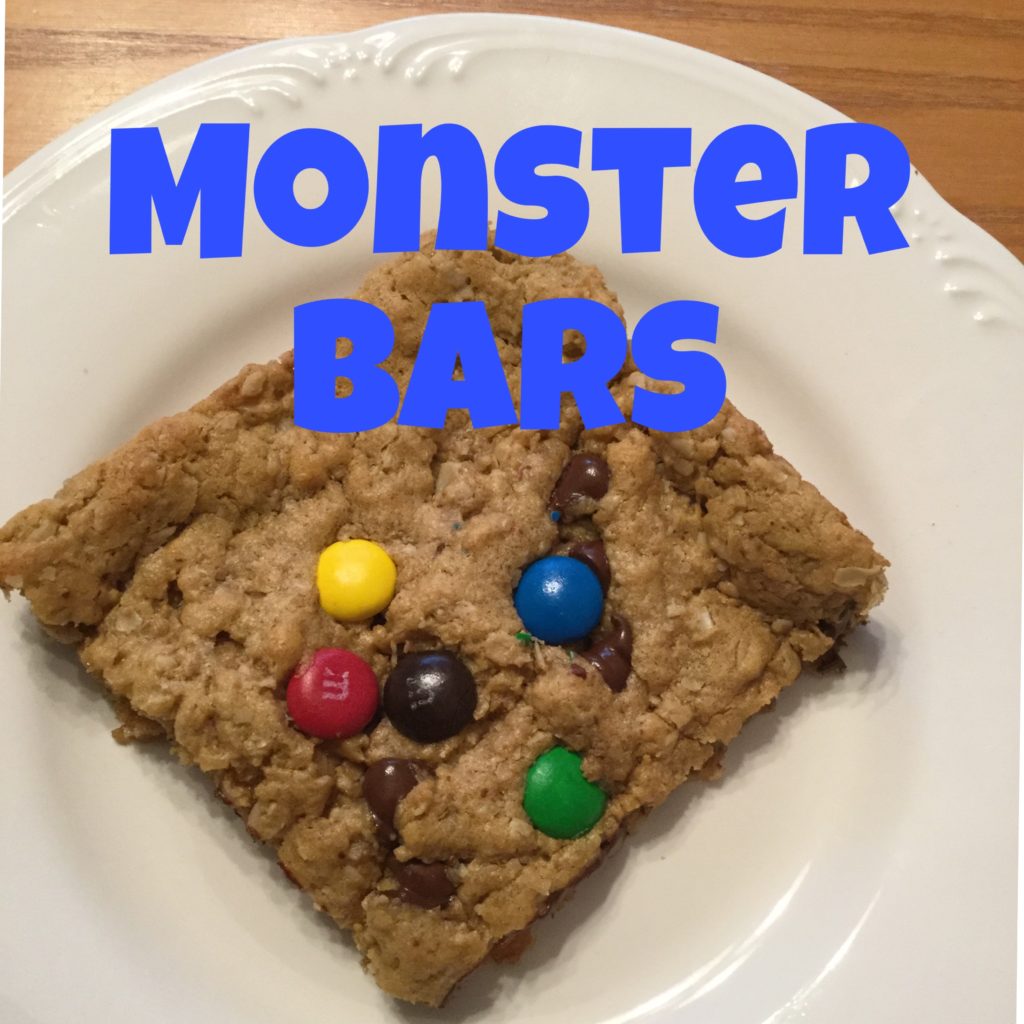 Monster Bars
1/2 cup Butter
1 cup Brown Sugar
1 cup Granulated Sugar
1 1/2 cups Peanut Butter
3 eggs
1 tsp vanilla
2 tsp baking soda
4 1/2 cups Oatmeal
3/4 cup Chocolate chips (semi sweet or dark or mini)
3/4 cup M and M's   (dark chocolate)
Cream butter and sugar and peanut butter, add eggs and vanilla and mix. Add oatmeal and mix. Gently mix in chips and candy.  Pat into Large baking pan 12×17.
Bake in a preheated oven 350 degrees for 15 minutes.  Don't overcook. Cut into small or Monster Bars.    If you prefer to make cookies, form into cookies.
If I bake in my convection oven they are done in 10 minutes. So fast….So good.