Summer fruit comes in season every month. You've got bunches of berries, peaches, cherries, pears, and later in the summer apples. Each tree and plant take its turn bearing fruit for you to eat. You can eat fruit one bite at a time or turn them into a fruit crisp. I'm sharing my Favorite Summer Fruit Crisp Recipe at my table.
Cutting Calories
If you are cutting calories- I suggest just eating a bowl of berries. A fruit crisp is a treat. My husband requested blueberry crip for his birthday in March, so I made it for him with frozen blueberries.
Crisps are meant to be shared with others. I Invite friends over for dessert or a meal to share the yumminess. One piece is all you need. You could sneak a piece to reheat the next day if you have leftovers. If you like berries you can catch my breakfast berry bake blog at this link.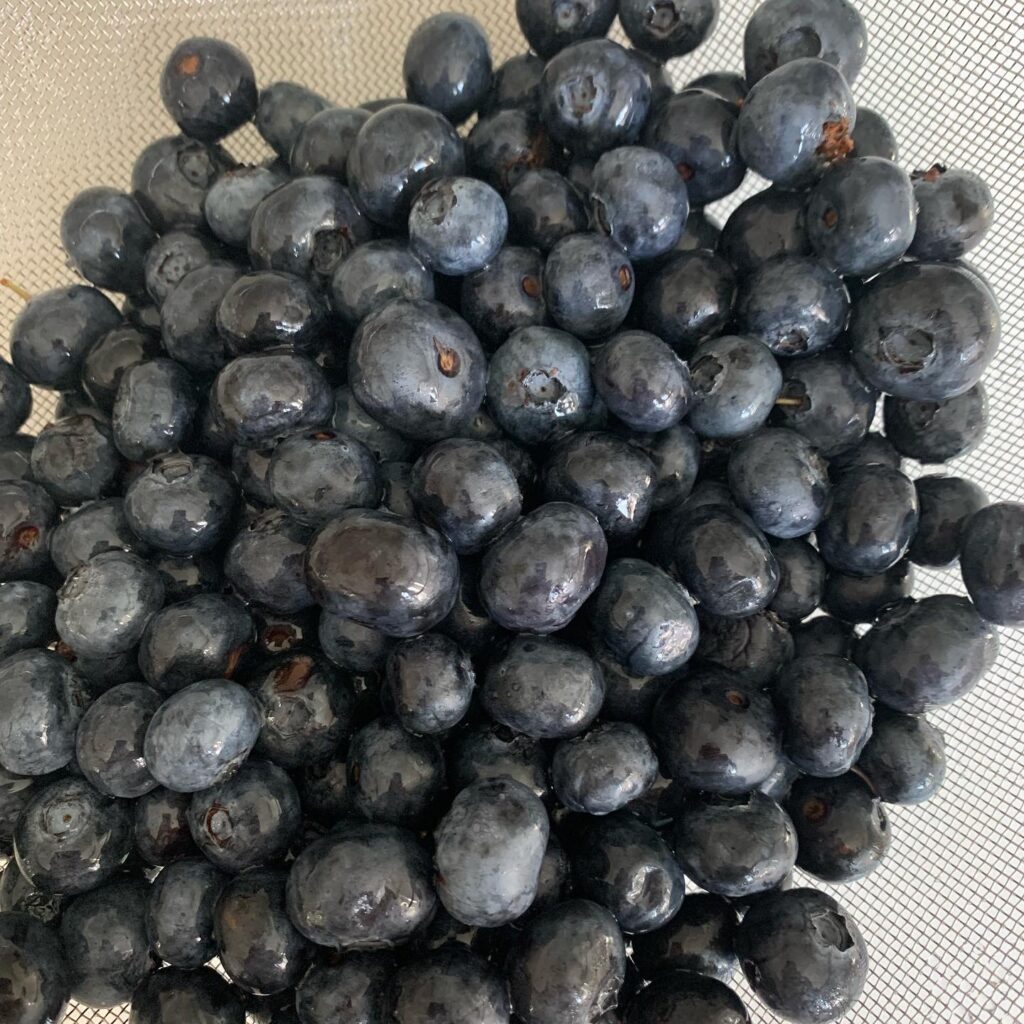 Why I Like Fruit Crisps
I have never been a pie lover, and I think it is because of the crust. The crust on a pie is not my favorite. If I eat a pie, I usually don't eat the crust, unless it's a shortbread crust or a graham cracker crust. Funny thing, my mom made pies and my husband loved them. He thought I would make them too. Not!
Another reason I started making crisps is that I have a birch tree allergy. Since pit fruit and apples are related to the birch tree, I couldn't eat pit fruit like fresh cherries, peaches, and apples anymore. I can only eat them if they are cooked, so my peaches and apples turned into crisps.
I started making crisps because I liked them and they were easy to whip up for a dessert. If I mix up two fruits in a crisp, they are even better. Fruit crisp combinations I enjoy together are as follows.
Blueberry and Raspberry- one of my favorites
Blueberry and Peach- another favorite.
Peach and Raspberry
Apple, blueberry, or peach all by itself.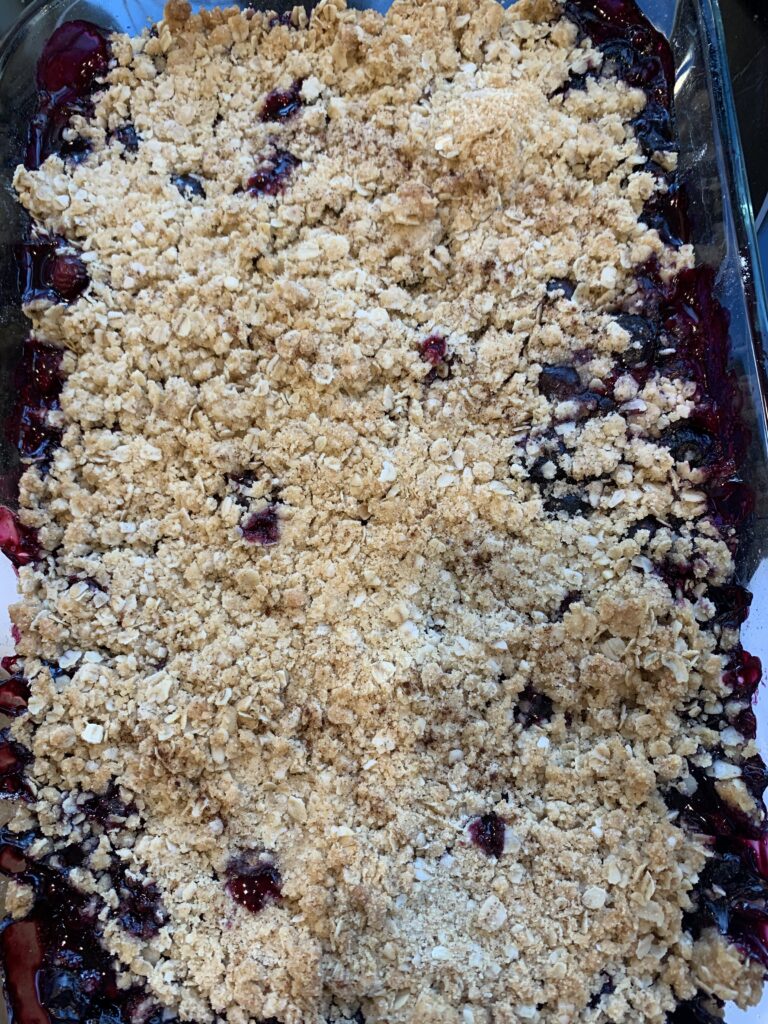 Crisps, Crumbles, Cobblers, and Buckles
Let's learn the difference. I have a friend who makes her crisp with flour and no oatmeal. I told her it is not crisp. That is where it ended. You see there are differences in case you didn't know.
Crisps- fruit baked with sugary streusel-like topping combining oats and nuts.
Crumble– is a crisp minus the oats or nuts. So basically, sugar, butter, and flour- this is what my friend makes.
Cobblers- fruit base with a biscuit dough dropped in dollops. I have a cherry cobbler I used to make.
Buckles– single layer cake with berries or fruit in the batter with an indented look as it bakes.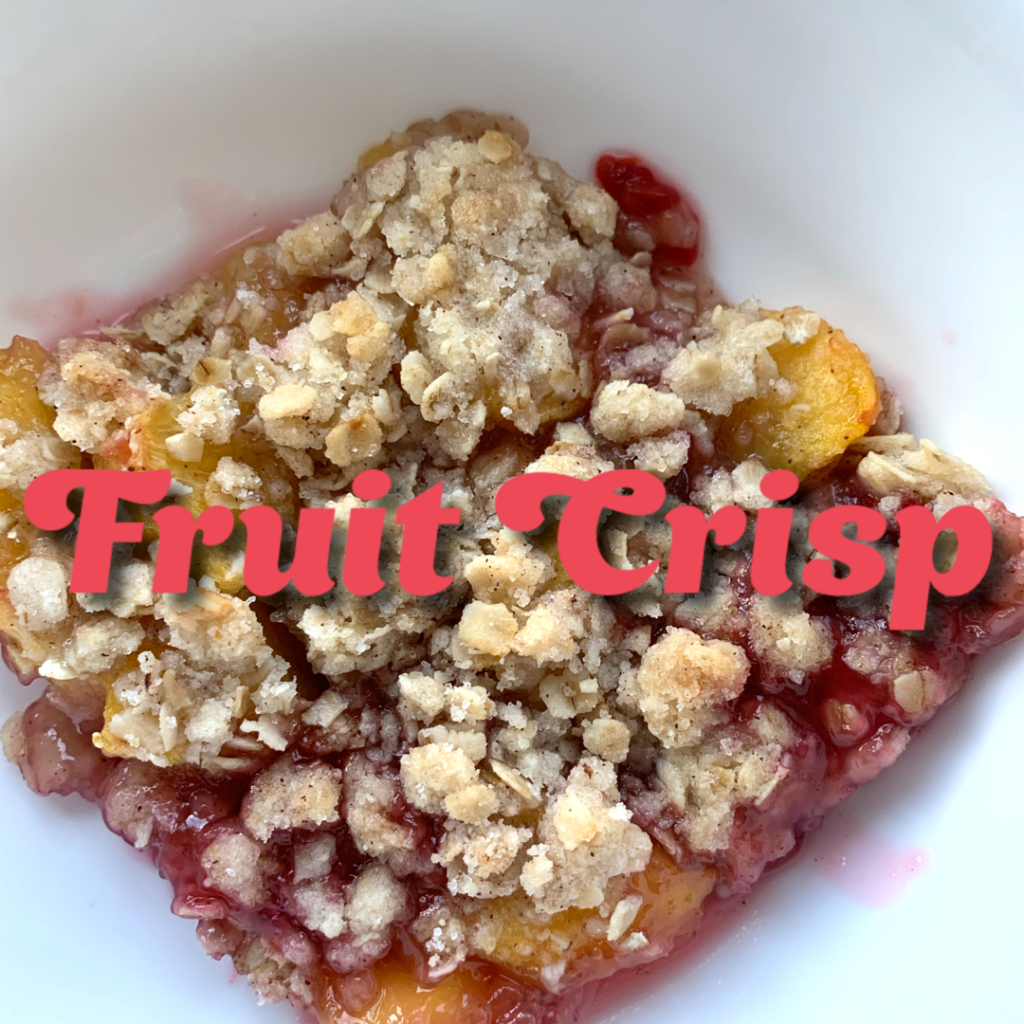 Summer Fruit Crisp Recipe
3 to 4 cups of washed/peeled and cut-up fruit. Berries, peaches, or apples in combinations or alone.
1 tbsp plus ½ cup Flour
¾ cup Oatmeal
1 tbsp plus ½ cup Brown Sugar- feel free to reduce sugar to 1/3 cup.
1/3 cup melted butter
1 tsp cinnamon if desired
Spread cut-up fruit/berries in a 7×7 pan or a 7×9 pan. If using a 9×13 pan- double the recipe. Sprinkle 1 tablespoon flour and 1 tablespoon sugar over the berries. Combine crisp topping in a bowl with the rest of the flour, sugar, butter, and oatmeal. Spread with your hand evenly over the fruit.
Bake 350 for 25-30 minutes until the fruit is done and bubbly and the topping is crispy. If using frozen berries, you may need to bake longer. Serve warm with vanilla bean ice cream.
Enjoy the Fruit Crisp summer Season and share your joy with friends.
What is your favorite crisp fruit combination? Answer in the comments.
If you don't want to miss a blog. Sign up for dabillaroundthetable email. Once a month you will get an email in your inbox with recipes, tips, and links to the blog. Don't miss it. Sign up at the bottom of the blog.