If you are wanting to plan a vacation to a unique area with a variety of things to do, I would recommend a trip to Hot Springs and Little Rock, Arkansas.  Learn travel tips about what to see for free on your next vacation.
What to do and see in Hot Springs and Little Rock
As we are on our 130 day traveling sabbatical, we spent a week in the middle of Arkansas and enjoyed all the activities and sights for mostly free.  We did pay for some food and our hot springs bath.  The area offers free state parks, a free National Park, hiking, biking, horse racing, pedestrian bridges, and a Downtown Riverwalk/ Market Square. See Blog on Traveling Sabbatical.
Visitor Center and Downtown
First things first.  If you've read my other blog on How to see Tennessee for free, then you know you must head to the visitor centers in downtown Hot Springs and Little Rock.  We love visiting with the people and always find unique things to do for free that we didn't even think about or find on the internet. All the literature and coupons are free.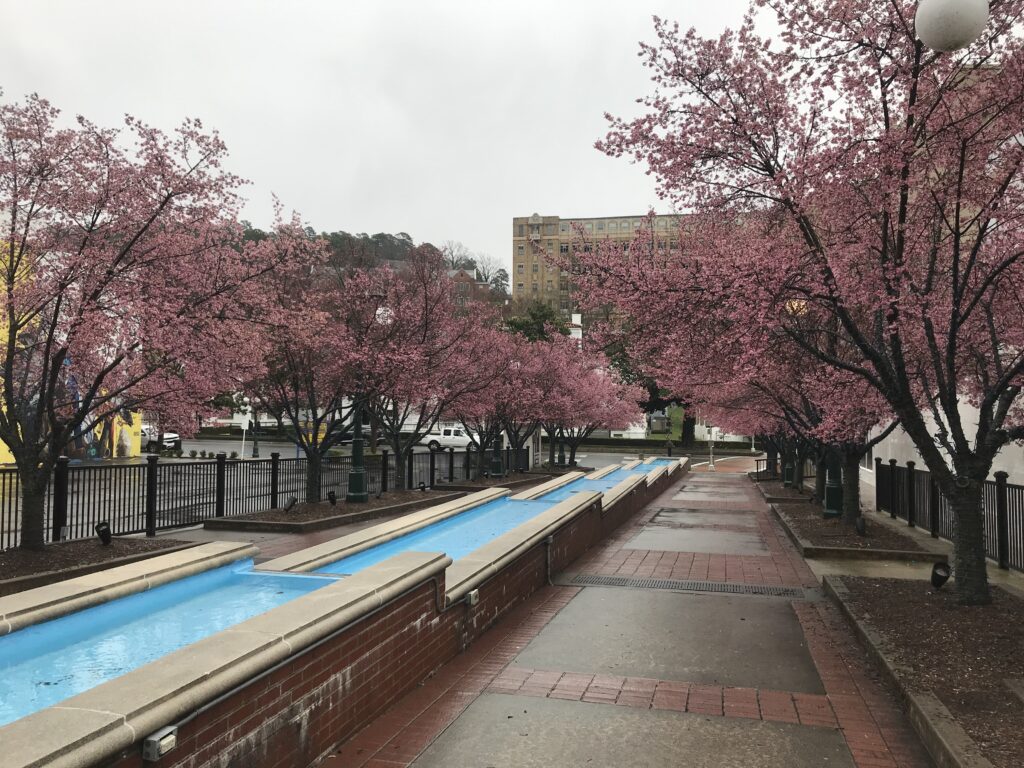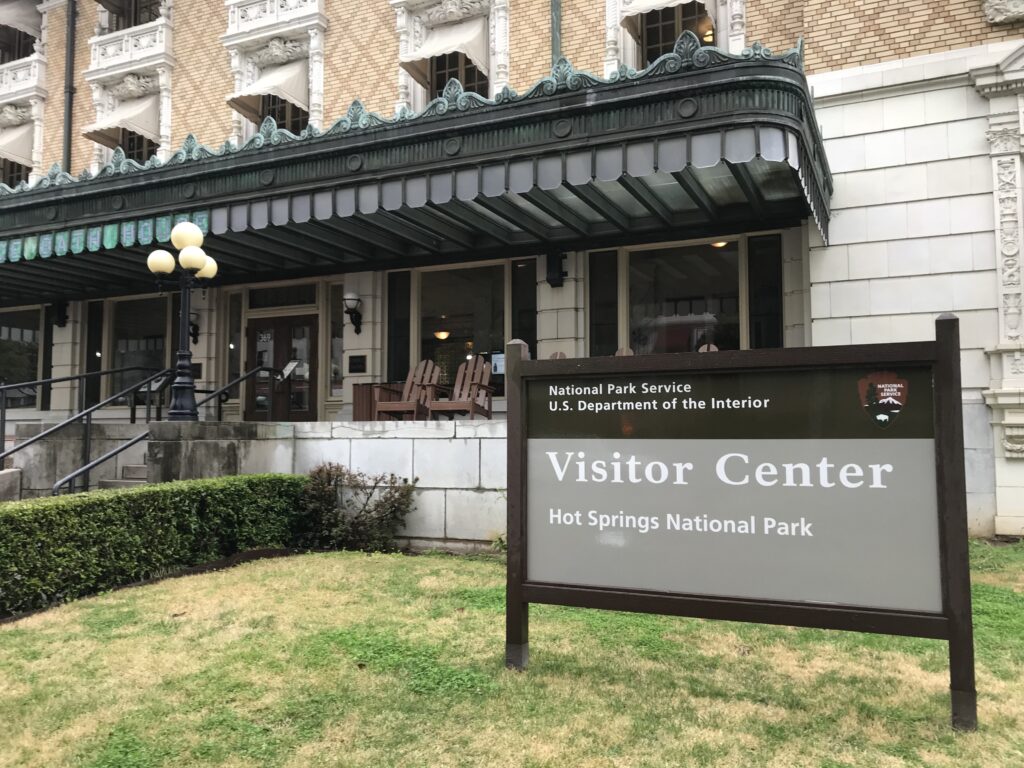 Hot Springs National Park
This National Park is unique in that it is the only Park in a downtown area and it's free.  Park in the free parking ramp downtown and you can walk across the street to the visitor center.  It is in the historic Fordyce bathhouse and you can take either a guided or self-guided tour of the building to see and learn how bathhouses were run in their heyday.  
The hot springs are natural flowing springs from underground and average around 143 degrees Fahrenheit. These hot springs are in the back of Bathhouse Row and used for the baths. You can feel how hot they really are and you can also get water to take with you in this area too. They do have an area on the west side of town in the National Park where you can get cold water to take home at a perfect PH of 7.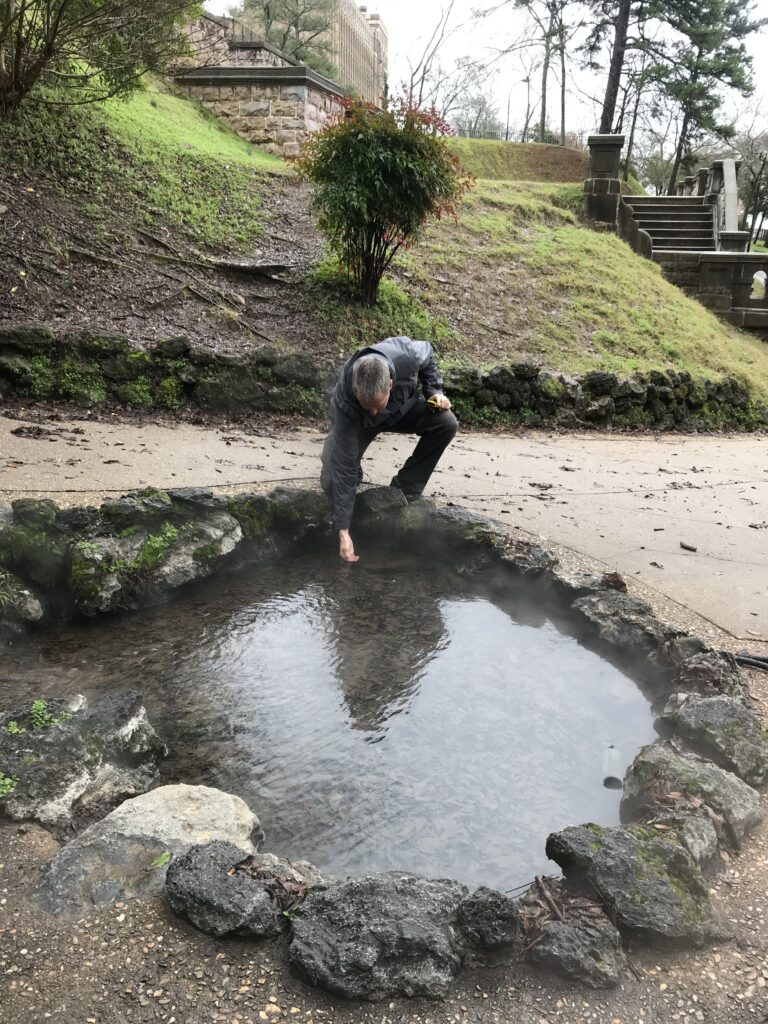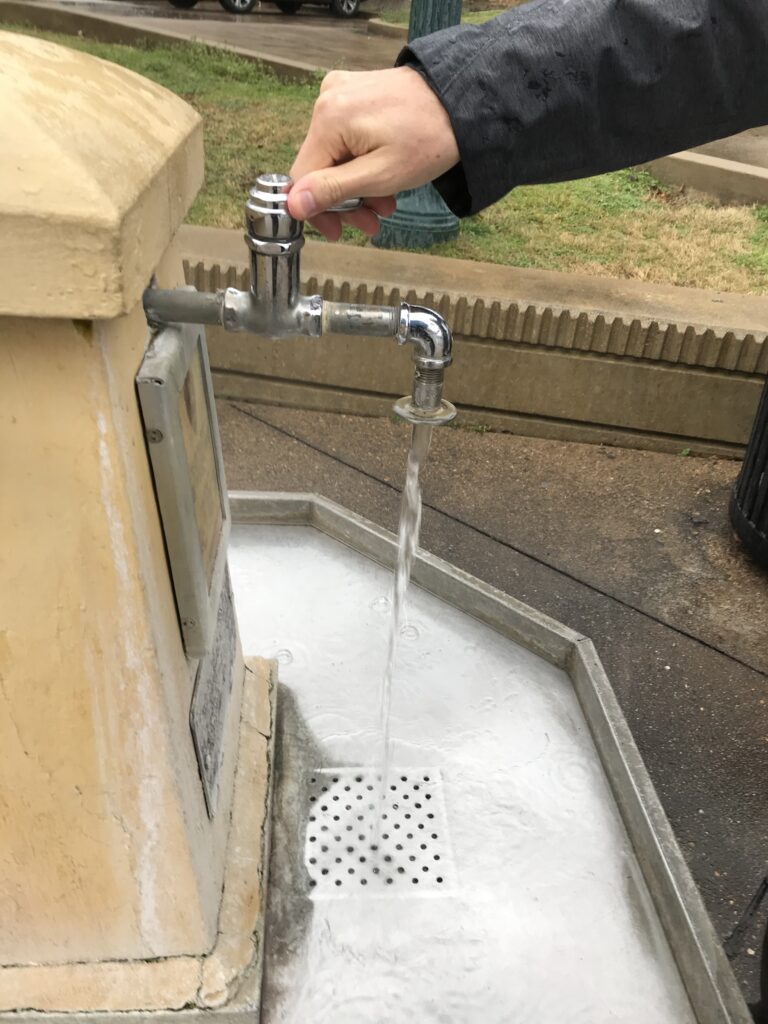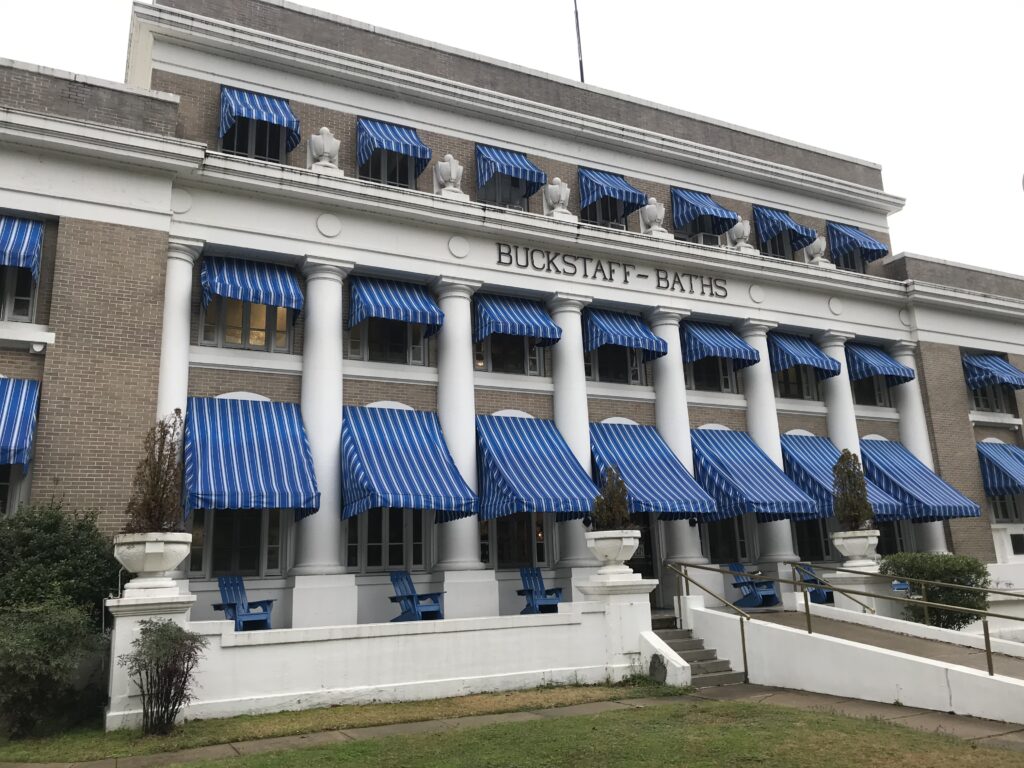 Bath Row
Hot Springs had a history of offering baths like a spa for women or men.   That is why the street was called bathhouse row because of the many bath type spas. 
People would come to the community to relax in the spas and exercise behind the spas on the mountain trails in the woods. In fact, many had doctors prescribe bath treatments for their illnesses or conditions. Today you can hike in these same areas on the East and West Mountain.
Today they have two operating spas – one called Quapaw Baths which offers pools of water at varying temps to use coed with your swimsuit. The Buckstaff Baths offer a more traditional individual spa service with men and women separated.
We spent three hours in the Quapaw Bath pools, in and out of different temperature water pools, resting and drinking tons of water. The cost of this was $21.95 and totally worth the experience.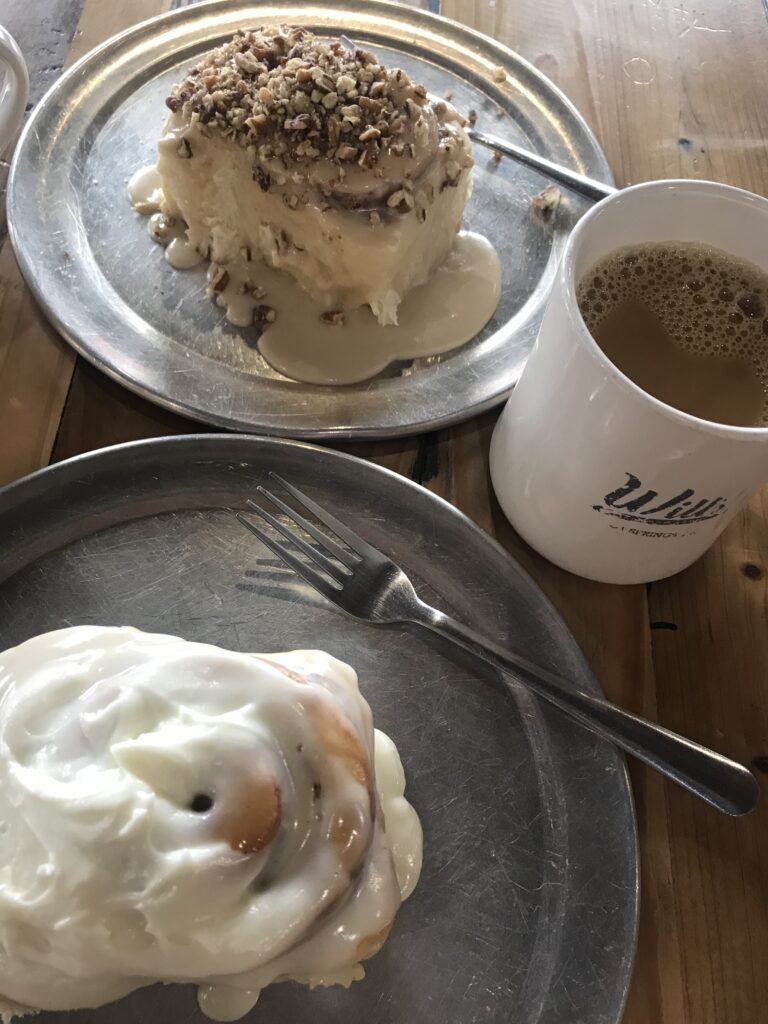 Eats
Typically, in our travels, we don't eat out very much. Our Airbnb host recommended two places in Hot Springs on Central Avenue and we enjoyed both of them. We went to the Pancake Shop and had different types of pancakes, homemade sausage and fresh-squeezed OJ and coffee. This was a perfect way to spend a rainy morning.
Our favorite place was Will's Cinnamon Shop.  Will has perfected the Cinnamon roll with choice of icing varieties and a topping.   We loved it so much when we shared a roll the first time that we had to go back a few days later for our own individual rolls.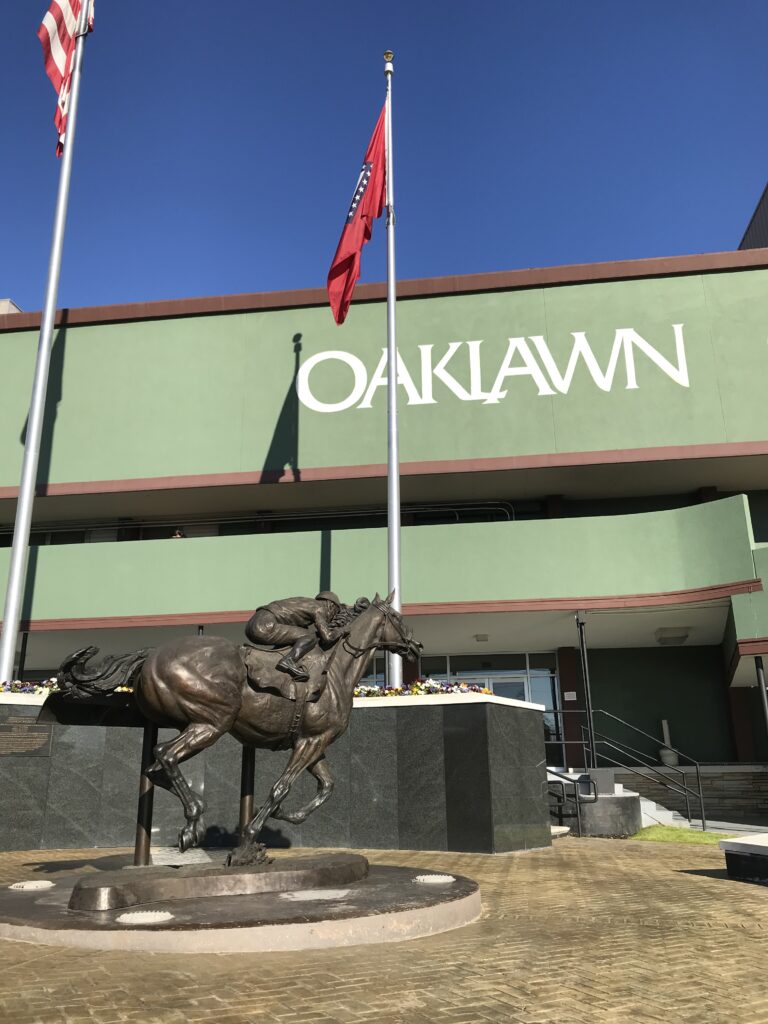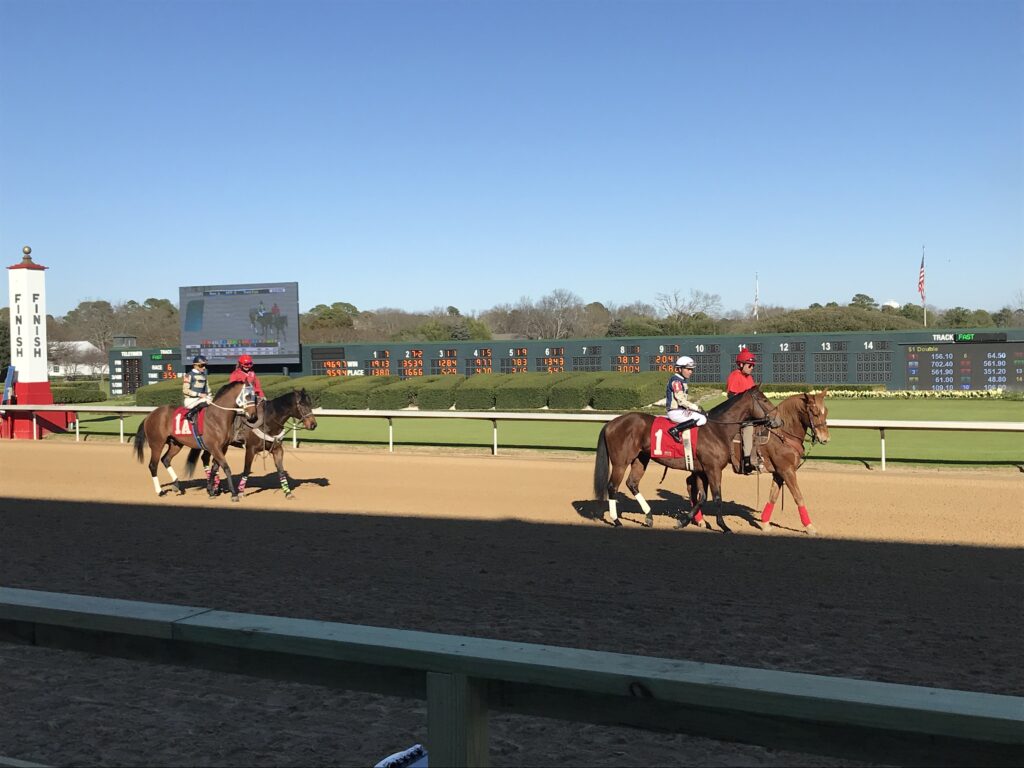 Horse Racing
This was my first time seeing a live horse race. Oaklawn is where they hold the Arkansas Derby and they do horse racing in Hot springs from January to May. I was able to see two horse races and even a horse who got away and thought he was in his own race. I did not make any bets, because It was just a guessing game for me and then I wouldn't have had this experience for free.
We also went to a free barn tour on Saturdays from 7:30 to 9:30. Check their website for details. We even got free coffee and a muffin with this tour. I learned many new things about horse racing.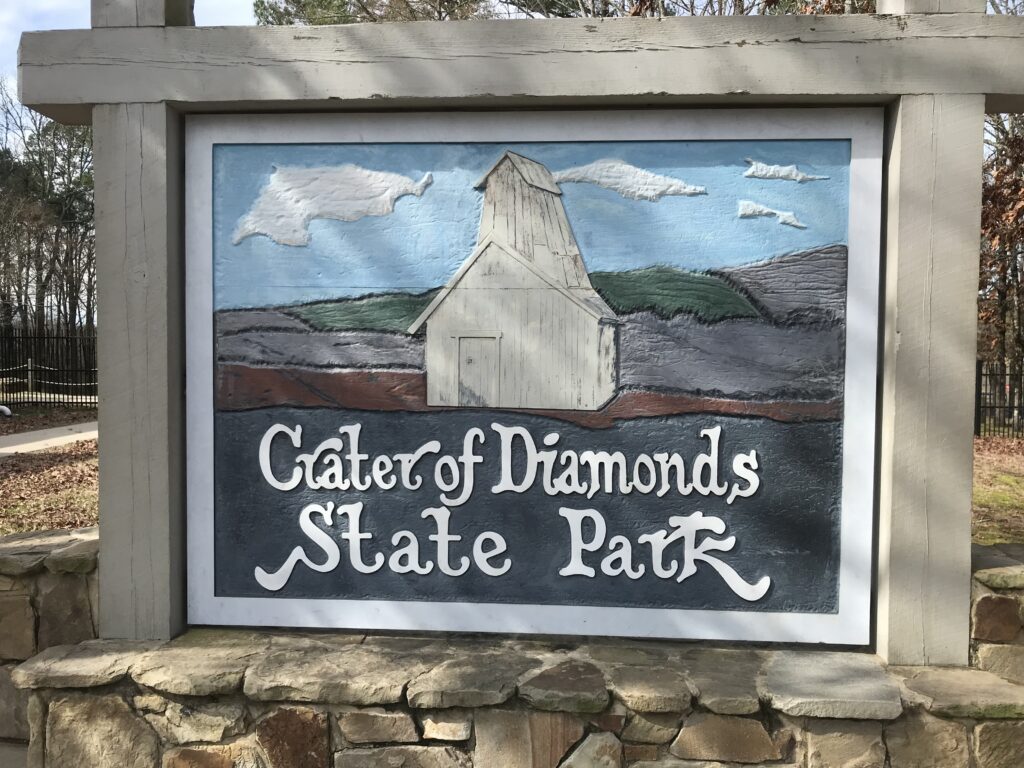 State Parks
We love the State Parks in Arkansas and they are free with the exception of one.  We went to Pinnacle State Park in Little Rock, and Ouachita State Park which is a beautiful reservoir reminding me of the boundary waters.   We also enjoyed the hike to the waterfall at Lake Catherine State Park.  
Yes, you will have to hike if you want to see the best of these parks, but just their small hikes will expose you to the natural beauties.
Crater of Diamonds State Park is about an hour from Hot Springs and is the only place in the world you can look for diamonds in a big field and keep them. You do need to pay $10 to get into this park. If you find a diamond it is worth it. It was actually a very unique and memorable experience you must try.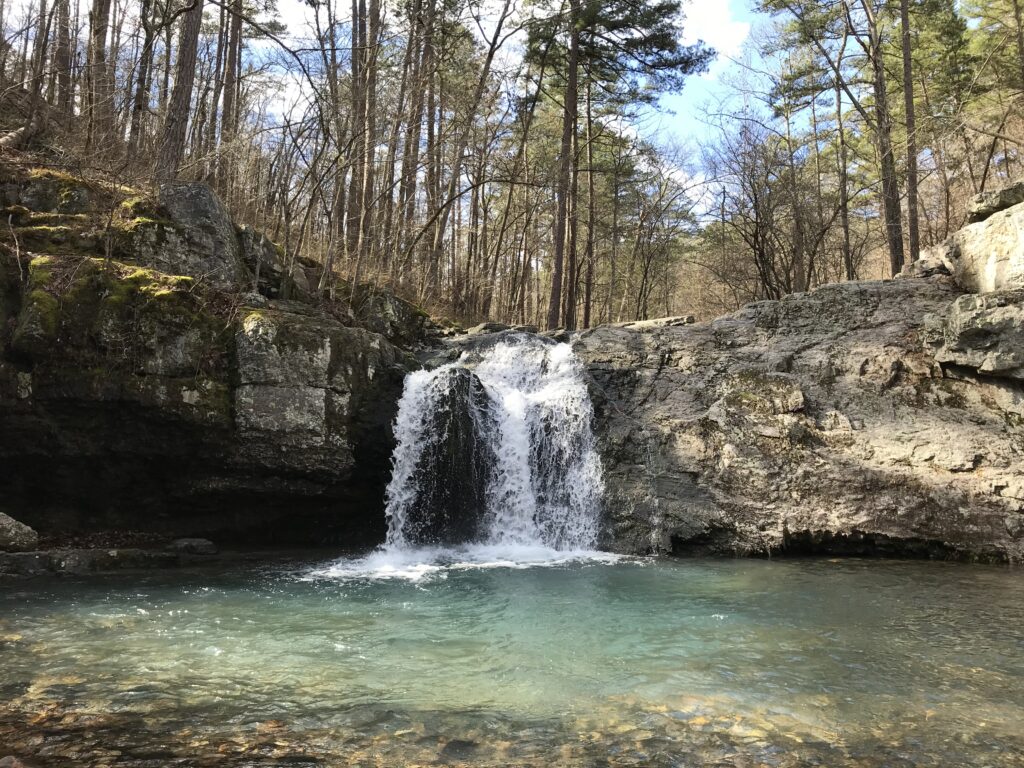 Gardens
We were told to go to the Garvan Woodland Gardens because they are the best botanical gardens in the area. We did not go because we ran out of time and the day we would have gone it was raining and the flowers weren't at their Spring time best. If its spring, summer, fall or Christmas time, I am told you must go. The cost for this is $15 so again it wasn't on our top list of things to do.
Places to stay
We have been staying at Airbnb's when we travel and have enjoyed learning about the area from our hosts. You can also stay in hotels, RVs, tents or cabins at the State parks or KOAs.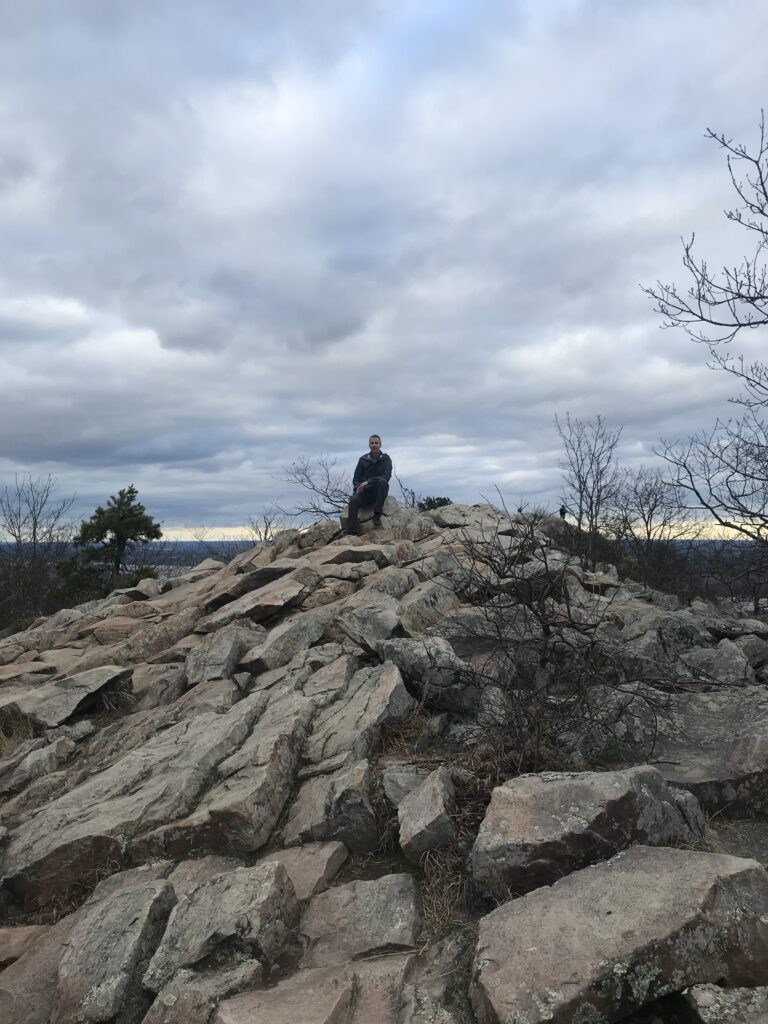 Little Rock Places to see
Again, visit the visitor center. This one is cute and has friendly people. Again you will want to go the Pinnacle Mountain State Park to hike, that is if you like to hike.
Pedestrian Bridges
Little Rock has the most Pedestrian Bridges across a river for a city and we went on two of them. One is the old lift bridge converted into a pedestrian bridge. This bridge is located by the downtown riverfront. The other bridge we ventured on is the Big Dam Bridge. You can also bike on that bridge too. It is the longest hiking and biking bridge in the whole world.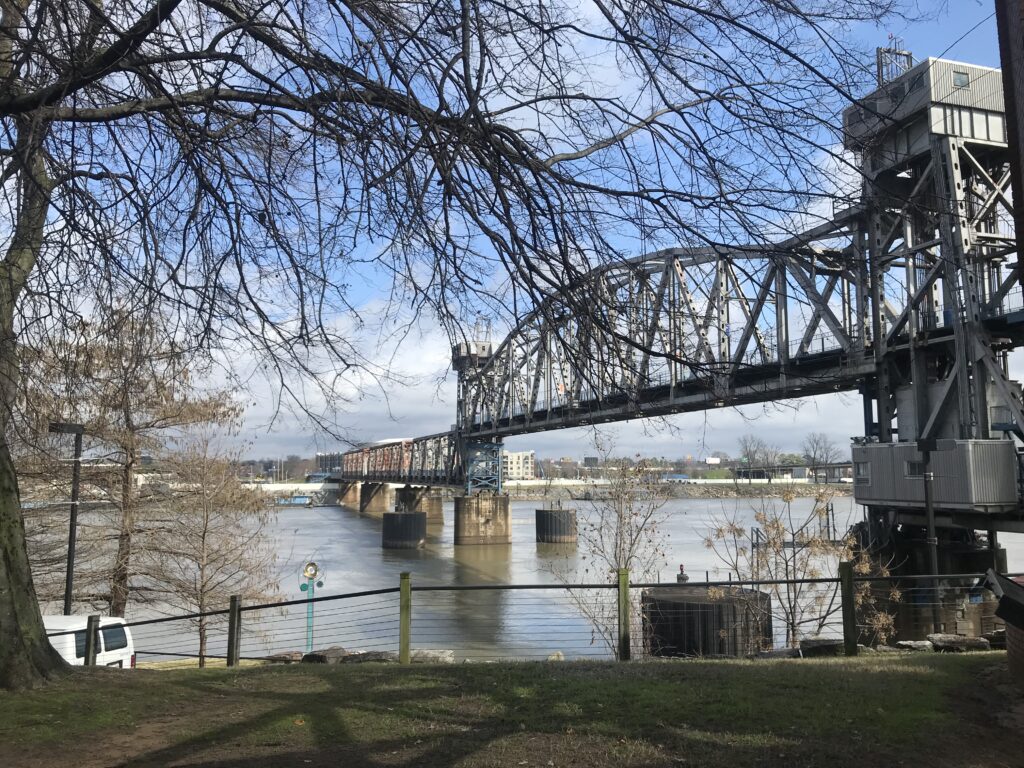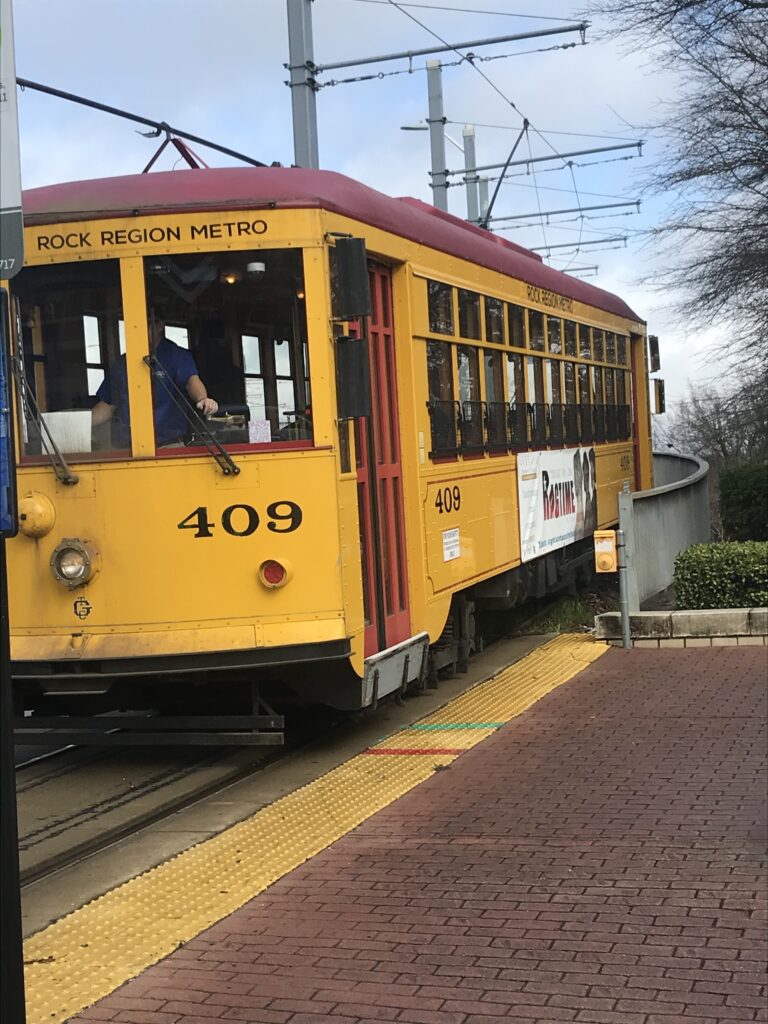 Little Rock Downtown
Little Rock offers a free trolly to tour the downtown of Little Rock and North Little Rock.  I thought it was fun because they describe what you are passing and the history behind it. I had never been on a real trolly, so I had to snap my pics and I couldn't get the Rice a Roni commercial out of my head even though it was not in San Franciso.
Riverfront Walk and Market Square
Their downtown has a nice walk near the river and a downtown market area with a variety of shops. So many options for your lunch. There are good museums downtown but they are closed on Mondays. Be sure to check them out if you go another day of the week.
The Old Mill
The Old Mill in North Little Rock is a free place to walk around and see nature, a water mill with a pond, flowers and bridges. It was featured in the beginning of the movie Gone with the Wind and is very beautiful.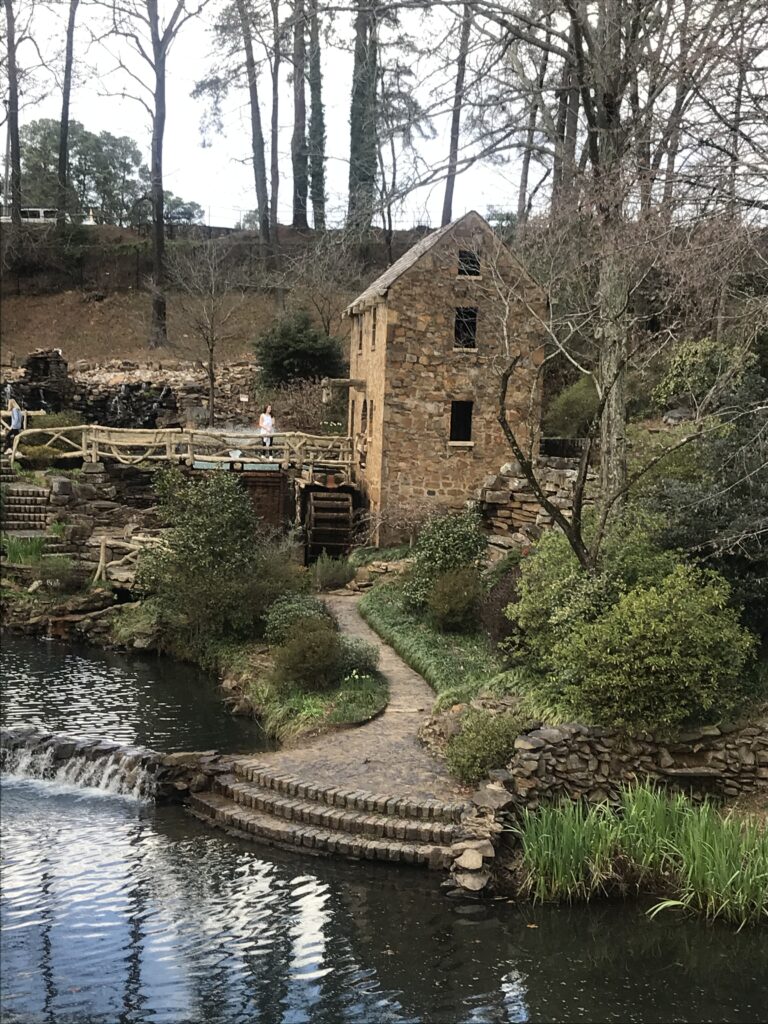 Presidential Library
Finally, we did not have time for the Clinton presidential library, because we chose hiking over it. If you don't like to hike then make sure you spend more time downtown and check out the museum and library.
I do hope you can plan a future trip to visit central Arkansas.  You will be amazed by all the beautiful lakes and mountains and nature you can find everywhere.  After all, Arkansas calls itself the Natural State for good reason.   Enjoy the travel tips so you can see Arkansas for free or on a budget.
If you want more places to see for free in Little Rock, see this link.
What places have you enjoyed in Arkansas?
For more blogs on our traveling adventures and on Faith, Food, Family, Fun, and Favorites: Subscribe to Dabillaroundthetable for a once a month email with links to blogs. You won't miss a blog and limit your emails. Sign up at the way bottom. Check your junk mail so you can subscribe.