We started out traveling Sabbatical on January 6th and as the calendar turns over, the first 25 days of our travels lead us to four southern states. Here is an update on our traveling adventures.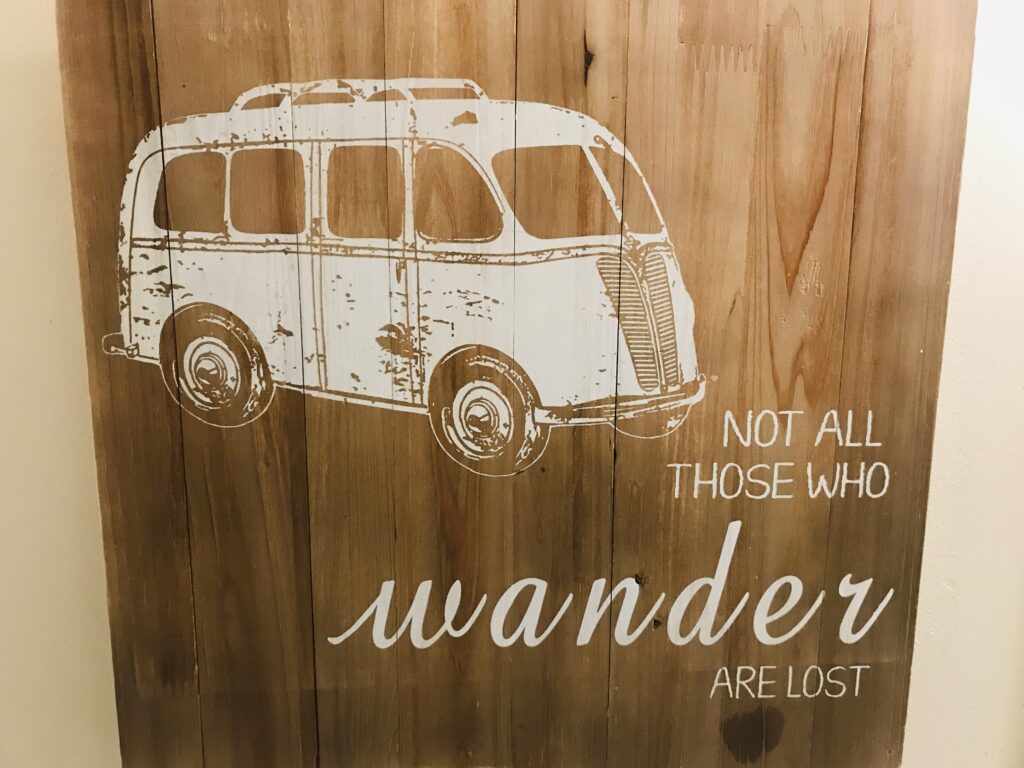 What was in our heads?
Monday morning as we left Florida and headed to South Carolina for a few days, my mind was asking me what are you doing? Nothing familiar is even in your life except, your husband and your car. We had sold our house, quit our jobs and our kids had grown up to leave us, as empty nesters. Here is the link to the blog about our traveling sabbatical if you missed it.
There was the excitement of freedom. This was especially true for my husband who was more than excited to not go back to work after working since he graduated from college. He had no regrets and was excited to leave the stress of life behind.
For me… a little anxiousness was in my heart. I knew God had it all under control, but the newness and not knowing what each day would look like made me wonder what was I doing?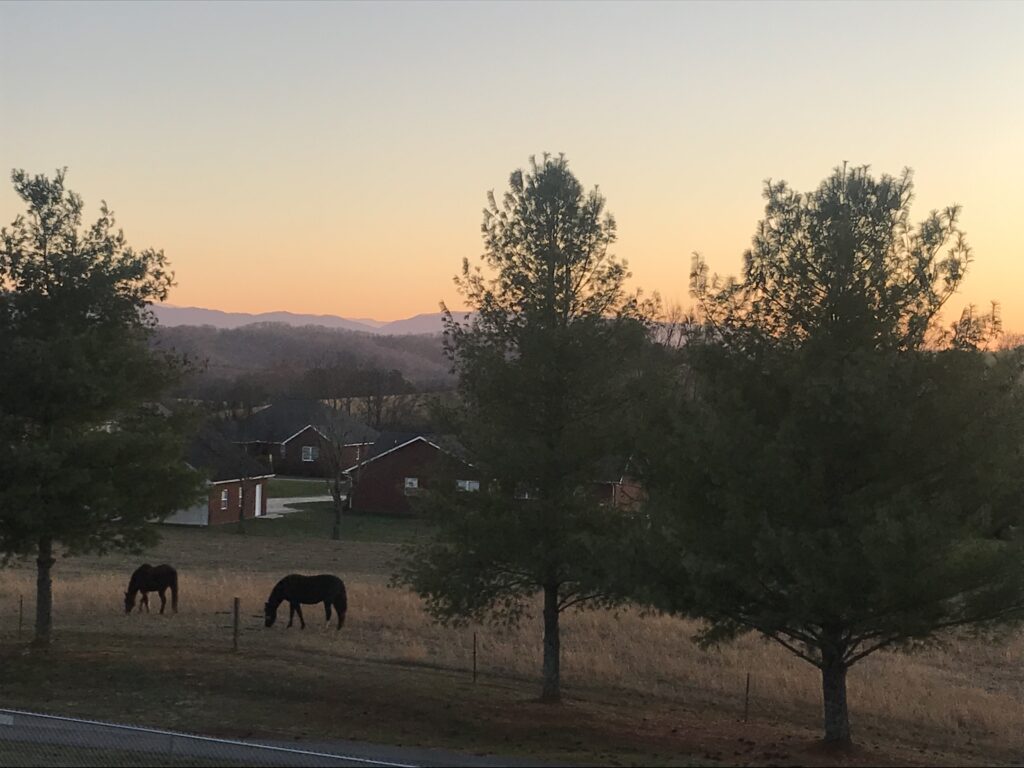 Airbnb Summary
All of our Airbnb hosts have been very unique in how they host and the places they live in. We have spent a lot of time visiting with most hosts but for a few it was brief. We have found that if our hosts are retired, they have more time to spend getting to know you and ask questions.
Our younger hosts have the demands of a job and will respond to you if you have questions for them. One host we did not see at all. All hosts can be learned from and give you information or ideas when you ask for it.
Many of our hosts have multiple dogs or cats living with them. If you don't like pets, then staying in an Airbnb may not be for you. I like them but glad they are not mine to care for.
We have enjoyed sharing meals with our hosts. For some, we have made them meals and others have said, "you are our guests tonight" and have made us meals. This is especially true for the retired hosts.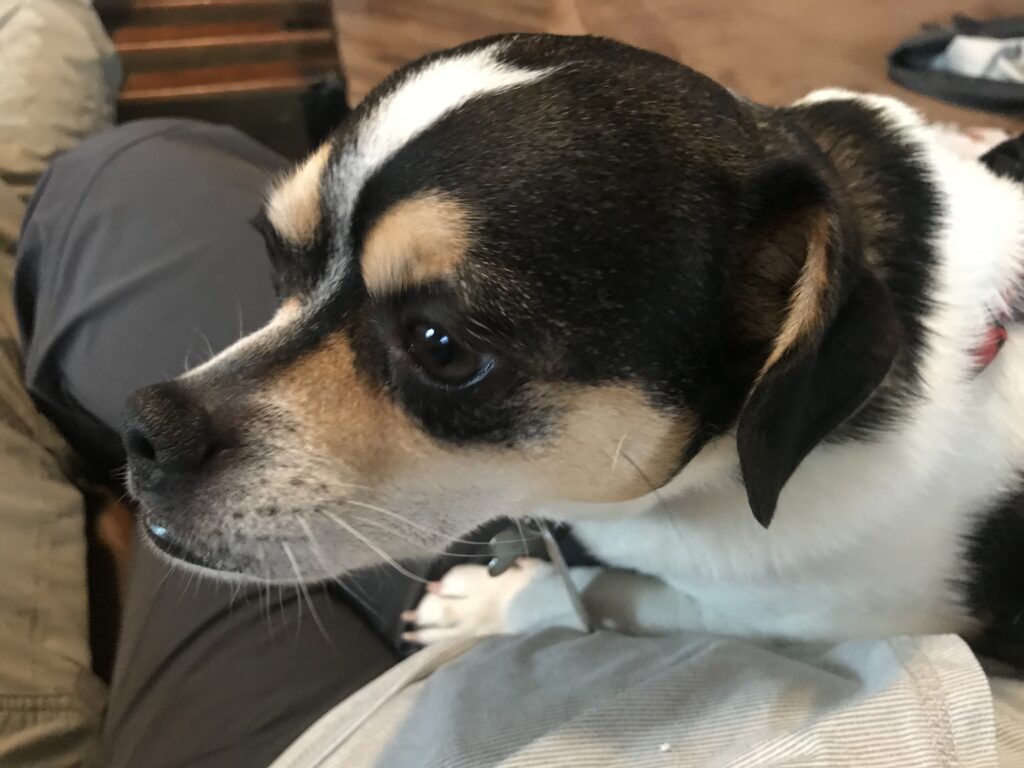 What I have discovered- Likes and Dislikes
I have discovered that my skin has grown thin and now when it gets 25 degrees to 35 degrees outside I am freezing. Yes, I did not bring my winter coat so that is part of it. Although we have not seen snow in the past 25 days and have had temps 20-70 degrees outside, I do not miss the snow. We have had to scrape our windshield a few times in Tennessee.
I have also discovered that I don't like hilly, and curvy roads. When you live near the blue ridge mountains in Virginia, North Carolina, South Carolina, and Tennessee you have to drive up or down or around. People drive fast around the curvy roads. I guess you know where I grew up….in the prairie of Minnesota on a Farm.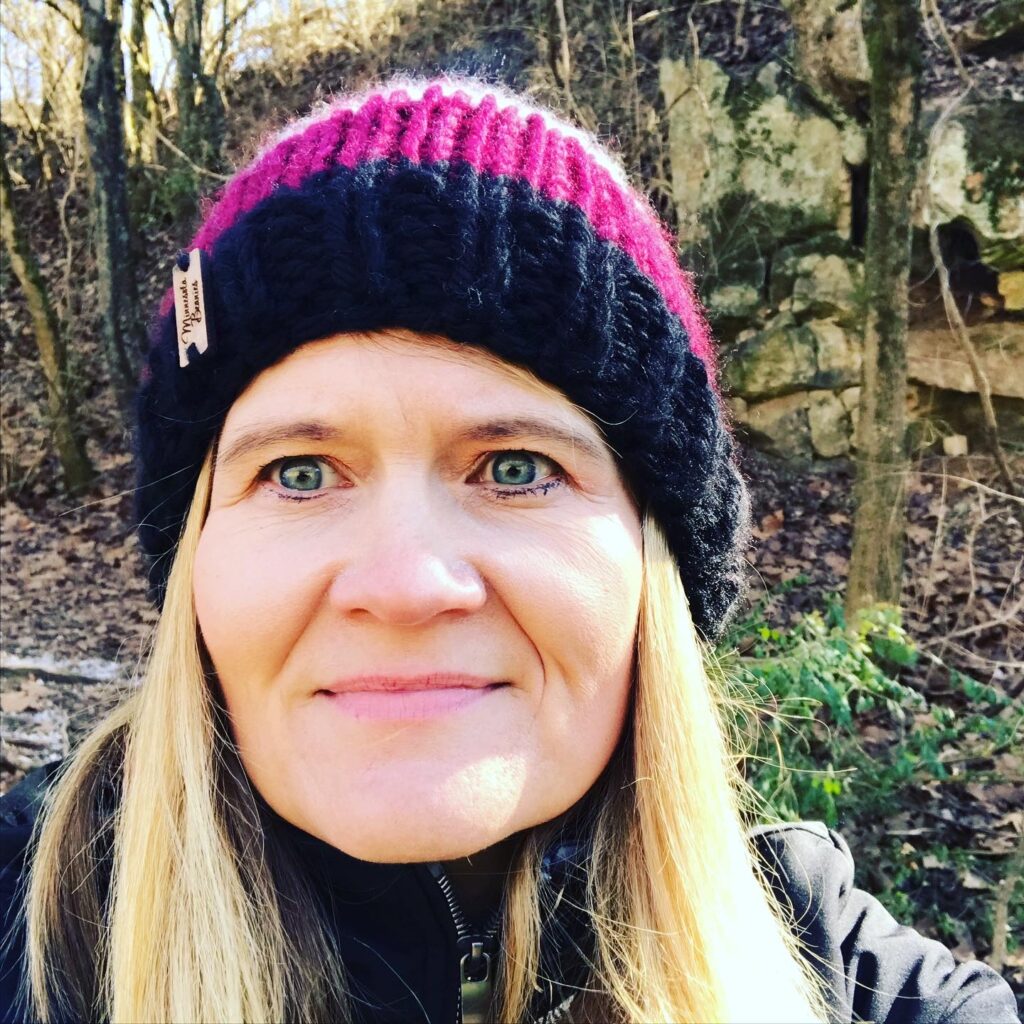 The other day when my husband and I were in our bedroom and I grabbed my bathroom bag just like a college student, I went to the bathroom to get ready for the night. I laughed when I came back. Here we are two of us married and it feels like we are living in a college dorm room. Except we can't go to the Dining Center for meals and we don't have that big of a social scene as we did in college.
Sometimes I just want to quit and go home to my bed, but I sold that too. This was very true the week my sinuses went crazy and they drained into my throat which made me cough. I just didn't feel my best for 4-5 days and we needed to continue our plan for the day. It was so cold those days. Much of our time was spent in the car and so we went to a movie, a bookstore and out for coffee.
Somedays you just get sick of being in the car. When you leave the Airbnb for the day you are always in route to the next hike or place you are going. The car has become our day home.
I have enjoyed the freedom of seeing new places, how people live, new stores, churches, new scenery and hikes. The quiet of life is nice. There is time to think when you hike or in the evenings when you read and write.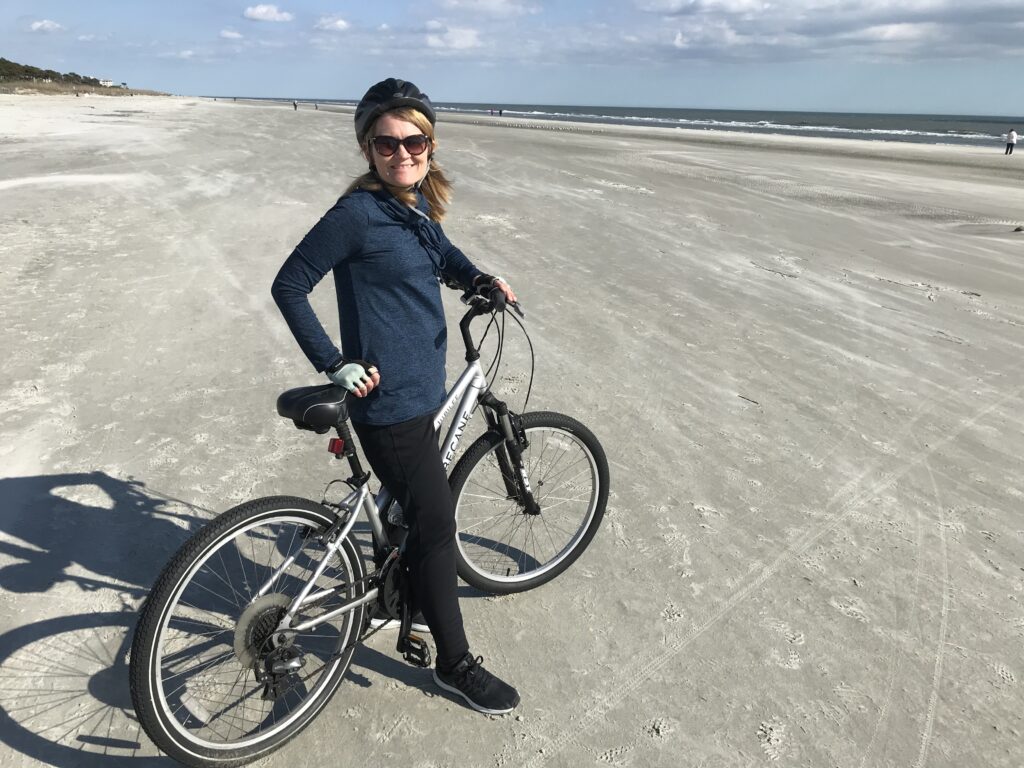 Day highlights of the first 25 days on the road
Florida to South Carolina
Day 1 ended with travel from Florida to our arrival at our first Airbnb in Bluffton, SC. We were greeted by a friendly host and cat and a very nice private room to start our travels.
Day 2- We biked 17.5 miles on Hilton head Beach and streets.
South Carolina to Virginia
Day 3 We Stopped at Billy Graham Library in Charlotte, NC and settled into conversation and tea with our Airbnb hosts in the evening in Lynchburg, Virginia.
Day 4 Drove to Charlottesville, VA and took a trolly ride around town to see the University of Virginia plus did the Monticello walk/hike for 2 miles.
Day 5 Self toured Liberty University Campus. Climbed 17.5 stories to the top of their tower. A walk on Heritage trail in town and War Memorial museum in Lynchburg. Supper with our hosts.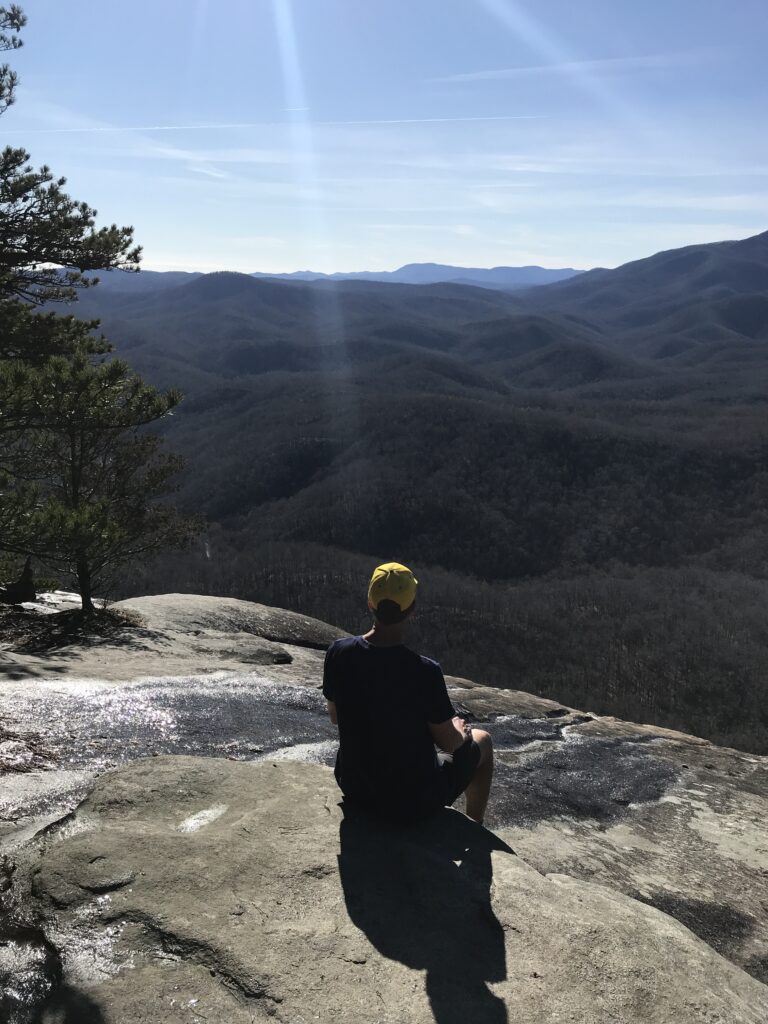 Virginia to North Carolina
Day 6 Drove to Ashville, NC in the rain and stopped at the Visitor Center. Arrived at Hendersonville, NC with our new host and dog.
Day 7 Attended the Biltmore church in Flat Rock, NC. Hiked Pisgah looking glass trail 5.4 miles and looking glass falls.
Day 8 Rainy day so we visited the chapel and Cove in Ashville, NC. We toured the French Broad chocolate factory and car toured the area. See blog on How chocolate is made- from bean to bar.
Day 9 We toured downtown Hendersonville, NC and visitor center on a rainy morning. Walked at a park in town and made Mexican food for our host.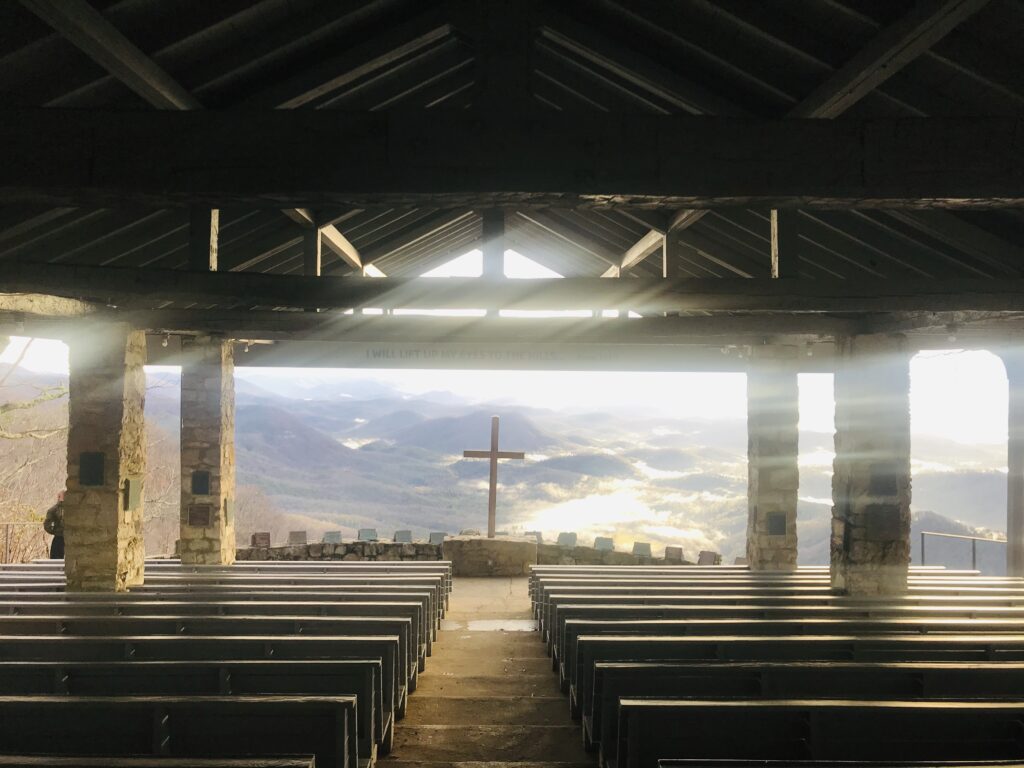 Daytrip to South Carolina
Day 10 Just as the sun popped up we were at Pretty place YMCA camp in SC. In a small town, we met a friend from age 16 for coffee. We biked 15 miles on the Stump Rabbit Trail in Greenville, SC from  Downton to Furman University.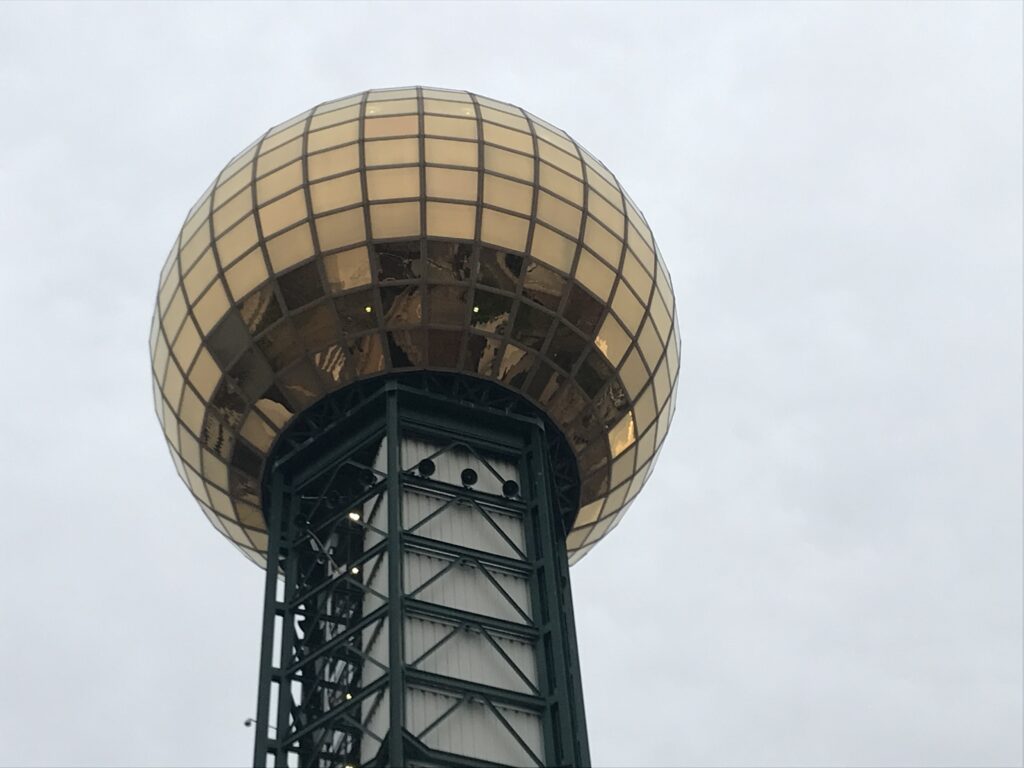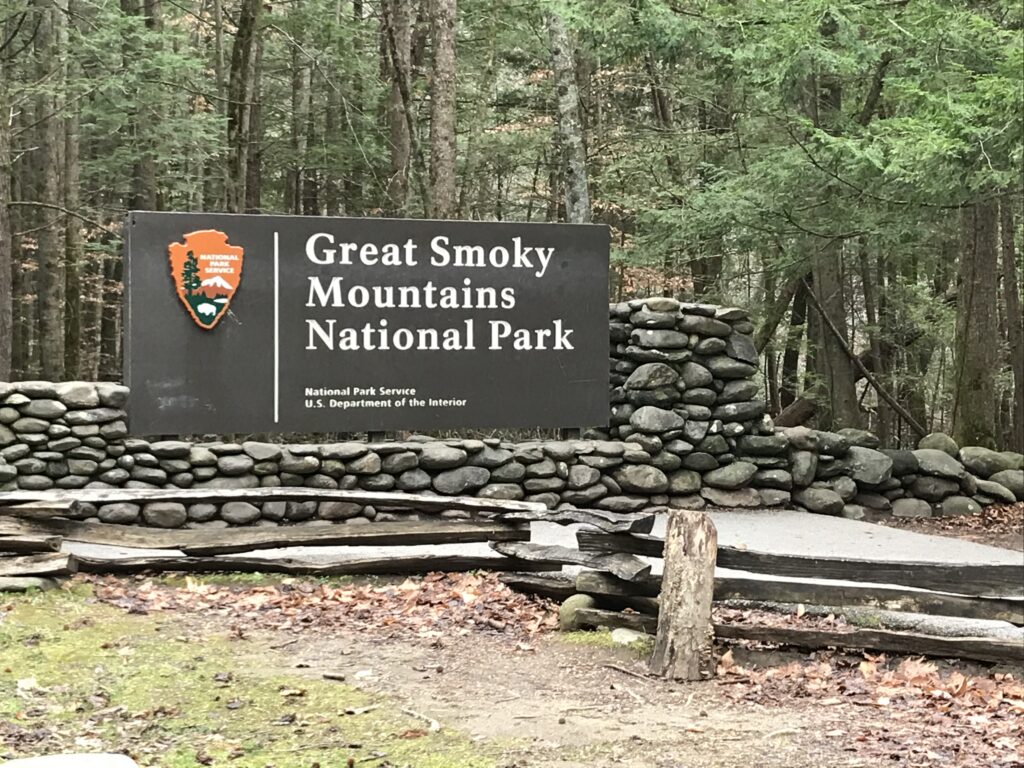 North Carolina to Tennessee
Day 11 Headed to Tennessee with stops at small towns of Johnson City, Kingsport, Bristol, and Knoxville visitor center. Met our hosts in Sevierville, Tennessee, and their three dogs.
Day 12 Headed to Gatlinburg visitor center. Hiked smoky national park- two hikes with 6 miles total.
Day 13 We left early to see downtown Knoxville since it was going to rain. Free bus ride, world fair site and the University of Tennessee. We visitied small towns in the area such as Oakridge, and Maryville. Our Host made us supper.
Day 14 Met other people in our Airbnb. Attended church at Oak Hills Baptist church, Pizza and laundromat, and some writing.
Day 15- 21 degrees this a.m. Drove around Reservoirs, saw a movie, bookstore and coffee. Made soup for our hosts.
Day 16 It's my Birthday. Nature center Hike, late lunch, free coffee date and brownies.
Day 17 Hiked House mountain trail north of Knoxville, Norris State Park walking path.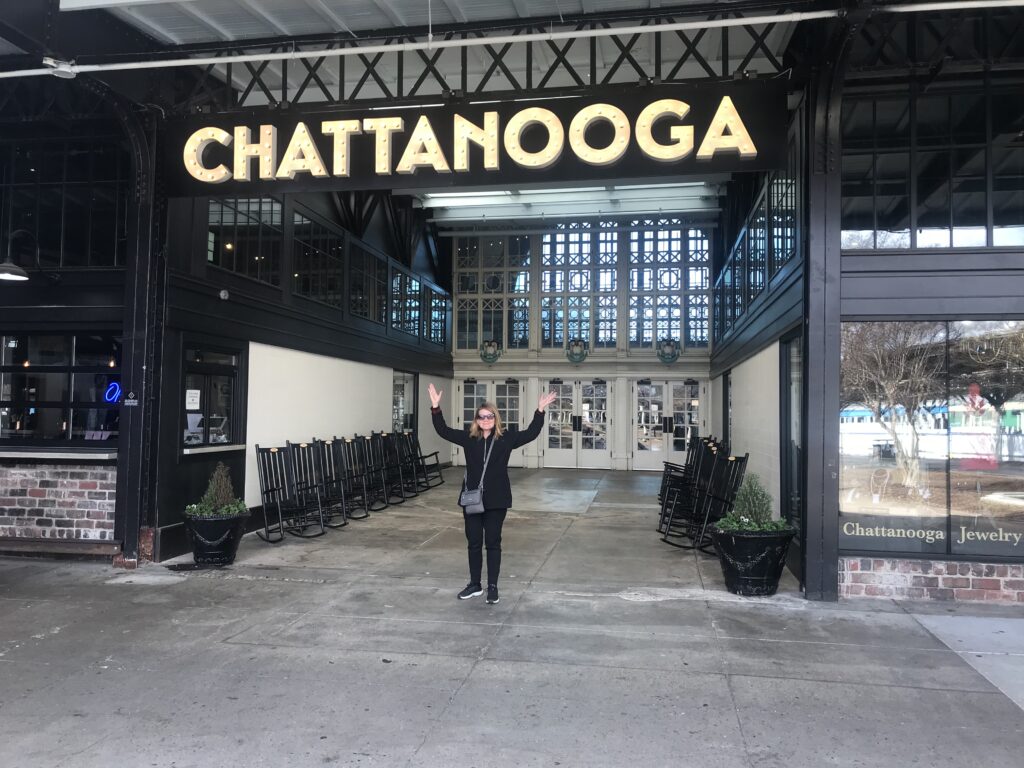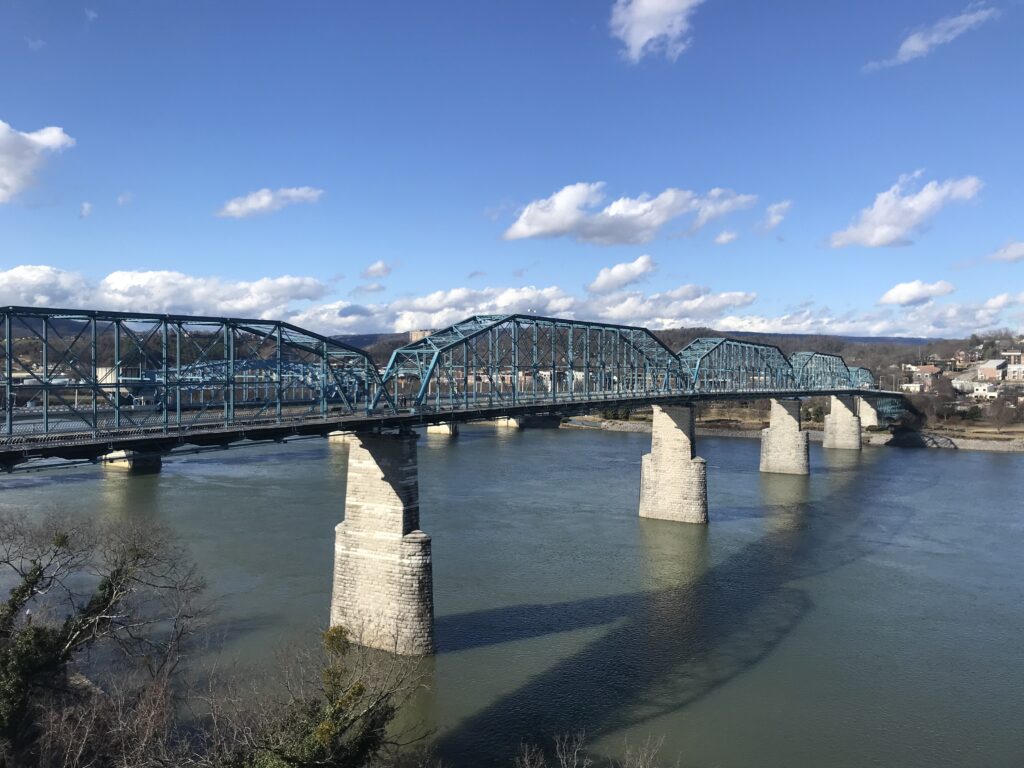 Still in Tennessee
Day 18 Left Sevierville in the rain and headed to Chattanooga. Toured area and checked into our Airbnb with two dogs.
Day 19 Headed to the visitor center, Free Electric bus tour, Northshore pedestrian bridge to the south shore and walked Downtown.
Day 20 Ruby Falls tour, Racoon mountain, Snooper Rock overlook and visited part of town where they have Volkswagen and Amazon distribution centers. Made our hosts soup.
Day 21 Church at Calvary Chapel Chattanooga. One of the pastors is from MN. Hiked Lookout Mt.- Glen falls trail and Sunset Rock Trail.
Day 22 Visited Chickamauga and Chattanooga Military National Park Service Military Site Museum and Drive. Hiked Stringers Ridge Park in Chattanooga.
Day 23 Left St. Elmo area of Chattanooga and hiked 5 miles in Georgia at Cloudland State Park. Checked into our Airbnb at Redbank.
Day 24 Found ourselves getting odds and ends done in life. Visited state parks and hiked 4 miles at Harrison Bay State Park on Lake Chickamauga.
Day 25 A beautiful 4.6 mile hike near the Chickamauga Creek with Waterfalls, Creek and a Gorge. Walked the Big Soddy Creek trail with aqua blue water.
Soon we will be headed to Alabama, Mississippi, and Arkansas for the next 25 days.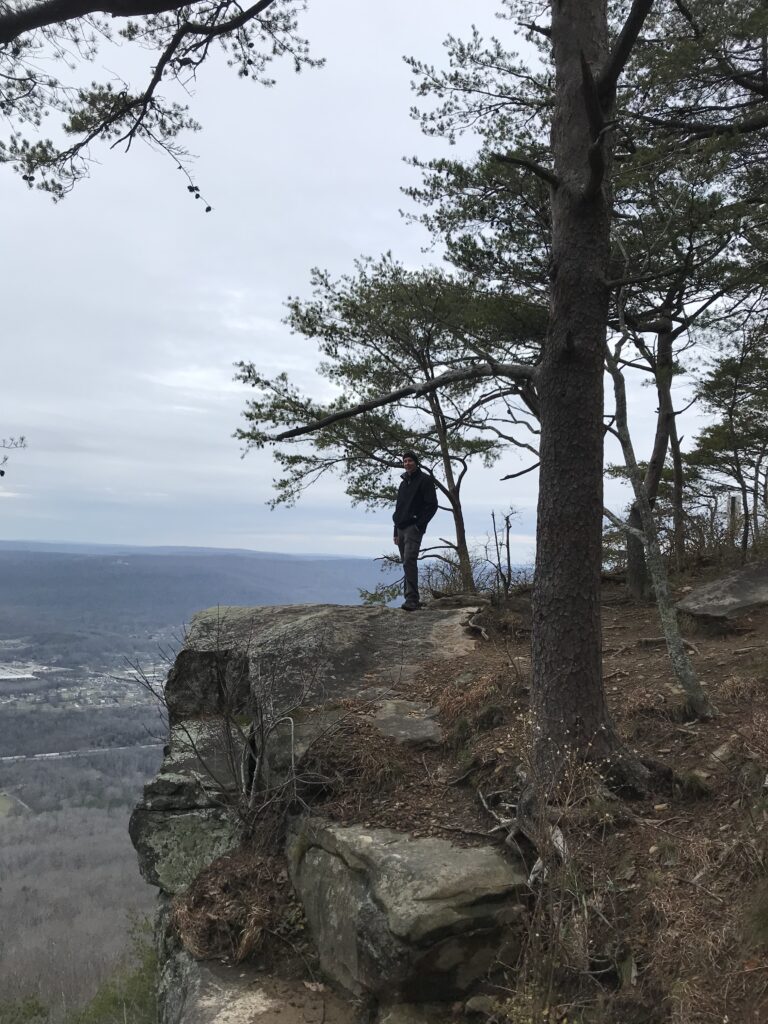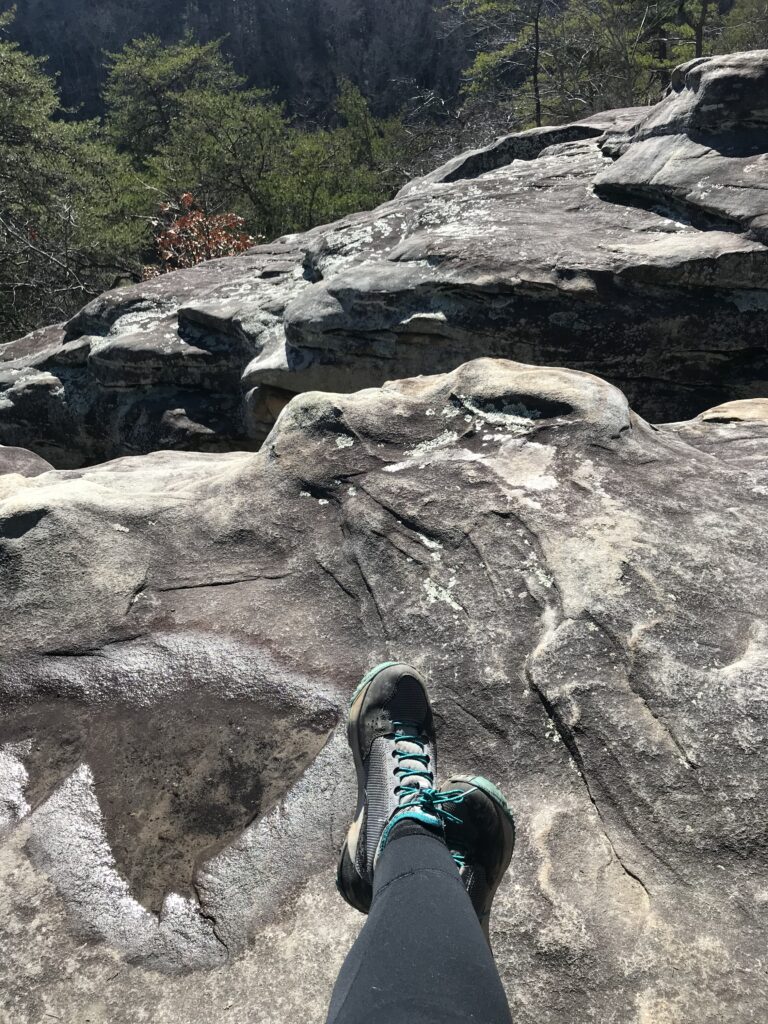 How Time is Spent
If you think "that's all you did?" Time is filled with grocery store visits, Walmart visits, laundry, bill paying, hair cut, car washes, social media, oil change, coffee drinking, phone calls, reading and writing in the evening as well as cooking and chatting with our host if it works out.
We hope you enjoy our adventures from day to day. This is the first 25 days of our traveling sabbatical. A daily story is posted on Instagram and you can find weekly pictures on Facebook.
Every day, week, host, state and area we stay at is very different. There are bits of all the places we have been to that I like and don't like. If I had to decide where to live, it would be hard. Glad I don't have to figure this out by myself or I would make the wrong decision.
God knows exactly where he will place us. He knows us. Here's to 105 more days of Adventure for us to tell you about. If we move back to Minnesota then its because he made me love the cold and snow!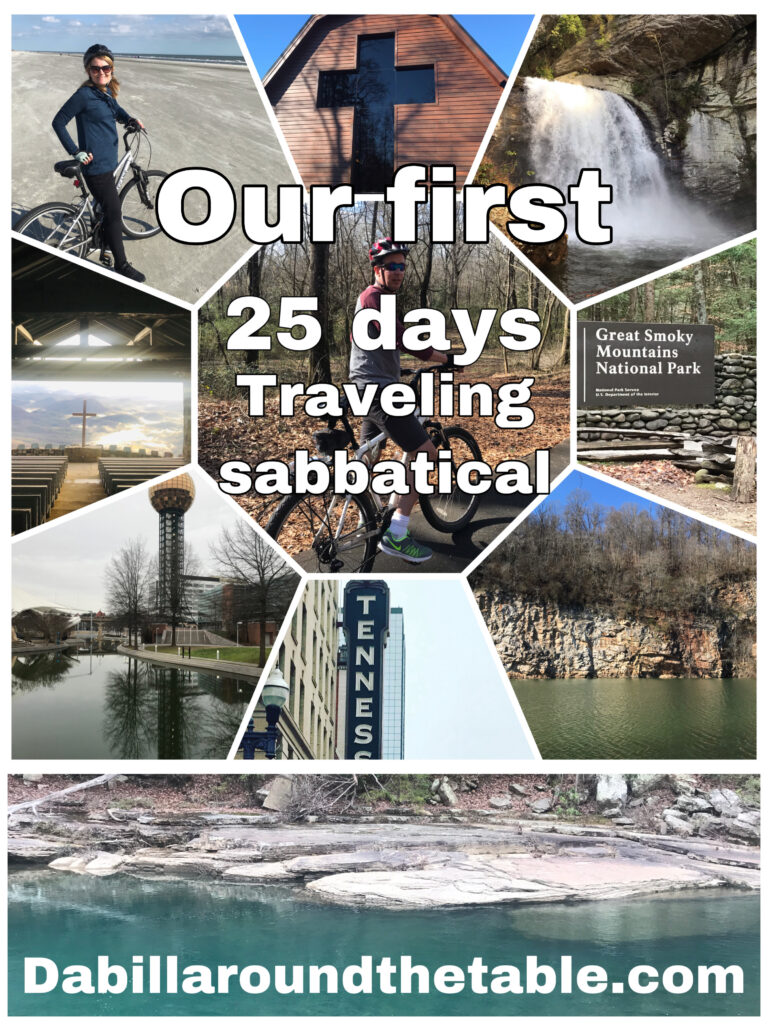 Subscribe to my emails of dabillaroundthetable.com at the bottom of the blog. One email a month to keep you updated.