You may think of fancy dresses, hats, ornate cups and saucers and teapots in the garden when you think of a tea party. I have hosted a few tea parties for all ages and would like you to get in on the fun to celebrate birthdays, retirements, teens, wedding showers or just because you want to. You are invited to my tea party table to learn about hosting one or try new recipes.
Decide what kind of party
Birthday, fun, wedding shower, celebration, or retirement. I have hosted a tea party for a 40th Birthday, girls from the youth group, my girl's 13th-year-old celebrations, and most recently a bridal shower.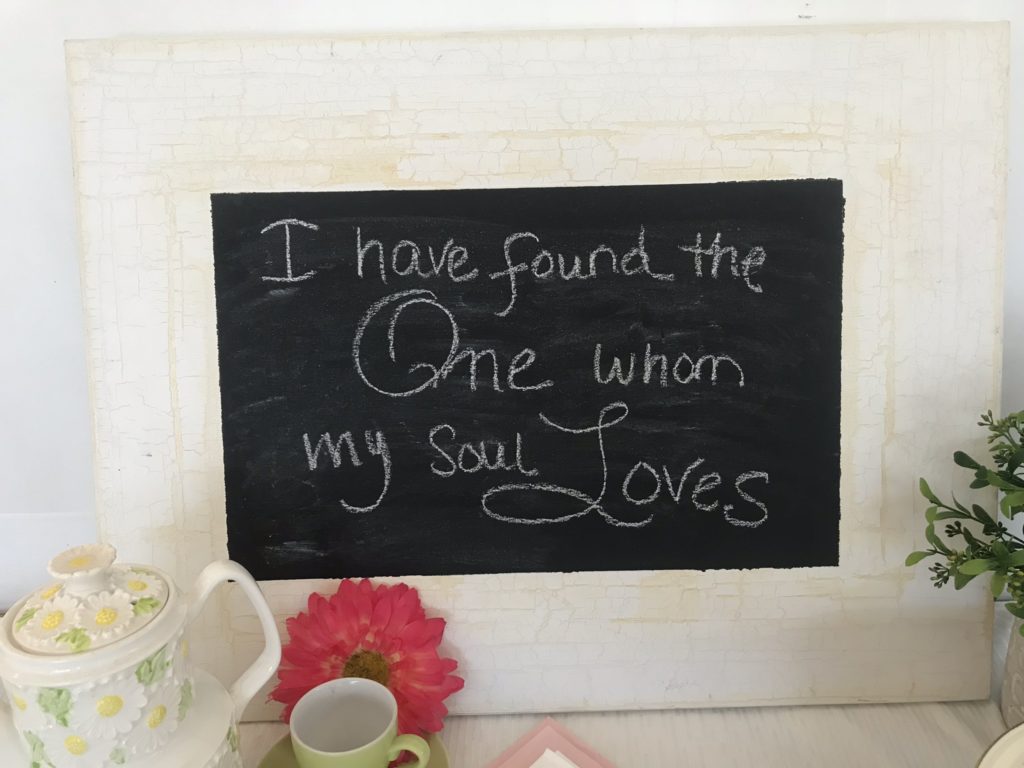 Invitations
Decide on the day. Usually, 2 pm is a good time, but a morning brunch tea will also work. Saturday or Sunday afternoons are good days of the week. Find a time your group doesn't work and can gather together. Send Invitations out one month in advance.
Decide who to invite based on the type of party. Keep in mind if you are doing it in your home/dining room you can only invite as many tables and chairs you have set up.
When we had a tea party for my daughters 13th Birthday party we invited friends and their moms from our church and family or influencers in their lives. We asked them to bring written advice to include in a special book.
When we had the bridal shower, we held it in our garage with tables set up and could have up to 30 in attendance. Maybe you can have this in your screened-in porch, or in your backyard.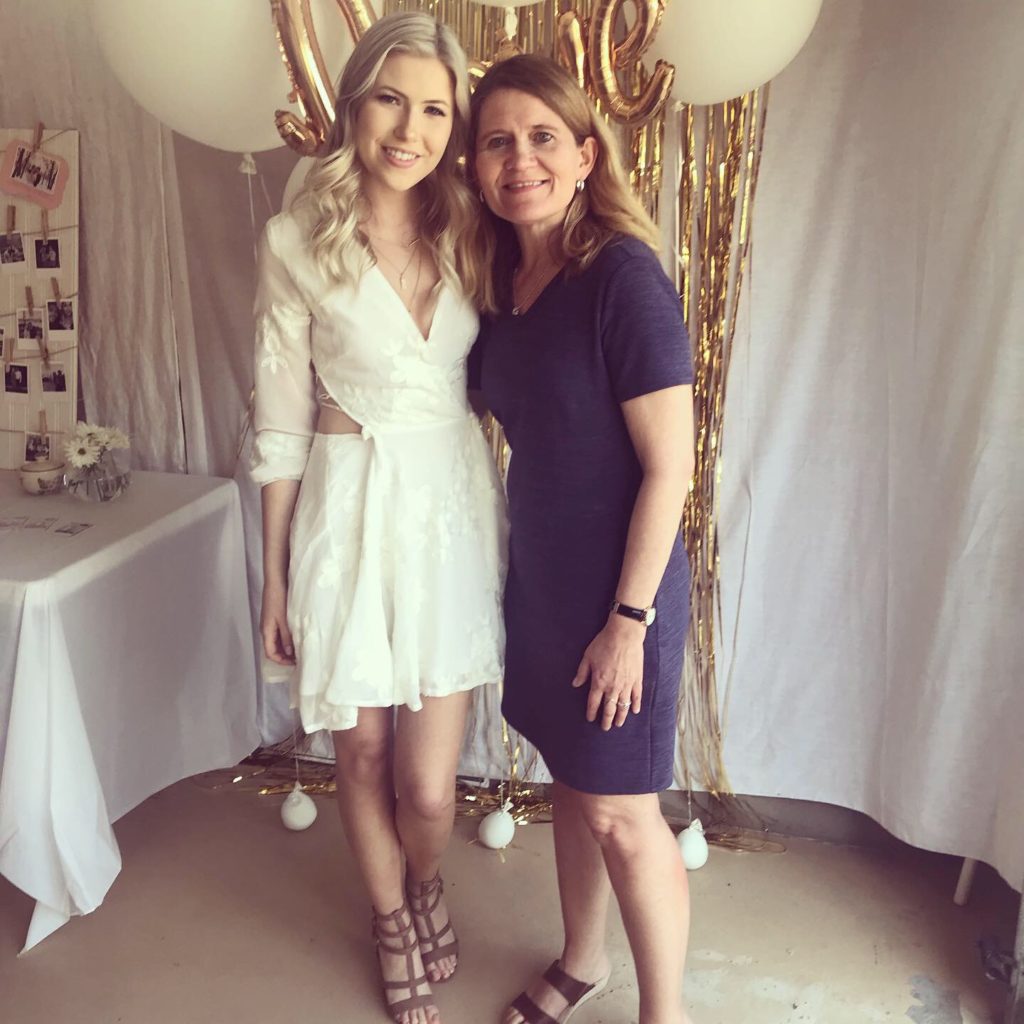 Dress
We just decided to not worry about this and they could come as they are. Some of us had jeans and some of us had dresses on. My relatives love to dress up, so they go all out and find dresses from thrift stores or garage sales to have fun. To them, it's a dress-up party.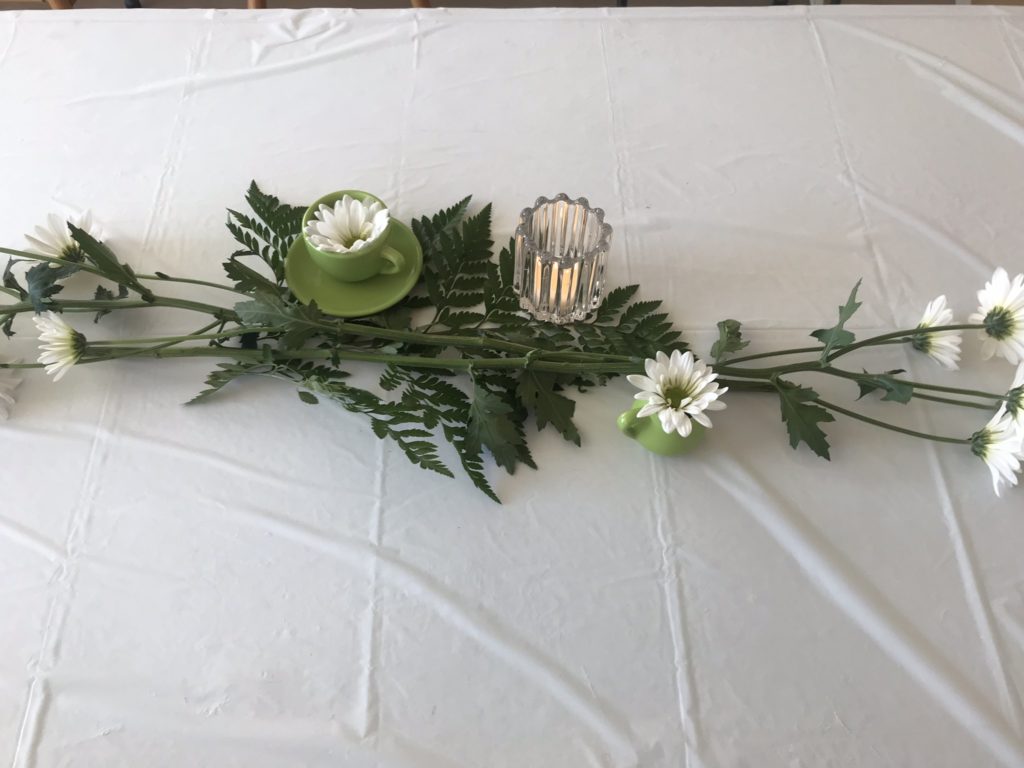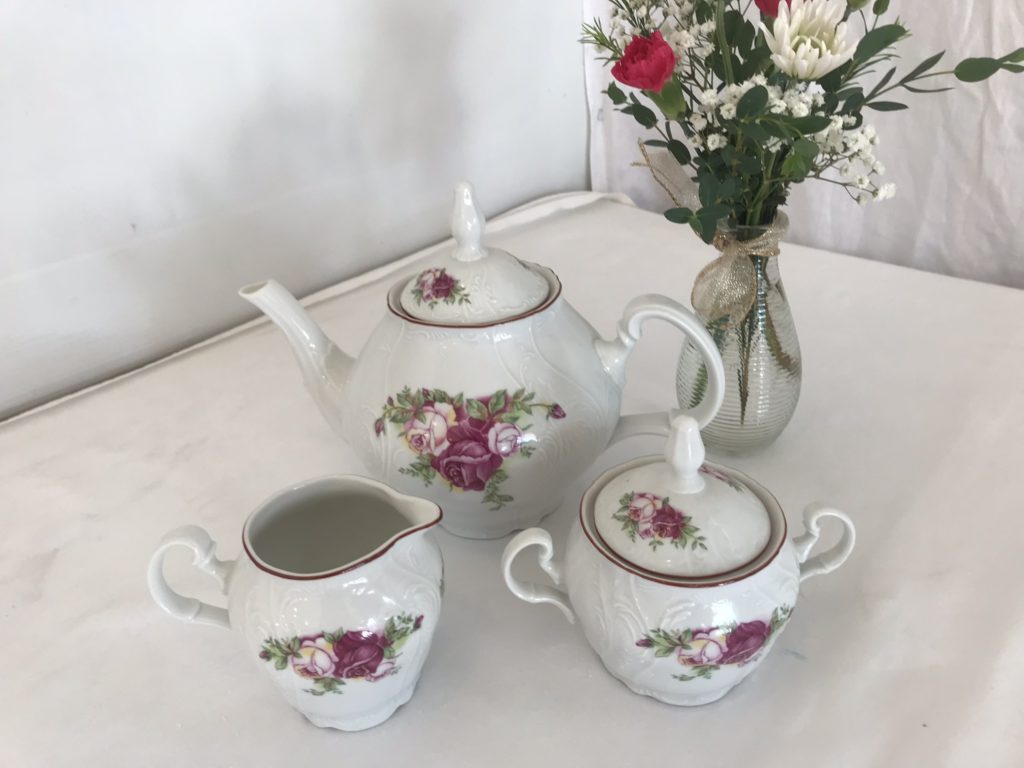 Decorations
This can be simple with a table cloth, fresh flowers and or teapots for centerpieces. My friend purchased simple fresh daisies and added them to the table with teapots and cups. We added some decorations by the serving area.
If you do not own teacups or pots ask around and see if someone has them to loan to you. Or you can find some at goodwill stores. Worse case is you use plain white cups and pretty plates for your tea and food.
Best decorating happens when things just happen. My sister said, "I have a tea set you can use." They worked perfectly with my white set of cups, saucers, and plates.
Pick some pretty napkins to fancy it up if you just have plain dishes. If you need to use paper plates, I give you permission but make them cute. It is fun with memories so just do your best.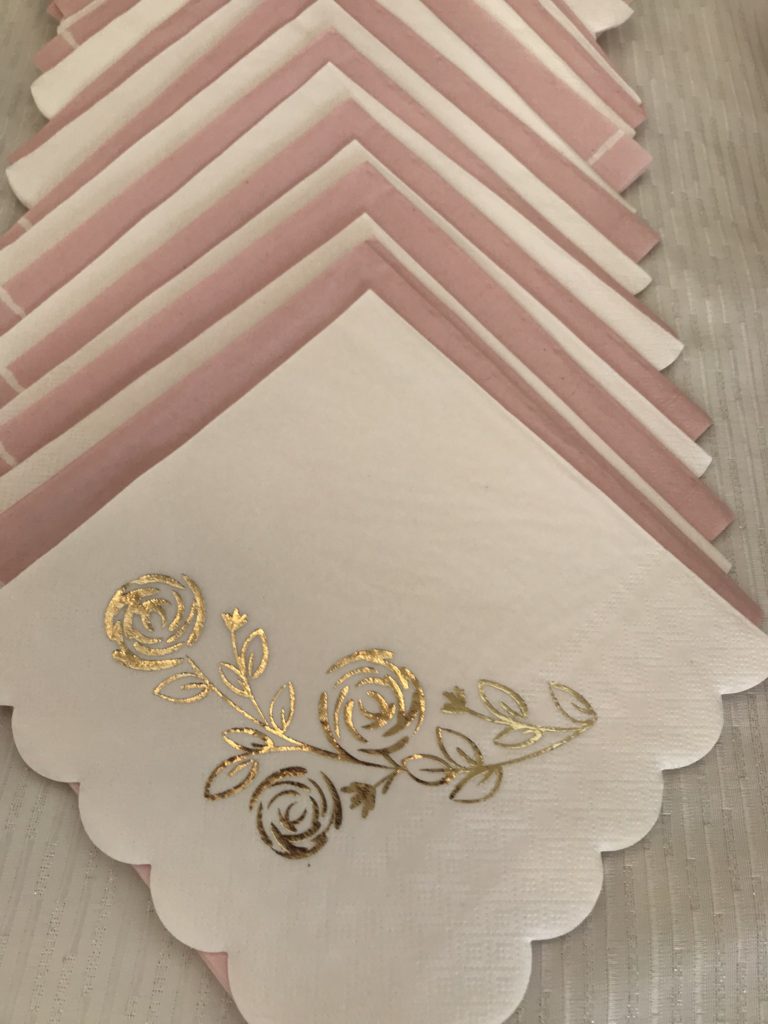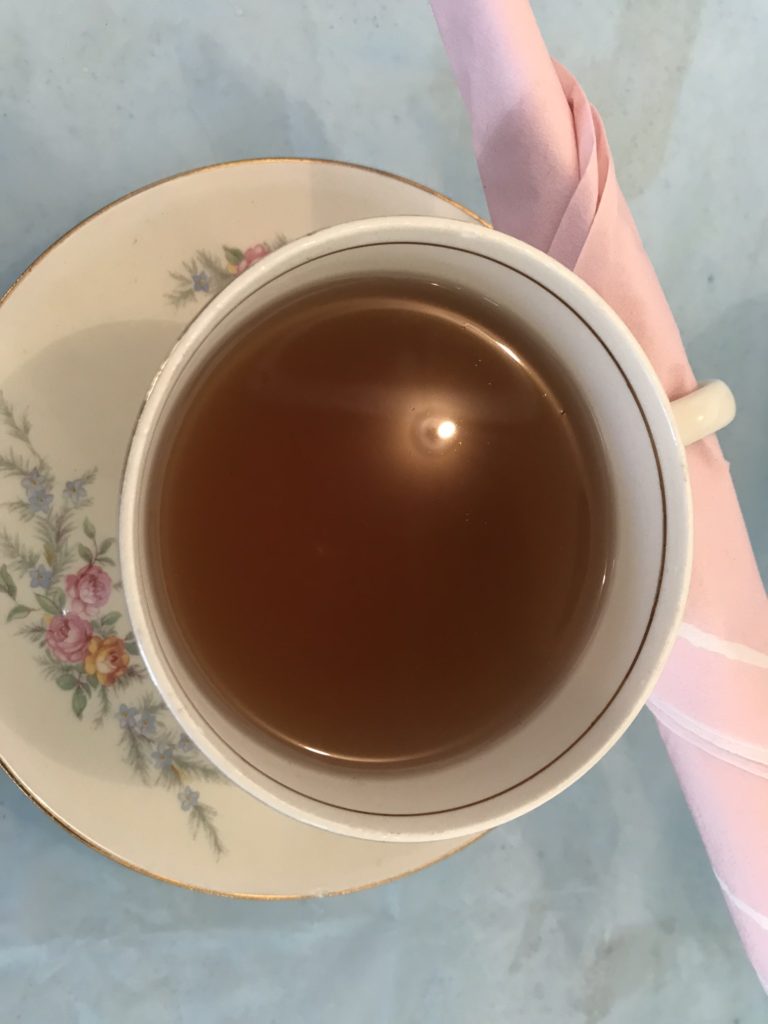 Tea
Most people say, "I don't like tea." I would say less than 50% don't like tea. I've got you covered. I have brewed a pot of black tea with some spices or used tea bags with hot water. If you want more information on Tea and kinds, read my blog on Tea.
Finally, for those that don't like hot tea. You can make some sweetened ice tea or soda pop tea. I enjoy the later cold teas when the tea party is on a hot day. Most everyone says yes to soda pop tea. The ladies really enjoyed this tea and were amazed at how easy it is.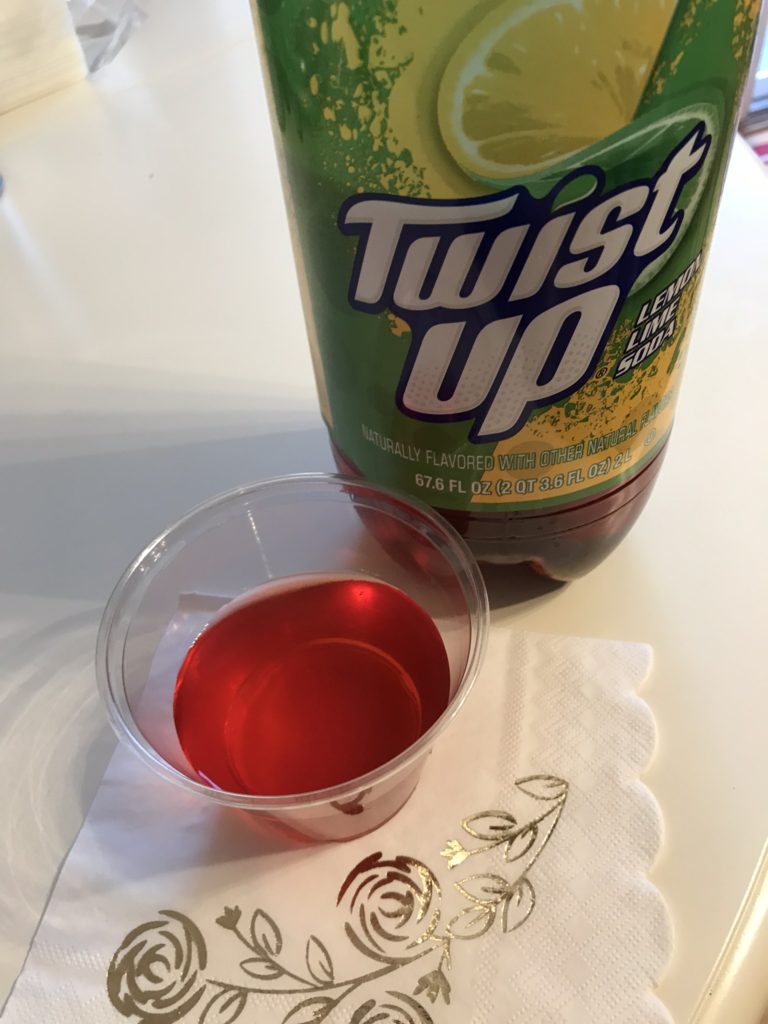 Soda Pop Tea Recipe
2 liters of lemon-lime soda (Sprite- regular or sugar-free)
4-5 tea bags of any fruit tea or green tea. NO zinger tea
Pour off ½ cup off the soda pop (drink or dump)
Add the 4-5 tea bags to the bottle of pop and close lid and refrigerate 24 hours. Pour into cups and serve.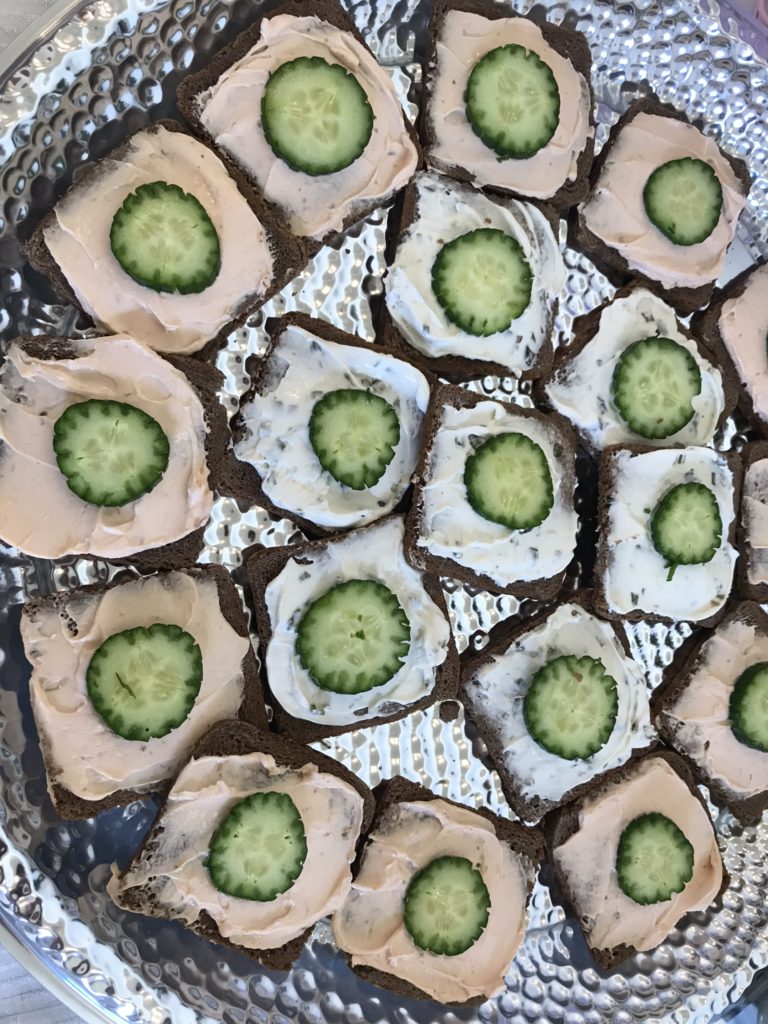 Menu Ideas
At my latest tea party which was a bridal shower tea party we had on the Menu:
Hot Tea, ice tea, infused water, and soda pop tea
Fancy filled fruit cake- known as Tatekakku in Finnish.
Scones- strawberry lemon and almond mini chocolate chip
Chicken almond sandwiches
Sandwich Squares with cream cheese spreads, and cucumbers on top
Trader Joes key lime pie cookies
Cut up Berries and Melon
We did not serve in courses but let each woman go through a line to get their food and then served them the tea of their choice at their table.
Activities
I like teas because it makes you feel like you are well cared for when someone goes out the way to be a little fancier. I really think it's the cup that does it. Your pinky just naturally sticks out and you feel so classy. I probably watched too many Downton Abbey shows.
You can add at the beginning or end of your tea your celebration activities to bring the group to together. Don't forget to introduce people if they don't know each other. Anytime women and kids gather together it is a memory.
I hope you will be able to experience a few Tea parties in your life. Sticking those pinky fingers out with your friends just makes you feel good about life. Get on it and plan your next celebration with a small or large tea party.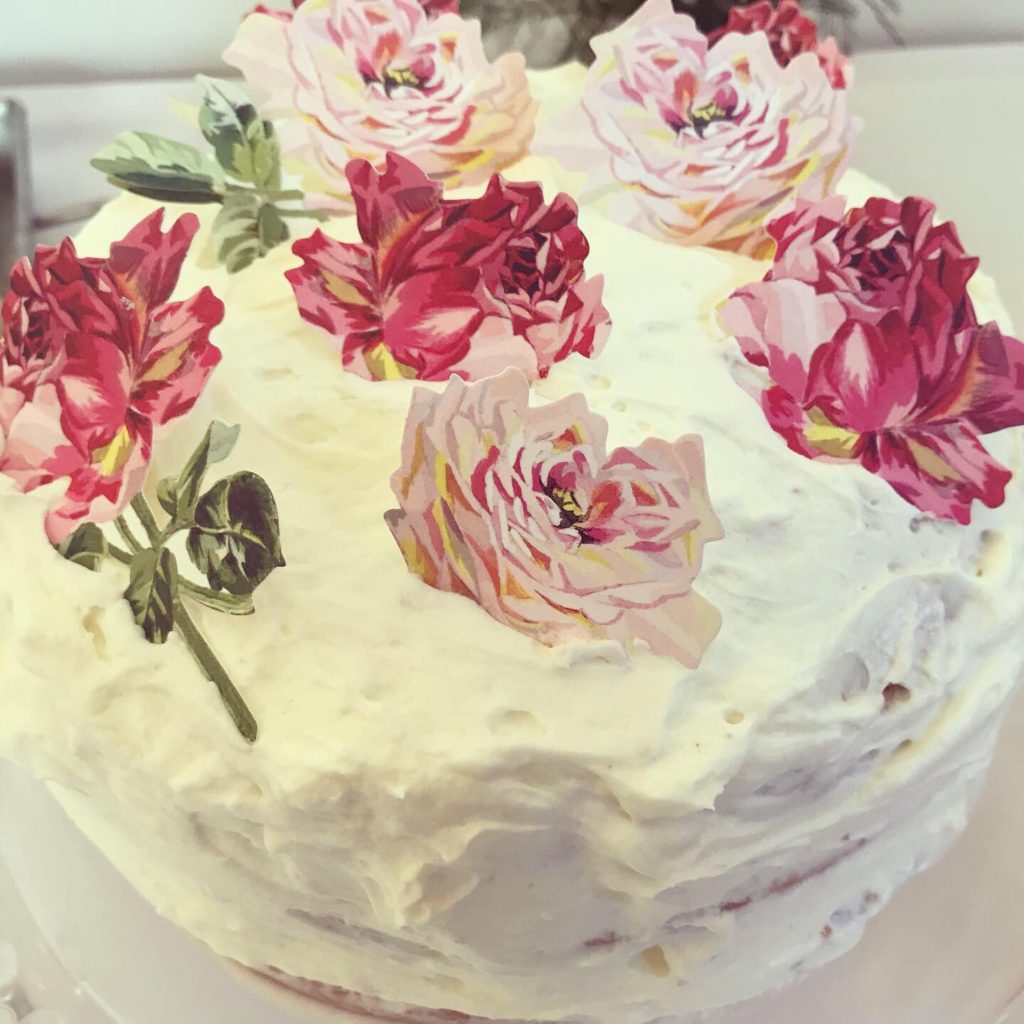 Tatekakku- Fancy Filled Fruit Cake Recipe
4 eggs
1 C sugar
1 cup flour
2 tbsp cornstarch
1 tsp baking powder
Dash of salt
Beat eggs until light and fluffy. Add the sugar. Gradually beating until thick. Slowly fold the flour, cornstarch, and salt into the egg mixture. Pour into 2 greased and floured 8 inch round pans and add rounded cut parchment paper to each pan.
Bake 350 degrees for 35-40 minutes. Remove from pans and cool on a rack. Split each cake so you have four layers.
At this point, you can freeze the layers if you made ahead for assembling the cake on the day of serving.
Layers/Filling
1 can crushed drained pineapple
2-3 bananas sliced
3/4 to 1 cup Fresh Strawberries sliced
Mix the drained pineapple juice and some orange juice for the moistened mixture.
4 cups of whipped cream slightly sweetened
Assemble
Put the first layer on plate moisten with a few spoonfuls of juice mixture. Add crushed pineapple on top of the layer and whipped cream.
Top this layer with the next ½ cake and moisten with liquids and add sliced strawberries and whipped cream.
Add the last cake layer and moisten with liquid and add sliced bananas and whipped cream.
Top with the last layer cut side down. Frost whole cake with whipped cream and decorate with fruit, almonds, berries or coconut.
Serve with a spoon within 2-3 hours or refrigerate.
At the Briday shower, I decorated it with cardstock flowers. Feel free to decorate with fruit or edible flowers.
Chicken Almond Sandwiches Recipe
1 12.5 ounce can of Kirkland chicken chunks
1 tsp lemon juice
½ cup slivered almonds
½ cup mayonnaise, just enough to blend ingredients.
Salt and pepper to taste.
Mix and spread on white bread and add slice of bread on top. Trim crusts off and slice diagonally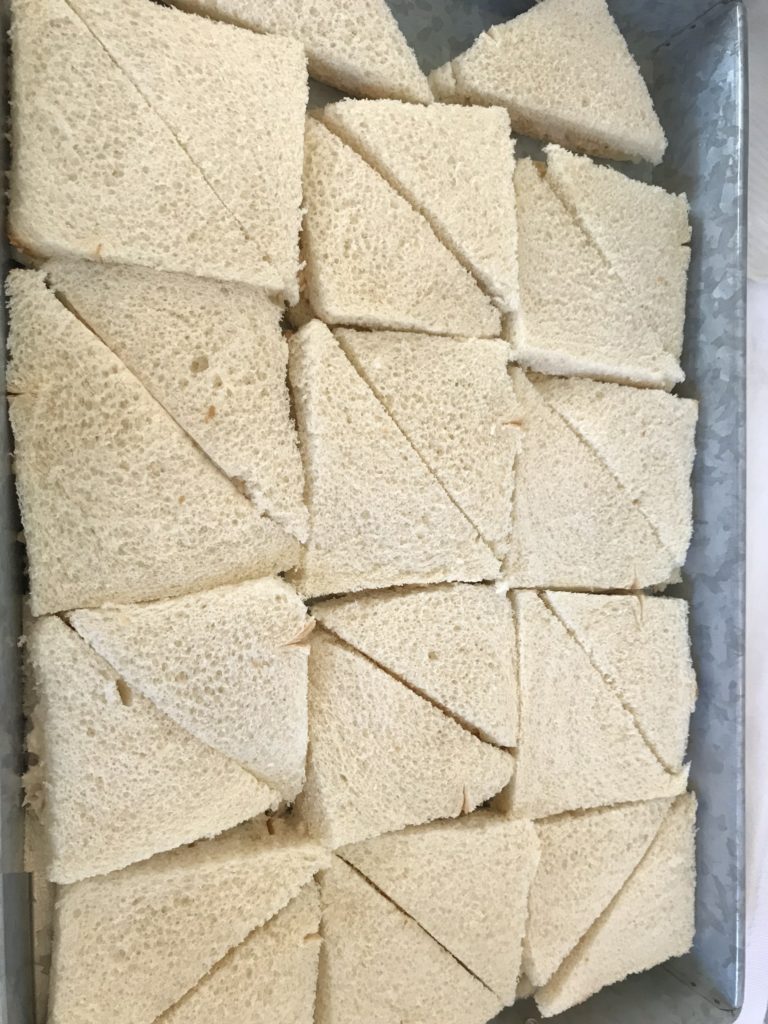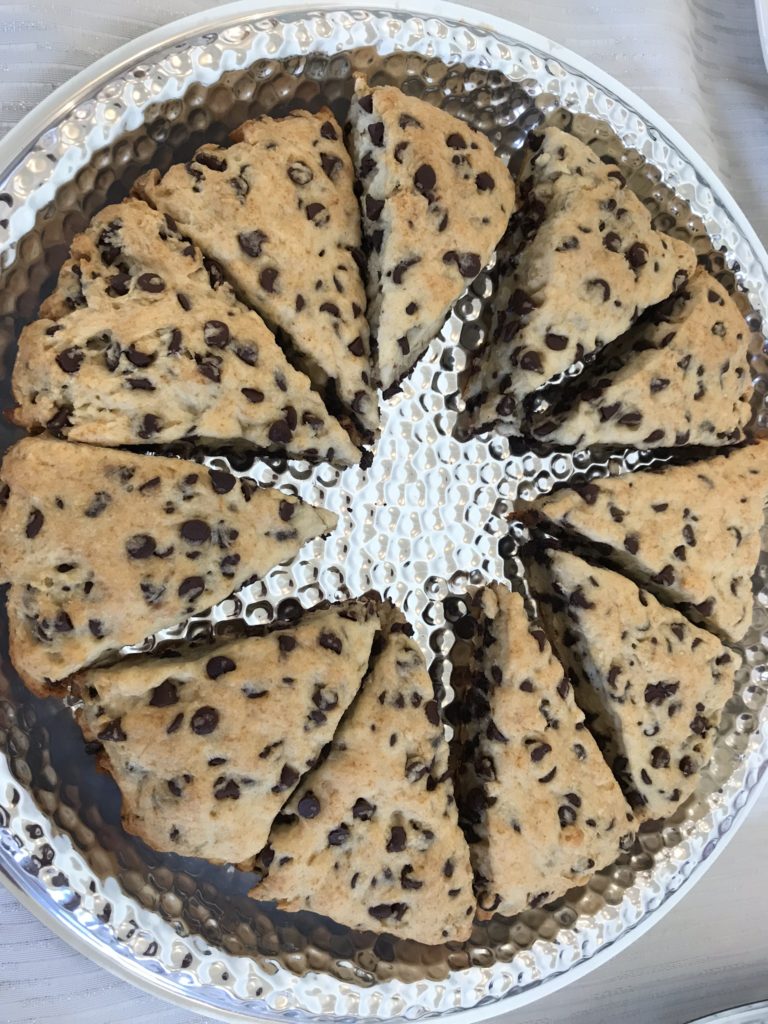 Scones Recipe- subscribe to Email
This recipe is easy and delicious. I can't even go out for scones, because I know how easy they are to make. If you go to the bottom of this blog and sign up for my email list dabillaroundthetable.com through mail chimp.
I will send you my scone recipe in your welcome email. This way you can print it off and you are set. You will get an email once a month with a new recipe, links or tips. If you signed up and didn't get an email, check your junk box it's through mail chimp/dabillaroundthetable.
Use your recipe and add almond extract and mini chocolate chips or add ¾ cup freeze-dried strawberries and 1 TBSP grated lemon to your scone recipe/mix.