It's the most wonderful time of the year. Tis' the Eggnog Season- It's Eggnog time. For only three months this food item shows up at the grocery stores. Gather at my table and I'll share eggnog recipes you can enjoy as well as extras calories for the relative that struggles to gain weight.
Extra Calories
Yes, there are people out there that struggle to gain weight. This might be the student or athlete who puts out more energy in a day than they can eat. For some, especially the elderly, they just are not hungry and tend to eat less. Finally, for some, it's the loss of appetite and weight loss with a recent medical problem.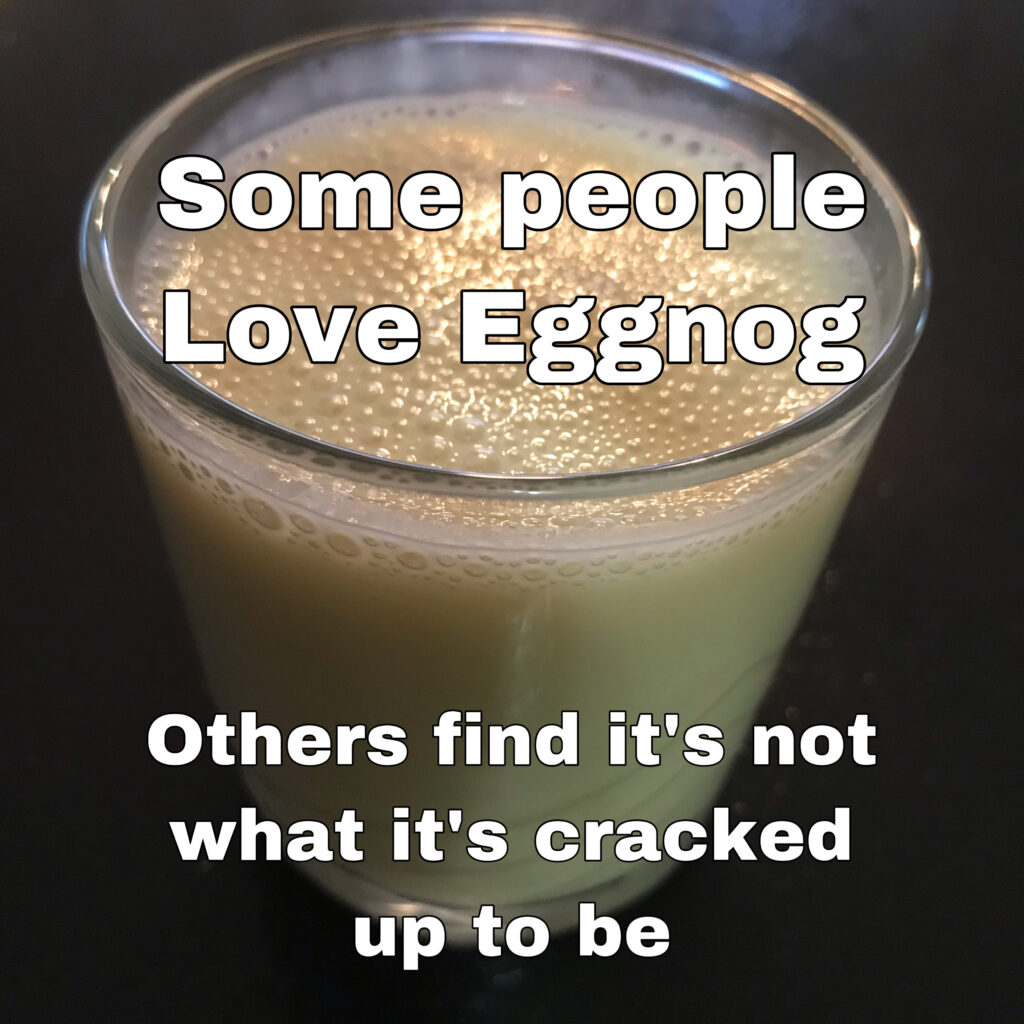 Moderation is the Key
For the rest of us, eggnog is good but very high in calories. Let's use it in dishes to get that taste or enjoy it sparingly in your favorite foods. Good thing it's only available for a short time because moderation is the key. Its how much you drink it and how often you drink it.
Eggnog is traditionally known as milk punch and is served chilled. It is a sweetened beverage made with milk, cream, sugar, whipped egg whites, and egg yolks. Spiking Eggnog came from the colonial Americans who came from England.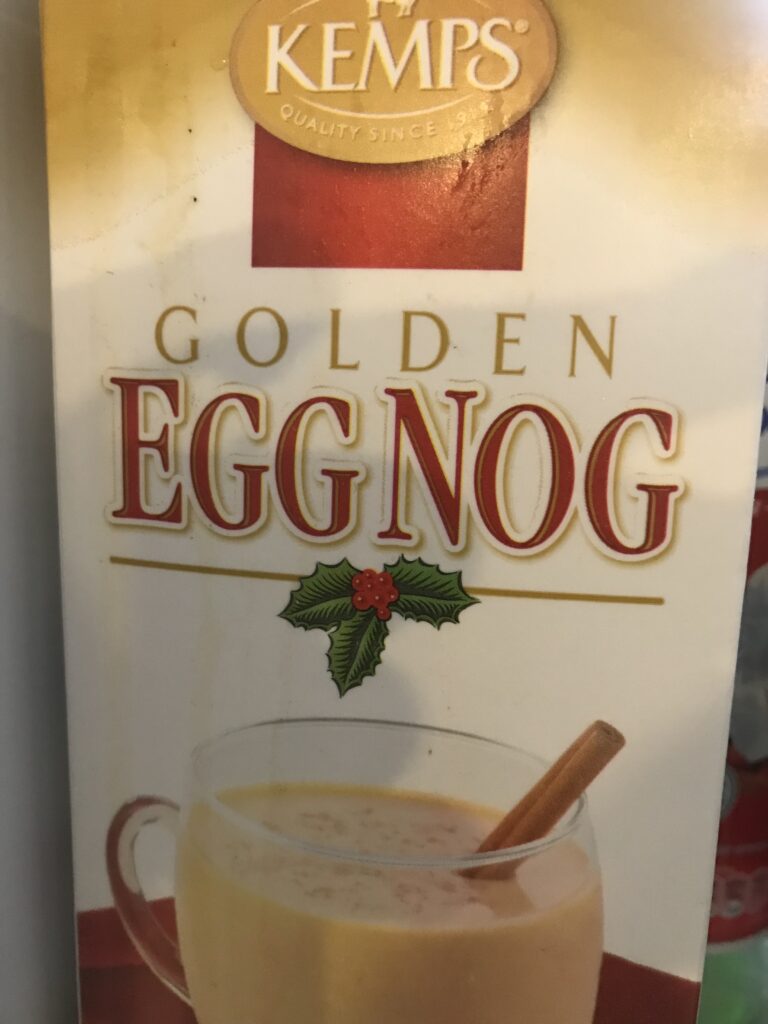 Eggnog Nutrition Facts:
1/2 cup= 180 calories, 9 grams of fat, 20 grams Carbohydrates, 19 grams of sugar and 5 grams protein.
Ingredients listed on Kemps Brand: nonfat milk, cream, egg yolks, corn syrup, flavors, nutmeg, water, and guar gum. Kemps link
Eggnog contains high amounts of fats and sugars. One cup is 360 calories. Now compare that to one up of nonfat milk which equals 90 calories. If you are avoiding sugar, than Eggnog is not for you. Good thing it is not around all year long.
This is why if you hand eggnog to someone struggling with weight gain, it works for them. For the rest of us, because it's so rich I would suggest mixing it with non-fat milk. Same taste, less richness.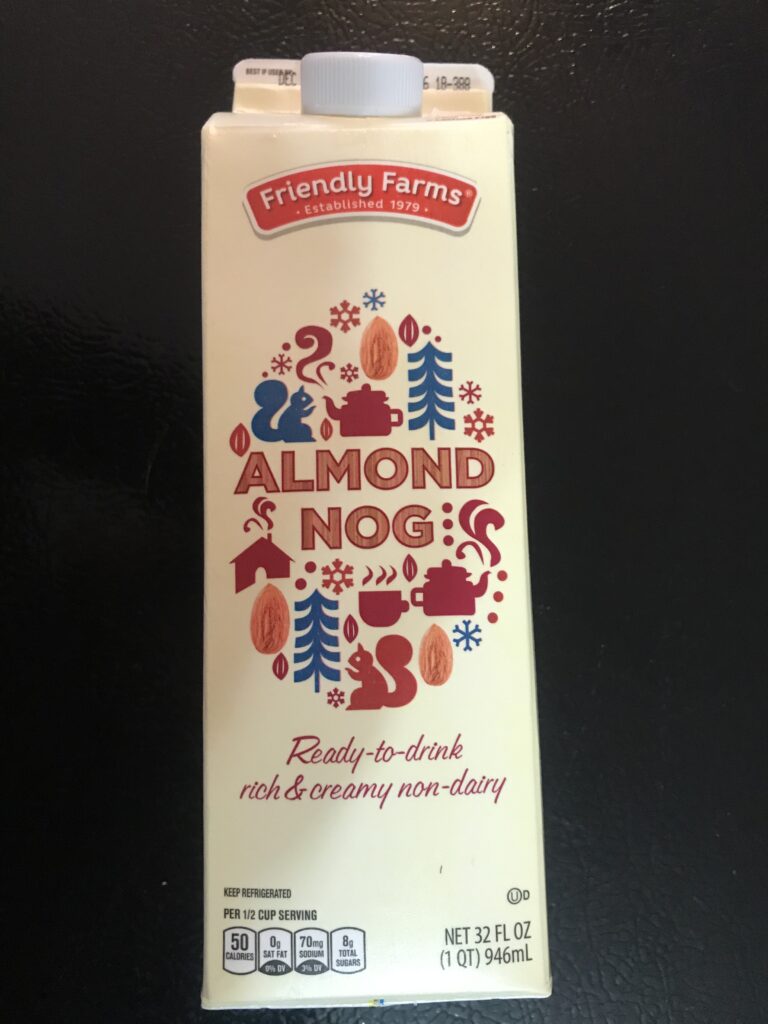 Lower Fat Options
Light Eggnog-You can also buy light eggnog and that will reduce the calories too. Light Eggnog says 50% less fat and 26% fewer calories on some brands.
Almond Eggnog- I recently tried Almond Eggnog from Aldi. This only had 50 Calories for ½ cup and 9 gm carbohydrates and 8 grams sugar. The protein was lower at 1 gram. I did not like it added to my coffee because I could not taste it. It was good to drink alone, but I did not like the almond after taste. If you like almond milk you may enjoy this alternate.
Add Eggnog to coffee for a taste– I also would suggest adding a little of it to your coffee to enjoy the taste of an eggnog latte but not a full cup of eggnog. You can only do this for a few months.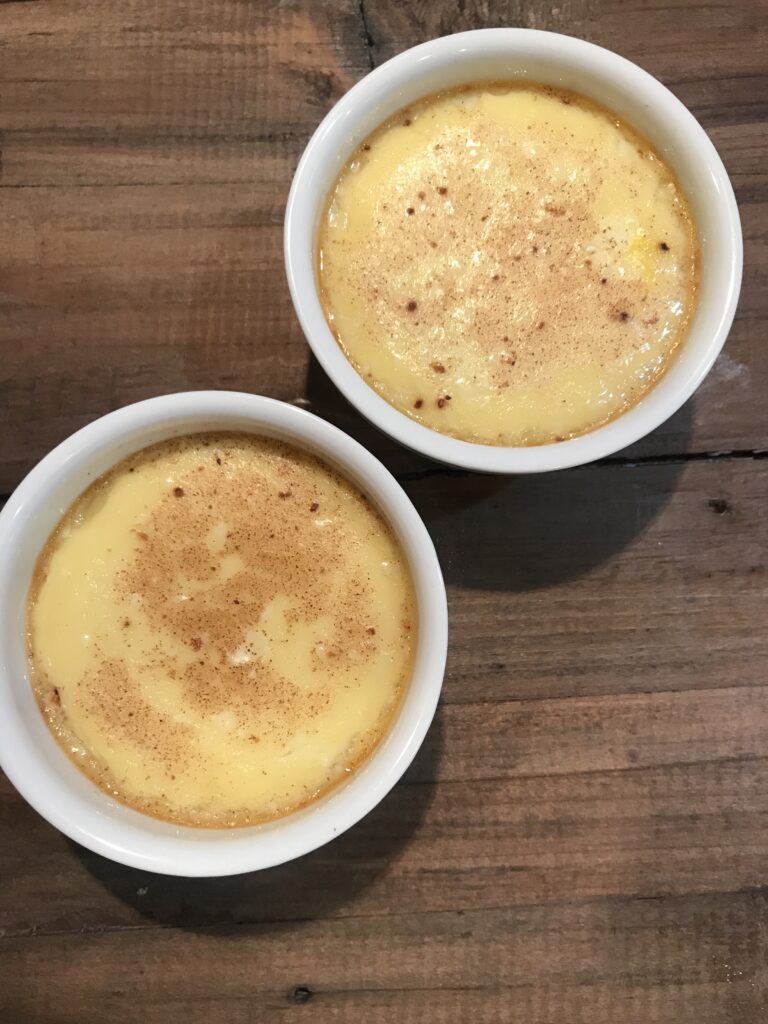 Eggnog Custard Recipe
I have also made an eggnog custard. This is a great dessert for a kid or older adult who has a hard time gaining wt. Take the standard custard recipe and add ½ eggnog for the eggnog flavor. Here is what that looks like for a recipe.
2 eggs
2 TBSP sugar if desired
Dash salt
1 cup warm milk
1 cup Eggnog
1 tsp vanilla
Sprinkles of nutmeg
Beat eggs, sugar, and salt with an immersion blender. Blend in the warmed milk, eggnog and add vanilla. Pour mixture into 6 custard cups. Sprinkle nutmeg over each cup. In a 9×13 baking pan add 1 inch of hot water. Place cups into the water and bake at 350 degrees for 45 minutes until set.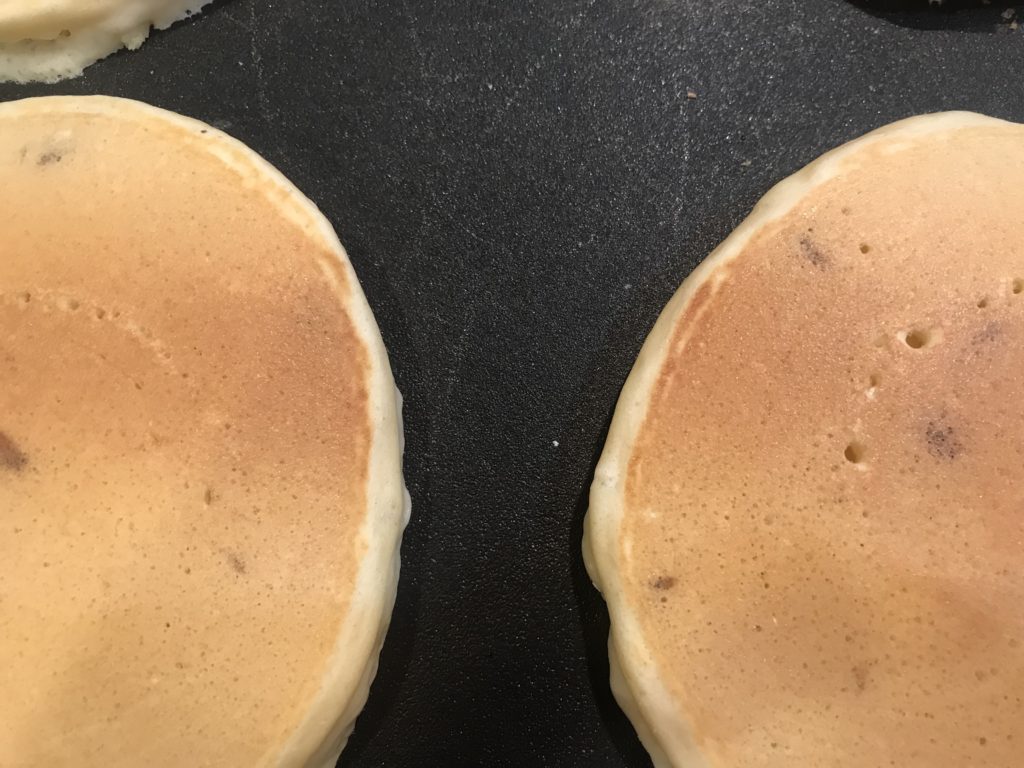 Eggnog Pancake Recipe
Eggnog pancakes are fun to serve around the holiday season. We make a large batch to enjoy and then freeze the rest for some quick breakfasts.
When making homemade pancakes. Make eggnog pancakes instead. These are delish. Here is the recipe I use below.
3  cups light or regular eggnog
¾ cup nonfat milk
2 eggs
2 TBSP Baking Powder
¼ cup melted Butter
3 cups flour
¼ cup mini chocolate chips.
Blend together all ingredients except the mini chips with an immersion or handstick blender. Add mini chips. Ladle onto the griddle and cook until side is bubbly and flip until golden. These are delicious alone or with whipped cream on top. For added calories add maple syrup on top. I like mine plain.
See Blog on Immersion Blender: let me count the ways.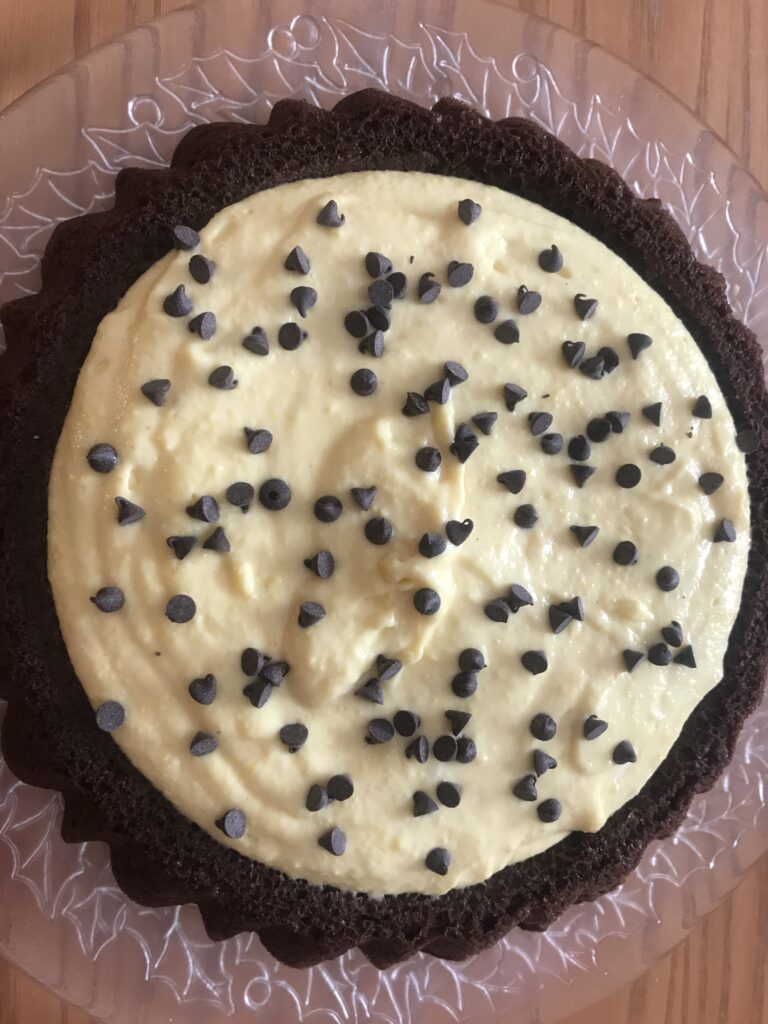 Eggnog Pudding Chocolate Tiara Cake
The final way I use eggnog this time of year is in my eggnog chocolate tiara cake. We have been making this for over 20 years. My kids love it. This is a recipe we make once a year. We enjoy it on Christmas Eve as a Jesus Birthday Cake.
One year my daughter asked if she could have it at her birthday In June. We purchased a quart of eggnog in December and froze it until June rolled around and made this cake for her birthday. Delish.
1 Devils Food chocolate cake mix (make according to directions) to make two tiara cakes
1 package vanilla pudding
1 ½ cups eggnog
1 ½ cups cool whip or whipped cream
2 TBSP mini chocolate chips or shaved chocolate
Divide batter into two tiara (Duncan Hines) baking pans. These pans are older and you may have to find them at a thrift store or garage sale. Maybe grandma has them. If not then use a flan or tart pans that have an indentation in the middle.
Bake according to instructions on cake mix for a 9-inch pan. 20-25 minutes. Freeze one of the cakes for a future dessert or double the pudding mixture for two desserts. THis is how I ended up with this cake for my birthday in Janurary.
With one cake on a plate. Mix 1 pkg vanilla pudding with eggnog. The mixture will be thick. Add cool whip to the pudding mixture. Adjust according to consistancy desired. (You can make this ahead and refrigerate and put on the cake before serving.) Add pudding/eggnog mixture to the middle of the cake and sprinkle mini chocolate chips or shaved chocolate on top. Cut into 8-12 pieces like a pie and serve as your next Christmas Dessert.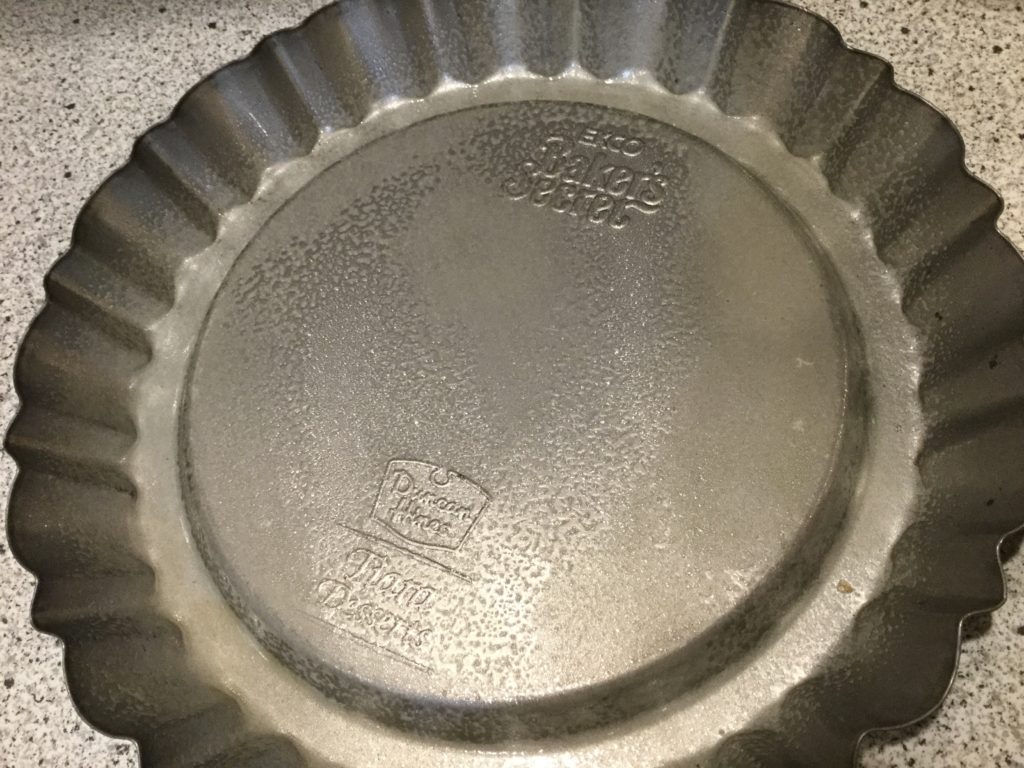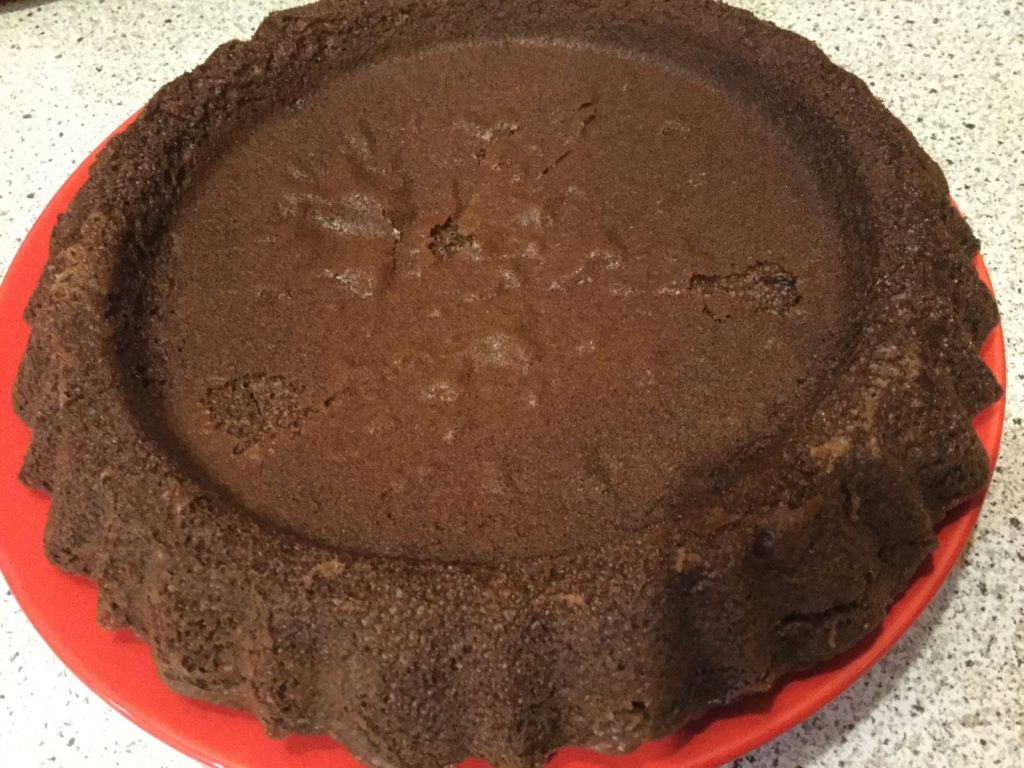 Homemade Eggnog
Many of you probably make your own Eggnog or have your own family recipe. We would visit a family that made delicious eggnog from cream and pudding. For me, I'll let the store make it and enjoy it a few times in season or add it to my coffee. If you have a wonderful eggnog recipe you want to share, let me know.
Enjoy the Eggnog Season! Comment how you enjoy Eggnog.