Lunch may look a little different for you at school, work, or home.   Instead of reheating leftovers or going out for lunch, you may find you need to pack a lunch and include an ice pack.   Here are some non- sandwich recipes and meal ideas you can use to make your lunch quick, easy, and nutritious. Enjoy learning Cold Lunch Recipes for School, Work, or On the Go.
Cold Lunch Recipes to Make Ahead for School or Work
Most of the recipes in this blog you can make ahead.   Make a salad on Sunday night and you are ready for the week. Plan your menu and divide up your food for the week. Divide into containers for each day and you are done.
The recipes included can be divided into the week. If you are making two salads and eating a new one every other day, this would work. If not make one salad and integrate with my other ideas during the week.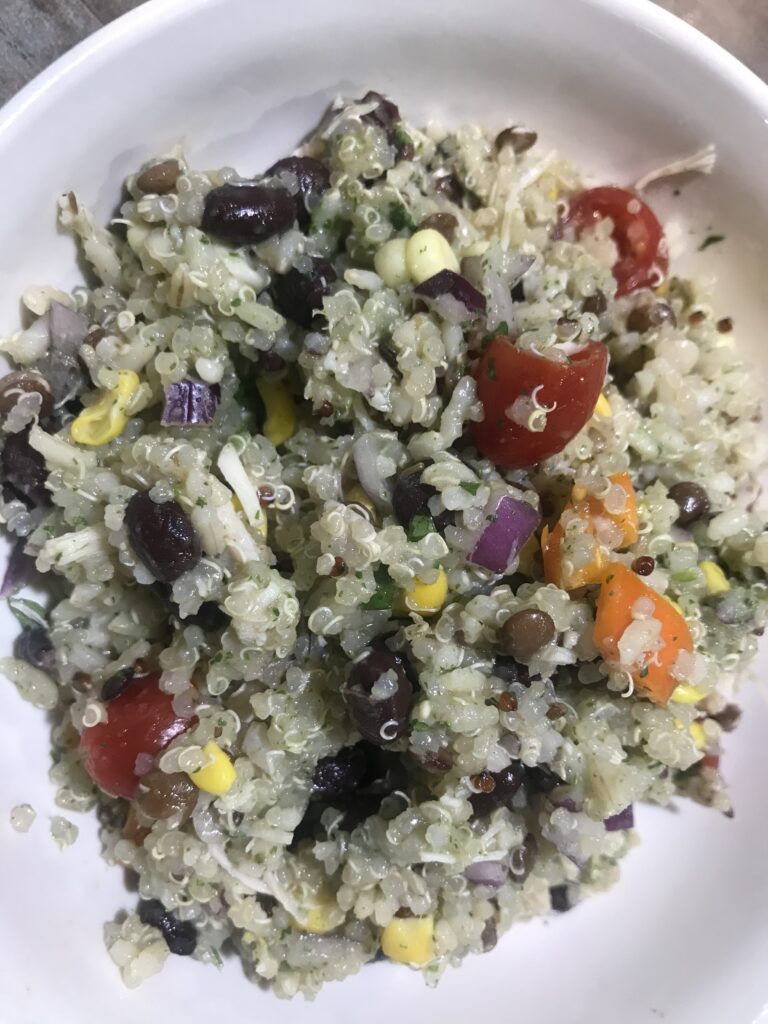 #1 Quinoa Cilantro Lime Salad Recipe
I love this salad because you make it up and it will last all week. There are so many veggies and nutrients in this salad as well as flavor, fiber, and protein. My daughter loved this salad in college and would make it at the beginning of the week and take it with her to school to eat each day.
1 ½ cups Quinoa- plain or multi-colored or quinoa brown rice lentil mix (purchased at Aldi)
3 cups of water
2 tsp chicken broth base
1 can black beans drained and rinsed
1 can corn drained
½ cup chopped cucumbers
½ cup chopped grape or Roma tomatoes
¼ cup chopped red/yellow or orange peppers
½ cup chopped red onion or Vidalia onion
1- 12 ounce can chicken breast drained (I use Kirkland Brand)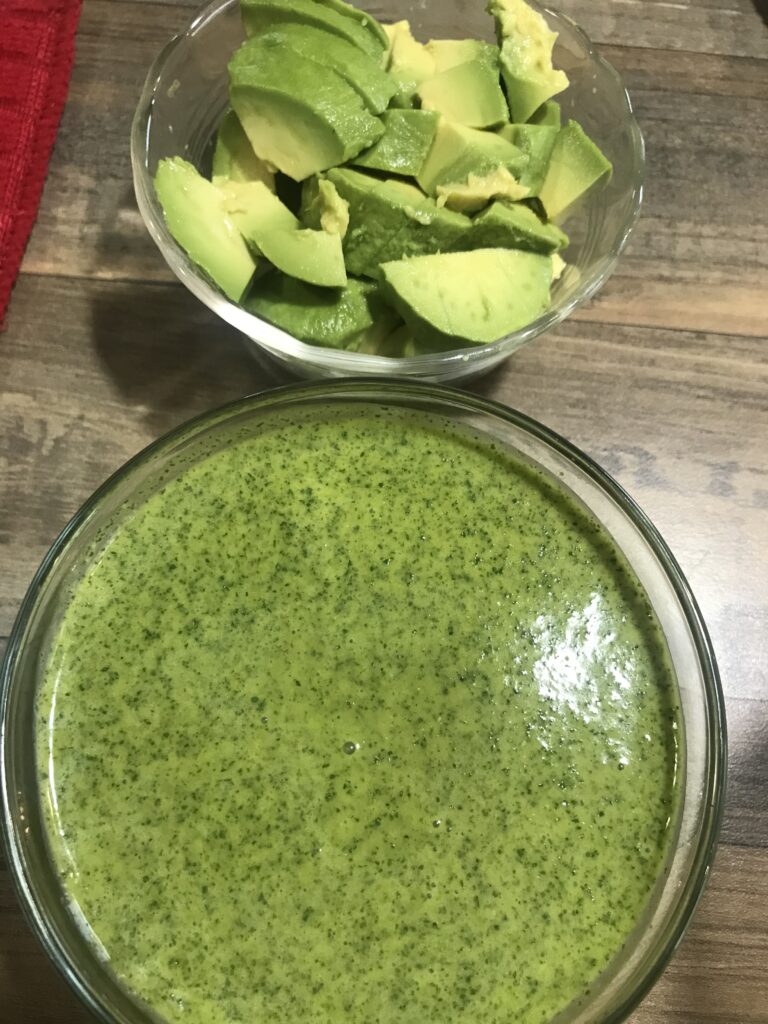 Cilantro Lime Dressing Recipe
1 small bunch cilantro chopped
2-3 tsp minced garlic
Dash of salt
1-2 tsp honey or maple syrup
1/4 cup olive oil
¼ cup of rice vinegar
¼ cup lime juice
Blend dressing ingredients in a Vitamix or food blender until blended. Adjust your ingredients if you like more or less lime juice or vinegar. (A few times I forgot the vinegar and the dressing tasted good.) Cook quinoa, water, and chicken base in a small saucepan with a lid. Simmer on med with cover for 15 minutes or until done or per pkg instructions.  
Place cooked and cooled quinoa in a bowl and add the above ingredients to quinoa and mix.   Make up the dressing and pour over the quinoa salad mixture and stir, cover, and refrigerate until chilled. Ready to serve. 6 servings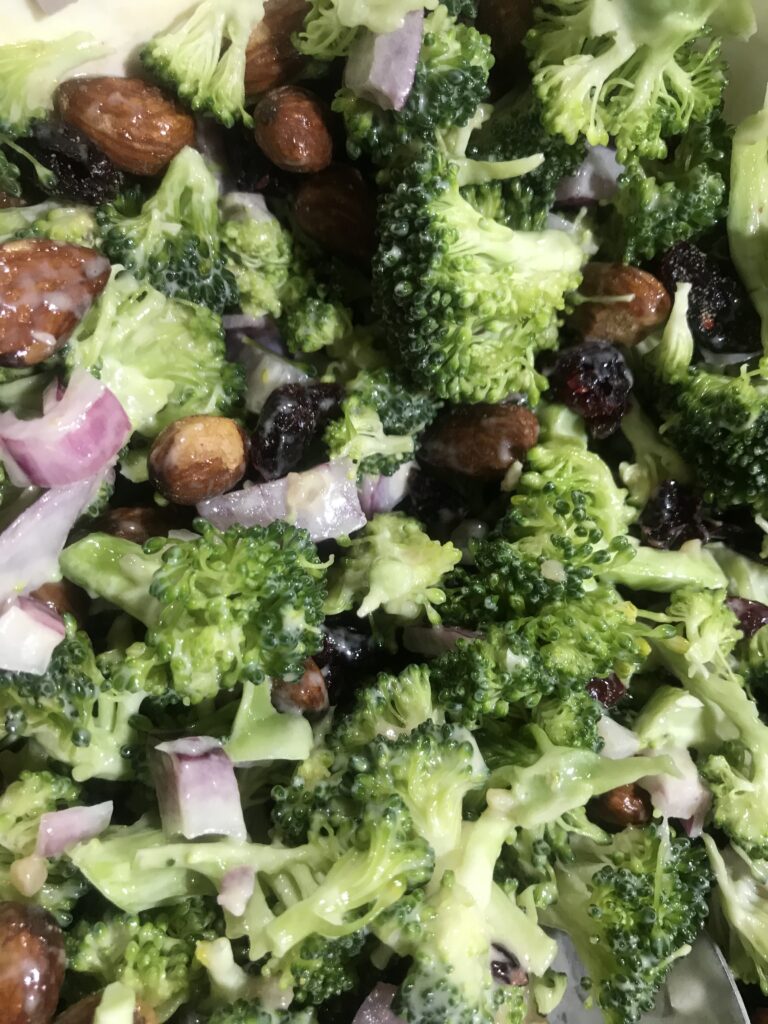 #2 Broccoli Salad with Nuts Recipe
I enjoy this salad because it gives a great taste to broccoli. The nuts make this salad the best and provide added protein. The recipe I am sharing in this blog, I discovered this summer.
Another recipe for Broccoli salad I also make was included in the Broccoli challenge blog. The recipe in the broccoli challenge blog has buttermilk in the recipe.   Both recipes will give you a variety in this type of salad.
2-3 small heads of broccoli cut into bite-size pieces
½ cup chopped red onion
1/3 cup craisins
½ cup smoked almonds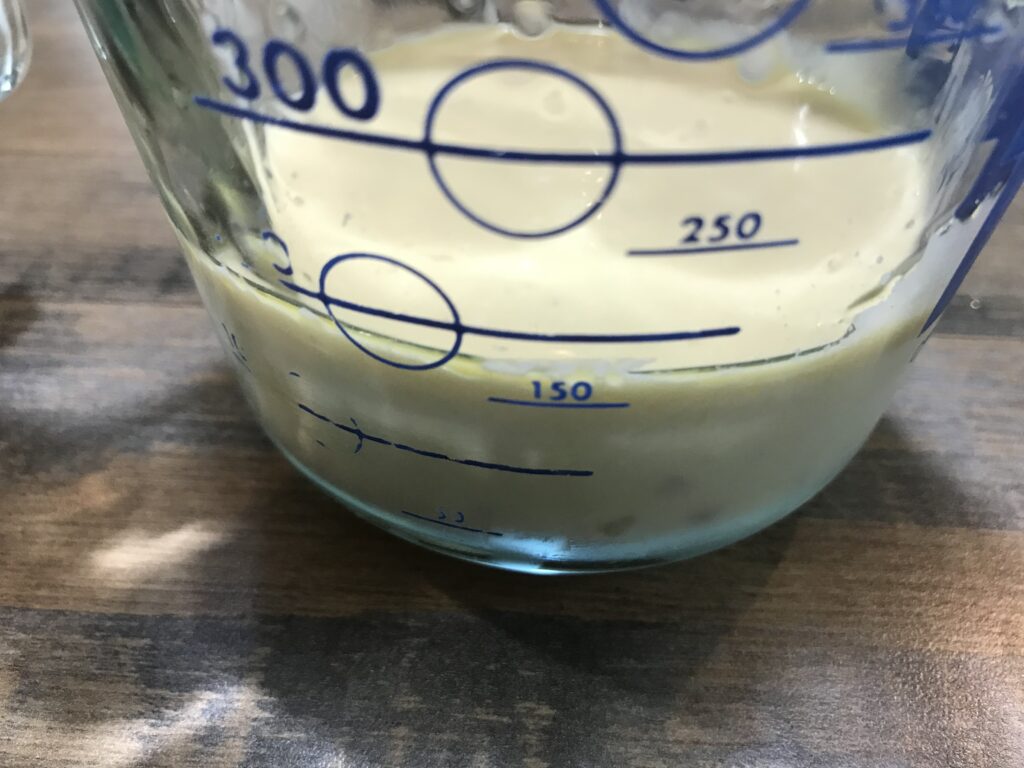 Dressing for salad
3 TBSP Olive oil
1 TBSP Dijon mustard
3 TBSP Mayonnaise
3 TBSP Cider Vinegar
Dash of Salt and Pepper to taste
2 tsp minced garlic
2 tsp Maple syrup or honey
Mix the broccoli and onion. Reserve the craisins and almonds just before serving. Mix the ingredients for the dressing and pour over salad and toss. If you think the recipe needs more dressing make a double batch. It will all depend on how big your broccoli heads are. Then add craisins and smoked almonds before serving and toss. 4-6 servings. Yummy!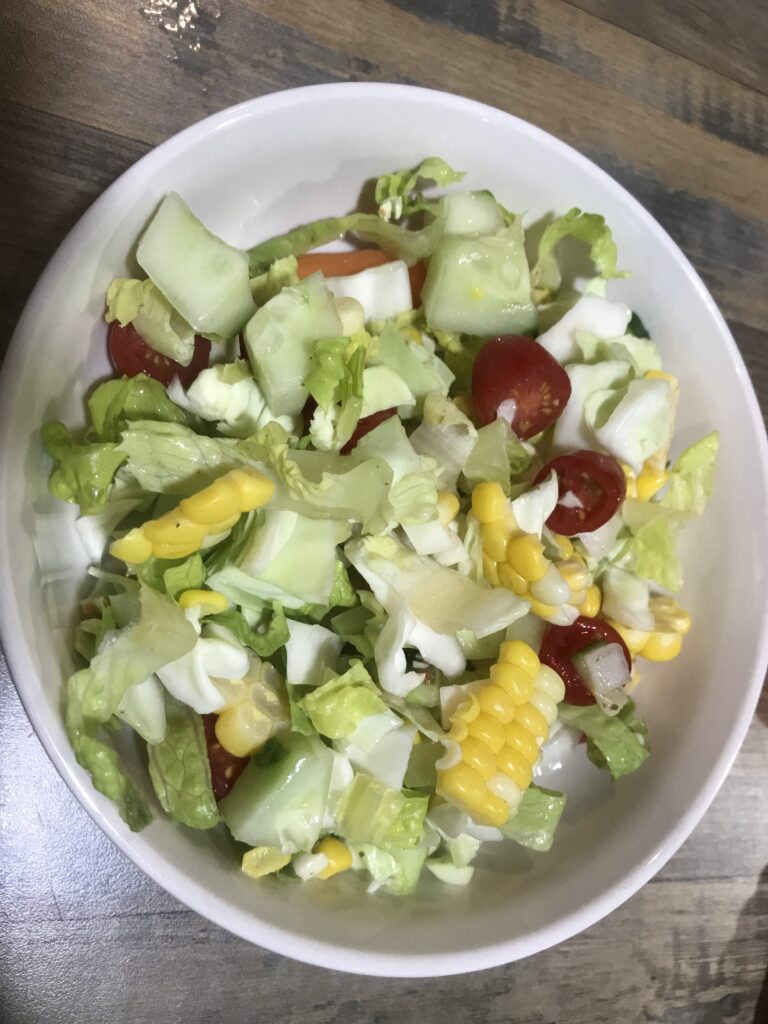 #3 Cob Salad with Chicken Recipe
This salad will give you some variety in the salad department. I love the cabbage crunch with the veggies in this salad and it is similar to the quinoa salad.
2 cups romaine lettuce chopped
2 cups cabbage chopped
½ cup canned corn or 1 corn on the cob cut off
½ cup drained rinse black beans
¼ cup chopped cucumbers
¼ cup chopped tomatoes
¼ cup green onions
½ to 3/4 cup cooked shredded deli chicken breast or canned chicken drained
For an added touch dice one avocado on this salad…this may not be as convenient.
Top with Favorite Dressing
Two Servings. Double the Recipe if you need to make more.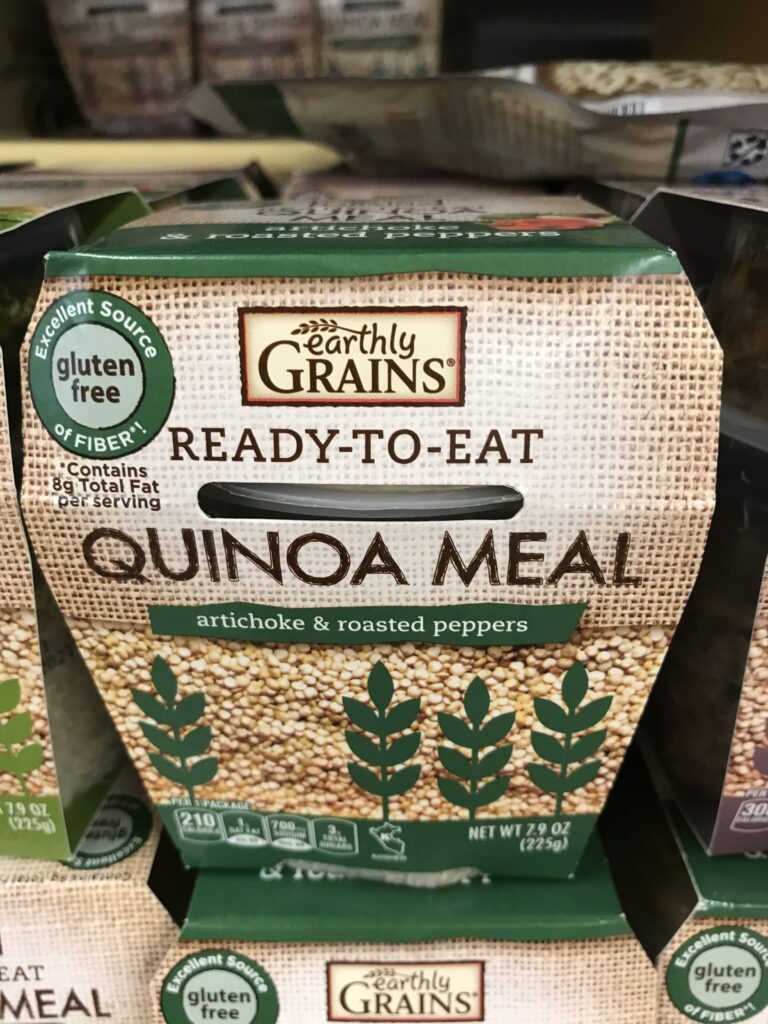 Other Meal Ideas for School, Work or On the Go
Chef Salad- make your favorite salad with egg slices, cheese, ham or turkey, tomatoes, and favorite dressing.
Buy a bag salad kit and divide into two days and add cooked chicken to the salad.
Red Pepper Hummus, Favorite Crackers or Chips, Raw Veggies, and Cheese or Egg
Tuna Packets, Pita Bread or Crackers, raw veggies
Chicken salad- mix canned drained chicken with mayo, plain yogurt, green onions, nuts, grapes and eat on a flat bun or with favorite crackers.
Cheese slices, Triscuit crackers, raw veggies and hummus
Guacamole, Chips, and a Boiled Egg or 1 ounce of favorite nuts. If you want a Guacamole recipe, I have two to share.  One is in the Blog Fantasy Food Ball and the other is in the blog on Immersion Blenders.    
Egg Salad Sandwich, Raw Veggies and Fruit
If you want variety include a half-sandwich in your lunch or bring some cold pizza to eat as a meal.
If you want to make a bag of frozen sandwiches you can take out of the freezer the recipe is in the blog Frozen Meals to Simplify Life.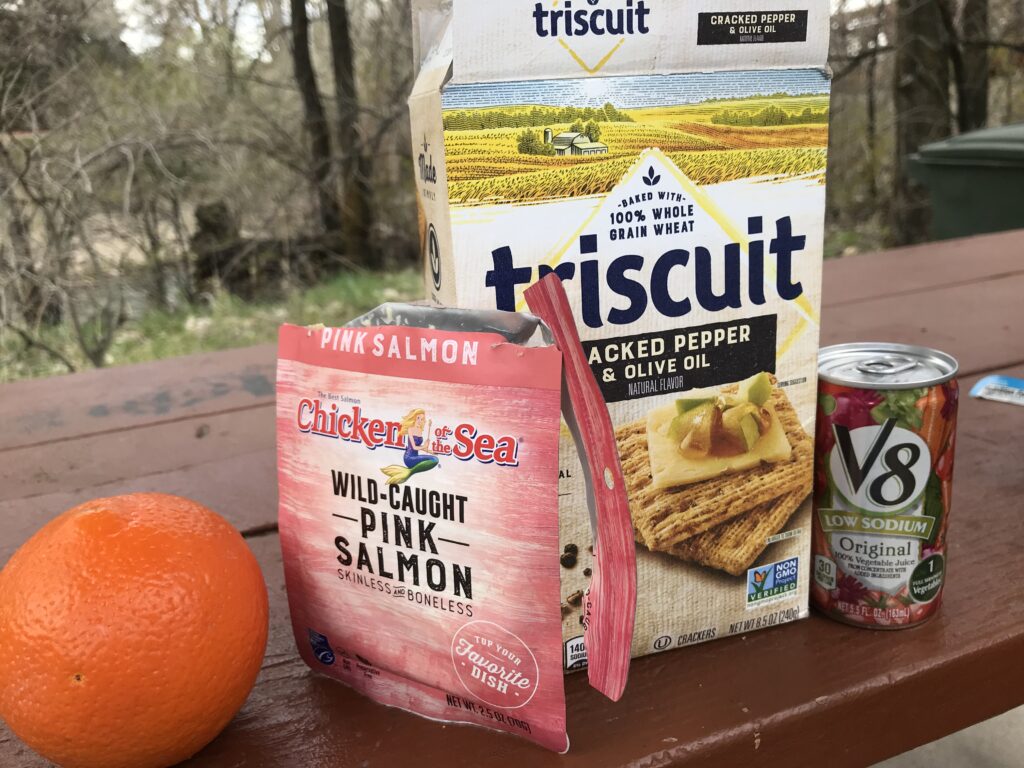 Meal Tips and Nutrition
Always include fruit and veggies with your lunches. Berries, melon, apples, kiwi, and oranges are some great options depending on the time of year. See blog on Kiwi.
Your protein can vary. Keep in mind that quinoa is high in protein and fiber.   Beans are high in protein and fiber and any of your meats are also a good source of protein.  
Around one ounce of nuts or a handful of nuts a day is good.  That is plenty.  It will give you some magnesium and healthy fats and protein to fill you up.
Use your favorite bread or crackers. These may include wraps/tortillas, pita bread, flat buns, Triscuit crackers, and rice crackers.  I know some of you are on weight watchers or a Low Carb diet, so adapt these ideas to your diets. 
Protein bars. I use the high protein nut granola bars if I know I won't get to eat lunch until 1:30 pm and I ate breakfast early in the day.   One of these 10-gram protein bars or packages of nuts gets me through to lunch. Then I don't have to eat as much for lunch.   I do not do this daily just on a late lunch day.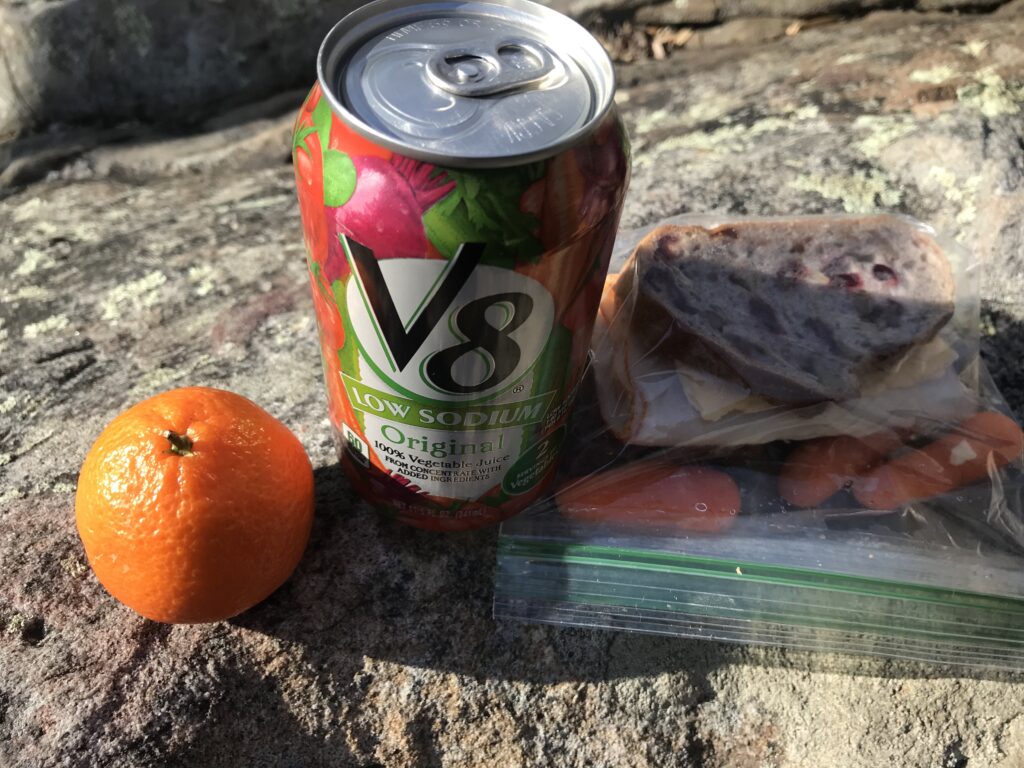 Sample Menus for School
Monday- Quinoa Salad and Fruit
Tuesday- Tuna Packet, Crackers, Raw Veggies, Hummus, and Fruit
Wednesday- Quinoa Salad and Fruit
Thursday- Guacamole, Tortilla Chips or Pita Bread, Boiled Egg, Fruit, and Baby Carrots
Friday- Cobb Salad, Fruit, and Nuts
Monday- Broccoli Salad, Cheese Stick, and Fruit
Tuesday- Cobb Salad, Fruit, and Nuts
Wednesday- Broccoli Salad, Boiled Egg and Fruit
Thursday- Chicken Salad on Flat Bun, Raw Veggies, and Fruit
Friday- Cold Pizza, Raw Veggies, and Fruit
I hope you can find time to plan your cold lunches out and make a few of these recipes to make your lunches full of variety. Enjoy Cold Lunch Recipes for School, Work, or On the Go.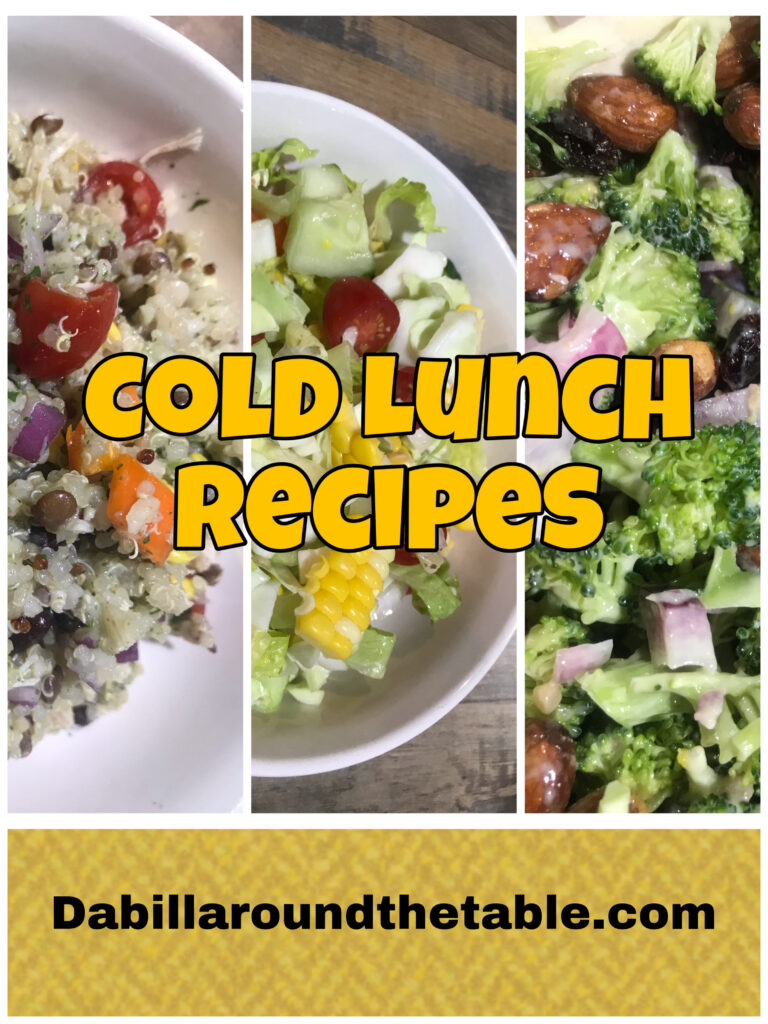 Don't ever miss a Blog. Subscribe to Dabillaroundthetable Email. Once a month I will send you an email with links to the monthly blog. Almost like a magazine on Faith, Food, Family, Fun, and Favorites. Don't miss this. Sign up below and get a free scone recipe. Check your junk mail to confirm if an email does not arrive. Thank you. See you at the Table!