Apples do not rank as the only popular fruit, but they are prevalent in the American diet and are remembered with the saying, "an apple a day keeps the Dr. away". Let's talk Apples around my table. We will learn health benefits and facts about apples as well as recipes and menus using apples. Apples, Apples, Apples- Read all About Them and Recipes.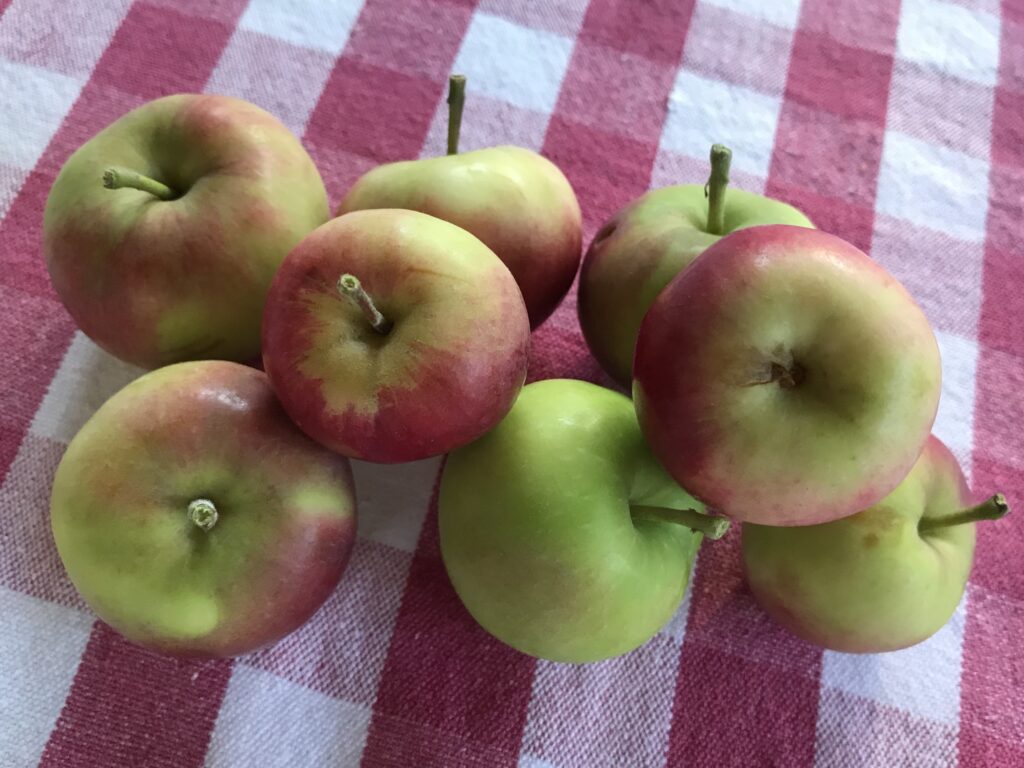 Bananas and Apples are the most consumed fruit.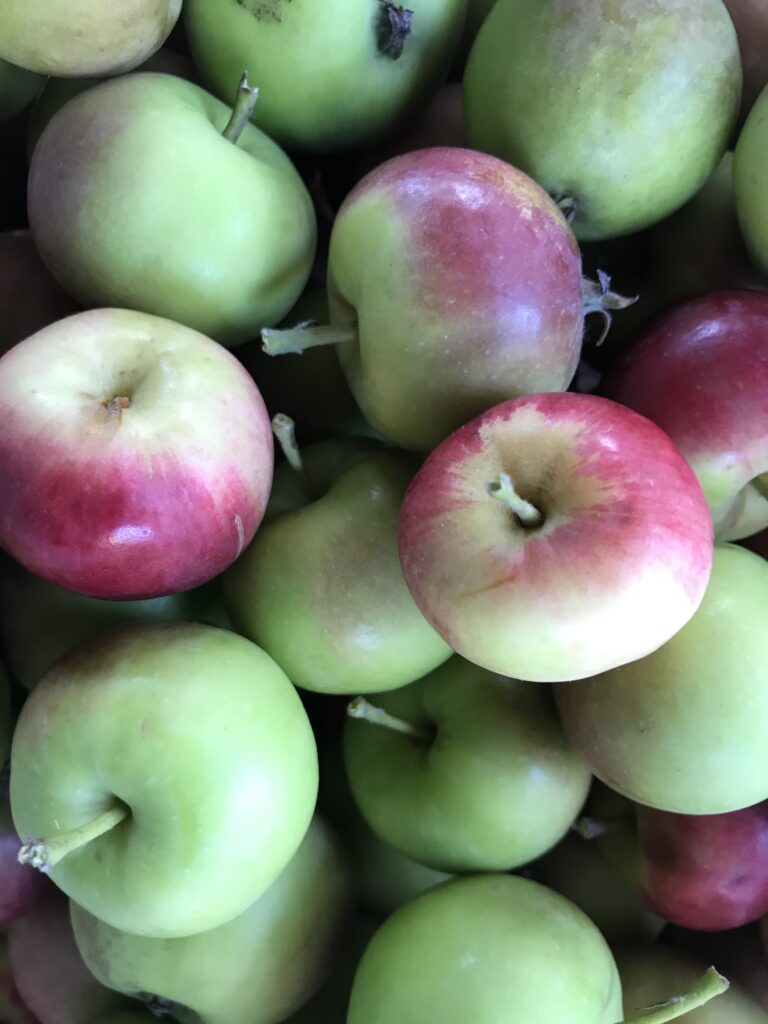 Picking Apples
Whether you get your apples from the grocery store or the apple orchard, you will enjoy your apples and all the fun things you can do with apples. I remember the whole process of picking apples with family and then making apple everything.
A family friend would call us every August to help her pick her state fair apples. We took turns climbing the ladder filling buckets and boxes. In the end, we had so many boxes we would share the apples with friends and make overflowing batches of applesauce for the freezer. Many family apple memories. Get out to an orchard to pick apples this fall or buy some for some treats.
If you want to read one of my favorite children's books about food including apples it is called the "Seven Silly Eaters" and here is a link to the blog on books called Summer Reads and Family Favorites.
Apple Varieties- Read all About Them
There are green apples, red apples, yellow apples, and multi-colored apples. There are over 7,500 varieties of apples and 2,500 are grown in the USA.
When I think of varieties, I have eaten they would include Red Delicious, Golden Delicious, Honey Crisp, State Fair, McIntosh, Braeburn, Gala, Fuji, Pink Lady, Cortland, Granny Smith, and Johnathan. There are many more apples to try after learning about the varieties available. Each apple has a story of how it is grown or how it came to be.
Cortland and Mcintosh's apples are the best apples for baking because they are the softest apples and cook the best. A Granny Smith apple has the least amount of carbohydrates and the most amount of fiber. USA Today in 2018 says, "Gala" apples passed Red Delicious as America's Favorite Apple."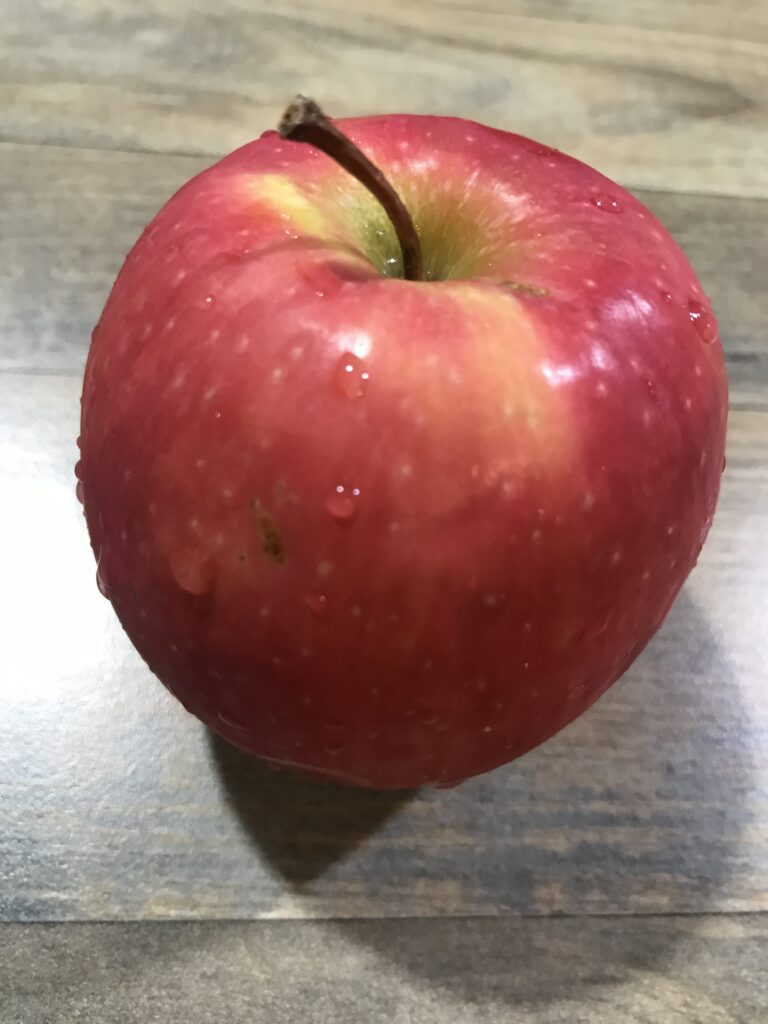 Apple Nutrition Facts – According to the USDA
One medium Apple 95 calories. Contains – 0.3 gm fat, 195 mg Potassium, 25 gm carbohydrates, 4.4 grams fiber, 19 gm sugar, 0.5 grams protein.
Apples highest nutrients – Vitamin C, Vitamin B6, Magnesium, and Potassium.
Some varieties of apples may be less or more in calories depending on size and sugar content. An apple ranges from 50-100 calories. An apple is normally calculated to average 60 Kcals.
Health Benefits of Apples
Apple's nutrients have many health benefits for the body. They have been linked to benefits/prevention in a variety of diseases such as cancer, diabetes, osteoporosis, coronary vascular disease, cognitive and pulmonary disorders.
Phytochemicals
Apples are a rich source of phytochemicals and two of the most popular are polyphenols and phenolic acids. Leave the skin on your apple to get your polyphenols. Polyphenols help lower blood pressure.
Fiber
The fiber in apples comes mostly from the skins. Also, the fiber and water in apples fill you up so you are not as hungry. The fiber in apples may also help with weight loss.
 The pectin and soluble fiber content in apples have been related to cholesterol-lowering effects. The fiber will help to decrease transit time in the bowel and colon, reduces constipation, and removes toxins. Fiber also has a Prebiotic effect on the gut and provides good bacteria for the gut.
If you would like more information on the Benefits of Apples for Health, Today's Dietitian has a good article on the Health Benefits of Apples with Continuing Education.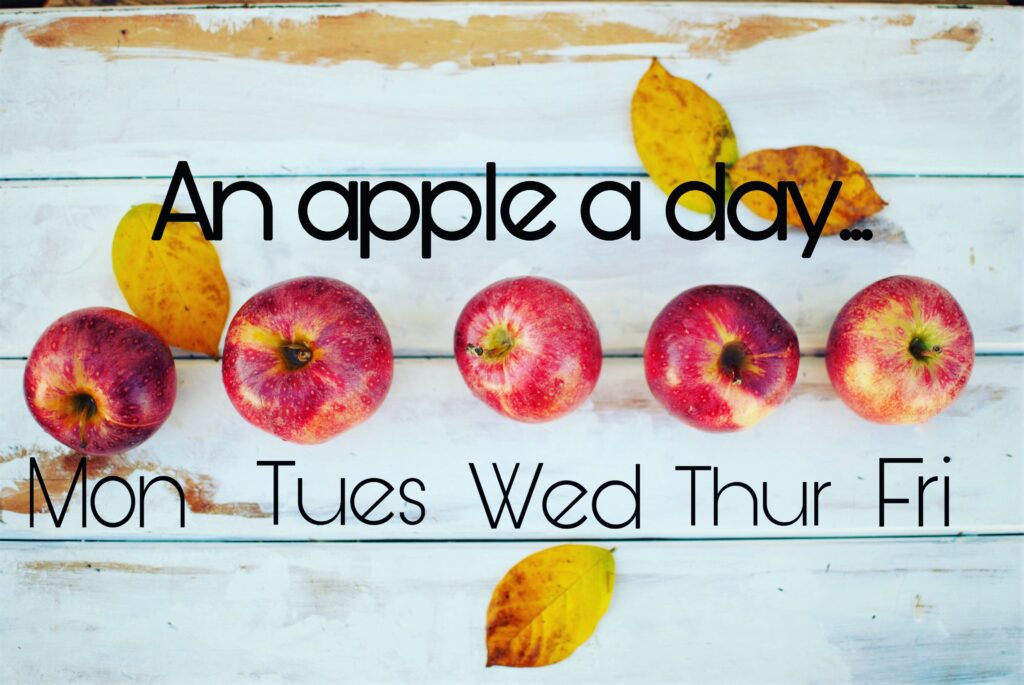 An Apple a Day Keeps the Doctor Away
This line was first used in 1922. Why? Research says apples are helpful to your health but so are other fruits and veggies. Apples are the second most consumed fruit, so you are more likely to eat an apple than many other fruits or veggies.
Why not eat one a day? Keep at it and make it your goal to eat an apple a day. They are the perfect snack, low in calories and high in fiber.
Eating Apples
Apples can be eaten as a snack, dessert, in a side dish or salad, in a smoothie or a juice. The best way to eat them is fresh. Only consume up to ½ a cup of apple juice a day. Juice still contains some nutrients but loses the fiber and health benefits from the peeling. There are a few studies out there that say apple juice still does have some nutritional benefits, but drinking too much juice can be empty calories.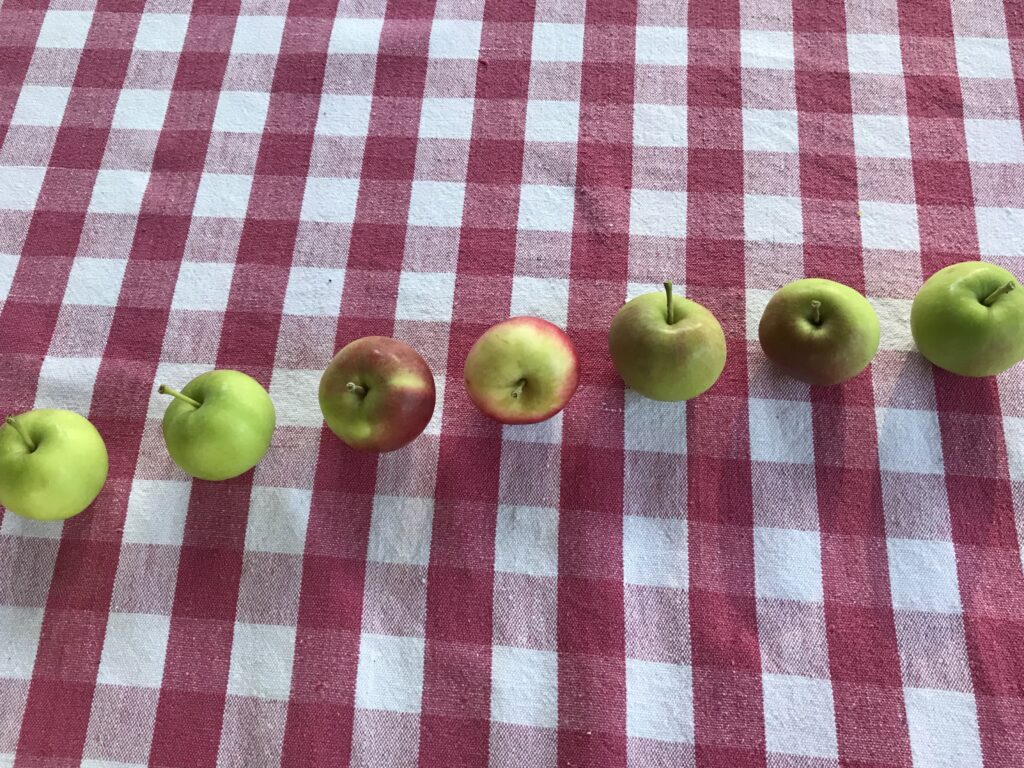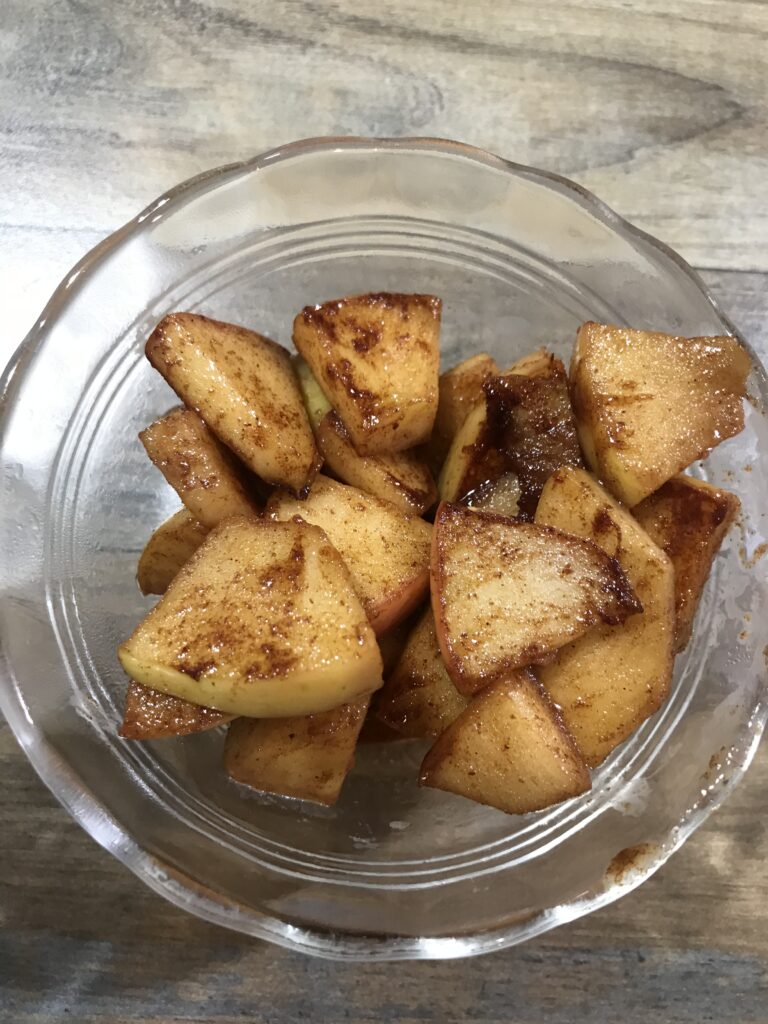 Healthy Apple Snacks and Desserts
Apple Slices with Carmel drizzled on top, Apple Sauce, Baked Apples, Sautéed Apples, Apple Coleslaw, Apple Stuffing, Dried Apples in Granola, Top Waffles or Pancakes with Apples, Incorporate Apples in a vegetable dish. These all make great, snacks, salads, side dishes, and desserts.
Family-Approved Apple Recipes
I love this because it's a quick way to eat an apple. Feels like a pie dessert, but it's easier and healthier. We just ate it last night and loved by all. My husband made it because it was so easy.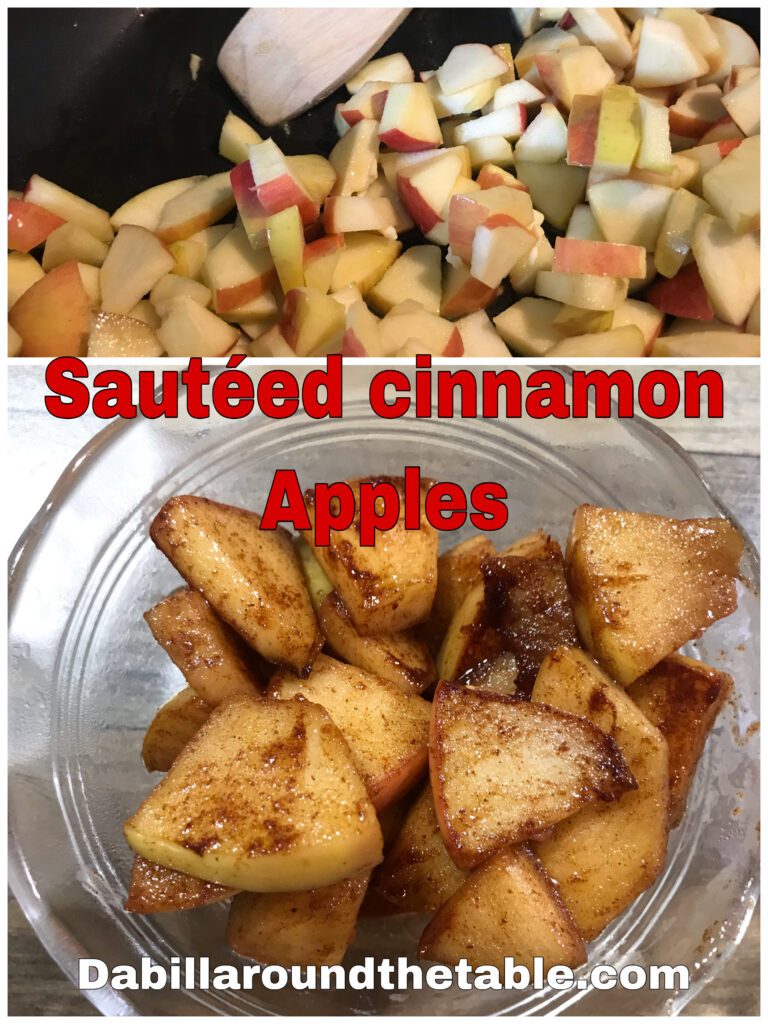 Sautéed Cinnamon Apple Recipe
3 Apples cored, seeded and cut into in small pieces. I used Pink Lady Apples.
1 TBSP Butter
1 TBSP Olive Oil
1 tsp cinnamon
1 tsp sugar (optional)
Sauté apples in butter and olive oil for 4 minutes. Add the cinnamon and sugar and sauté for an additional time to equal 8 minutes total. When apples are tender, they are done. There will be a little crunch to them.
Serve as a dessert or as a side dish with a meal. If desired sprinkle chopped walnuts in the pan at the last minute of cooking. These apples taste wonderful without any sugar on them. This would taste great with pork chops and squash for meal planning.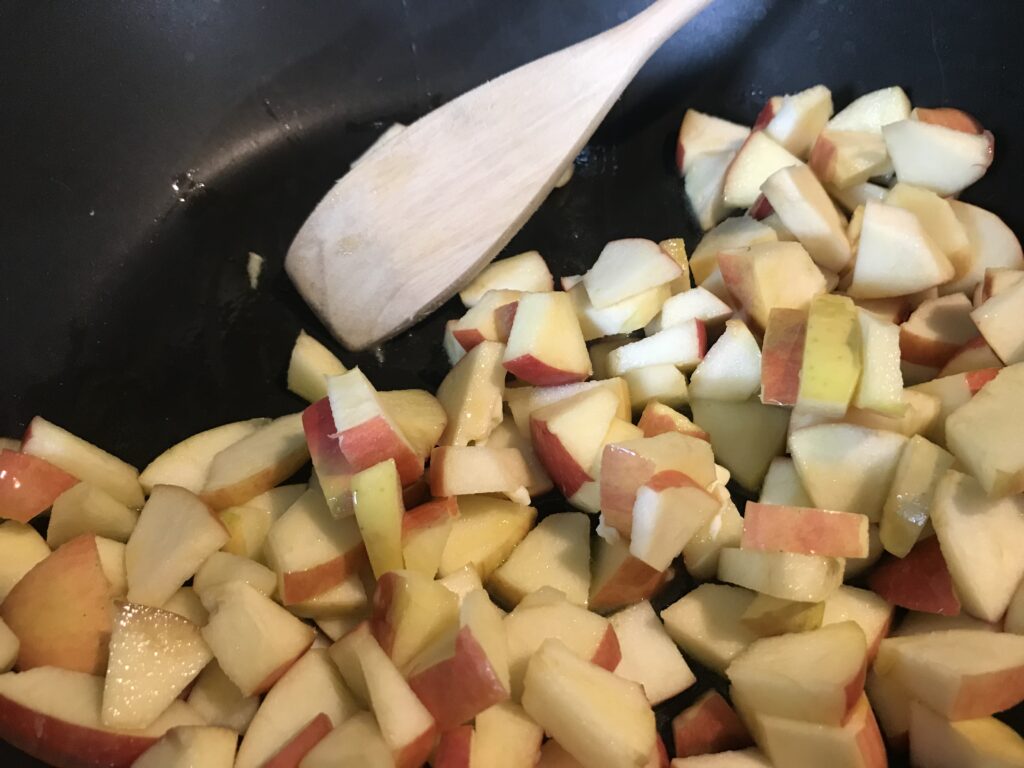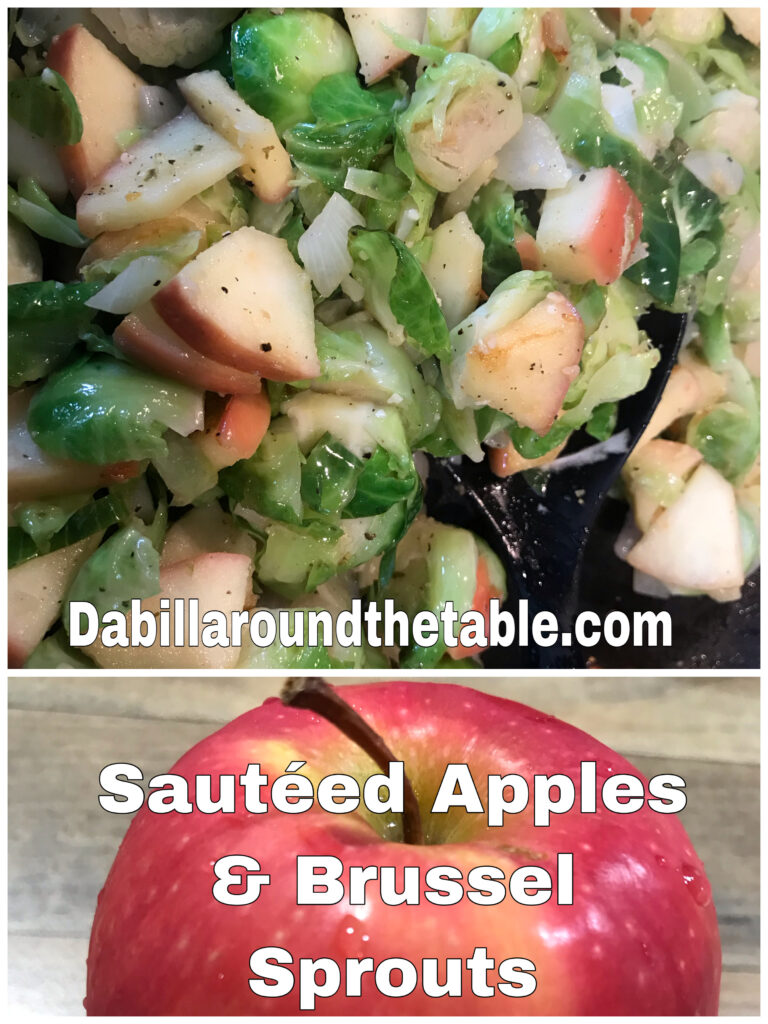 Apple Brussel Sprouts Recipe
I love this vegetable fruit combo as a side dish. Savory and sweet in the same dish. I love the leftovers.
1 bag of Brussel Sprouts- cut off the end and cut into thin slices
2 TBSP Olive oil
2 tsp minced Garlic
½ onion diced
1 tsp Rosemary if desired
Salt and pepper to taste
1 to 2 Apples cut into small thin slices
Sauté all in a pan for about 8 minutes until the flavors are blended together and tender.
Enjoy your apples not only this season but all year long with other fruits and veggies. Variety is the key. What a great low-calorie high-fiber fruit. Enjoy Apples, and Apple Recipes this fall. Apples, Apples, Apples- Read All About Them and Recipes for the Family.
What is your favorite Apple and how do you like to eat your apples?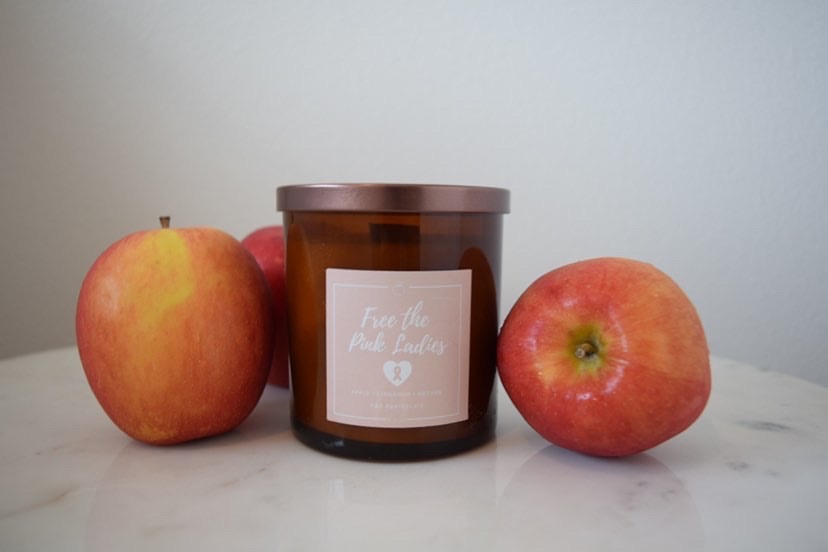 Sign up for an email each month in your inbox. Dabillaroundthetable email will give you links to my blogs, recipes, or tips. Sign up at the bottom. Look in your junk box to confirm if you don't see an email.